Games of the Week - Playoffs - Regional Finals
December 5th, 2019 10:30am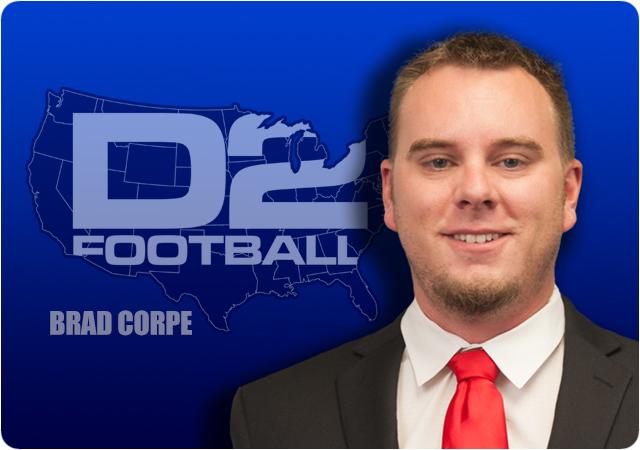 I can breathe a little bit easier after that round two performance. A 7-1 effort on the week, with only a Valdosta State upset from being a perfect 8-0. Best of luck to all teams playing this weekend. Truthfully, we often look at these matchups and want our teams to win so badly, or want specific teams to lose so badly, that we as fans lose focus of what is at stake for these programs. These are literally lifelong dreams for the people involved with each of these programs, and whether or not we want a team to win or lose, we should all be able to remove any of our bias and be happy for the four winning teams, as well as hurt for the four losing teams. At the end of the day these are kids and coaches that are grinding every bit as hard as their Division 1 counterparts just with far less compensation. Sitting at 56-18 on the year, here are my stone-cold locks of the week!
Super Region One Championship: #3 Notre Dame College @ #1 Slippery Rock
By the numbers:
Offensive PPG
Slippery Rock: 47.25
Notre Dame College: 38.77
Defensive PPG
Slippery Rock: 21.83
Notre Dame College: 21.92
Offensive Total YPG
Slippery Rock: 510.7
Notre Dame College: 409.7
Defense Total YPG
Slippery Rock: 322.5
Notre Dame College: 334.5
Well it has happened, after rolling with my two guys all season long, the time has come to pick between Notre Dame College's Running back Jaleel McLaughlin and Slippery Rock Quarterback Roland Rivers III. These two teams have one common opponent in Kutztown on the year, in which Notre Dame College beat last weekend by three, and Slippery Rock defeated on November 16th by two points. What does that mean? Absolutely nothing outside of the fact that Kutztown lost to two very good football teams this season. I don't think I would feel great about my pick either way in this matchup, but I just love the way Slippery Rock is playing to this point and feel that they have revenge on their mind from last year's Regional Final loss. Roland Rivers III and Slippery Rock take home the victory in this one.
Slippery Rock 31, Notre Dame College 27
Super Region Two Championship: West Florida @ #2 Lenoir-Rhyne
By the numbers:
Offensive PPG
West Florida: 35.75
Lenoir-Rhyne: 42.31
Defensive PPG
West Florida: 16.92
Lenoir-Rhyne: 15.46
Offensive Total YPG
West Florida: 399.8
Lenoir-Rhyne: 425.2
Defense Total YPG
West Florida: 329.3
Lenoir-Rhyne: 281.4
Since the beginning of August, I have had Valdosta State penciled in as the Super Region Two champions, so admittedly I haven't paid as much attention to this region because of that, but I have watched both of these two play this season and came away very impressed. It is no secret that Lenoir-Rhyne can and wants to run the football, and they have also been very good against the run this season, allowing only 81 yards per game on the ground. West Florida on the other hand enters this game without dominating in any one phase of the game. They win football games by doing what they need to do, not by an explosive passing offense or elite run defense. They do enter the game +10 in the turnover battle, which always helps, and if I have to pick an area that they are the best in it would be their pass defense, which may not help them a ton in this one. I remember West Florida's run to the national title game in 2017 and couldn't believe my eyes each week as they continued to win games that not many people thought they would. I really like the makeup of this Lenoir-Rhyne team this season, but I just feel as if West Florida has it going on and is one of the hottest teams in the country.
West Florida 27, Lenoir-Rhyne 20
Super Region Three Championship: #3 Northwest Missouri State @ #1 Ferris State
By the numbers:
Offensive PPG
Ferris State: 39.5
Northwest Missouri State: 44.85
Defensive PPG
Ferris State: 13.4
Northwest Missouri State: 18.31
Offensive Total YPG
Ferris State: 514.4
Northwest Missouri State: 444.9
Defense Total YPG
Ferris State: 273.0
Northwest Missouri State: 304.3
I don't want to pick this game. I was at the last two meetings between these two schools, in 2016 as a coach for Ferris State and 2018 as a fan. These two are major powers in the Division II football landscape, and truthfully, I think it is quite a shame that they are meeting up this early in the playoffs. I don't have any answers on how to fix that, nor do I have justification for why I feel that way, but the two conference champions from what I believe are the two best leagues from top to bottom in the country should be a game you see in the final four or national title game. Okay enough of my rant, Northwest Missouri State, I know I picked Harding to knock you off in round one, but that wasn't because I didn't think you were good, there isn't a program I respect more in this country at any level of football than you guys. This is going to be a good-old-fashioned football contest between two well coached teams. I don't think stats, or any other indicators matter in this contest, what matters is the breaks that are going to happen, and the timing and impact of those. The weird, quirky things that happen in football games that seldom seem like major factors in the outcome. The bobbled snaps that may cause a punter to get off a punt that is ten yards less than normal, the tipped balls that are somehow caught by either team, penalties that whether they are properly called or not can extend or end drives. Yards, Time of Possession, takeaways, none of those things are going to matter in the outcome, what is going to matter is which team makes more true football plays, more effort plays, more "I don't want my season to end yet" plays. Call that analysis what you want, but that's what a game comes down to when both sides are so evenly matched in terms of talent, scheme, and coaching. Best of luck to both of these teams, but I have to go with the 'Dawgs in another close one in what is becoming one of the nation's best post-season rivalries.
Ferris State 26, Northwest Missouri State 23
Super Region Four Championship: Texas A&M-Commerce @ #1 Minnesota State-Mankato
By the numbers:
Offensive PPG
Texas A&M-Commerce: 33.92
Minnesota State-Mankato: 47.7
Defensive PPG
Texas A&M-Commerce: 18.58
Minnesota State-Mankato: 12.0
Offensive Total YPG
Texas A&M-Commerce: 410.3
Minnesota State-Mankato: 534.9
Defense Total YPG
Texas A&M-Commerce: 315.8
Minnesota State-Mankato: 228.4
Back in 2017, Colby Carthel and his Texas A&M-Commerce team traveled to Minnesota, then to Washington, then back to Minnesota in the first three rounds of the playoffs, which were all wins and were all on their way to claiming the 2017 National Championship. That second trip to Minnesota was to play in the regional championship game versus the top seeded Minnesota State-Mankato Mavericks who were led by Quarterbacks Ryan Schlichte and JD Ekowa, Running Back Nate Gunn, and Wide receiver Shane Zylstra, a game in which Commerce won 31-21. Fast forward two years and coach David Bailiff is taking his Commerce team back to Minnesota to face off against the top seed Mavericks, who are led by older versions of those same four I just listed. I have thought since the start of the season that Valdosta State, Tarleton State, Minnesota State-Mankato, and Ferris State were the four legitimate contenders for this year's national championship. I am a big fan of this MSU-Mankato squad this year, but I don't know if there is anyone in the NSIC as big and athletic and playing as well as Texas A&M-Commerce is. Texas A&M-Commerce has been absolutely dominate in the trenches the second half of the season, and Minnesota State-Mankato really wants to rush the football, whoever can win that battle will win this game, and I feel like Texas A&M-Commerce will shut down the run enough to win this game.
Texas A&M-Commerce 26, Minnesota State-Mankato 20