Games of the Week - Round Two
November 28th, 2019 2:30am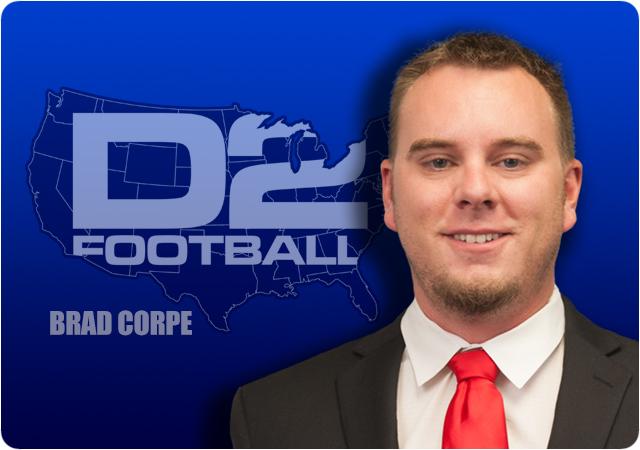 Whoa.
The dust still hasn't settled from this past weekend, but we do in fact need to look forward to the upcoming weekend. I was feeling very confident heading into week 1 of the playoffs at a 42-12 clip, but man did I take some hits. Tarleton State and Ouachita Baptist seemed to boycott playing their round one games because they both thought they should have been the top seed in their regions. Round one produced a 7-5 record for me, so it is time to get back on track. Obviously, the playoffs are harder games to pick but this is by far the toughest stretch of games to this point in the 2019 season.
Super Region One
Notre Dame College @ Kutztown
Say it with me now – Jaleel McLaughlin. Kutztown is a very good team, and led by an outstanding Quarterback in Colin DiGalbo, who if I am him, I am throwing the ball to TE Jack Pilkerton every time, single coverage, double coverage, not even on the field or an eligible receiver, still throwing it his way. The dude is an absolute playmaker and tough to bring down. That first playoff win is always the toughest, there are a lot of emotions and outside factors that play into the games, but once you win one you can get comfortable. I think Notre Dame College finds that firepower on offense on a Kutztown defense that gave up 31 to Tiffin.
Notre Dame College 34, Kutztown 27
Shepherd @ Slippery Rock
This is one of the toughest picks for me because Shepherd might be playing the best ball of anyone in the country, but I am not swaying from my theme of rolling with Roland Rivers III and The Rock (Mad3.bosss!!) Shepherd is still giving up an alarming 353 yards per game on defense along with 25 points per game, so any win they have will most likely be a shootout. I see Slippery Rock taking this one in a battle of two of the nation's premier Quarterbacks.
Slippery Rock 41, Shepherd 34
Super Region Two
Carson-Newman @ Lenoir-Rhyne
There was always one thing I hated when I was fortunate enough to participate in the playoffs, and that was to play a team that we already had beaten earlier that season. That is exactly what is happening here for Lenoir-Rhyne, after their 36-23 victory over the Eagles in Week 7. The box score from that matchup is really a toss-up, but Carson-Newman found themselves down 16-0 after the first quarter, if they can get off to a better start this week I could see them beating Lenoir-Rhyne, however I don't think they will and see Lenoir-Rhyne rolling into a big time Super Regional Championship game next week.
Lenoir-Rhyne 20, Carson-Newman 13
West Florida @ Valdosta State
Same thing I said in the previous prediction holds true here, it is tough to beat a team twice in a season. Valdosta had to hang on for a week 10 win over West Florida, and I think this one will be close as well, but I trust in Rogan Wells to lead Valdosta State to a win in this one in what is becoming one of the youngest but best rivalries in the country.
Valdosta State 33, West Florida 24
Super Region Three
Central Missouri @ Ferris State
This game got a whole lot more interesting with the early week news report that Ferris State Quarterback Jayru Campbell is done for the year, but I don't think that hurts Ferris State as much as people think, Jayru is obviously a very incredible player and will be missed, but this offense has a lot of weapons to lean on behind a veteran and deep offensive line. It is no secret that this game will be won or lost in Ferris State's defensive backfield as they have not seen a Quarterback the caliber of Brook Bolles. If Bolles is on, and the officials aren't letting them play in the back end, this could be dangerous for Ferris State, but Central Missouri has their struggles on defense to the tune of giving up almost 30 points per game and over 400 yards per game as well. This game has the potential to go several different directions, but I think Ferris State comes away with the win in what is supposed to be a nasty weather day in Big Rapids.
Ferris State 34, Central Missouri 20
Lindenwood @ Northwest Missouri State
Lindenwood shouldn't be ion the playoffs. Lindenwood was an average team in the MIAA. Lindenwood had to leave the league to find success on the football field. I get it, I get it all, but the fact of the matter is they are here, and they are 1-0 in the 2019 playoffs after a mighty impressive win at Ouachita Baptist. I think they will do some things that will give Northwest Missouri some fits, but at the end of the day I think Northwest Missouri is too good on defense. However, for some reason if Lindenwood is moving the ball and scoring, Northwest Missouri better watch out because I don't think they can win a shootout vs. any team right now.
Northwest Missouri 20, Lindenwood 13
Super Region Four
Texas A&M-Commerce @ Colorado Mines
Well from the picture that Mines football tweeted out the other day, this game will be played in the elements. Commerce absolutely dominated the line of scrimmage last week against Tarleton State, a team that I didn't think was possible to lose the battle in the trenches, so if Commerce can replicate that performance, I think they win this game. It will be Commerce's second trip to Colorado this season after they lose a week 3 game at CSU-Pueblo. John Matocha is the only Harlon Hill candidate that is a freshman, and he has played lights out this season, but he hasn't seen a team with the talent of Commerce yet.
Texas A&M Commerce 27, Colorado Mines 24
CSU-Pueblo @ Minnesota State-Mankato
One advantage that Mankato typically has in the playoffs is playing in weather that their opponents aren't used to, but that won't be the case here. Pueblo is a very good defensive team and will definitely slow down Mankato more than some NSIC teams did this year, but I think Mankato is too locked in on their mission this season and wins this one on the ground with Nate Gunn.
Minnesota State-Mankato 31, CSU-Pueblo 21