Games of the Week - Week 11
November 15th, 2019 12:00am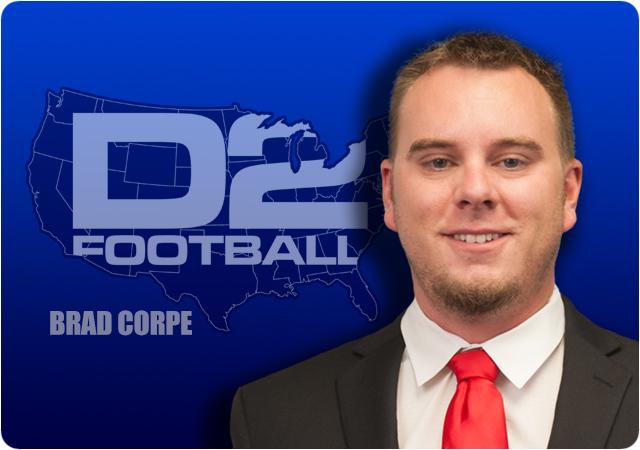 (SR3 #3) #4 Ouachita Baptist v (SR3 #7) #20 Henderson State
Who it affects:
All of Super Region Three
The GAC title, trips to the postseason, bragging rights, the Battle of the Ravines 2k19. All the storylines are there for an epic matchup between these two bitter rivals who happen to be located in walking distance of each other's campuses. If Henderson State and NW Missouri both win, then I believe the teams currently ranked in Super Region Three stay the same, just the order will change. If one or both lose, then there will be strong arguments that are able to be made by a couple different teams. In terms of this game, I believe Henderson State is a really good football team and has major potential to win this game. But I just think Ouachita Baptist is too good on defense to lose this football game, I see it coming down to whoever scores last will walk out victorious.
Ouachita Baptist 21, Henderson State 20


(SR1 #2) #8 Slippery Rock @ (SR1 #1) #15 Kutztown
Who it affects:
Nobody
Whoever wins this game will be the top seed in Super Region one. I would have to imagine that whoever loses will hold down the two-spot, although Notre Dame College, with a win over West Virginia State, could make a claim for that second spot. These two are pretty evenly matched in terms of their stat averages, and I am quickly becoming a major fan of Kutztown QB Collin DiGalbo and the way he runs this offense. However, as I have done all year long (looking at you mad3.bosss) I am rolling with Roland Rivers III and The Rock. The Kutztown defense has been vulnerable all year, not in terms of giving up points, but they epitomize the "bend but don't break" mantra.
Slippery Rock 30, Kutztown 17


(SR3 #2) #10 Central Missouri @ (SR3 #6) #12 Northwest Missouri State
Who it affects:
All of Super Region Three
There are two monster games in SR3 this weekend that will drastically shuffle the order of the entire region. Central Missouri enters as at the very least, co-MIAA champions, and can win it outright if they can do something they haven't done since 2012, beat Northwest Missouri State. If you are Ferris State, you have to be a little uneasy sitting in that top spot in SR3, knowing that an 11-0 Central Missouri could find themselves listed at the top when the selection show makes their announcements on Sunday evening. What will be interesting is if a two-loss NW Missouri or Henderson State drop below other current two-loss teams in the region. Northwest Missouri State has played in a lot of big games, they have a lot of big moment experience, and I think their loss earlier this season to a very tough Nebraska-Kearny team was a wakeup call. I am calling for a share of the 2019 MIAA conference title.
Northwest Missouri State 27, Central Missouri 24


(SR4 #7) #23 Angelo State v (SR4 #6) #23 Texas A&M - Commerce
Who it affects:
Sioux Falls, Winona State, Dixie State
Yet another back-end-of-regional-rankings major matchup this weekend. Both of these teams are currently "in" the playoff field, teams eight through ten are all three-loss teams, meaning whoever wins this game is locked in, and whoever losses this game becomes part of four teams battling for the last spot in, all of whom will have three losses. Angelo State has had a nice bounce back year this year and is playing high quality football, but I like the big game experience that Texas A&M - Commerce comes into this game with. This is truly a toss-up for me, these are two very talented teams fighting for the playoffs, with Tarleton State already wrapping up the LSC conference title, but I just have to go with Texas A&M - Commerce because they have shown the ability to finish games this year when they have had the opportunity, whereas Angelo State has let some teams hang around in games that should have been easier wins for them.
Texas A&M - Commerce 31, Angelo State 21

(SR1 #3) #16 Notre Dame College @ (SR1 #6) West Virginia State
Who it affects:
Tiffin - SR1 #8
West Chester – SR1 #7
Notre Dame College has won at least a share of the 2019 MEC title, and with a win over West Virginia State, would be the outright champions. I have lived by two rules when picking games all season, and that is to never pick against Roland Rivers III or Jaleel McLaughlin, and this week is no different. I think Notre Dame College got woken up last week, and they understand what that loss has cost them, and that a second loss could even put them in jeopardy of getting into the playoffs. While saying this, however, understand that West Virginia State would love a share of the MEC title and also to strengthen their playoff resume, however I think Notre Dame College rolls big in this one.
Notre Dame College 38, West Virginia State 20