Games of the Week - Week Eight
October 25th, 2019 6:00am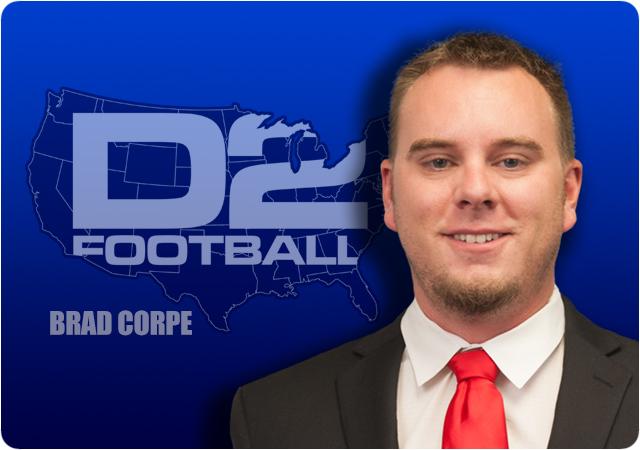 4 more weeks left in the regular season, or two-thirds of the way done with my inaugural picking season and I am very proud to say I have officially moved to 23-11 on the season. I have hit my stride and have the playoffs in full view. Unfortunately, Week 8 is one of those nasty weeks, it seems that almost every top 25 team has a "trap" game this week and a major showdown next week or the week after. I did scour the internet to find these five appealing games, all of which have major conference championship implications on the line. Lock these in, call your guy, place your bets, because here are your stone-cold locks of the week!
#7 Indianapolis vs Missouri S&T
Indianapolis has been coasting through much of the 2019 season with their closest game being week one at Ashland, which was still a 15-point victory for the Greyhounds. Missouri S&T on the other hand was also coasting until dropping a two-point contest to Truman State last week on the road. While the GLVC is most likely a lock to be a one-bid conference in the postseason, this game still has some conference title implications on the line for Missouri S&T. I just can't envision any type of scenario in which Indianapolis drops this game.
Indianapolis 49, Missouri S&T 17
#13 Central Missouri vs Pittsburg State
Do you remember two weeks ago when I predicted the Northwest Missouri State vs Pittsburg State matchup and pointed out the fact that was the beginning of a brutal stretch of games for Pitt State? Well we are now into the third week of that stretch, and the Gorillas are currently 0-2. If Pittsburg State has any hope of salvaging a playoff bid, or a share of the conference title, they need to do their part and knock Central Missouri out of the top spot in the MIAA. There is a lot left to play out in the MIAA, and they will either have Central Missouri and Northwest Missouri both distance themselves and earn two bids for the conference, or the MIAA will eat itself up and have a smorgasbord of two-loss teams, leaving the potential for the league as a whole to miss out on some playoff bids. I honestly don't know how to pick this game, I just have to think that Pittsburg State is able to bounce back and regain some of their form, and I also have to think that Central Missouri cannot keep their magic going with how brutal the week in and week out play is in this league. But they do have an elite, experienced Quarterback, and he is at home, so I am rolling with Brook Bolles and the Mules here in a tight one.
Central Missouri 35, Pittsburg State 31
#6 Notre Dame vs Findlay
Nothing like a high-quality non-conference matchup this late in the season, but for these two, and the rest of Super Region One, this could have big-time post-season ramifications on the line. Findlay absolutely must win this game to have a shot to play after week 11, even with Ashland and Tiffin left on their schedule. I would have to think Notre Dame College is sitting in the top spot in Super Region 1 as of right now, and they just need to take care of business the rest of the way to try to avenge their semi-final loss last season. This will be the toughest test to date for Sophomore phenom Jaleel McLaughlin as Findlay held Ferris State almost 100 yards below their season rushing average. I've said it once and I'll say it again, even with the other playmakers on both sides of the ball for Notre Dame College, they will go as far as Jaleel Mclaughlin will take them. I really, really like this Notre Dame College squad, but I have to go Findlay to pull this upset with their season on the line.
Findlay 31, Notre Dame College 30
#17 Bowie State vs #25 Virginia Union
Here we go, one of the biggest games in the CIAA-North to this point of the 2019 season, and I mean no disrespect to Virginia State and a couple of their upcoming matchups. If Bowie State wins this one, I don't see any way that they lose to either of Lincoln (PA) or Elizabeth City State the next two weeks, so they essentially can lock in the North division title on Saturday. If Virginia Union wins, they have a tough test against Virginia State on the road in Week 10, and a loss there could be a three-way tie in terms of record in the North. If anyone told me that Bowie State would even be in this position after the graduation of legendary quarterback Amir Hall, I would have questioned their knowledge of the game, but Junior QB Ja'rome Johnson has taken it on his shoulders to keep the Bulldogs playing high caliber football. I think Johnson and his Bowie State squad narrowly pull out the victory here.
Bowie State 27, Virginia Union 24
Assumption vs Stonehill
This is that prototypical trap game for Assumption, who currently sits in the top spot in the NE-10 conference. They have the essential conference title game next Saturday at home vs New Haven but can enter that game with a one game lead on any other conference foe if they can take care of business at home against Stonehill this weekend. Stonehill has battled their way to a 4-2 record on the season, but they haven't seen a team that is quite to the level of Assumption. I see the Senior RB combo of Doug Santos and Khaleed Exum-Strong too much for Stonehill in this one, and Assumption rolls into next week's showdown with a big victory.
Assumption 34, Stonehill 21