Games of the Week - Week Nine
November 1st, 2019 10:30am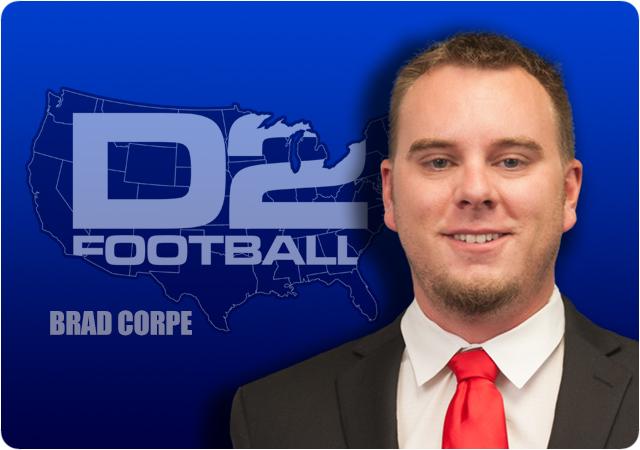 Week 9, Crunch time. I have been saying for a couple of weeks now that we are in that crucial stage of the year for conference championships and playoffs births. Well now it is truly do or die. A lot of talk about the Super Region rankings this past week, but all in all in I think the committee got it right. It's simply a numbers game at this point and the rankings are a fluid situation until the final week. More so than ever this year with the new reseeding rules put in place. After a 4-1 week last week, and with Findlay trying their best to make me right vs Notre Dame College, I sit at 27-12 on the season. Here we go Ladies and Gents, lock these bad boys in with your "guy" and sit back enjoy the five free wins.
#18 (#1 SR1) Kutztown v #22 (#6 SR1) West Chester
What a week in the PSAC huh? The battle of Kutztown and West Chester has the potential to settle the PSAC-East division title, but it also has the potential to create a three-way tie between these two and Shepherd at the top of the East. In what was a shock to most of D2Nation, Kutztown topped the initial Super Region One rankings, and a win over the sixth ranked team in region will only further their grip on the top spot regardless of how Notre Dame College or Slippery Rock feel about it. I left Kutztown QB Collin DiGalbo off my Harlon Hill stock report and the way he has been playing, I regret it. With an average game (by his standards) this week, and a big game in the PSAC title game, he could skyrocket late and be in the running to take home the trophy. With that said, you know his name is all over the scouting report for West Chester this week, and if they can slow him down, they can have a shot at winning this game. However, I don't see him being slowed down and I see Kutztown rolling on the road in this one.
Kutztown 31, West Chester 26
#10 (#2 SR1) Slippery Rock v Cal U
The other big-time matchup this week in the PSAC happens in the West Division when Slippery Rock hosts Cal U for Senior day. This game features two of my favorite players in the country that I am just learning about this year. Slippery Rock QB Roland Rivers III and Cal U DB Lamont McPhatter II. I would have to assume that Slippery Rock was happy to be ahead of Notre Dame College when the regional rankings were released this week, but at the same time upset that both of them were behind Kutztown. The Rock will be able to have their say at the end of the season as long as they can win this game, because they will either get a head to head matchup with Kutztown, or Kutztown will have lost a game by that point, in either scenario Slippery Rock could overtake that top spot. At the same time, Cal U's season isn't lost just because they weren't featured in the initial regional rankings. They have some opportunities against good opponents, and if some craziness can happen around the region, they will have a shot to sneak in. Although Cal U is only allowing 38.6 yards on the ground per game, and Lamont, you are my dude on Defense, I have to roll with Roland and the Rock getting it done via the air in this one.
Slippery Rock 34, Cal U 24
#12 (#4 SR2) Wingate v #8 (#2 SR2) Lenoir-Rhyne
Another game, another major matchup in terms of Regional Rankings, and this time we visit SR-2. There is no possible way that I can predict this game better than my colleague Chuck Bitner, and if you haven't read his write up you should go check it out here - https://www.d2football.com/sac-preview-week-nine/ - He is pretty spot on with my feelings on this game. Both teams have put up incredible numbers but neither has face the level of opponent that they will on Saturday. I would have to think that whoever takes the L in this game will still make the playoffs as long as it remains their only L on the season. So, this game is for the SAC title, and to probably set who will be the home team when they have their rematch in a couple weeks in the playoffs. I predict that round 2 of this matchup will be held at Lenoir-Rhyne.
Lenoir-Rhyne 31, Wingate 20
#4 (#4 SR3) Ouachita Baptist v Southern Arkansas
Southern Arkansas has to be upset that they were left out of the first batch of Regional Rankings this past week, which by my almost precise calculations, they are in a dead even tie with Henderson State for that ten spot. However, all of that can change quickly if they are able to beat the #4 team in Super Region Three. This game has major implications for the GAC conference title, with Ouachita currently holding a one game lead on Harding, Henderson State, and Southern Arkansas. Ouachita Baptist takes to the road for the final time in the 2019 regular season and take on a Southern Arkansas team that is really good in some tell-tale areas, SAU has only given up four sacks on the year, they are 10/11 kicking field goals (and scoring at a 96% clip in the red zone), and they are winning the time of possession battle on average this year, at 31:59 to 28:00. Ouachita is a very interesting football team, their goal is to run the football, and they do that well. When they do put it in the air, QB Brayden Brazeal is completing 75% of his passes, with over half of his completions going to star WR Allie Freeman. As much as I could see Southern Arkansas pulling out this victory, I just think this year's Ouachita Baptist team is too seasoned and too focused to right their wrongs from the 2018 season.
Ouachita Baptist 24, Southern Arkansas 14
#24 (#6 SR4) Texas A&M-Commerce v (#10 SR4) West Texas A&M
This game is simple. There are no LSC conference implications because Tarleton State isn't going to lose, and even if they do, they have already beaten both of these two. This game is purely to get a bid into the playoffs. Whoever wins will get a win over a quality opponent, but right now the highest a two-loss team can go in SR-4 would be the sixth spot. Texas A&M-Commerce does still play Angelo State as well, so there is potential for movement in the back half of the SR-4 rankings. West Texas A&M has some serious potential here if they beat Commerce, Commerce beats Angelo State, and With Minnesota State Mankato still playing Sioux Falls in a couple of weeks, they could find themselves playing in the first week of the NCAA playoffs. However, even with as much change as Texas A&M Commerce has had this year, they still feature a lot of guys who have played a lot of winning football and I don't see them losing this game because of that.
Texas A&M-Commerce 30, West Texas A&M 24