Games of the Week - Week One
September 3rd, 2019 12:00am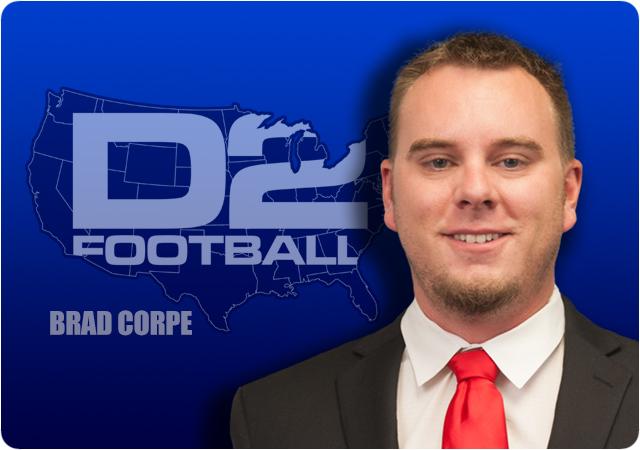 #16 Harding at #4 Ouachita Baptist
In the highest profile game of week one, the two GAC favorites face off at Ouachita Baptist in a rematch of last season's 7-3 affair that lifted Ouachita to the GAC conference championship.

Harding is a traditionally tough nosed, triple option team that eats up clock and makes you beat them via big plays. This game very well could decide the GAC title right from the start, as well as having major SR3 playoff implications.
Although the all-time series is fairly young, Ouachita holds a 5-4 lead in head to head matchups and at least one of these teams has won the GAC in six out of eight seasons of its existence.
I see this being a very close game that Harding pulls out on the road.
Harding 17, Ouachita Baptist 10.


#12 Indianapolis at #20 Ashland
In another very interesting week one battle for SR3, Indianapolis heads to Ashland in what could determine whether the GLVC gets a team into the 2019 Playoffs.

This game is probably more important to Indianapolis in the long term, with their need to have quality non-conference wins to bolster their playoff resume. Ashland, on the other hand, returns quite a few key members from their below average 2018 season and is looking to get back to their typical level of consistency this season.
Even with a home loss in week one, the Eagles could overcome it by beating Ferris State and/or Grand Valley State later in the season. Even with one of the best 1-2 Running back punches in the country (Al McKellar and Toriano Clinton), I see Ashland pulling this one out at home to start the season.
Ashland 34, Indianapolis 17


Ohio Dominican at Shepherd
As with the first two games, this matchup features two traditionally strong programs who square off looking to build their SR1 playoff resume right from the start.

Shepherd kicks off their first year as a PSAC member in the 2019 season and would love nothing better than to roll into conference play 1-0.

Ohio Dominican absolutely needs to win one, if not both of their non-conference road games to start the season (Week 2 at Valdosta State) if they want to make a strong playoff push at the end of the regular season.

Although I am traditionally high on Ohio Dominican, I see Shepherd getting back to their winning ways in 2019 and rolling in this one at home.
Shepherd 37, Ohio Dominican 21


#8 Fort Hays at Central Missouri
Remember back a year ago when Central Missouri was thought to be a 2018 contender, like Fort Hays the year before, and the two teams matched up in week one? Remember when one of the preseason Harlon Hill Favorites, Brook Bolles had his Central Missouri team rolling through mid-third quarter, up 16-6 at one point? Remember when Bolles then went down with a season ending injury in the second half and Central Missouri sputtered to a 5-6 record on the year?

If you don't, Central Missouri does.

Luckily for them Bolles is back after getting a medical redshirt and you can bet he is ready to finish what he started. This time he gets Fort Hays at home and this time I think he leads his squad to victory.
It is tough to pick against a Fort Hays team that returns many of its top producers on offense outside of quarterback Jacob Mezera, but there is a sense of motivation by Central Missouri. That is why I have them winning an epic battle this time around.
Central Missouri 34, Fort Hays State 31


Azusa Pacific at West Texas
And here we have it, the grand opening of Buffalo Stadium. If you haven't seen pictures of this beauty, check it out https://www.flickr.com/photos/[email protected]/sets/72157710330335276/
Azusa Pacific got the best of West Texas at home to start the 2018 season, but this time has to travel back to Texas. The last time they traveled to the Lone Star State was round one of the 2018 playoffs when they were demolished by Tarleton State, 58-0.
We will find out quickly if that is a motivating loss for Azusa. West Texas A&M hasn't been the type of team they became under Don Carthel in the mid-2000's, but you can bet Buffalo Stadium will be rocking to start the 2019 season.
Even with all the hype, I feel Azusa has been looking at pictures of that scoreboard reading 58-0 all off season and they pull this one out.
Asuza Pacific 27, West Texas A&M 21