Games of the Week - Week Ten
November 8th, 2019 9:30am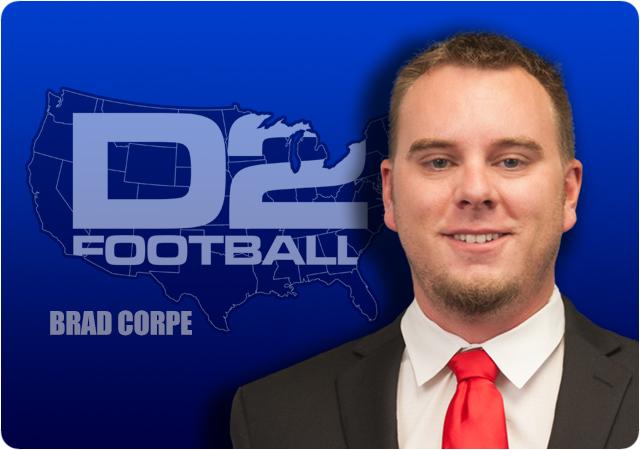 What an interesting week we have in store here, for everyone up in arms about the second installment of Regional Rankings, just be aware that there will be massive changes when the third and Semi-Final rankings are released on Monday. Why, you may ask? Of the 40 teams currently ranked in the regional rankings, over half of them still have at least one game left against a fellow regionally ranked team. Heading into week nine I sat at 27-12 on the season, add in another 5-0 week and your boy has reached the 32-12 mark, albeit, some tougher picks coming this week. You know what I say though, for all two of you reading this, lock these five games in with your guy and enjoy the payout!
#3 (SR4 #2) Minnesota State-Mankato at (SR4 #8) Sioux Falls
Minnesota State-Mankato has claimed a share of the NSIC championship and can win it outright on the road vs Sioux Falls this weekend. Sioux Falls has a chance to spoil that party this Saturday in front of their home crowd, and also has a chance to make a major statement in terms of their playoff resume. This will be Mankato's toughest test thus far on the season, and although they are almost a lock to make the playoffs, this could have major implications on what seed they are given, with Tarleton State currently holding the top spot in Super Region Four. These two teams hold the top spots in the NSIC in almost every major statistical team category, so it has the makings for quite the matchup. It is pretty simple, If Nate Gunn and Shane Zylstra do what Nate Gunn and Shane Zylstra are capable of doing, this one will be over quick for Sioux Falls. If they can slow those two down, then they might have a chance at making this a tough, four quarter contest. The weather looks to be pretty decent for this time of year, so I don't see either team having an advantage in that category. MSU-Mankato might be playing the best football of anyone in the country right now, and even with the distractions in this game, and the necessity of Sioux Falls getting a win, I just don't see MSU-Mankato dropping this one as they cruise toward an undefeated regular season.
Minnesota State-Mankato 34, Sioux Falls 17
#14 (SR3 #7) Northwest Missouri State at (SR3 #10) #24 Fort Hays State
If Northwest Missouri State can beat Fort Hays State and Central Missouri the next two weeks, they will earn a share of the MIAA conference title and be in the playoffs, if they lose both of those games they will finish in the upper middle of the pack in the MIAA and fall completely out of the Regional Rankings, if they split these two games, well, too many scenarios would have to play out. On the other hand, Fort Hays State has this final opportunity to impress the playoff committee, seeing how their week 11 game is vs currently 0-9 Northeastern State. Fort Hays State has actually won the last two matchup's these two have had, by a combined two points. Right now, Super Region III has the possibility of being a region of all zero or one loss teams entering the playoffs, so you absolutely do not want to get your second loss of the season right now, regardless of the opponent it comes against. I know Fort Hays State has been playing very well since starting the season 0-2, but I just have to think the loss against Nebraska Kearny was a true wake up call for NW Missouri State, and if I am right, I see them rolling the next two weeks into the playoffs.
Northwest Missouri State 31, Fort Hays State 21
#1 (SR2 #2) Valdosta State vs (SR2 #5) #19 West Florida
Sometimes you can get enough of a wakeup call from a close win as you can from an upset loss. If I have to guess, that's what happened in Valdosta's 20-15 win over North Greenville two weeks ago. And if it didn't then, then it may have happened this past Monday when the winners of 23 straight games were dropped a spot in the Super Region II regional rankings. All of this action on the heels of them playing West Florida and then heading to West Georgia for the regular season finale. I don't know what will happen in this game, but I have to imagine Valdosta State will be ready and playing their best football, the biggest questions is, will that be enough to beat West Florida? In all reality, even if both of these teams finish the season 1-1, I envision them both making the playoff field. I think West Florida is going to play a good football game, but until someone actually proves that Valdosta State can be beat, I am not going to be picking them to get beat.
Valdosta State 27, West Florida 21
#8 (SR4 #3) Colorado Mines vs (SR4 #10) Dixie State
Ohhh Super Region four. Unfortunately for Colorado Mines, an undefeated regular season isn't going to be enough to get them a top seed in their region, or even a two-seed. I think Mines is a very good football team, and I fully expect them to take care of business in this game, especially against a Dixie State defense that gives up 350 yards per contest. For Dixie State, even a 2-0 finish to this season might not get them into the playoff field, that's how rough this region is. However, I would have to think that if they did pull off this victory, there would be enough chaos in front of them with some of the other ranked matchups that they could sneak in as a six or seven seed. I think Dixie State has enough firepower on offense to make this a good game, but Colorado Mines is darn good against the run (47.2 yard per game on the ground) and if they get Dixie State to throw the ball more than 30 times in this one it is going to get ugly for Dixie State.
Colorado Mines 38, Dixie State 20
#13 (SR3 #6) Grand Valley State @ #2 (SR3 #1) Ferris State
Last but not least is the Anchor-Bone Classic. This one has all the makings for an intriguing game, the 50th game these two have played, you have pieces of the GLIAC title on the line, or if Ferris State wins, off the line. You have playoff seeds and bids at stake, and you have a trophy that will go in the winning team's trophy case for the next 12 months until they square off again. This was a one-sided rivalry until the fall of 2012 when Ferris State head coach Tony Annese arrived in Big Rapids, and since then he has gone 6-1 in Anchor Bone Trophy games, and 7-2 overall against Grand Valley State (the teams have split two playoff meetings). What seems to be the biggest question heading into this game is the health and availability of reigning Harlon Hill Trophy Winner, Ferris State QB Jayru Campbell. I have seen a lot of local chatter about if he plays, Ferris wins, and if he doesn't, GVSU wins, and I am simply here to say that isn't the case whatsoever. Obviously, he helps Ferris State if he is available, but they can definitely still lose this game if he is 100% healthy and playing, just as they can still win this game if he doesn't put the pads on. If the Grand Valley offense can run the football on this Ferris State defense and then open up their vertical passing game the Lakers will have a shot to win this one. Penalties have shown themselves to be a major factor in the outcome of the last few Anchor-Bone trophy games, not necessarily the amount of penalties, but the timing of them, so both teams will need to play smart football to not extend the other teams drives. If Ferris State can control the GVSU rushing attack, and protect the football, I see them coming away with a close victory.
Ferris State 31, Grand Valley State 27