Games of the Week - Week Two
September 11th, 2019 12:00am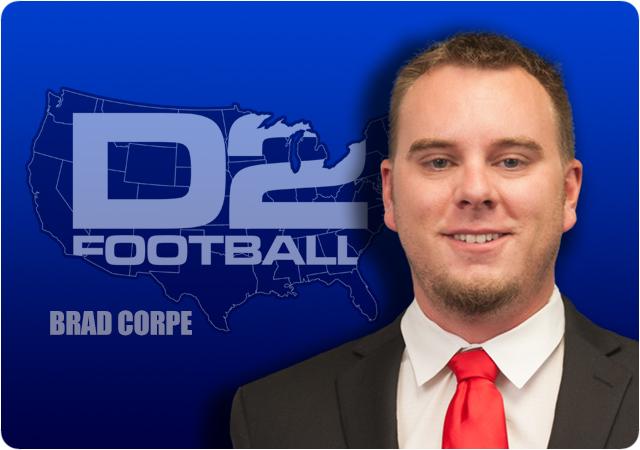 Well, I made my weekly debut last week and, needless to say, it couldn't have gone any worse. Thankfully Central Missouri pulled out a W to help me get to 1-4 on the week. I've since licked my wounds and I am ready for a bounce back week with some big games over the national landscape.
These are the games to keep your eyes on.
Ohio Dominican (1-0) at #1 Valdosta State (1-0)
We start in Valdosta with the 1-0 defending national champions, Valdosta State, hosting 1-0 Ohio Dominican Saturday night.
Ohio Dominican scored with just over a minute remaining to knock off Shepherd on the road last week thanks to an impressive performance by quarterback Evan Ernst (31-39, 273 yards, two touchodwns). Unfortunately for Ohio Dominican, they rushed the ball for only 56 yards on 21 carries and I don't see that type of ground game working against Valdosta State on the road.
Rogan Wells was near perfect for the Blazers in their week one, 38-3 win over Albany State. Plus, new coach Gary Goff is very familiar with Ohio Dominican from his days at Tiffin. I see Valdosta rolling in their home opener.
Valdosta State 31, Ohio Dominican 10
Augustana (1-0) at #3 Minnesota State (1-0)
Minnesota State had an interesting week one win over Southwest Minnesota, a game which they won 38-23 and held Southwest Minnesota to four yards on the ground. However, they gave up 346 through the air. Nate Gunn picked up where he left off in 2018, with 242 yards on the ground and three touchdowns.
What worries me is that Augustana quarterback Kyle Saddler was 22-25 for 235 yards and two touchdowns in their win over Upper Iowa.
The 2018 matchup between these two was a mere two-point conversion by Augustana with zero seconds on the clock from going to overtime, and I see the 2019 matchup playing out close to the same.
Minnesota State-Mankato 33, Augustana 27
Emporia State (1-0) at #23 Pittsburg State (1-0)
A matchup of early season undefeated squads takes place Saturday night in Pittsburg.
Pittsburg state was a 20-yard FG as time expired away from starting the year 0-1.
I like the makeup of this Emporia State team this year, and although they enter the game as the hypothetical road "underdog," I see them playing tough in a game that is a toss-up and will come down to the final possession.
Emporia State 27, Pittsburg State 24
#7 CSU-Pueblo (1-0) at Chadron State (1-0)
In a matchup of two offenses that topped the 500 total yards mark in week one, CSU-Pueblo heads to Chadron State in what could turn out to be an interesting matchup.
Pueblo rushed the ball an astonishing 60 times in their win over Dixie State, which apparently set up their passing game quite well. They completed 15-27 for 335 yards through the air. That type of balance is what helps teams make deep playoff runs if it stays consistent throughout the season.
There is typically something about home openers against quality opponents though, and Chadron State was no slouch offensively last week.
CSU-Pueblo wasn't heavily tested by Dixie State in and I see Chadron rising to the occasion to make this a tough one. If Chadron State can make time of possession somewhat even in this game, I am going with them to pull out the stunner in the RMAC.
Chadron State 24, Colorado State-Pueblo 21
#14 Lenoir-Rhyne at Virginia Union
I just don't know how to read this game if I am being honest.
Virginia Union is 1-0 after knocking off D1 Hampton and Lenoir-Rhyne arrived at 1-0 by completely overwhelming St. Augustine's in a 68-7 beatdown.
I have liked Tabyus Taylor's chances to put up huge numbers for a couple of months now, and his 261 all-purpose yard performance shows that he is ready to roll in 2019. Virginia Union will go as he goes this season, and whoever is able to control the ground game better in this matchup is going to win the ballgame.
Although I think Taylor gets his numbers this week, I just don't think Virginia Union can stop the Lenoir-Rhyne rushing attack for four quarters.
Lenoir-Rhyne 38, Virginia Union 28