GLIAC Week One Reaction
September 9th, 2019 12:00am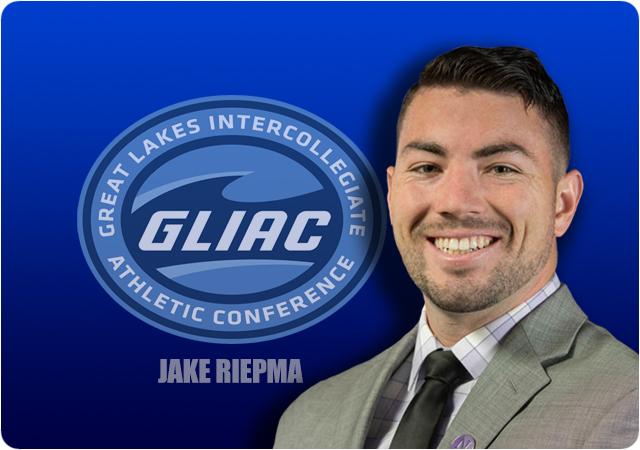 Five wins and three losses for the GLIAC in the non-conference slate in the opening week of the season.
Coincidently, that was also my record in picking games this week, not that anyone cares, but a 5-3 mark to open the season, I'll take it, but much room for improvement.
As it inevitably does, week one provided us with all kinds of surprises and unexpected takeaways that will help start to shape our opinions about each member school.
I'll start with the two games I attended because I can somewhat intelligently touch on those two games, and I'm giving myself too much credit already – I can better say what I saw, lord knows it won't be too thought-provoking or clever.
Thursday night Slippery Rock opened up a can of you know what on Wayne State through an aerial attack as good as I've seen in a while. SRU quarterback Roland Rivers finished the game with seven total touchdowns, with six of them being through the air. The Rock had 49 points at halftime, and at times, their passing game looked like a 7-on-7 summer practice with no defense. Now, give the Warriors credit for not laying down – WSU played a solid second half, and even shrunk the lead down to 26 points at 56-30 late in the third. Wayne State outscored SRU 26-13 in the second half, but the hole was way too deep to climb out of, and The Rock ultimately earned the win. As for Wayne State's offense, James Hill is the real deal at running back. SRU was loading up the box to stop the run, and Hill still managed to put up impressive numbers – 22 carries for 138 yards and three touchdowns. At quarterback, I think Dakota Kupp becomes the guy for Paul Winters – he and Jake AmRhein split time, and Kupp looked like the better option to me.
All told, a tough night for the Warriors but certainly enough to build on heading into week two after the improved second half. As for SRU – wow, the rest of the PSAC better lookout for Roland Rivers and that passing attack. I'm no PSAC expert, but after watching two PSAC teams over the weekend, The Rock was head and shoulders above Edinboro.
That is a perfect transition into the next game I attended (good job, Jake) Grand Valley State at home against the Edinboro Fighting Scots. This was the definition of a David-vs.-Goliath matchup as GVSU outmanned Edinboro and had better athletes at every position. The 35-10 final score is not indicative of how much better Grand Valley was in all facets of the game – Edinboro had no chance on offense, and I think the Lakers offense left some points out there. GVSU looked a little sloppy in the first quarter committing a number of self-inflicted penalties which can be expected in week one. Cole Kotopka, the new quarterback for GVSU settled in eventually and had some prolific passes, but I see a lot of room for improvement for him as he did throw the two interceptions and missed some open throws. The biggest takeaway for me was the impressive running game for Grand Valley built around Aryuan Cain-Veasey. The stats will blow your mind – Cain Veasey finished with 200 yards on 11 carries! One of those 11 carries was a 94-yard house call in which he broke at least four tackles, one of the more impressive runs I've seen. I'm going to be that guy right now and question the abilities of the 11 defensive players on the field for Edinboro, because it felt like they missed a tackle or two on every play. Needless to say, I was not impressed with the Fighting Scots, hopefully they'll figure it out as the year goes on, or at least run some tackling drills in practice. Easy for me to say right? I was the dork on the sidelines and in the press box at the game, and not on the field… I'm sure it wouldn't take long to pull up the film of all of my missed tackles in college, I digress.
In any case, I left Lubbers Stadium (I DID NOT PARTICIPATE IN THE BLACKOUT) thinking this GVSU team could be scary good – fantastic defense that swarms to the ball, dominant running game, and I really think Kotopka and the passing game will come around, even having the potential to be a lethal force.
For those that followed along Saturday night on twitter, I was a little upset none of my tweets would go through, and I was being a pouty baby, but then, behold, the night turned right around when the GVSU gameday staff brought the halftime meal – Chik-fil-A. All was well in the world again. Oh, and I should mention –although it's pretty obvious—Aryuan Cain-Veassey was named GLIAC Player of the Week on offense for his efforts, turns out 200 yards on 11 caries will get you some conference recognition!
Alright, jump back to Thursday for me and let's revisit what else unfolded in the opening week. The other two games threw me for a loop – obviously no one expected No. 2 Ferris State to go down to the wire with Findlay, and I certainly expected more from No. 23 Ashland, specifically from the offense in the 24-9 defeat to Indianapolis.
To Ferris State's credit, they held on for the 24-23 win after the Oilers elected to go for the two-point conversion after scoring the potential game-tying touchdown with less than a minute to play. I listened to the game on the stream in the fourth quarter (couldn't watch it because I don't have a log-in yet, let's work on that?) But my overall sense is the Ferris State offense wasn't quite as prolific without Jayru Campbell in the lineup, and Findlay just kept hanging around and played the underdog role brilliantly. As I browse through the box score, it looks like it was about as evenly played game as you can find, and obviously the final score indicates that as well. A lot of talk about whether or not Findlay should have gone for the win and gambled on the two-point conversion call – I know it didn't work out, but if I'm head coach Rob Keys and the rest of Oiler nation, I go for the win every time – you're a major underdog on the road against arguably the best team in the country – let it come down to one play, go for the win. It's unfortunate for Oiler nation that it didn't work out, but that's the right call in my mind.
As for Ferris State, since after all, this is a GLIAC column – this seems like one of those games you'll be able to look back on and learn a ton from – most of those games result in a loss, and FSU is fortunate their learning moment comes in a winning effort. Ultimately, it's all about finding a way to win, and Ferris State did that – I'd rather win ugly than lose cute, right? One thing that stood out to me was the postgame recap graphic posted on twitter by Ferris State Football, it said, "We're just getting started #unfinishedbusiness" I get the whole mantra of a redemption given they are the National Runners-Up, but after a one point victory that came down to a two-point conversion against a non-ranked opponent, I'm not so sure I'd go with that bold of a tweet, but hey, that's just me, to each their own. Just my two cents, worth far less than that. Ferris will probably go on to run the table and this take will age poorly as most of mine do, and the fact that I've devoted this much to a freaking postgame graphic is in itself silly, but again, this is a brain dump of my thoughts and that was my immediate reaction when I read that. So sue me. If I'm ever not honest and transparent, it's a disservice. Okay Jake shut-up already and move on to the next game.
Ashland was outscored 21-0 in the second half en route to the 24-9 defeat. I have to imagine it brought back all-too-familiar memories of last year for Eagle faithful – losing to ranked teams.
Head Coach Lee Owens said his team was exposed up front, and you have to wonder if AU will be able to address the shortcomings from the offensive line and improve. I have no doubt Ashland will respond and be just fine, but they will have to do so quickly – Ferris State pays a visit in just two weeks. Ashland's approach of scheduling the high quality opponents to open the season reminds me of what Tom Izzo and the Michigan State basketball program does – beat your guys down early so they're stronger down the road. I assure you Owens is preaching to his team about the opportunities that are still in front of them despite coming up on the losing end in week one.
To the early slate on Saturday where the UP teams showed out in a big way! I was dead wrong in my prediction of Michigan Tech struggling on the road at Hillsdale – the Huskies used a big second quarter to cruise to the 29-14 win over the Chargers. In my defense, I did say I don't think Tech is the worst team in the GLIAC as the preseason poll indicated, but I was pleasantly surprised with MTU's statement in week one, especially given the quality of the opponent. Hillsdale won the GMAC title last year, but they did however lose a great deal of firepower on offense in quarterback Chance Stewart and his go-to target in wide receiver Trey Brock, but nonetheless, Michigan Tech looked impressive on both sides of the ball and outplayed Hillsdale for the duration. A huge first step in week one for Michigan Tech in making 2019 a bounce back year, let's see if this gets the ball rolling for the Huskies and they can sprint out to a favorable start.
As for the Northern Michigan Wildcats – redemption was on their mind after last year's contest against McKendree, and Kyle Nystrom's squad delivered in a big way – a 30-9 win for NMU in which the Wildcats completely dominated the second half to the tune of outscoring the Bearcats 20-0. As I just said for MTU, the same goes for NMU – week one marked a huge first step in a bounce back year for the Wildcats.
NMU quarterback Ryan Johnson only threw the ball 14 times, but he was incredibly efficient – 10 of 14 for three touchdowns – the first time in his career Johnson accumulated three passing touchdowns. On the rushing side of things, NMU tallied 138 yards with Tyshon King responsible for 80 of them. All in all, a balanced attack offensively combined with a stifling defense that allowed just 220 yards of total offense and forced two takeaways – not too shabby in week one! Same goes for the Wildcats, let's see if this gets the ball rolling in Marquette.
Now for my Northwood Timberwolves who by now you know took a close one on the chin against a good Tiffin team. This was probably the most entertaining game on Saturday, as there were a few lead changes in the second half – in any event, NU found themselves down 22-17 late in the fourth and Tiffin appeared to be running out the clock when the Dragons committed a personal foul penalty that stopped the clock and forced Tiffin into having to take a safety with under 10 seconds to play. On the ensuing free kick back to Northwood, the Timberwolves miraculously lateralled the ball down the field and scored, but several forward laterals negated the score and Tiffin held on for the 22-19 Win.
The football guy in me is obviously disappointed with the loss for Northwood, but the media guy in me has a lot of positives to take away from this one for the Timberwolves. First, they showed a lot of life in the second half after being down 16-3 at the break. Secondly, and perhaps most notably, Northwood found themselves on Sportscenter after an incredible pitch and catch from Grant Dunatchik to Bryant Kieft who MOSSED the Tiffin defender for a 42-yard touchdown. If you haven't seen the clip, a) Do you live under a rock? B) check it out here or on @NUTimberwolves official twitter account, or ESPN's twitter account, I don't care how you watch it, but one of the best catches you will see all year compliments of Bryant Kieft.
Now again, I hate to see the L in the column for Northwood, but certainly an exciting moment for the entire program as well as Dunatchik and Kieft to be featured on Sunday NFL Countdown and Sportscenter Top Plays – national exposure and recognition is always a good thing. Despite the loss, Northwood has some positive momentum to build off of.
Last and certainly not least, the Ryan Brady era got off to a hot start for the Saginaw Valley State Cardinals on the road deep in the heart of Texas! SVSU flew to Kingsville for a non-conference battle with the Javelinas of Texas A&M Kingsville. The opening statement of the recap tells you everything you need to know for this one – five turnovers committed by the Texas A&M Kingsville offense and four Ryan Conklin touchdowns – that sounds like a recipe for a 35-14 victory to me! For Cardinal faithful, I don't think you could have dialed up a better opening game on the road for your squad – both sides of the ball made plays, your big-time playmakers showed out, and you come home with a lopsided victory and a 1-0 start for first year head coach Ryan Brady. Anything I need to add to that? Yes, for the cherry on top, junior defensive back Marvin White earned GLIAC Player of the Week honors after an impressive performance in which he tallied seven tackles and had a 71-yard pic six for the Cardinals.
Phew! Week one reaction is in the books – as I mentioned in the preview column, these non-conference weeks are tough on all of us – you poor readers have to endure eight recaps instead of four or five – once the conference season gets going, fortunately for all, I'll have less to write and you'll have less to read!
Remember, in addition to the columns twice-a-week, I'm also hosting the GLIAC Football Weekly podcast. If you're feeling charitable, give it a listen, leave a review, and share it on social media. Episode #2 will be posted here.
Cya!