GLIAC Week 7
October 14th, 2021 7:00am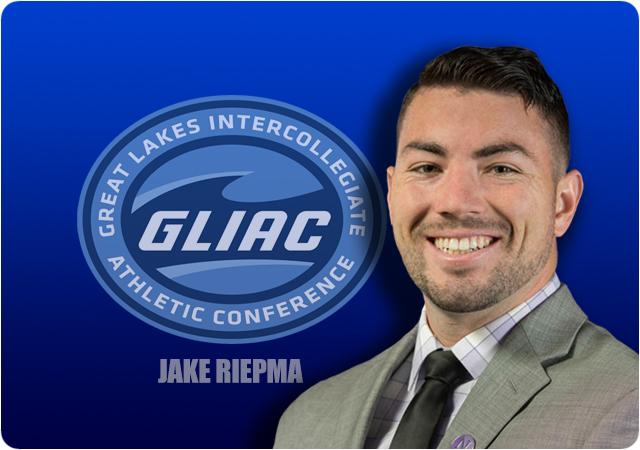 Michigan Tech delivers the latest gut-wrenching defeat to Wayne State, Davenport avenges its week 3 loss to Northern with a win at home over the Wildcats, Grand Valley State soars past Northwood with ease, and Saginaw Valley State gets its biggest win since 2012, all totaling another exciting week on the gridiron in the GLIAC.
Things have gone from bad to worse in the Motor City for the Wayne State Warriors – Drew Wyble kicked a 26-yard field goal as time expired to lift Michigan Tech over Wayne State, 30-27. With the loss, WSU falls to 0-6 for the first time since 1999. Meanwhile, Michigan Tech notches another GLIAC win to move to 2-0 in the conference and 3-2 overall. Don't look now, but Steve Olson is getting the most out of his as things are trending in a positive direction for Michigan Tech.
Speaking of the right direction – how about the Saginaw Valley State Cardinals making the cross-country trek to Texas and stealing an overtime win over Texas A&M Commerce, 20-17. I mentioned in the opening paragraph it was the biggest win for SVSU since 2012 – those were not my words – head coach Ryan Brady shared that exact sentiment in the postgame recap. No disrespect to the Cardinals, because at the end of the day, a win is a win is a win – but someone please show me the last box score in which the winning team had 24 yards passing! Nonetheless, SVSU moves to 3-3 with the win.
As for the Grand Valley State – Northwood game, we saw how great of a talent gap there is between the top and bottom of this conference. Again, I mean no disrespect, but the 70-9 drubbing of the Timberwolves by the Lakers was an example of a true David vs. Goliath matchup. After the Timberwolves scored on its opening drive, the wealth of talent from GV simply overwhelmed NU in all aspects. Men against boys to put it mildly. Lakers stay undefeated and move to 5-0 while Northwood falls to 1-4.
Davenport's 18-13 win on homecoming over Northern Michigan represents a fitting end to a tightly contested contest as the Panthers edged out the Wildcats in just about every statistical category including a dominating advantage in time-of-possession in the winning effort. Sparky McEwen pressed the right buttons in altering the offensive starting lineup from the last time these two teams met back on September 16th in Marquette, Blake Daniels got the nod under center in this matchup and was able to lead the Panthers to their second win of the season and first conference victory.
The unbeaten and second-ranked Ferris State Bulldogs enjoyed a bye week paving the way for arguably the most anticipated matchup in all of Division II thus far in the 2021 season – the annual Anchor-Bone Classic. This year's matchup features two undefeated programs and most likely will determine the GLIAC champion in 2021 – No. 2 Ferris State on the road at Lubbers Stadium taking on No. 6 Grand Valley State.
Since Tony Annese's arrival in Big Rapids, FSU has owned this rivalry winning seven of the last eight regular-season matchups and compiling an 8-2 record overall against GVSU in his tenure at Ferris State. The last time these two teams met, FSU won a 21-16 contest in Big Rapids to secure the 2019 GLIAC title. I spoke with Tony Annese on this week's episode of GLIAC Football Weekly about the rivalry and much more. Grand Valley State head coach Matt Mitchell is 4-8 against Ferris State in his time at GV, but I firmly believe this is the most talented Lakers team we've seen in some time. Both teams head into Saturday night's contest ranked in the top 10 marking the 12th time in series' history in which both squads have been ranked in the major D2 national poll at kickoff. That said, I still like the Ferris State Bulldogs in this one even on the road – FSU has won its last 18 true road games and has not lost a GLIAC game since 2017 (26 consecutive wins). Statistically these are two of the best offenses in the entire country, but in a game of this magnitude, I don't expect the scoring to come easy. Both of these coaching staffs have the wherewithal to make effective in-game adjustments, and given the familiarity with one another, I think the defenses will step up. I'll take Ferris State winning 34-31.
Michigan Tech football aims for its 11th straight Miner's Cup victory against Northern Michigan in the annual showdown of two Upper Peninsula schools. The Huskies have dominated this series over the last decade and then some, and for Northern Michigan I can't help but call this a desperate must-win type of rivalry game. Tech is 16-4 against the Wildcats since 2000 and is 15-3 in Miner's Cup games going into the weekend. The Huskies defeated NMU 24-20 in their last meeting, October 12, 2019 at Michigan Tech. The Wildcats will be at home in the Superior Dome where they are 2-1 this season. Michigan Tech enters 1-0 on the road after last week's walk-off-win over Wayne State. This is another game where I feel it is a genuine toss-up and could go either way. Much like my pick with Ferris State, I have to be proven wrong before I can go against the trends – I'll take Michigan Tech to remain unbeaten in GLIAC play and claim its 12th straight Miner's Cup with a tight 20-16 victory on the road.
Next, we move to Mid-Michigan for the annual "Axe Bowl" featuring the Saginaw Valley State Cardinals and the Northwood University Timberwolves. I said this on GLIAC Football Weekly this week – but this game holds such a special place in my heart, and no exaggeration, some of my earliest and best childhood memories are attending "Axe Bowls" and watching these two teams battle it out for the prize of one of the coolest trophies you'll see – the coveted axe. This game is what made me want to be a college football player and eventually play at Northwood. Alright enough of the reminiscing already! Get to the game! Saginaw Valley State will once again be heavily favored in this year's contest as the Cardinals are riding high off a thrilling overtime win over Texas A&M Commerce, and the Timberwolves are licking their wounds after a 70-9 drubbing at the hands of GVSU. The last time these two teams met in 2019, SVSU picked up a 55-29 home win. The two teams alternated wins from 2014 to 2018. Outside of the 2019 win for SVSU, this game has a recent history of going down to the wire from 2008-2016, every game but one (2013) ended as a one-possession contest. In this matchup, the Cardinals have the advantage on paper on both sides of the ball. Every team deals with injuries, I'm well aware, but Northwood has been decimated by injuries on a roster that is already not particularly deep. That said, given the Cardinals recent struggles on offense and specifically throwing the ball, I don't see them running away with it or blowing Northwood out, but I do see SVSU earning the win. As much as it pains me, in fact I'm sick to my stomach even typing this, but I must take SVSU to earn the win, 28-14. I hope I'm proven wrong.
Last, we buzz west for Davenport and Wayne State – DU riding high off the win last week over NMU, and the Warriors still in search of their first victory this season. Last time these two teams met; Wayne State dominated the contest from start to finish in a 34-0 shutout win. This one will undoubtedly be close as neither team will let the other run away with it, but I like the Panthers to pull one out at home, DU 16, WSU 13.
That's all for now folks, enjoy one of the best weekends of football the 2021 season has to offer!