GLIAC Week 8 Reaction
October 28th, 2019 11:00am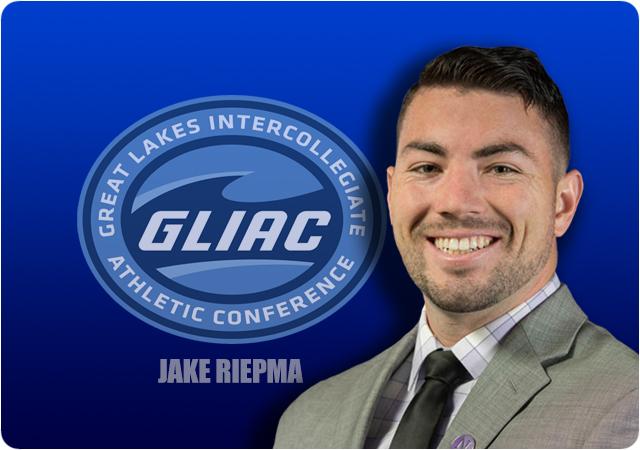 Four games over the weekend that all played out as chalk, and week eight in the GLIAC made for a relatively predictable day on the gridiron.
Of the four GLIAC contests, not one of them was decided by one possession; the closest game of the weekend was Ashland's 21-12 trump over Michigan Tech.
As for the picks, it was a 3-1 weekend for me, 32-13 on the season (nobody cares), my only blemish coming by way of Wayne State's 31-10 stomping of Northwood. If you listened to GLIAC Football Weekly, you know that means I owe Tony Ortiz, the sideline reporter for Wayne State, a pizza. Yep, we put a friendly wager on the game and his Warriors came through for him.
Ferris State and Grand Valley State both won handily, meaning as long as they both take care of business again this coming weekend, we'll have the highly anticipated "Anchor-Bone" showdown in two weeks with GLIAC title implications on the line.
Beginning in Ohio with Ashland and Michigan Tech, I was able to watch the majority of this game on the free webcast provided by Ashland University, and to already play a broken record from this column – it played out the way many of us thought it would. Ashland went up big, 21-0, but Michigan Tech never quit and did its best to fight back. It was a tough, gritty, hard-nosed game played by both teams in terrible weather conditions, but Ashland in the end was the more talented team and able to outlast the visiting Huskies, 21-12.
The part of this game that stood out to me the most was when the Huskies scored their second touchdown with 7:48 to play in the fourth quarter. Now, Michigan Tech had missed its first extra-point attempt, meaning the six points for the touchdown only made it 21-12, and still a two-score deficit. The Huskies elected to go for the two-point conversion instead of attempting another PAT. I do not have the inside information with the team that could provide a simple explanation as to why they went for the two-point conversion, but in my mind, at that point in the game, you kick the extra-point to make it a one-score game at 21-13, rather than try to make it a 7-point game. As it played out, the Huskies two-point attempt failed, and the score read 21-12, meaning MTU was still down two scores. This came into play down the stretch as Michigan Tech got the ball back late and was driving, but it didn't really matter because they were down the nine as opposed to eight. Again, I say all this, and there could have been a very good reason not to kick the PAT after the second touchdown – the weather conditions were terrible, but I still feel you attempt the kick there to make it a one score game. In any case, Ashland gets the win and moves to 5-3 while Michigan Tech falls to 4-3, the Eagles go to Saginaw Valley State next while MTU hosts Ferris State.
To Big Rapids where Ferris State was hosting Saginaw Valley State and the Bulldogs potent offense was on full display. Senior quarterback Jayru Campbell tossed a career-high 347 passing yards on 13-of-19 passing. He added a team-high 61 rushing yards and two scores on the ground while accounting for four TD's and more than 400 yards of total offense. He was named the GLIAC Offensive Player of the Week. This game was tied 3-3 late in the first quarter before the Bulldog offense exploded for 21 unanswered points to take a 24-3 lead into the halftime break. The second half featured less scoring as the Bulldogs eventually cruised to the 34-10 decisive win. For FSU, the decisive win shows once again how Tony Annese has this team soaring on all levels, and no perceived 'trap' game can slow them down. The last thing I'll say about Ferris State for this week – those RED uniforms and black pant combination looked SO MUCH BETTER than those ugly grays! Well done by FSU for making dramatic improvements in the uniform game in just one weeks' time. For SVSU, the schedule hasn't done them any favors, but that's now four losses in five games after the 3-0 start. It doesn't get any easier for the Cardinals as they return home to take on Ashland, while FSU treks north to take on Michigan Tech.
The season of misery continues for Northwood as Wayne State came to town and imposed their will upon the Timberwolves. Paul Winters' squad showed up ready to play and executed the game plan to perfection to take control of this game from the very start, and by very start I mean the Warriors first play from scrimmage – a 94-yard touchdown pass from Dakota Kupp to Darece Robinson to make it 7-0. The Warriors eventually lead 21-3 at the break, and the game never became close en route to the 31-10 final. For WSU, the long-shot hopes of GLIAC title contention remain intact – with only one conference loss, if the Warriors win out, GVSU beats FSU, and WSU beats GVSU the last game of the season, then Wayne State and FSU would tie for the conference title. SLOW YOUR ROLL, JAKE! There, I said it, so nobody else has to, I'm well aware that I'm getting way ahead of myself, but we're speaking purely hypothetical here, and just for fun! Do I think things will play out that way? No.
Okay, now for Northwood. I've said multiple times this column might sound like a broken record, and here's more to support that claim – the Timberwolves at 0-8 have played some competitive games this season, even to the point of losing multiple double digit fourth quarter leads, but enough is enough. I'm tired of watching my alma mater come out on the short end, especially given the proud history of our institution. I know it doesn't happen overnight, and there isn't a magic button to press, but NU and company needs to find a way to get in the win column. Period.
The final game of the day featured a night game at Lubbers Stadium in Allendale in some of the more miserable looking weather conditions you will see. Heavy wind and constant downpour lasted the entire game and impacted a number of plays throughout the contest, but the Lakers had no trouble in cruising to the 27-7 win over Davenport in a game that was never close. Watching the game from a dry and warm radio studio in Detroit, I felt the pain of all those in attendance, but there's no stopping Mother Nature, and GVSU battled the elements enough to win running away. The Lakers opened up a 14-0 first quarter lead, then followed it up with a defensive touchdown on a fumble recovery to make it 21-0 early in the second quarter. Davenport did mount a 90-yard-drive in the third quarter to make it 21-7, but Cole Kotopka's second rushing touchdown of the night put the game out of reach at 27-7. The most compelling part of this game was once again the uniform disaster – what in the world was DU doing wearing dark red uniforms on the road when GVSU was dressed in all black uniforms at home? It was painful on the eyes – apparently, Davenport saw how SVSU wore all red uniforms in a "Color-Rush" game a few weeks ago against the Lakers, but failed to realize NCAA/GLIAC rules prevent both teams from wearing a solid color unless previously agreed upon by both teams well in advance of the game. As a result, DU was hit with an unsportsmanlike conduct penalty to begin the game and at the start of the second half for not having uniforms in compliance with the rules. A huge mistake, and one that is, to be frank, 100% avoidable. In any event, next weekend Grand Valley plays another (they get eight of them this year) home game as they welcome in William Jewell out of the GLVC, while Davenport hosts Wayne State.
Today is an important day for some in the GLIAC as the first edition of the Super Region Rankings are announced. Stay tuned for this week's GLIAC Football Weekly podcast as we will definitely dive into the first Super Region Three rankings.
Talk to you GLIAC cronies later.