GLIAC Week Eight
October 21st, 2021 8:00am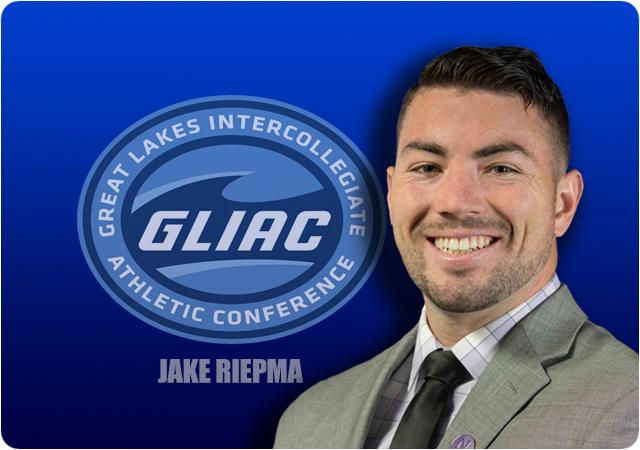 All three GLIAC rivalry trophies will be staying put for another year as Ferris State, Michigan Tech, and Saginaw Valley State all were victorious – add in Wayne State's first victory of the season and you have a memorable week seven in the GLIAC
In a battle of unbeatens and top ten teams, the annual "Anchor-Bone Classic" lived up to the hype and then some, as Ferris State held on to defeat No. 6 Grand Valley State by a score of 35-28. It was an epic back-and-forth showdown at Lubbers stadium, complete with fake field goals, game-changing turnovers, and nonstop action resulting in the best atmosphere in Division II football. It was a total team effort for Tony Annese's squad as Jared Bernhardt returned to game action for the first time since week two and picked up right where he left off – leading the nation's best offense with an exceptional performance tallying two touchdown passes on 12 of 16 passing and adding 116 rushing yards on 23 carries. Add in Alex Thomas' stellar performance on defense complete with the 99-yard 'scoop-and-score, as well as Sy Barnett's impactful kicking performance on special teams and you have your three GLIAC players of the week – all hailing from Ferris State.
Ferris State now boasts the number one overall ranking in Division II football.
At this point hopefully the Miner's Cup bought real estate in Houghton instead of renting -- 11 consecutive wins for Michigan Tech in this series -- complete domination. Saturday's clash came down to the wire at the Superior Dome in Marquette, but a late Will Ark touchdown pass to Jordan Janssen sealed it for the Huskies. Head coach Steve Olson said it wasn't the prettiest of games, but regardless, the Miner's Cup will remain at Michigan Tech for another 365 days.
Continuing with the theme of rivalry trophies staying put -- the Axe will remain red as Saginaw Valley State used a fast start and big first half to defeat Northwood 31-13 for its third consecutive Axe Bowl victory. I spoke with head coach Ryan Brady about the win on this week's episode of GLIAC Football Weekly. Saginaw Valley State moves to 4-3 and Northwood falls to 1-5.
Last but certainly not least, the Wayne State Warriors finally found themselves in the win column for the first time this season after putting together a dominating defensive effort against Davenport resulting in the 16-3 triumph. WSU's defense stifled Davenport all game long including holding the Panthers to 3-of-15 on third downs and forcing seven punts. With the win, Wayne State gets off the schneid and there are no longer any winless teams in the GLIAC.
As for the picks -- another 3-1 week to bring the season total to 23-12. Not bad, but we can be better! This week feels like the perfect week to go undefeated on picks!
Ferris State and Michigan Tech square off in Houghton with sole possession of first place in the GLIAC on the line. The Huskies have quietly jumped out to a 3-0 start in conference play, but are yet to face the top tier teams in the GLIAC. Ferris, well you know, they're pretty good. Week in and week out I run out of great things to say about the Bulldogs, so I'll just let the number one ranking in all major D2 polls do the talking -- FSU is on top of the D2 football world and will stay that way -- Ferris State has the best offense in not only the GLIAC, but in the entire country as well. Michigan Tech has shown they have one of the best defenses in the country, but FSU is built different -- Bulldogs by a few touchdowns on the road.
Grand Valley State aims to bounce back after the loss to Ferris, and a wounded Northern Michigan team is most likely exactly what Matt Mitchell and company have in mind. Another lopsided matchup on paper -- the Lakers ability to run the ball should be all they need to claim an easy win on the road. GVSU is top in the conference in rushing offense and top ten in the nation with better than 240 yards on the ground per game. Lakers bounce back big, they win by three scores at least.
Northwood will attempt to end the three game losing skid welcoming in Davenport who is also wailing, having lost four of its last five games. The lack of offense has plagued Davenport in its defeats this season -- in its five losses, the Panthers are averaging just over seven points per game. Overall, the Panthers are last in points per game averaging less than ten points per contest -- hard to win when scoring that few points. Northwood is the second worst team in the conference in points per game averaging just over 18 per contest. However, for the Timberwolves, the real problem has been on the defensive end -- NU is last in points allowed, surrendering nearly 43 points per game -- maybe that's exactly what the Panthers offense needs to find themselves? In any case, I call this game a toss up, so I'll give the edge to the Timberwolves at home in a close game -- NU 19 DU 16.
For the second time this year, Saginaw Valley State and Wayne State will meet with this game counting for the GLIAC standings and being played at Wickes Stadium. SVSU got the better of Wayne State when they met in Detroit on September 25, 41-21. As we heard from Ryan Brady on GLIAC Football Weekly, the Cardinals are in the midst of searching for their go-to offensive starting lineup having lost quarterback Matt Considine to injury. The 'quarterback by committee' approach worked against Northwood, but as alluded to earlier in the column, Northwood's defense ranks last statistically in several important categories. Perhaps the success will continue as Wayne State's defense is the next worst in the league in both points per game and yards allowed. I see the winning continuing for SVSU and the Cards sweeping the season series with a win at home, SVSU by a score or two.
My winners this week: Ferris State over Michigan Tech to take sole possession of first place, Grand Valley State over Northern Michigan in a bounce back for the Lakers, Northwood in a tossup over Davenport, and SVSU knocking off Wayne State.
Perfect week on tap! See ya!