GLIAC Week Nine
October 28th, 2021 7:00am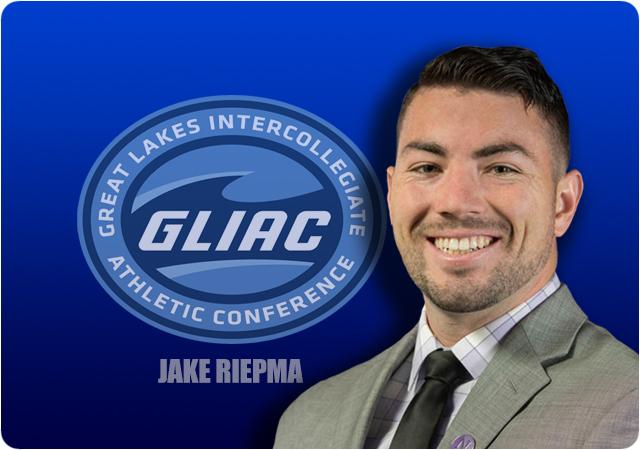 Ferris State stands alone at the top of the GLIAC after its decisive victory over Michigan Tech, Grand Valley State survives a road scare against Northern Michigan, Davenport prevails on the final play at Northwood, and Saginaw Valley State routes Wayne State.
Aside from GVSU's narrow margin of victory, there wasn't a lot that surprised me from the eighth week of the season. For what feels like the umpteenth time, it's another 3-1 week on the picks, the lone blemish resulting from the Northwood Davenport matchup. Considering this game came down to the final play from the goal line, I guess I don't feel terrible about that pick as it truly could have gone either way. Northwood trailed 21-14 and moved the ball to the Panthers' one-yard line, and on the final play of the game, the Davenport defense stopped Cashual Goldsmith on the goal line to secure the win. Depending on who you ask, some will say the ball broke the plane, and therefore it should have been a touchdown for NU, but it was awfully close. Now, I was able to go back and watch the replay for myself because Northwood provides a free webcast and archives the broadcast so viewers can go back and watch the game. WHAT A CONCEPT!!!! WOAH!!! You mean to tell me there's a way to provide a free webcast for people to watch your games in 2021?!?! Mind blown. If only other schools in the GLIAC could get a clue. Rant over. As for the final call, one of my wisest sources who was at the game broke it down like this: hypothetically if we had review in the GLIAC, it was so close that whatever was called on the field would have stood because it was that close. So a tough break for the Timberwolves on the final play, but credit to Davenport for finding a way to earn a hard-fought road victory. Watch the final play of the game here, because Northwood cares about the people and provides a way to watch its games. The final play is at the 2:40:00 ish mark.
As for the rest of the slate -- more of what we've seen all year -- especially as it relates to the GLIAC Players of the Week -- all three honorees this week are repeat winners -- Jared Bernhardt lit up the stat book for FSU to earn POW honors for the fourth time this season, GVSU's Abe Swanson compiled a career high 17 tackles to earn his third selection of GLIAC POW this year, and SVSU's Connor Luksik tabbed the weekly honor in the special teams department for the fourth time this season – all three of these players add to an already decorated and impressive individual season thus far.
Lastly, before we move into the week nine preview, the first round of NCAA Regional Rankings were released, and no surprise here as Ferris State holds the top spot in Super Region 3, while GVSU is slated at #3 in the region. Sorry to be the spoiler with three weeks remaining in the regular season, but I firmly believe the top three seeds in Super Region 3 will remain unchanged. Ferris State, Harding, and Grand Valley State make up the top three, and barring any crazy upsets, they will all win out. Harding has two wins over top ten teams, so no chance anyone from SR3 jumps the Bison assuming they win out.
Now for the last weekend of football in October (wow, that flew by) -- GVSU finally plays its homecoming game as the Lakers take on Michigan Tech for the second time this season. In the first meeting, the Lakers ran wild in Houghton to the tune of 320 yards on 40 carries -- yes that's eight yards per carry, resulting in a 44-21 win for GVSU. I anticipate more of the same this weekend at Lubbers Stadium -- too much talent offensively for the Huskies to defend, Grand Valley State wins this one by a few scores.
It's a battle of former Ferris State coordinators as Sparky McEwen and Ryan Brady's clubs tangle in Grand Rapids, with both squads coming off wins. The last time these two teams met, Davenport pulled off the win on the road 33-23 in 2019. This year the Cardinals have the advantage on paper. Davenport's offense has really struggled, but they found some new life in starting the baseball player Isaac Van Dyke at quarterback last week against Northwood. Van Dyke showed poise in his first start as a Panther and ultimately helped lead the team to a win. SVSU will be a tougher matchup, so it'll be interesting to see what the Panthers' gameplan consists of on offense. Meanwhile, SVSU seems to be finding its groove with three consecutive wins, the most recent a convincing 41-25 win over Wayne State, a game in which the Cardinals trailed 10-0. The analysis of this game is simple – SVSU is more equipped in all three phases of the game and therefore I expect them to earn the win – Cardinals by a touchdown.
Northwood and Wayne State meet for the final time as GLIAC opponents on Saturday, and I don't normally do the whole series history lesson, but in this case it needs to be discussed -- The all-time series, which dates back to 1975, is completely even at 20 wins a piece – meaning, whoever wins this game will have bragging rights! Hear what Wayne State head coach Paul Winters had to say about the matchup on this week's episode of GLIAC Football Weekly. Now, I anticipate Northwood and Wayne State continuing to play one another as nonconference opponents, but you get the idea – these two teams have met 40 times and gone 20-20. Wayne State has held the upper hand in recent years having won three of the last four meetings, but prior to the Warriors' win in 2019, the two teams had alternated wins since 2014. Northwood posted 11 straight wins in the series from 1997-07. Alright! Enough of the history lesson already, sheesh. This year should be an even battle as both teams have struggled – Northwood 1-6, Wayne State 1-7, and I would be remiss not to quote Bill Parcells here – "You are what your record says you are." Thank you, Bill. The final GLIAC meeting between these two programs certainly feels like a tossup, I'll take the Timberwolves to earn a road victory by a score of 21-20.
On Saturday the Ferris State Bulldogs will welcome Northern Michigan to Top Taggart Field, and in the promotional category, this game is being billed as #TerroratTaggart in celebration of the Halloween holiday. For what it's worth, I think every game at Top Taggart field falls under the category of 'terror' for the opposition -- Ferris State has won 35 consecutive regular-season games heading into Saturday's tilt, including 28-straight GLIAC matchups. Northern Michigan is coming off a loss to Grand Valley, but the score was significantly closer than expected – 28-24. We all know there is NO SUCH THING as a moral victory, so I won't even hint at that silly notion, but perhaps the way NMU battled throughout the contest can serve as a confidence builder heading into Saturday's matchup. I'm not providing anything groundbreaking here, obviously, but FSU is the nation's number one team in every poll for a reason – Bulldogs win this one big.
The perfect week of picks looks like this in week nine – GV over MTU, SVSU beating Davenport, Northwood topping Wayne State, and FSU victorious at home against NMU. Fingers crossed.
Have a great week everyone.