GLIAC Week Six Preview
October 7th, 2021 8:00am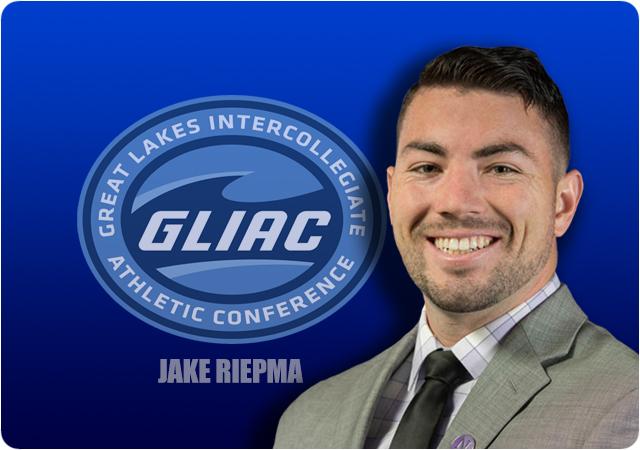 Lopsided wins for Ferris State, Grand Valley State and Michigan Tech and a come-from-behind thrilling win for Northern Michigan on its homecoming completes week five in the GLIAC.
Another 3-1 record in my picks over the weekend brings the season total to 18-9. I feel a perfect week coming my way.
Northern Michigan trailed 19-0 in the third quarter but scored 26 unanswered points for its third win of the season while Wayne State remains winless at 0-5.
Meanwhile, Ferris State and Grand Valley State lit up the scoreboard in blowing out Northwood and Saginaw Valley State respectively. Ferris State's Mylik Mitchell threw for a school-record 508 passing yards and six touchdowns. Mitchell's historic performance marked FSU's all-time single game records in both passing and total offense. The Bulldogs generated 693 total yards in the game to move to 5-0 on the year and Mitchell earned GLIAC Player of the Week honors. Grand Valley State also dominated in the "Battle of the Valleys" seizing control from the opening kick and controlling throughout to earn the 49-17 win. Abe Swanson had a big day including a pick-six he returned 45 yards while Alante Mitchell returned a blocked field goal 55 yards for a score. Swanson and Mitchell were named defensive and special team players of the week. I chatted with GV head coach, Matt Mitchell, this week on GLIAC Football Weekly.
Michigan Tech's 31-7 drubbing of Davenport evens the Huskies' record at 2-2 and marks the third consecutive loss for the Panthers. Turnovers proved costly in this one as Michigan Tech forced four Panther fumbles and snagged two more interceptions in the convincing win.
Week Six marks the first time we see a repeat matchup in 2021 as Northern Michigan and Davenport will square off for the second time in 2021, with this week's game being played in Grand Rapids. The Wildcats came out on top the first time these teams met, just three weeks prior in Marquette. With The Panthers struggling and in the midst of a three-game skid, I'm inclined to take Northern Michigan here, however, there's something to be said about a team a desperate team playing at home in need of a win. I have a gut feeling that Sparky McEwen will have his guys ready to give it their best shot. If Northern Michigan's offense from the second half against Wayne State is the offense that shows up this Saturday, then I expect the NMU to come out victorious. That said, if the other offense for Northern shows up, the Panthers could steal one. Ultimately, I've gotta stick with the hotter team -- Northern Michigan earns the road win in a close battle throughout.
A tough road test for the Cardinals as they visit the Lonestar state to take on Texas A&M Commerce -- their second opponent from the Lone Star Conference in 2021. The Cardinals defeated Texas A&M Kingsville 13-9 in the first game of the season, but the Lions represent a much taller task. TAMU Commerce enters 3-2 on the season with both defeats coming at the hands of nationally ranked programs -- No. 18 Midwestern State, and defending National Champion No. 1 West Florida. The Lions' wins this season were against Colorado State Pueblo (ranked No. 12 at the time), Texas A&M Kingsville (a team SVSU also beat) and Ft. Lauderdale. Saginaw Valley has shown it can compete against top competition in close losses to Ferris State and Bowie State, but Saturday's dud against Grand Valley State raises some doubt for how the Cards can respond. Factor in the cross-country trip to Commerce, Texas, and you've got an uphill battle for SVSU -- I'll take the Lions to win by two scores at home.
Michigan Tech will look to keep the winning going as the Huskies head south to the Motor City for a date with the winless Warriors. The easy pick here is to go with Michigan Tech -- the Huskies' hard-nosed style travels well, and well let's face it -- Wayne State is 0-5 with the latest defeat coming by way of a second-half collapse. Interesting note, per the Warrior House twitter account -- Wayne State's last 0-5 start came in 2005 and their first win of that season came in week 6 -- against Michigan Tech. Perhaps history will repeat itself?! In the words of Lee Corso -- NOT SO FAST MY FRIEND! The Warriors have accounted for one third of my incorrect picks this season, I'm tired of being wrong about them, and thus I'll wait until they prove me wrong with a win. Michigan Tech's strength in its wins has been its defense -- I'll take Steve Olson's squad to bring the defense and do enough on offense to get the win -- give me MTU to come out on top in a low scoring affair.
The last matchup of the weekend features Northwood on the road at Grand Valley State. The Lakers are fresh off a blowout win over Saginaw Valley State, while the Timberwolves will be looking to rebound after getting blitzed at home by Ferris State. Having attended the game at Northwood, I saw firsthand the talent gap between FSU and NU, and having watched the highlights of GVSU and SVSU, a similar talent gap was present on the field at Wickes Stadium. Obviously not much is going to change in a weeks' time, Grand Valley State has a different set of athletes than Northwood. Flat out. The Lakers remain undefeated, setting up a showdown of unbeatens on October 16 in the "Anchor-Bone Classic" against Ferris State at Lubbers Stadium. We'll touch more on that next week.
All in all, the next few weeks of GLIAC football should provide endless entertainment, just as it always does.