GLIAC Week Two Preview
September 9th, 2021 10:00am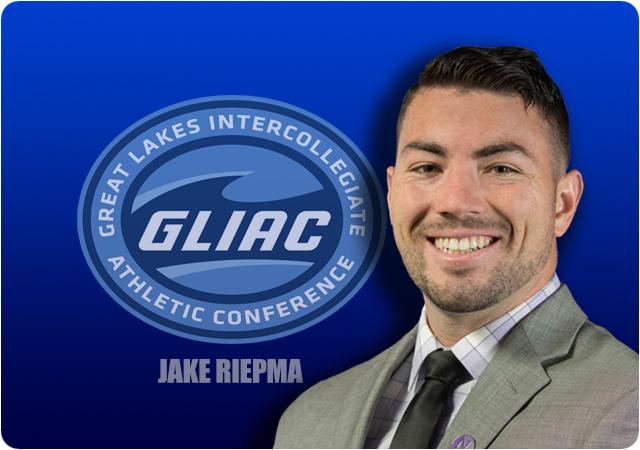 The much-anticipated return of GLIAC football lived up to the high hopes, and perhaps even exceeded what we all could have predicted to unfold.
An opening weekend that saw the GLIAC go 4-3 in seven non-conference games leaves us with all kinds of week 1 takeaways and overreactions.
Ferris State's Jared Bernhardt absolutely dazzled in his collegiate football debut tossing three touchdowns and rushing for four -- yes you read that correctly -- seven total touchdowns for Bernhardt in his first ever college football game as the third-ranked Bulldogs blew out Findlay 54-14 at home. Bernhardt could be a national sensation in short time -- what a story -- he is the reigning NCAA Division I National Lacrosse Player of the Year from his time at Maryland, and now he's making it happen with the pigskin. Ferris State also moves up to No. 2 in the latest D2 Football top 25 poll.
Wayne State nearly pulled off the upset over Slippery Rock at home, but a late surge by the Slippery Rock defense to keep the Warriors out of the endzone in the final seconds seals the win for The Rock. I know none of us believe in moral victories, so I won't even hint at that silly notion, but the Warriors had a first-and-goal from the six with under a minute to play and a chance to knock off a top-ten team. They will bounce back from this setback.
Northwood showed some resilience in orchestrating a game-tying drive late in the fourth quarter against Gannon, but it was the visiting Knights outlasting the Timberwolves in overtime in Midland to earn the 28-21 win. Northwood faces a tough Tiffin team next.
Saturday's week 1 slate saw Davenport get roughed up at home 31-14 thanks to a big second half performance by the Bulldogs outscoring DU 17-7. The Panthers committed a few costly turnovers and Truman State's effective ground game allowed them to control the second half.
Northern Michigan squeaked out a nice 27-20 win late over McKendree to kick off the season in the win column. Drake Davis found Tyshon Cox for the game-winning nine-yard touchdown late in the contest and the Wildcat defense held on to preserve the win.
In the upper peninsula Michigan Tech and Hillsdale battled it out in a hard-fought, low-scoring defensive minded affair that saw 21 of the games 24 points scored come in the fourth quarter culminating with a 14-10 Huskie victory -- a fitting end to the day dedicated to the renovations at Kearly Stadium.
Last but certainly not least, Saginaw Valley State played host to Texas A&M Kingsville in the Red Feather Classic and eked out a narrow 13-9 victory thanks largely to a phenomenal special teams performance by junior kicker/punter Connor Luksic. Luksic connected on two fourth-quarter field goals as well as made some field position - altering punts resulting in Luksic taking home GLIAC Special Teams Player of the Week honors. The Cardinals
The Cardinals are 1-0 in the record column, which is obviously most important, however, SVSU took a bigtime L in the uniform game... In fact, I may even go on record in saying the Cardinal's all navy-blue uniforms are even worse than Ferris State's gray 'fireman' uniforms and thus have captured the 'worst fits in the conference' title. But honestly, Cardinal Nation -- what are we doing? I know what you're thinking -- oh Jake, you're a Northwood guy and just hating on SVSU... No. this is not that. This is a candid uniform opinion, which for some odd reason is what tends to be discussed the most when referencing this column. I'll break it down -- Saginaw Valley State has a red cardinal logo with black accents and a yellow beak. They've always flirted with blue in the color wave – but for the life of me I can't understand why there is so much black in the logo and accenting the rest of the paraphernalia. The navy uniform and navy helmet projecting a red cardinal with mostly black accents is an eye sore. You want to go with navy and red for your colors – sure, go for it – plenty of teams pull that off nicely, but please eliminate the black from the color scheme.
It goes without saying, but I'll mention it anyways -- the best uniforms from week one were clearly Northwood's icy powder blue uniforms with the white helmet and pants. Full look at Northwood's fresh threads here.
I'm sure I'll have some upset Cardinal fans after reading this, but I'm just trying to help!
Now the most important part of the column – the picks. How'd we do? 5-2 for the opening week.
Where I was wrong: Michigan Tech outlasted Hillsdale when I predicted the Chargers would steal one on the road. Shame on me. Northwood lost in overtime when my heart told me they'd find a way to win. I don't feel as bad about that pick – anything can happen in the college overtime rules (which are silly and juvenile if you ask me)
Where I was right: Northern Michigan earning the W and Davenport suffering the setback – those two picks I felt were tossups, but kudos to the Wildcats for proving me right.
Ferris State, Slippery Rock, and Saginaw Valley State I felt were locks to earn the win.
Week 2 promises to be even more stimulating as all eight GLIAC teams will be in action with the Grand Valley State Lakers getting their first taste of the action in 2021.
We'll start with GVSU who is ranked #21 in our D2 Football poll. The Lakers open the season at home against Colorado State-Pueblo under the lights on 'Stars & Stripes' night. These two teams met back in 2015 in a December playoff game that saw the Lakers win easily 31-7 to advance to the National Semifinals. As for this year's game, I expect Grand Valley State to put forth a similar margin of victory and cruise to its first win of the season – give me the Lakers over the Thunderwolves (what a name) in a hard-fought, action packed thriller!
The other nightcap features old conference rivals reuniting in non-conference fashion as Ferris State travels south to Ohio to take on Ashland. This was always a game that was circled on the schedule for me, and despite Ashland leaving the GLIAC, I still have it circled this year as a can't miss contest! Although the Eagles are in their first year as members of the GMAC, they are anything but strangers. Ashland lost a hard-fought overtime shootout to #9 Notre Dame College 45-32 in Week 1, but once again, Lee Owens' squad poses a legitimate threat to knock off the Bulldogs in the regular season. Interestingly enough, the road team has dominated this series as of late -- Ferris State?has won six of the last seven matchups in Ashland, but the Eagles have won five of their last six in Big Rapids. These two teams dominated the GLIAC before Ashland departed – dating back to 2014 FSU or AU has won five of the last six GLIAC titles with FSU going 53-3 in the conference in that stretch and the Eagles posting 46-8 mark. All that said, it's all in the past, the present favors the Ferris State Bulldogs and their loaded roster from top to bottom. I don't know if Jared Bernhardt, the reigning GLIAC Player of the Week and D2 National Player of the Week, will have seven touchdowns again, but he'll have the offense rolling and the Bulldogs will get the tough road win – FSU by a score or two.
Michigan Tech is at home for the second consecutive week, this time taking on a Division I opponent in the University of St. Thomas (Minn.). 2021 marks the first season for St. Thomas competing at the Division I level, the Tommies formerly were a member of NCAA Division III. I can't pretend to know a lot about St. Thomas, other than the fact they dominated the MIAC (Minnesota Intercollegiate Athletic Conference) in DIII and thus the jump to DI. I'm intrigued to see if Michigan Tech can continue the offensive momentum, they built from the fourth quarter of week one's opening game. I'll take the Huskies purely as a homer pick for the GLIAC.
Wayne State is at home in search of a bounce-back win after the heartbreaking opener. The Warriors welcome Truman State who will be looking to continue the winning ways against GLIAC foes after knocking off Davenport in Week 1. Wayne State will also be looking to avenge a blowout loss in 2019 to the Bulldogs when Truman State roughed up the Warriors to the tune of a 35-12 route. If I know anything about a Paul Winters coached squad, it's they're resilient and no strangers to overcoming adversity. I see this as a big bounce back win for the Warriors at Tom Adams Field, give me WSU by a touchdown.
Northwood hits the road for a game against nineteenth ranked Tiffin – also a former member of the GLIAC. Unfortunately for the Timberwolves who are in need of a bounce back, the Dragons have a stacked roster in 2021 and are coming off a 34-10 win over Marian. It'll be tough sledding for the Timberwolves on the road, I don't see them getting it done, I have to take Tiffin to earn the win.
Saginaw Valley State hits the road to take on Central Intercollegiate Athletic Association (CIAA) opponent and twenty-third ranked Bowie State. It'll be the first ever meeting between the Cardinals and Bulldogs with SVSU entering 1-0 and BSU 0-1 after their opening week loss to FCS Delaware State. Despite the loss, Bowie State narrowly erased a 19-0 deficit against an FCS opponent in Delaware State. The Bulldogs were ranked seventeenth in the preseason D2 Top 25 poll. I see Bowie State getting on track with a win over Saginaw Valley State at home, give me the Bulldogs.
Closing in on the final previews of the week – Northern Michigan is at home against NCAA Division III opponent UW-Oshkosh. The Wildcats and Titans last met in 1953 with the Wildcats winning 36-24. This game is an opportunity for Northern Michigan to move to 2-0 for the first time since 2011, and given the Wildcats advantage on paper, I fully anticipate NMU doing so rather easily. Football in the Superior Dome is a great experience, a fun atmosphere if you haven't been – Wildcats big in this one.
The only noon kickoff in Saturday's slate features Davenport on the road against Walsh at Bob Cummings Field. Now I know nobody cares, but Bob Cummings field is where my collegiate playing career ended after a broken collar bone and separated shoulder in the fourth quarter of a Northwood victory over Malone. RIP to my career and RIP to Malone's entire program. Not a joke, they eliminated the football program in 2019. Anyways, back to Davenport and Walsh – the Panthers need to bounce back, and the Cavaliers are looking to build off their week one win over West Liberty out of the Mountain East Conference, or as I like to call it, the 'Mountain LEAST' …. Oh burn! In all seriousness, this game is a tossup for me and I see it being very close from start to finish – I'll take Davenport to win one late.
If you survived reading through the entire column, I commend you! The rest of your week will be easy compared to reading through all the minutia. Enjoy and listen to GLIAC Football Weekly!