GSC Spotlight - Rogan Wells
September 4th, 2019 10:00pm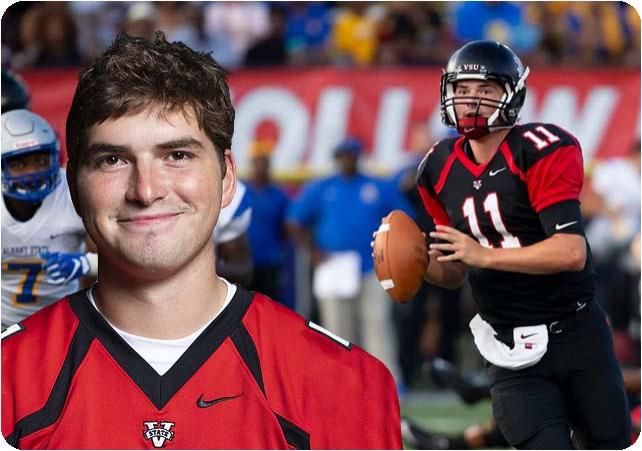 Player Spotlight Week 1
Valdosta State University Blazers
Senior Quarterback
Rogan Wells
2018 Harlon Hill Finalist
Tell us a little bit about yourself. Where are you from? How many brothers and sisters do you have? Are you single or married? What other sports did you play in High School? Favorite pastime growing up as a teenager? "Well, I'm from Fort Mill, South Carolina. I have 1 brother, Rylan, who is three years older than me. He attends Jacksonville University. I also have a girlfriend since High School. She attends Clemson so even though its long distance, it's been real good for over four years now. As far as sports outside of football goes, I played basketball and soccer in high school, but I liked soccer more, even though I was 6'3", the coach had me playing center which I didn't really care for. I would say my favorite pastime is probably Golf. My dad and my brother Rylan try and play as much as possible when I'm home, with Rylan probably being the better out of all three of us. I would say I score somewhere around an 80 to 83 with a plus 10 handicap."
How long have you been playing football and has anyone in your family or extended family been pretty good athletes in their prime? "Wow, oh, I would say since I was 7 years old I've been playing football. So a long time. My Mom's side of the family were real good athletes. Her brothers all played football."
Who would you say is the one person that has always pushed you in a positive direction, regardless of what it was you were doing? "My dad, Rick Wells. He has coached in recreation leagues so he knows what it takes to push someone in a positive direction. Do you have a sports icon that you have always looked up to? "I would say Tim Tebow."
Do the guys on the team have a nickname for you? "Not that I'm aware of. It's just Rogan. If I make a mistake or something like that and they call me something other than Rogan, it would have to be behind my back, something I'm not aware of, but I think it's just pretty much Rogan."
What would you say is a talent that you have outside of football? I.e. playing a musical instrument, singing, juggling, etc... "I would say some different sports, such as golf."
What is the most embarrassing thing that you can think of that has ever happened to you? "Hmm, I can't think of really anything that was embarrassing for me. If I think of something I will come back to that one."
What color uniform makes you feel like you are going to go out and throw for 500 yards, 5 TD's and no INT's? Red uniforms, black uniforms, white uniforms? "Definitely the all black uniforms. Black helmets, black jerseys, black pants. It's just a team mentality thing, like its go time."
*Since you have been at VSU, what VSU defensive player, current or former, made you look to see where he was at at all times during practice? "It would have to be Jegs."
Have you done the 'QB buying dinner for your OL' thing yet? "I did last year, before the West Georgia game. It ran me about $150 I believe."
Any special or superstitious thing you do before a game? "I usually like to walk on the field before a game and then just listen to some music. No specific kind of music, just anything that comes on."
**What personal goals do you have for this upcoming season? "To get better than last year; throw less INT's; better efficiency throwing the ball. I think I was around 55% on pass completion percentage last year."
Is there any game you have circled on your calendar this year? "Every game is important of course, but if I had to choose one, it would be our rival West Georgia."
What is something, career wise, you could see yourself doing one day in the future after the game of football? "Well I'm working on my Master's degree in Business Management so anything in that field would be okay with me."
Is there a specific offensive play that Coach Goff likes to call every now and then that you sort of dread running? "I would say there are a couple of those type of plays."
Do you play any video games? "Fortnite. I'm alright. I'm not as good as that guy who won $3 million dollars though."
What's your favorite class you have ever taken at VSU? "I would have to say a History class about the Civil War." What was your major and minor in? "My major was Business Management and now I am in Graduate School working towards my Master's degree".
If you could play another position on the team other than quarterback, which would it be? "It would have to wide receiver." Which position would scare the heck out of you if you were called to play it in a game situation? "Anything on defense."
Where do you live at? On campus housing or an apartment? Roommates? "I rent a house couple with a couple of buddies, some of them teammates."
You're not only a great passer, but a great runner as well. Do you consider yourself a Running QB, a Pro Style QB, or Dual Threat? "I probably see myself more as a Dual Threat quarterback. I need to continue working on getting more ball speed, more velocity on the ball. I would say I need to work more on learning our offense."
Final question, do you see VSU playing and winning another National Championship again this year? "We definitely have the pieces to repeat again, but it's just going to depend on if everyone has bought in to what Coach Goff and the rest of the coaches are telling us."
*Note #1: This would be the former VSU defensive lineman from Nigeria, Iseoluapo Jegede, also known as Jegs, who is now in the NFL on the Indianapolis Colts team roster.
**Note #2: Rogan completed 209 out of 364 passes for a 57.4 completion percentage.
A huge thank you goes out to Rogan, Head Coach Gary Goff, and Asst. Athletic Director for Communications, Kit Strief, for allowing me the time and permission to conduct this interview. Any questions or comments, feel free to reach me by email at [email protected] or on Twitter at @jc071172_jay .