GSC Spotlight - Chauncy Haney
November 15th, 2019 12:00pm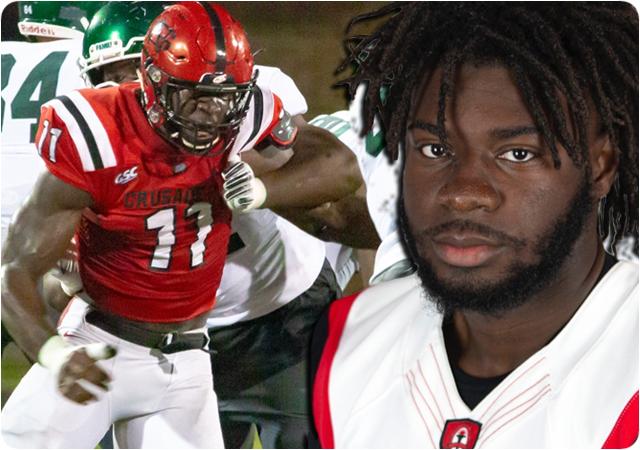 GSC Spotlight - Chauncy Haney - North Greenville
Tell me a little bit about yourself? Class, Major and Minor?
"I'm from Columbia, SC. I'm a Criminal Justice major and Psychology minor and I expect to graduate in May of 2020. My father is Harold Haney and my mother is Sharee Steven."
What made you decide to come to NGU?
"I wasn't heavily recruited out of High School. Lincoln University out of Pennsylvania and North Greenville were the only two schools interested in me. Coach Greg Harris, my outside linebackers coach is who recruited me and we hit it off immediately. The way were able to communicate with each other made me feel at home. I also felt like North Greenville being a small school would translate over into small classes which it did and that helped me out tremendously, but ultimately, Coach Harris had a major role in me attending North Greenville at the end of the day."
What positions did you play in high school?
"I played 9th, 11th and 12th grades and played basketball in my 10th grade year. I played wide receiver, tight end, and defensive line in high school."
Most embarrassing thing ever that you can think of?
"I'm not sure I have just one, but in High School, I was playing basketball and we went to the playoffs playing in a big arena, and I go for the rebound and completely missed the ball. It was just embarrassing with all of those people watching me. Another time was my freshman year at North Greenville and we called a blitz and the opposing quarterback side steps me completely."
Who would you say is the one person that has always inspired you?
"My mom, Sheree Stevens."
Do you have a sports icon or current or retired professional player that you have always looked up to?
"Ray Lewis. Watching him and how he attacks on every play. The way he attacks it and how he led that entire Ravens defense. He just attacks the offense each and every play. Never quitting."
What would you say is a talent that you have outside of football? I.e. playing a musical instrument, singing, juggling, etc.
"I love cooking. I can make a real good Meatloaf. Just cooking and baking. I've always enjoyed it. Oh, and I am a Ketchup, not brown gravy on the meatloaf type of guy."
What is your favorite food? What would you say is the best eating place you enjoy the most in Tigerville?
"My favorite is any sort of pasta or fettucine. My favorite place to eat around town is Mojo's and on Wednesday's, they have $.60 wing night. 6'5 255.
Do the guys on the team have a nickname for you? How tall are you, really, and how much do you really weigh?
"No nickname. They just call me Chauncy. I really am 6'5" and weigh around 245 to 255. I don't run the 40 that much but the last time I ran it I ran a 4.8 and can bench 225 close to 28 times."
What color uniform makes you feel like you are going to go out and play a terrific game?
"I like our new red jerseys, but for me, the uniforms doesn't change how I play."
Since the time you've been at NGU, is there another player from another team that you felt like was really, really good and was very tough to play against?
"If I had to pick one, it would have to be Valdosta State's quarterback Rogan Wells. He is the real thing."
Any special or superstitious thing you do before a game? As a defensive lineman, do you hang out with any offensive linemen or are they like a totally different breed? Who is the toughest Offensive Lineman at North Greenville you have ever went up against?
"I'm not superstitious at all so I don't really have any pre-game routine. I just trust the work I put in each and every week as well as I just try to feed off our team."
"Everyone hangs out together, no matter your position, but typically I hang out with defensive linemen."
"Casey Stewart, offensive guard, now a graduate assistant. I went up against him in freshman year here. Michael Thomas, offensive center, was also tough."
Who is your position coach and describe how he is during practice as well as off the field?
"Brian Volz. He doesn't yell often, instead he preaches energy and high motor. He is all about being very technically sound. After first 2 to 3 steps, it's up to you to be a ball player. He's not all up in your face. He relies on seniors and upperclassmen to keep everyone motivated."
Which position would scare the heck out of you if you were called to play it in a game by Coach Farrington? What position would you love for the coaches to call on you to play if it was just one play?
"Safety, because they have the toughest job out there."
"Wide receiver or tight end. I played those in high school."
Do you have any personal goals, whether on the field or off, that you're still working on towards achieving?
"Publishing a book or multiple books one day. I love to read and write. My favorite is autobiographies. I like reading about what kind of adversity other people have faced in life and how they overcame it."
What are some things you do, being a student athlete that helps you manage such a hectic schedule? What is something you would like to see yourself doing after the game of football, career wise?
"I utilize my calendar all the time. I like to wake up early around 6 or 7 every morning. Then I read and plan my day. If I wait until that afternoon, it becomes too tough because you're so tired."
"After football, I'd like to be a military police officer, retire hopefully from that, then become a school resource officer and perhaps coach."
Have you had any NFL scouts to talk to you yet?
"I was just recently invited to play in the NFLPA Bowl so I'm excited and looking forward to that."
What's your favorite class ever and Professor you have ever taken at NGU?
"Probably just my core classes for my major of criminal justice."
"Dr. Staci Rollins."
Where do you live at, on campus housing or an apartment and what is that like? Who does the cooking?
"On campus. No roommate, just housemates."
"I cook for myself. Everyone else is on their own. I like to meal prep and I've taught some of my housemates a few cooking tips."
What has been your proudest achievement up to today's date?
"Being selected GSC Defensive player of the week twice. My Pro Agility record which I broke as well."
Final question, as a student athlete, what is your thoughts on players getting paid in college if their name or self is being sold on video games or jersey sales?
"I'm sort of in the middle because I can see both sides of the argument. I think every situation is different because you could have a student athlete that does not come from a financially well off family, so I think their background has to be taken into consideration, but having a scholarship to go to college is pretty cool too. Just so many factors to weigh on such an important issue."