GSC Spotlight - Aaron Feazelle
September 27th, 2019 2:58am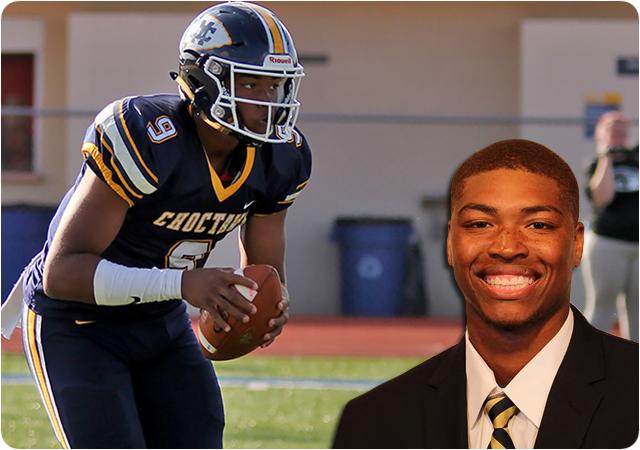 Player Spotlight Week Four
Mississippi College
WR Aaron Feazelle
Tell me a little bit about yourself (Class, Major and Minor, where you're from)? As SGA President, what is a goal of yours while in office?

"I'm a redshirt junior on the field and a senior academically. My major is Business Administration and I'm from Diamondhead, MS. I'm also currently SGA President."
"I would say my goal is better the student experience and accurately represent what the students want."
What made you decide to come to Mississippi College?

"I had Junior College and Division Three offers, but the scholarship amount being offered as well as only 3 hours from home were definitely factors, but primarily I would have to say the main reason I decided to attend Mississippi College was the Christian background of the school that I felt I needed and the credibility of the school in regards to the degrees they offered."
What position did you play in high school?

"Quarterback and Wide Receiver. I'm currently a Wide Receiver now, which is definitely different than quarterback, but a good type of different."
Most embarrassing thing ever that you can think of?

"My sophomore year in high school, I was shorter and chubby more so than I am now, but I jumped the hurdle in high school and clipped the hurdle during one meet and the hurdle hit me in the back of the head and it caused me to trip and fall and get this huge knot in the back of my head, which I got laughed at for a couple of weeks because of how obvious it was."
Who would you say is the one person that has always inspired you?

"Tough question, because I've been surrounded by so many great people, but I guess it would be my mom and dad, Shawn and Vicki Feazelle. They have been there for me the whole time."
Do you have a sports icon or current or retired professional player that you have always looked up to?

"I would have to say LeBron James because he has been such a dynamic athlete and what also everything he has done off the field, especially for kids in school. I actually bought one of his hoodies."
What would you say is a talent that you have outside of football? i.e. playing a musical instrument, singing, juggling, etc..

"It would have to be writing. My mom is an English teacher who just finished up her Ph.D. and so writing has always been something she has taught me and inspired me on."
What is your favorite food? What would you say is the best eating place you enjoy the most in Clinton?

"That's easy. Boiled chicken and rice in a pot with some lemon pepper."
"Chick-Fil-A. I order the classic chicken sandwich meal and a strawberry shake."
Do the guys on the team have a nickname for you?

"Most of the time it's just Aaron, but I guess Mr. Prez sometimes."
What color uniform makes you feel like you are going to go out and play a terrific game? Blue uniforms, Gold uniforms, or the Whites?

"The gold jersey's and white pants."
Since the time you've been at Mississippi College, is there another player from another team that you felt like was really, really good and was very tough to play against? How about someone on your own team that was very good and tough to play against?

"I can't think of his name, but the defensive tackle from Florida Tech last year, number 48(This is former All-American Adonis Davis)."
"Former player Marcel Newson was probably the most talented and athletic. Current player, Detric Hawthorn. All he does is just make incredible plays with his leg. An amazing athlete."
Any special or superstitious thing you do before a game?

"I listen to a little music. Stevie Wonder's song 'Love's in need of Love today". J Cole's 'Love Yourz'."
Who is your position coach and describe how he is during practice as well as off the field?

"Coach Edgar Weiser. He is very passionate, but a player's coach. He cares a lot about us and I think he is a great guy which makes him a player's coach on and off the field."
Which position would scare the heck out of you if you were called to play it in a game by Coach Bland? What position would you love for the coaches to call you in to play if it was just for one play?

"Cornerback would scare me."
"I wouldn't mind trying a little outside linebacker or defensive end."
Do you have any personal goals, whether on the field or off, that you still are working on towards achieving? What had been your proudest achievement ever up to today's date?

"My personal goal is trying to build a special and stronger relationship with Jesus Christ. That is the goal I work on the most."
"Getting a scholarship to attend Mississippi College and seeing how proud my parents were because of it. There are a lot of things I am a part of now that is a result of being at Mississippi College."
What are some things you do, being a student athlete that helps you manage such a hectic schedule? What is something you would like to see yourself doing after the game of football, career wise?

"Creating the Parallel. If you are playing quarterback, you depend on your offensive line and wide receivers and the same off the field, your executive council, your friends, your fellow students. Delegate, but also don't be afraid to ask for help. I use Google calendar to set reminders and my class schedule is built in there as well. I can check it on my phone and my laptop."
"Not really sure, but I do plan on achieving my MBA, and then maybe attend Law School. I'd probably like to be a Sports Agent one day."
Do you play any video games? Where do you live at, on campus housing or an apartment?

"Madden's NFL 2K and I also play Seven."
"It's campus apartments that are physically off campus. They are called 'The Pods'. I have three roommates, Michael Washington, Damon Wright, and Cole Lewis. Mike and I usually do the cooking because Damon can't cook at all. He just likes to eat. Cole is a little on his own because of having a different schedule than the rest of us."
What's your favorite class ever and Professor you have ever taken at Mississippi College?

"American Literature and another class, Money and Financial Institution. I have several favorite professors, but I'll go with Dr. James Potts who was my American Literature professor. He just went beyond the limitations of American Literature. He always told us that some of the most important conversations we will ever have are the ones at 3am with your roommate. I learned so much more than just Literature, but about life also."
If you had to make a bucket list of anywhere to go to in the world, where would it be and why?

New Zealand because I have seen Game of Thrones and they show some of the beautiful New Zealand scenery in it. So seeing that beautiful scenery in person would be great. Maybe England as well."
Final question, is there any game you have circled on your calendar this year?

"Valdosta State because they won the National Championship last year and because they are still #1."
A special thanks to David Nichols, Assistant Athletic Director of Communications, Head Football Coach John Bland, and a special thank you to Aaron Feazelle for finding the time out of his schedule to meet with me.