GSC Spotlight Player Week Three - Nehemiah Bing
September 20th, 2019 12:21am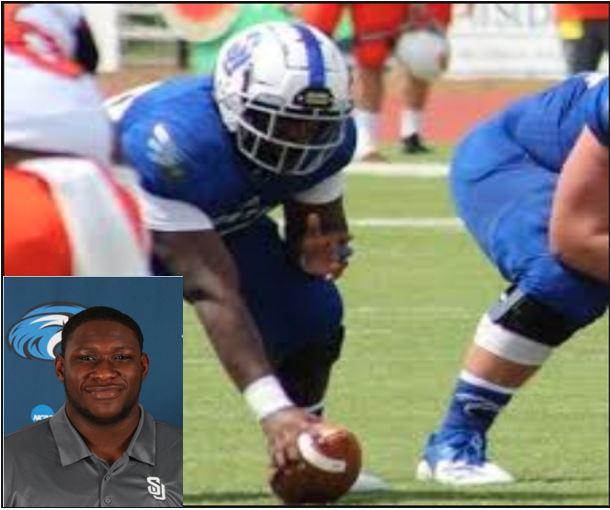 Player Spotlight Week 3
Shorter Center Nehemiah Bing
Tell me a little bit about yourself?

"I'm a sophomore majoring in Nursing. I play center, which I have started since last year."
What position did you play in high school?

"Left Tackle"
Who would you say is the one person that has always inspired you?

"My dad, John Bing."
Do you have a sports icon or current or retired NFL player that you have always looked up to?

"I would say Jason Kelce who plays center for the Philadelphia Eagles."
What would you say is a talent that you have outside of football? i.e. playing a musical instrument, singing, juggling, etc..

"I would say I am good at helping others. Good at therapy."
What is your favorite food?

"It would have to be hot wings."
What would you say is the best eating place you enjoy the most in Rome?

"Wings and seafood. It's a fairly new place in town."
Do the guys on the team have a nickname for you or is it just Nehemiah?

"Nehe" pronounced 'Knee-He'.
What color uniform makes you feel like you are going to go out and have 10 pancake blocks, no bad snaps, and grade out at high 90's in blocking? Blue uniforms, white uniforms, or a mix?

"I like the all whites."
Since the time you've been at Shorter, is there another player from another team that you felt like was really, really good and was very tough to play against?

"Yeah, the nose guard from North Greenville." This was Seth Laughter, an All-GSC 1st team performer from 2018.
Any special or superstitious thing you do before a game?

"Not really. I just pray and listen to some Lil' Wayne or Young Boy."
Who is your position coach and describe how he is during practice as well as off the field?

"Coach Boatwright. He is great. He pushes us hard, but he also coaches us in all sorts of things. He is very intense and yes he can get loud on occasion."
Which position would scare the heck out of you if you were called to play it in a game by Coach Morrison? What position would you love for the coaches to call you in to play if it was just for one play?

"Cornerback."
"Tight End."
Do you have any personal goals, whether on the field or off, that you still are working on towards achieving?

"Graduating. Winning on the field. Being All-GSC. Just being the best I can be every day."
What are some things you do, being a student athlete that helps you manage such a hectic schedule?

"Time Management. You have to get good at that or you will get left behind if you don't."
Do you play any video games?

"Madden and NCAA football which I have actually uploaded Shorter onto it, and so I recruit and play seasons for them."
What's your favorite class ever and Professor you have ever taken at Shorter?

"I would say Dr. Phileon who taught me Lifespan and Development class. She is great just because of the way she teaches."
Where do you live at? On campus housing or an apartment?

"On campus. I'm an RA in Robert's Hall."
What is something you would like to see yourself doing after the game of football, career wise?

"Well like I mentioned earlier, I'm a Nursing major and so I see myself being a nurse one day to help people that need help."
Final question, is there any game you have circled on your calendar this year?

"Yes, the next one, Fort Valley State. We have to keep getting better and get that W."