Harlon Hill Stock Report
October 23rd, 2019 10:00am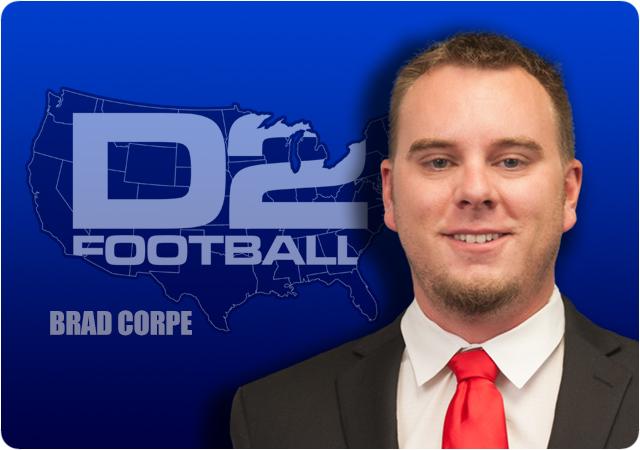 If you want to win the Harlon Hill trophy you better have two things going for you: The first, put up mind boggling statistical numbers, and the second, put those numbers up on a very good team. If you don't check both of those boxes, you don't stand a chance to hear your name called. In the preseason I put together a watch list for the top candidates to win the 2019 Harlon Hill Trophy. I am going to follow up on those names, as well as put my halfway point "Top 8" list of who I think will win the award at the conclusion of the 2019 season.
Preseason Big 6 Stock Report
Here are the 6 early favorites I listed back in August and an update on how they are doing.
Rogan Wells – QB – Valdosta State
Wells has played very well for the 7-0, and top ranked Valdosta State Blazers, his only problem being his numbers get deflated because Valdosta State is up big in every game. He still checks in second in the country for completion percentage (75%), and sixth in Passing Efficiency (175.7) while throwing for 1,568 yards and 14 touchdowns compared to two interceptions. Rogan has added 422 yards rushing with five more scores.
Jaleel McLaughlin – RB – Notre Dame College
So much for the sophomore slump for McLaughlin. The leading offensive threat for the #7 Notre Dame College Falcons, He currently sits in first in the country for rushing yards (1,277), rushing yards per game (182.4), rushing touchdowns (18), and he is third in All-Purpose yards (189.0), and fifth in rush yards per carry (7.74).
Jayru Campbell – QB – Ferris State
The reining Harlon Hill winner has had quite the 2019 season so far, what we know is that when he is on the field for the #2 ranked Ferris State Bulldogs, it is very clear why he won the trophy in 2018. The problem is he hasn't been on the field the entire season because of injuries. It will be tough for him to go back to back, but he does have some spotlight games left this season, and potentially some playoff games to get his name back in the mix. In his 4 games this season, Jayru is 51/87 for 959 Yards and 8 Touchdowns with 4 Interceptions as well as 46 carries for 175 Yards and 4 Touchdowns.
Nate Gunn – RB – Minnesota State-Mankato
As expected, Nate Gunn is playing lights out for the #3 Minnesota State Mankato Mavericks. He currently has 133 carries for 923 yards and 10 touchdowns on the ground in 2019. The issue for him is teams are going to have to start stacking the box to slow him down, and then the ball will get to his teammate and fellow Harlon Hill candidate in WR Shane Zylstra.
Braden Wright – QB – Northwest Missouri State
Wright has improved his overall game and is a guy who could see his name called as the winner of the 2020 or 2021 Harlon Hill if he keeps this level of progress. Leading a potent NW Missouri State offense, he currently is 85/166 for 1,307 yards and 14 touchdowns with 6 interceptions through the air, with another 62 carries for 359 yards and 5 touchdowns on the ground. Very respectable numbers, but as a sophomore up against the older guys on this list, I don't see it super likely that he wins it in 2019.
Al McKellar – RB – Indianapolis
McKellar has stayed as a consistent ground threat for the #8 ranked Greyhounds with 109 carries for 640 Yards and 10 touchdowns on the ground.
Three additions:
Roland Rivers III – QB – Slippery Rock
Shout out to my guy on Instagram - mad3.bosss – for letting me know about Rivers III right when I posted the list back in August. Mad3.bosss is spot on, this guy is the real deal. All Roland has done so far in 2019 is lead his team to a 7-0 start, a current top-10 ranking, and gone 154/206 for 2,191 yards and 25 touchdowns with 4 interceptions through the air. He has added 391 yards rushing on 80 carries and six more touchdowns. The most insane stat for him right now is his ridiculous 200.7 Passing Efficiency rating, If I had to pick right now who will win this award, it would be tough to pick anyone over Roland Rivers III.
Brook Bolles – QB – Central Missouri
The only other guy in the country with the numbers that can compare to Rivers is the leader of the lone undefeated team left in the MIAA – Brook Bolles of Central Missouri. Brook has been mentioned on lists such as this for years and has battled injuries just to get to this point in his career. Boy is he making the best of this opportunity. Currently he is 116/207 for 2,213 yards and 25 touchdowns with 6 interceptions, adding in 294 yards on 58 carries on the ground with three more touchdowns.
Daniel McCants – RB – Tarleton State
While I don't foresee McCants being in the top five of the voting come December, he is having too good of a season for too good of a team to not at least include him on this list. The Running back for the #5 ranked team in the country, McCants has 107 carries for 768 yards and 7 touchdowns on the season.
2018 Semi Finalists Stock Report
Tyson Bagent – QB – Shepherd
185/264 for 2,325 yards passing and 16 touchdowns with 8 interceptions. 19 carries for 47 yards and 1 touchdown.
Walter Fletcher – RB – Edinboro
Transferred to D1 Ball State for his Senior year.
Josh Gontarek – WR – Shippensburg
Has not accumulated any 2019 Stats.
Lamont McPhatter II – DB – Cal PA
32 tackles. .5 TFL, 2 Interceptions (one returned for touchdown), 3 pass breakups, 1 fumble recovery (returned for a touchdown).
Kevin Greenhow – WR – Central State
Has not accumulated any 2019 Stats.
Craig Rucker – WR – Mars Hill
58 rec / 772 yards / 8 Touchdowns. 10 car / 31 yards / 2 touchdowns. 1/3 passing / 71 yards / 1 touchdown. 12 Punt returns – 57 yards.
Antonio Winbush – RB – Carson-Newman
62 car / 453 yards / 2 touchdowns. 4 catches / 45 yards.
Bryce Witt – QB – Chowan
115/195 for 1,357 yards and 15 touchdowns with 12 interceptions. 94 car / 506 yards / 4 touchdowns.
Cameron Mayberry – RB - Colorado School of Mines
114 car / 654 Yards / 8 touchdowns. 8 rec / 71 yards
Kyle Saddler – QB – Augustana
109/210 for 1,411 Yards, 9 touchdowns / 7 interceptions, 3 Rushing touchdowns.
Pre-Season Dark Horse Candidate Stock Report
I tried going out on a limb here and picking some guys who I thought could potentially put up some solid enough numbers to win the trophy.
Cole Kotopka – QB – Grand Valley State
64/112 passing for 1,095 yards, 11 touchdowns and 9 interceptions. 33 carries for 102 yards.
Marvin Campbell – RB – Ferris State
77 carries for 326 yards and 6 touchdowns. 6 catches for 40 yards.
Shane Zylstra – WR - Minnesota State Mankato
35 catches for 787 yards and 9 touchdowns. 1 carry for 6 yards, 1 touchdown.
Tabyus Taylor – RB – Virginia Union
141 attempts for 585 yards and 6 touchdowns. 14 catches for 234 yards and 3 touchdowns. 6 returns for 186 yards.
Defensive Player Stock Report
The nature of the beast in football is if you are good enough to make this list below, and you are returning the following year, you probably aren't going to get a lot of opportunity to put up those same numbers.
Daryus Skinner – DB – Winston-Salem State
3 interceptions in 2019, 1 breakup, 1 forced fumble, 26 tackles.
Marcus Haskins – DB – Concordia St Paul
Transferred to Iowa Western Junior College
Keandre Evans – DB – Ouachita Baptist
42 tackles, 2 interceptions, 12 breakups, 1 tackle for loss.
Devin Hafford – DB – Tarleton State
Only appeared in game 1 in 2019.

Austin Stephens – LB – Miles College
34 tackles, 6 TFL's, 2 sacks, 2 QB hits, 1 fumble recovery
Devon Hunt – LB – Shaw
20 Tackles, 2.5 TFL's in 3 games played.
Chris Hoad – LB - Texas Permian Basin
82 Tackles, 6 TFL's, 2 Pass breakups, 2 forced fumbles.
With all of this said, here is my best guess on how the top 8 will look when all is said and done.
Rogan Wells – Quarterback – Valdosta State – SR2
Jaleel McLaughlin – Running Back – Notre Dame College – SR1
Roland Rivers III – Quarterback – Slippery Rock – SR1
Brook Bolles – Quarterback – Central Missouri – SR3
Nate Gunn – Running back – Minnesota State-Mankato – SR4
Jayru Campbell – Quarterback – Ferris State – SR3
Daniel Mccants – Running Back – Tarleton State – SR4
Braden Wright – Quarterback – Northwest Missouri State – SR3
Am I missing anyone? Feel free to "at" me on twitter - @CoachCorpe - and let me know your thoughts on who will win it!