Harlon Hill Stock Report - Final Edition
December 17th, 2019 5:30am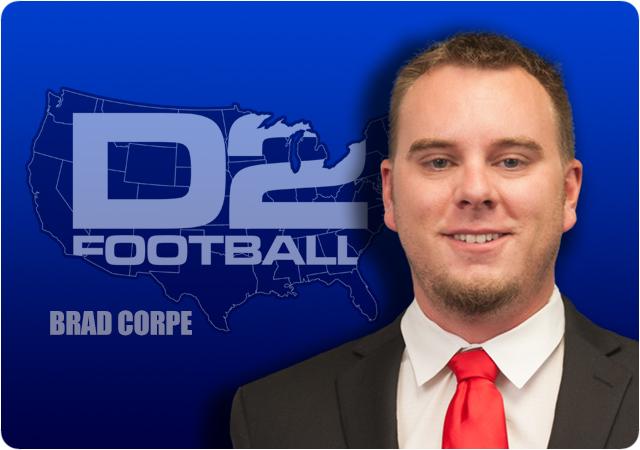 2019 Harlon Hill Award
This Friday, December 20th, the 34th winner of the Harlon Hill Trophy will be announced. Through rounds of regional voting, eight players been selected as finalists for the 2019 trophy. These eight have dominated play during this season, and some have made a habit of domination throughout their playing careers. Three of these guys have reached finalist stage before, with Rogan Wells finishing second and Jaleel McLaughlin finishing third last season, and Brook Bolles finished eighth in 2017. In all honesty, this may be the most wide-open voting that I have seen in my 10 years of being involved with Division II football.
The most difficult part of predicting the Harlon Hill winner is that typically it isn't just about the season's statistical numbers. Over the course of the award, and due to the lack of national coverage the way Division I has, this award becomes more of a career award many times. I feel like the voting is made of three sectors, Career Success, Team Success, and season stats, and I don't know what order those come in.
I want to congratulate each of these eight finalists on one heck of a season. To the seniors, thank you for all you have done for Division II Football during your careers. I firmly believe that all eight of you have an excellent case to win the award this year.
I am going to cover all eight finalists, with a short recap of why they should win the award, and then I will state how I would vote, followed by how I think it will look when the results are released.
Cole Chancey | Running back | Harding University | Junior
238 Rushes | 1,375 Yards | 13 TD's
Why he will win it: Chancey has been a literal battering ram, err Bison, for three years now. In a triple option offense, the fullback gets hit on every single play, which is even more of a testament to Cole's toughness and durability.
Why he won't win it: This field also includes two of the better statistical seasons by a running back that we have ever seen, and Chancey's numbers don't matchup to theirs. If there was a stat on who is the hardest to tackle, then that could even the playing field for Chancey, I see him as a top-five kind of guy in his senior season next year.
Jaquan Artis | Defensive Linemen | Lenoir-Rhyne | Senior
82 Tackles | 23 TFL | 14.5 Sacks | 2 PBU | 11 QBH | 3 Forced Fumbles
Why he will win it: As the only defensive player on this list, Artis becomes the flagbearer for those voters who want to see another defensive player take home the award. A standout for one of the top teams and defenses in the country, Artis tied for the most sacks in the country this season.
Why he won't win it: He plays defense.
Brook Bolles | Quarterback | Central Missouri | Senior
235/419 | 4,290 yards | 42 TD's | 15 INT | 168.01 Pass efficiency | 56.1% Comp. Percentage
107 rushes | 228 yards | 4 TD's | 1 Reception | 28 yards
Why he will win it: There aren't many "national names" in Division II football given the lack of coverage it gets nationwide. But if there was one, it would be Bolles, the younger brother of two NCAA DII legends decided against following in their footsteps and instead enrolled at their alma maters rival school. He has been "that guy" for years in the DII landscape, though battling injuries throughout his career, and finally had a full season in good health in 2019. All he did was put up incredible numbers through the air and lead Central Missouri to a share of the MIAA conference championship and a playoff win.
Why he won't win it: In Central Missouri's two losses on the season against Northwest Missouri State and Ferris State, Bolles went 38 of 81 for 617 yards passing, with two touchdowns and 8 interceptions, and rushed 26 times for -26 yards. It will be interesting to see how much stock the voters put into those performances.
Rogan Wells | Quarterback | Valdosta State | Junior
213/297 | 2,650 Yards | 19 TD's | 4 INT | 165.08 Pass efficiency | 71.72% Comp. Percentage
85 Rushes | 702 Yards | 6 TD's | 2 Receptions | 10 Yards | 1 TD
Why he will win it: He was the man for the top ranked, undefeated and outright GSC champions the entire year. He was a very close second place last season, and he outplayed the 2018 winner on a national stage in the 2018 National Championship game. He entered the season as the odds-on favorite to win the 2019 trophy.
Why he won't win it: Typically, the winner of the award has very pretty numbers next to his name. That isn't the case this season for Rogan, as Valdosta didn't need to throw the ball around the way they did last season because they were beating teams so badly. His numbers were still outstanding this year, but just not out of this world like some other finalists.
Zimari Manning | Wide Receiver | Tarleton State | Senior
68 Receptions | 1,462 yards | 22 TD's
Why he will win it: Wow. Look at those numbers. Zimari reached the endzone one out of every three times he touched the ball. In terms of remarkable stats, I don't think there is any other stat in the country this year that is more impressive than that.
Why he won't win it: He is a Wide receiver from a program that hasn't been featured on the national scale as much as the others, most voters were first introduced to him when the eight finalists were named.
Nate Gunn | Running Back | Minnesota State-Mankato | Senior
241 rushes | 1,611 yards | 29 TD's | 6 receptions | 34 yards
Why he will win it: Because he has been the steadiest player in the country over the last four seasons, in which his Maverick team has been very good, to the tune of a 48-5 record heading into this weekend's national championship game. His epic performance in a blizzard in the 2018 Regional Final win over Tarleton State has stuck in the minds of voters, and his three-touchdown performance this past weekend vs Slippery Rock could have cemented him as the 2019 Harlon Hill Winner.
Why he won't win it: Because there is a guy who plays his position that put up better overall numbers than Nate did this year.
Jaleel McLaughlin | Running Back | Notre Dame College | Sophomore
345 rushes | 2,316 yards | 30 TD's | 10 receptions | 64 yards | 3 TD's
10 Kick returns for 146 yards
Why he will win it: the third-place finisher as a freshman in 2018, McLaughlin did not suffer a sophomore slump. He in fact got better in some areas, including upping his touchdown output by 14 from 2018 to 2019. Let's put it this way, Nate Gunn has put up remarkable four-year career numbers, like some of the best Division II has ever seen, McLaughlin's two-year rushing yardage is only 400 total less than Gunn's at this point. That is not to take away from Gunn at all, but instead to show how impressive this run by McLaughlin is.
Why he won't win it: Still only a sophomore, I feel as if the award will go to one of the older guys this year, with voters assuming that McLaughlin could win the award in the future. If he wins it this year, he might go on to join Johnny Bailey as the only three-time winner ever.
Roland Rivers III | Quarterback | Slippery Rock | Senior
322/481 | 4,460 yards | 52 TD's | 7 INT | 177.60 Pass efficiency |66.9% Comp. percentage
164 rushes | 700 yards | 9 TD's
Why he will win it: He led the country in Passing yards, Total Offense, passing touchdowns, points responsible for (By 94 total points over second place – Brook Bolles), and was fractions of a point from leading the country in Passing Efficiency. Roland was in the top five of several other offensive categories and if my research is correct, his 61 combined touchdowns tie a record set by Colorado School of Mines Quarterback Justin Dvorak, the winner of the 2016 Harlon Hill Trophy.
Why he won't win it: I am not totally positive when voting was finalized, but if the voting window lasted through the Semifinal round, then Roland's performance in terrible weather conditions is what cost him. For most voters, this was unfortunately probably their first look at him in what was his lowest output of the year.
My Synopsis:
If career achievement is what is going to decide the winner of this year's trophy, then it will be Nate Gunn vs. Brook Bolles.
If remarkable stats are what is going to win it this year, then it will be ZImari Manning vs. Jaleel McLaughlin vs. Roland Rivers III.
If it is name recognition that is going to win it this year, then Rogan Wells will be announced as the 2019 winner.
If Brad Corpe was going to decide the winner this year, then I announce Roland Rivers III as the 2019 Harlon Hill Trophy recepient. Thank you one last time to Mad3.Bosss for the pre-season shout out on this one – but I believe he put up the best overall season this year, and combined with his team's success, he wins it in a close vote for me because of how efficient he was on offense.
How my ballot would look:
Roland Rivers III
Jaleel McLaughlin
Nate Gunn
Rogan Wells
Zimari Manning
Brook Bolles
Jaquan Artis
Cole Chancey
How I think the actual results will look:
Rogan Wells
Nate Gunn
Roland Rivers III
Jaleel McLaughlin
Brook Bolles
Zimari Manning
Cole Chancey
Jaquan Artis