Harlon Hill Trophy Watch
August 13th, 2019 12:00am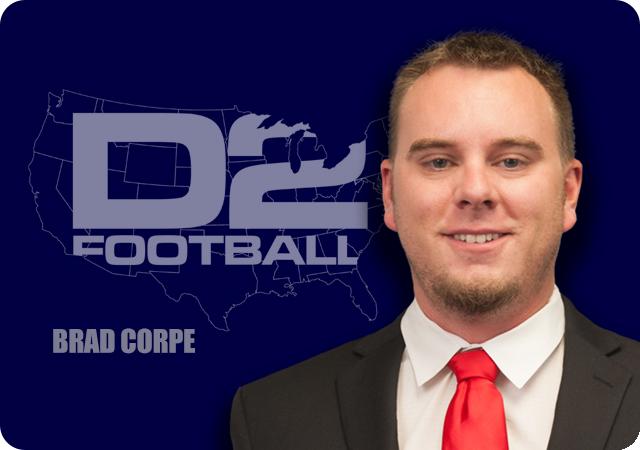 The Harlon Hill Trophy is awarded to the nation's most outstanding player in mid-December. Before you put your bets on who will win it in 2019, there are some important factors to take into account based on prior winners of the trophy.
Only one primary Defensive player has ever won the trophy - linebacker Ronald McKinnon of North Alabama in 1995.
Only one wide receiver ever won the Harlon Hill - Ronnie West from Pitt State in 1991.
In total there have been 14 running backs and 16 quarterbacks who have won the prestigious trophy in its history.
There have been four repeat winners of the Harlon Hill.
- Johnny Bailey - Texas AM Kingsville - 1987, 1988, 1989
- Dusty Bonner - Valdosta State - 2000, 2001
- Danny Woodhead - Chadron State - 2006, 07
- Jason VanderLaan - Ferris State - 2014, 15
There are only three Schools with three winners of the trophy.
- Texas AM-Kingsville - Johnny Bailey (87, 88, 89)
- Valdosta State - Chris Hatcher (1994), Dusty Bonner (2000, 2001)
- Ferris State - Jason VanderLaan ( 2014, 2015), Jayru Campbell ( 2018)
Leading Candidates

Here are my early favorites to win the 2019 Harlon Hill Trophy. I think there are six primary leaders in the clubhouse to win it.
1. Rogan Wells – Quarterback – Valdosta State
The 6'3, 220-pound Wells return for his junior season as the quarterback at Valdosta State. He finished 76 points behind Jayru Campbell in the 2018 voting. Wells record setting performance vs. Ferris State in the National championship game is what puts him at #1 on this list. He went 19-of-31 for 349 yards and five touchdowns while carring the ball 13 times for 39 yards. He also recorded a 25-yard reception for a touchdown in that game, and finished the season with 3,832 combined offensive yards. He had 50 touchdowns with only four interceptions. With Valdosta the overwhelming favorite to go back to back this season, Wells looks poised to hoist the Harlon Hill Trophy in a few months.
2. Jaleel McLaughlin – Running Back - Notre Dame College
It took McLaughlin one game to make a name for himself nationwide when he went off for 302 yards in a season opening win over Shepherd. He ended the season with 2,421 yards rushing with 18 Touchdowns, 12 receptions for 79 yards and one touchdown, 12 returns for 199 yards. He was named first team All-America by D2Football.com. With a third place finish in the 2018 Harlon Hill voting, it's safe to assume with a similar 2019 campaign that McLaughlin will be up there again in this year's voting.
3. Jayru Campbell – Quarterback – Ferris State
It's pretty rare for a player to have a chance to win back to back Harlon Hill Trophies, but Campbell returns for his Senior Season at Ferris State with the ability to do just that. He's ranked third on this list for a few reasons. First, his status to get on the field is in question as this is being written because of an off-season injury. Also, the two guys ranked ahead of him have the ability to put up monster numbers on really good teams. Finally, it's not easy to repeat. Campbell threw for 2,931 yards and 27 touchdowns in 2018, while adding 1,460 yards on the ground with another 21 touchdowns. He also snagged one reception for 31 yards and a touchdown. If the top three players on this list come close to replicating their 2018 season, we may have the most intriguing and closest vote in Harlon Hill history.
4. Nate Gunn – Running Back – Minnesota State
Gunn probably just started to get his legs back after his epic 50 carry -261 yard -1 touchdown performance against Tarleton State in a snowstorm in the playoffs. He finished with 1,705 yards rushing and 22 Touchdowns in 2018. With Mankato featuring a power run game on offense, it's safe to assume Gunn can put up similar numbers on a team that could win it all in 2019.
5. Braden Wright – Quarterback – Northwest Missouri
Although he didn't put-up eye-popping numbers in 2018, he put up a very solid stat line for a freshman for the premier program in Division II. If he improves on his 2018 season in 2019, he will see his name on the Harlon Hill finalist list. Wright threw for 2,596 yards and 24 Touchdowns and rushed for 514 yards and 11 Touchdowns and even caught and punted the football at times for the Bearcats.
6. Al Mckeller – Running Back - Indianapolis
It's rare to have a player put up better numbers in 2018 than he did in 2017 but get less publicity about it. That's exactly what happened to McKellar. The junior running back broke out in the season opener as a freshman in an upset victory over Grand Valley in 2017 and the country has known his name ever since. He went for 1,300 yards rushing in 2018, adding in 12 Touchdowns, and also caught 12 passes for 127 yards. On yet another team with potential to play deep into the 2019 season, McKellar could see his name as a Harlon Hill finalists with another solid season carrying the football for the Greyhounds.
Good Shots
While I feel those six players are the early favorites, there are plenty of returning 2018 nominees that have a shot at the 2019 Harlon Hill:
Tyson Bagent – QB – Shepherd – SO
Josh Gontarek – WR – Shippensburg – SR
Lamont McPhatter II – DB – Cal PA – SR
Kevin Greenhow – WR – Central State – SR
Craig Rucker – WR – Mars Hill – SR
Antonio Winbush – RB – Carson-Newman – SR
Bryce Witt – QB – Chowan – JR
Cameron Mayberry – RB - Colorado School of Mines – SR
Kyle Saddler – QB – Augustana – JR
Dark Horses
There are also some "Darkhorse" candidates that could easily play themselves into a shot at the trophy.
Cole Kotopka – Quarterback – Grand Valley
Marvin Campbell – Runing Back - Ferris State
Shane Zylstra – Wide Receiver - Minnesota State
Tabyus Taylor – Running Back – Virginia Union
Defenders
It's only happened one time, but the following guys line up on the defensive side of the ball and have a chance to sneak into the running for 2019 trophy:
Daryus Skinner - Defensive Back - Winston-Salem
Marcus Haskins – Defensive Back – Concordia-St. Paul
Keandre Evans – Defensive Back – Ouachita Baptist
Devin Hafford – Defensive Back – Tarleton State
Austin Stephens – Linebacker – Miles
Brandon Payer – Linebacker – CSU-Pueblo
Devon Hunt – Linebacker – Shaw
Chris Hoad – Linebacker – UT-Permian Basin