Independents Round 1 Preview
November 16th, 2021 8:00pm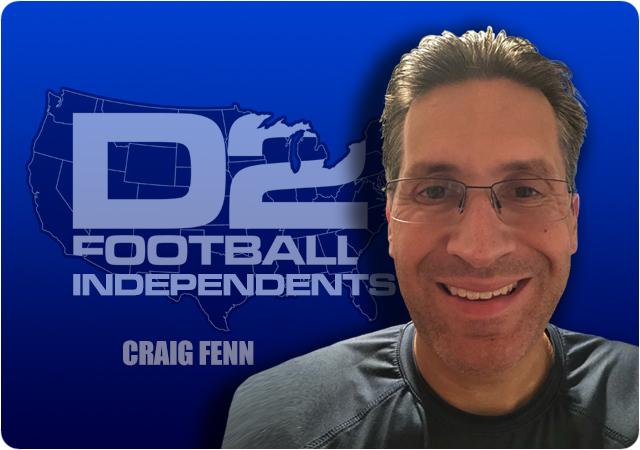 "Lately it occurred to me…What a long, strange trip it's been".
With the conclusion of Week 11, the 2021 regular season is now over for five members of this column, but for one band of Wildcats from Ellensburg, Washington, their journey continues into the post-season with a first-round playoff game on the road in a place that was unexpected but much too familiar for the Wildcats. Whenever CWU's playoff run ends, there will be a final season recap for all the teams in this column. Here's hoping that season recap won't run for a while.
Week 11 saw some history made as Barton finished the season with the program's first-ever winning record when they defeated UVa-Wise. Erskine struggled once again with a run-heavy opponent in losing to SIAC foe Kentucky State. In the GNAC, Central Washington finished a perfect GNAC season by overwhelming Simon Fraser, and Western Oregon shook off a slow start and won handily over Lincoln University of California.
The Playoffs - It's Official Now!
This season's official playoff announcement came with some twists. In 2019, the NCAA in a cost-saving move, allowed themselves to move playoff teams out of their regions if it is determined that the NCAA will save money when subsidizing travel costs for playoff teams. Two teams were impacted by this rule when the 2021 playoff matchups were announced: Nebraska-Kearney of the MIAA and Super Region 3 and Central Washington of the GNAC and Super Region 4. These teams were moved to the other's Super Region, with UNK as an unseeded team in Super Region 4 facing Western Colorado, and Central Washington as an unseeded team in Super Region 3 facing Northwest Missouri State.
While Central Washington will be happy for making the playoffs for the first time since the 2017 season, being moved into the very tough Super Region 3 and matched with Division 2 titan NWMSU will bring back memories to CWU fans of the blocked extra point in the 2009 playoff game against NWMSU that prevented CWU from tying eventually losing the game 21-20, ending what was CWU's greatest season at the Division 2 level.
You can find the official Division 2 playoff bracket at https://www.ncaa.com/brackets/football/d2/2021.
Week 11 Recap
Barton defeats UVA-Wise 36-24
Going into this season, Barton had only won five games in the entire history of their football program, they hadn't won more than two games in any full season and haven't come close to having a winning season. Going into this matchup with UVa-Wise, the Bulldogs have already won the most games in a single season in program history and they won as many games as the program has won in their entire history before the start of this season. The Bulldogs added one more piece of history today – the first winning season in program history.
The game went just as Barton drew it up – Run the ball with the offensive line and Jordan Terrell, give quarterback Jaquan Lynch (13 of 23 passing for 183 yards, 2 touchdowns, and 1 interception) time to find his receivers when asked, and hold onto the ball as long as they can (38:14 to be exact) to keep the Bulldogs' defense fresh to make plays. All those allowed Barton to stay at arm's length of Wise despite the Cavaliers' best efforts to pull back in the game after Barton went up 27-7 in the first half.
After Wise pulled to within 36-24 earlier in the second half, Wise quarterback Lendon Redwine (15 of 29 passes for 292 yards, 2 touchdowns, and 2 interceptions) led a furious charge late in the game that could have made it a nail-biter. With just under 5 minutes left, Wise faced a fourth down and 7 at the Barton 17-yard line still needing two touchdowns. Redwine was flushed out of the pocket to his left and threw a desperation pass into the end zone. The pass fell into the hands of Barton defensive back Kendarius Jenkins, who returned the interception 55 yards into Wise territory. The Barton offense, anchored by Terrell, who had season highs of 296 rushing yards and 44 carries to go along with 2 touchdowns, ran out the last 4:34 of the game, and the Bulldogs ran into history with their first-ever winning season.
In addition to Terrell's effort, other Barton standouts included Kameron Johnson, who led all receivers with 6 catches for 96 yards and a touchdown; Jenkins, who had 9 tackles, a fumble recovery, and two interceptions; and linebacker Shane Perry, who also had 9 tackles. For Wise, Jaevon Gillespie (17 carries for 69 yards) and Julian Edwards (13 carries for 52 yards and a touchdown) led the running game; Markel Harrison (2 catches for 96 yards and a touchdown) and JJ McNeil III (5 catches for 58 yards) were the leading receivers; and Markel Dailey led in tackles with 9.
Barton finishes the 2021 regular season with a 6-5 record. UVa-Wise finishes the 2021 regular season with a 5-6 record.
Bluefield State's game against St. Anselm was cancelled
The game was cancelled early in the week on the request of Bluefield State head coach Tony Coaxum, who was concerned about the health and safety of his players. The schools agreed and the game was cancelled.
While I am generally not a fan of cancelling games (who is, really), I support the decision. Bluefield State is a first-year program and most of their players are underclassmen (I counted just two juniors and zero seniors on their roster). It would have been nice to have another game, but those players will have many more games before they leave the field for the last time. For a team that had many deficiencies (they are a first-year team, after all), the one thing you didn't doubt about the Big Blue at all this season was their effort – they went all out on every play, win or lose. They worked hard and earned the wins that they got.
In my opinion, I would rather see more schools in situations like Bluefield State's attempt to negotiate to either postpone or cancel games instead of what a school like Lincoln University of California has done, which is to play the games no matter what kind of team they can field (I'm also aware Lincoln may have had less of a choice of whether to play or not to play).
Bluefield State finishes the 2021 season with a 3-3 record against countable opponents. St. Anselm remains at a 3-6 record and is currently looking for a final opponent before the Division 2 playable window closes.
Erskine loses to Kentucky State 41-17
Unfortunately for Erskine, this recap is going to have a familiar theme – Erskine faces a run-heavy offense and has significant trouble defending against it. Despite those issues, Erskine found themselves very much in the game at halftime, trailing the Thorobreds by a 17-7 score and having negative rushing yards.
However, Kentucky State gradually wore down Erskine with their relentless rushing attack and eventually got the better of the Fleet defense, extending their lead to 27-10 in the third quarter and holding that lead, winning 41-17. The Thorobreds ran for 364 yards on 60 carries, scoring 5 touchdowns while Erskine finished with negative-15 yards rushing. Brett Sylve led several KSU rushers with 102 yards on 12 carries and four touchdowns. Thorobreds quarterback Jonathan Jerry only completed 3 of 10 passes for 59 yards but had a long pass of 35 yards.
Erskine was led by Lance Brownlee (29 of 44 passes for 268 yards, 2 touchdowns, and 1 interception) and Senika McKie, who could not be stopped, leading all receivers with 19 catches for 225 yards and one touchdown in what had to be one of the top receiving games in all of Division 2 this season. Javian Bellamy caught 3 passes for 47 yards and Kaavon Parker had 4 catches for 30 yards. Linebacker Brandon Lane led the Fleet with 9 tackles and defensive back Wilbur Ramos and defensive lineman Jordan Stenhouse both had 8 tackles. Ramos also made three tackles for loss.
Erskine finishes the 2021 regular season with a 3-8 record. Kentucky State finishes the 2021 regular season with a 7-4 record.
Central Washington defeat Simon Fraser 70-0
Very rarely are these recaps this easy to write. Central Washington pretty much did everything right, and Simon Fraser had zero answers for anything the Wildcats did. Quincy Glasper (18 of 25 passes for 289 yards and 5 touchdowns; 8 rushes for 32 yards and 2 touchdowns) was a one-man show in the first half plus a few minutes of the third quarter, leading the Wildcats to a 63-0 lead. He ran, he threw, he sliced, he diced, he julienned – he did it all. The CWU defense made their presence known as well, with linebacker Daeon Hudson and defensive back Patrick Rogers returning Justin Seiber (6 of 16 passes for 41 yards and 2 interceptions) passes for touchdowns.
Other standouts for CWU included the rushing attack, led by Tyler Flanagan, which had 12 carries for 64 yards. Five different CWU receivers caught touchdown passes, led by Darius Morrison, who caught 6 balls for 122 yards. On defense, Jahleel Breland led with 10 tackles and four different Wildcats had one interception. SFU was led by receiver Sam Davenport, who caught 2 balls for 27 yards; Paul Thomas, who had 6 rushes for 21 yards; and linebacker Griffin Barrett, who had 11 tackles. CWU outgained SFU by 495 to 92 total yards, 200 to 12 in rushing yards, and 295 to 80 in rushing yads. CWU also led 4 to 1 in turnovers and had 30 first downs to SFU's 8.
For SFU, this was simply a story of their team not being good enough to match CWU. CWU is not just a deeper team, they also played with a much higher intensity and efficiency than they did in their first matchup. CWU didn't want to leave any doubt to the playoff committee, and they sure showed that in this game. The only negative for CWU was Christian Penny, who was ejected after being called for two unsportsmanlike conduct penalties. There were some tense moments and several unsportsmanlike conduct penalties called.
Central Washington finishes the 2021 regular season with an 8-2 record and a 4-0 GNAC record. CWU has won six straight games since losing to Angelo State in Week 4. The Wildcats await a possible playoff announcement. Simon Fraser finishes the 2021 regular season with a 1-7 record and an 0-4 GNAC record.
Western Oregon defeated Lincoln University of California 55-16
When David Teu (13 carried for 28 yards and 1 touchdown) scored on a 2-yard touchdown run to draw Lincoln within a 14-7 score, maybe there were some rumblings that this could be a game. After all, Lincoln did have a win this season (against a bad Division 3 team, but it's still a win). Then Western Oregon shook off the cobwebs and got going. The Gannon Winker (10 of 15 passes for 164 yard, 3 touchdowns, and 1 interception; 11 rushes for 13 yards and 2 touchdowns)-led Wolves offense got out to a 34-9 halftime lead. Winker and the Wolves' offense were helped significantly by the WOU defense, who forced two Lincoln turnovers that were converted to touchdowns, and a Joey Sinclair punt return to the Lincoln 5-yard line that was converted to a Kade Hustler 1-yard touchdown reception. The Wolves would not be challenged again on their way to a 55-16 win.
For WOU, Dante Davis led in rushing with 58 yards on 10 carries and 1 touchdown. Omari Land (19 carries for 56 yards and 1 touchdown) also contributed to the 118-yard Wolves' rushing effort. Damon Hickok led the Wolves with 3 catches for 87 yards and a touchdown. Defensive back Daron Ulrich Jr. led in tackles with 8, and defensive back Curtis Anderson led with two interceptions and 100 yards in interception return yards.
Lincoln was led by Cameron Burston, who completed 15 of 35 passes for 124 yards, 1 touchdown, and 3 interceptions. Faizon Knight led with 6 receptions for 41 yards and Lamar Housely (4 catches for 38 yards) caught the Oaklanders' only touchdown pass. Quindarius Coles led in tackles with 10 and had 1.5 sacks. The Oaklanders only gained 6 rushing yards and 124 passing yards and were outgained by WOU by 282 to 130 yards.
Western Oregon finishes the 2021 regular season with a 4-6 record and a 2-2 GNAC record. Lincoln finishes the 2021 regular season with a 1-9 record.
Final Regular Season Team Records
Independents
Barton: 6-5
Bluefield State: 3-3
Erskine: 3-8

GNAC
Central Washington: 8-2, 4-0 GNAC (GNAC Champions), NCAA Playoffs
Western Oregon: 4-6, 2-2 GNAC
Simon Fraser: 1-7, 0-4 GNAC
NCAA Playoffs First Round Preview
All first-round games are on Saturday, November 20.
If anyone hasn't been here before, welcome to the Independent column. Hopefully you'll enjoy the coverage of the upcoming Central Washington/Northwest Missouri game.
Super Region 3 unseeded Central Washington (GNAC, 8-2) at D2football.com #4 and Super Region 3 #3 Northwest Missouri State (MIAA, 9-1), 11:00 AM Pacific time
Series history: Northwest Missouri State leads 1-0
Last meeting: 2009 (Northwest Missouri State won 21-20)
How to see/track the game if you're not going
Link to view online: https://www.themiaanetwork.com/nwmsubearcats/
Stats tracker: https://bearcatsports.com/sidearmstats/football/summary
Weather forecast for Maryville, Missouri (as of Tuesday, November 16)
Partly cloudy, high temperature of 55 degrees with winds of up to 10 mph.
Central Washington Division 2 Playoff History (Five appearances, overall record of 3-5):
2002 – Lost to UC-Davis 24-6
2007 – Defeated Ashland 40-24, defeated Nebraska-Omaha 2017, lost to Grand Valley State 41-21
2008 – Lost to West Texas A&M 49-42
2009 – Defeated Tarleton State 27-6, lost to Northwest Missouri State 21-20
2017 – Lost to Texas A&M-Commerce 34-31
About the Central Washington Wildcats
The Central Washington Wildcats have an 8-2 record and are on a 6-game winning streak since losing a 14-9 wrestling match against Super Region 4 #2 Angelo State in Week 4. CWU won their fourth straight GNAC championship this season, sweeping the 4-game conference slate against Western Oregon and Simon Fraser. If you're wondering, the GNAC is just a 3-team conference due to defections and schools dropping football, which is why they are grouped with the Independents.
The Wildcats found offensive consistency when Quincy Glasper (92 of 143 passes for 1280 yards, 17 touchdowns, and 2 interceptions) took over at quarterback in Week 5 against Midwestern State, a game that CWU needed and won 30-20. Less noticed, but also significant, is the emergence of Tyler Flanagan at running back alongside Rashaad Boddie. The Wildcats have averaged 50 points in the games Glasper has started, albeit against lesser opposition. CWU averages 47 points a game and have given up 20 points a game (15 a game if you leave out the 63 given up to Division 1 FCS #5 Eastern Washington).
On offense, CWU averages 424 yards a game, 236 passing and 191 rushing. The Wildcats have their own version of the NY Giants' "Thunder and Lightning" running backs, with leading rusher Rashaad Boddie (124 carries for 668 yards and 7 touchdowns) the Thunder and Tyler Flanagan (77 carries for 473 yards and 5 touchdowns) the Lightning. Quincy Glasper has also rushed for 230 yards and 4 touchdowns on 53 carries. Eight Wildcats have at least 100 receiving yards, led by wide receiver Darius Morrison (25 catches for 588 yards and 8 touchdowns). Wide receiver is CWU's deepest position, and the Wildcats will use six during the game. Tyler Flanagan is also a receiving threat out of the backfield with 15 catches for 205 yards and 2 touchdowns. They have scored touchdowns on 36 of 49 trips into the red zone. Patrick Hegarty is a potential weapon in a close game, as he is 4-5 on field goals of over 40 yards and has a long of 50 yards this season.
The CWU defense looks to turn teams over, collecting 19 interceptions and 11 fumbles. Defensive back Jahleel Breland leads in total tackles with 75, but the defensive front seven is where CWU excels. Defensive lineman Zach Stecklein, who is one of the few Wildcats not from the Pacific Northwest (he's from Wisconsin) leads in sacks with 8.5 and is second in tackles for loss with 13. Linebackers Brett Accimus (22 tackles) and Daeon Hudson (44 tackles) are also key contributors up front.
However, no discussion of the CWU defense is complete without mentioning the undisputed star of the Wildcats' defense. That would be Donte Hamilton. The do-everything linebacker is found wherever the ball is, whether that's in the backfield going after the running back or the quarterback, dropping back into pass coverage, or stiff-arming opponents when returning an interception. Hamilton is second on the team with 71 tackles and second in sacks with 5.5. He leads in tackles for loss with 14 and in interceptions with 6. In the all-important game against Midwestern State, Hamilton recorded three interceptions on consecutive Mustangs drives, allowing CWU to come back and take the lead in a game the Wildcats would ultimately win and begin their 6-game winning streak.
About the Northwest Missouri State Bearcats
The Northwest Missouri State Bearcats are the gold standard for success in Division 2 football. Their success since the arrival of legendary head coach Mel Tjeerdsma in 1994 is one that cannot be approached even by teams that consider themselves among the elite in Division 2 (Grand Valley State and Valdosta State do come close). Since 1994, this is what the Bearcats have done:
23 Division 2 playoff appearances, including each of the last 17 seasons
10 Division 2 National Championship game appearances
6 Division 2 National Championship game wins
A 38-game winning streak from 2015 to 2017
Four undefeated seasons
Six one-loss seasons
Not bad, huh? The worst record the Bearcats have had since their first playoff appearance in 1996 was a 7-4 record in 2001. NWMSU has missed the playoffs in just 4 seasons wince 1994. Tjeerdsma's retirement in 2010 didn't hold back the program – Adam Dorrel had three undefeated seasons in his six at MWMSU, and current coach Rich Wright has a 40-9 record in the four seasons following Dorrel's departure.
OK, so we don't decide games based on reputations and the past and by listing all the ways someone is great. Games are won on the field, so let's discuss this Bearcats team. NWMSU has a 9-1 record (and are currently on a 4-game winning streak) and are the 2021 MIAA champions. NWMSU has now won seven of the last 8 MIAA championships. CWU will be the first non-conference opponent NWMSU faces this season. The MIAA has employed a "silo" schedule since the 2014 season and all teams in the MIAA only play against other MIAA teams.
The Bearcats' defense is their calling card, giving up an average of 9.1 points per game, second in all of Division 2 behind Albany State. They give up an average of 205 total yards per game, 169 passing and 36 rushing. They have forced 15 turnovers while they have turned the ball over 19 times, but the overall profile suggests the lack of turnovers doesn't matter with this group. This is a team that gets a lot of pressure with their defensive line, with 295-pound defensive linemen Sam Roberts and Zach Howard among the team leaders in tackles with 44 and 35 respectively. Roberts leads in tackles for loss with 13.5 and Howard is close with 12. Howard leads in sacks with 7.5 and Roberts is second in sacks with 5. Linebacker Jackson Barnes leads in tackles with 61 and is tied for third in tackles for loss with 7. Six Bearcats have at least one interception, with three having 2 and defensive back Drew Dostal leading with three. They have forced 73 punts while taking only 32 punts.
The NWMSU offense scores 38 points a game, gains an average of 484 yards per game, 250 passing and 234 rushing. The Bearcats' offense holds the ball for an average of 33:47 per game. Behind an offensive line that averages 6'4" and 296 pounds, the Bearcats have four rushers who have gained at least 200 yards on the season, led by running back Al McKellar, who has gained 1337 yards on 224 carries with 15 touchdowns. Mike Hohensee is the starting quarterback, completing 141 of 193 passes for 2096 yards, 20 touchdowns, and 10 interceptions. His top targets are wide receivers Alec Tatum (50 catches for 665 yards and 3 touchdowns) and Kaden Davis (29 catches for 481 yards and 7 touchdowns). Wide receiver Imoni Donadelle (19 catches for 445 yards and 4 touchdowns) and tight end Cole Hembrough (19 catches for 265 yards and 3 touchdowns) will also draw the attention of opposing defenses.
Going through the NWMSU schedule, they have given up double digits in points in just three games, and the most they have given up in a game is 19 in a 20-19 win in Week 6 versus Pittsburg State. Their lone loss was a 17-16 loss to Super Region 3 #7 and MIAA runner-up Washburn. The Bearcats also gave up 13 points to Nebraska-Kearney (the team that CWU was switched with in the playoffs) in a 66-13 win in Week 9. The most touchdowns NWMSU has given up in a game this season has been two touchdowns, which they gave up in just two games. They have given up one touchdown in 7 games and have pitched one shutout. They have allowed opponents to enter the red zone just 16 times this season, allowing 8 touchdowns and 4 field goals.
What do we know from Northwest Missouri State's only loss?
Is there anything we can learn from NWMSU's lone loss of the season? The Bearcats outgained Washburn by 392 to 218 yards, rushing for 140 and passing for 252. The Bearcats defense only gave up 28 yards rushing and 190 yards passing. NWMSU held the ball for 36:31 of the game and forced four Washburn punts while punting three times. Turnovers and mistakes doomed the Bearcats – They were intercepted twice at the Washburn goal line, one late in the first half with the Bearcats at the Washburn 14, and the other coming on a deep pass from the Washburn 42-yard one at the end of the game. The Bearcats also missed two field goals (their kicker, Cole Lammel is 3-7 on field goals). Washburn only had three drives that went more than 25 yards, and Washburn scored on all three, with two touchdowns and a field goal.
The Game
Can Central Washington win this game and gain revenge for 2009? Sure they can, but to say it's going to be difficult is a bit of an understatement. The Wildcats will need to limit their mistakes and prevent NWMSU from having the short field and overall field position advantage. CWU will need to limit three-and-outs, have some sustained drives, and finish those sustained drives with touchdowns. Glasper and the deep CWU receiving corps need to come up big and anything from the rushing game will be huge. The CWU defense will need to get off the field on third down and prevent too many long Bearcats drives. Winning the turnover battle would be a plus. CWU has shown poise beyond their years since the Angelo State game, and I don't think they will be intimidated by the situation. Just look at how they responded after the Angelo State game.
Many of the popular sports simulation sites don't expect this game to be very close. Maybe with their youth and loss of some starters (including their former top quarterback and running back) to the transfer portal, it might have been reasonable to think that they were "a year away". But that calendar has been moved up a year, and the Wildcats are on the national stage against the titan of titans. They might get blown out and have their season end with a result like the Eastern Washington game, but I don't see that happening. I think the Wildcats' defense will do a lot of bending (but not breaking) against the Bearcats. Whether it will be enough to win is another story.
NWMSU is in for a fight this week. I think CWU can give NWMSU a game like their toughest tests of the season. However, the Bearcats defense is the best unit from both teams and it will make a play late in the game to hold on for the victory. Northwest Missouri State wins by 7 to 10 points.