Independents Round 1 Recap
November 22nd, 2021 12:00am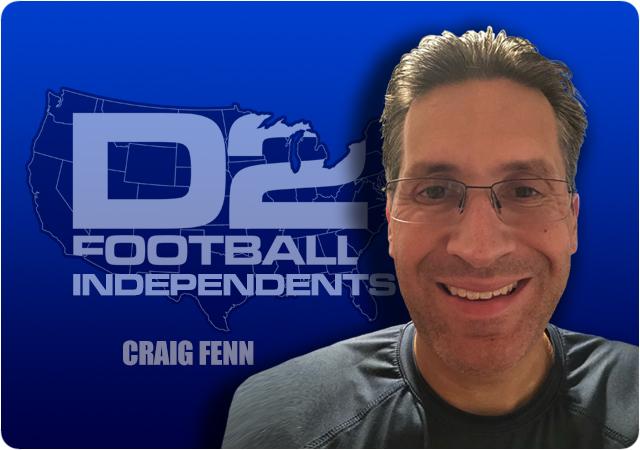 When I was younger and living in the Northeast, the big sports radio station was WFAN in New York City, the originator of the format. They broadcasted New York Mets games, which I was generally indifferent to being a Boston Red Sox fan, but they had a great set of announcers led by the legendary Bob Murphy. Whenever the Mets won (which was actually quite a bit in those days), he would say "And now it's time for the happy recap." Unfortunately for this column, there are no more happy recaps this season, as the last team standing has fallen in the first round of the playoffs.
Central Washington loses to Northwest Missouri State 50-21
"They are who we thought they were…"
Early in the second quarter, it seemed like Central Washington could be getting their bearings. Down 13-0, defensive lineman Zach Stecklein (8 tackles, 2 tackles for loss, and 1 sack) forced a fumble on an flea-flicker attempt that was recovered by Jahleel Breland (11 tackles) and returned to the NWMSU 13-yard line. Two plays later, Quincy Glasper (12 of 23 passes for 91 yards, 1 touchdown, and 2 interceptions) found Tyler Flanagan for an 8-yard touchdown and the Wildcats were down 13-7. Maybe all that talk about the Bearcats and their 24-game home playoff winning streak could be pushed away. Maybe it might come down to that missed extra point after the Bearcats' first touchdown drive?
Enter Braden Wright.
The Bearcats' backup quarterback was the answer for whatever questions might have existed about NWMSU's success when starter Mike Hohensee (7 of 8 passes for 78 yards) left with a leg injury. The first six drives Wright (11 of 15 passes for 178 yards and 3 touchdowns) led all ended in points – 5 touchdowns and a field goal. CWU didn't score again until the Bearcats' rampage was complete midway through the fourth quarter and NWMSU up by a 50-7 score. Tyler Flanagan scored on a 94-yard kickoff return and a 1-yard run to give him all three CWU touchdowns on the day, but it wasn't near enough.
Northwest Missouri played their game the way they wanted to play it. Their defense dictated the game's pace, and their offense took advantage. CWU managed only one drive of more than 23 yards the entire game, and that drive was CWU's final drive of the game that ended in Flanagan's touchdown run. CWU did take advantage of NWMSU's lone turnover by scoring the touchdown that brought the Wildcats within 13-7, but again, they wouldn't as much as cross midfield until that final drive. The NWMSU offense gained 472 yards (255 passing and 217 rushing) to CWU's 173 (91 passing and 72 rushing). They held the ball for 38:17 of the game and only turned the ball over that one time.
CWU's offense was led by Flanagan, who led in rushing yards with 93, receptions with 4, and scored all three Wildcats touchdowns. Isaac Crichton was the only other CWU rusher with positive yardage, with 4 yards on 1 carry. Glasper had his most difficult game at quarterback, passing for only 91 yards against the tough Bearcats defense. Tight end Samuel Sanchez led in receiving yards with 31. Stecklein and Breland led a Wildcats defense that had their most difficult assignment since the Eastern Washington game.
For NWMSU, Wright, Al McKellar (130 yards on 23 carries and 2 touchdowns), and Kaden Davis (6 catches for 76 yards) led the offense. On defense, their front seven led the way, with linebacker Isaac Vollstedt leading the way in total tackles with 7. Defensive end Sam Roberts led in tackles for loss with 3 and sacks with 1.5. Defensive backs Drew Dostal and Isaiah Nimmers had one interception each.
This game was a story of Central Washington playing a team in Northwest Missouri State that performs at a much higher level than all but a handful of teams at the Division 2 level. It wasn't that CWU is a bad team, they are certainly not that. It's that NWMSU is at or near the highest possible level every single season. It takes the best of the best to beat them most years. They are one of the few Division 2 titans, and they showed they were titans against CWU.
Central Washington's season ends at 8-3.
Northwest Missouri State improves to 10-1 and faces the Harding Bisons of the Great American Conference next week in the second round of the Division 2 playoffs.
It Ain't Easy When You Fall
As fans, there's a debate about what type of loss is the worst to deal with – the blowout or the nail-biter that is decided at the very end. At this point of the season, I think any loss is tough when it means the season is at an end. I typically have an easier time with blowouts, but your mileage may vary.
For CWU, it takes on even more significance since they are the first GNAC team to be selected for the NCAA playoffs since Azusa Pacific in 2018 (that didn't end well either). They are also the last football team (for the foreseeable future, at least) to carry the GNAC banner, which is fitting since CWU has been the GNAC's most successful football team with 9 outright GNAC championships and two co-championships.
Next season, CWU, along with Western Oregon and Simon Fraser, will represent the Lone Star Conference as football affiliate members. Both the GNAC and LSC have lost a significant number of teams over the past decade, and this partnership stabilizes the LSC as a football conference and provides the three GNAC teams with a full conference for the first time in a long time.
Next Week's Column
At some point after Thanksgiving, I will post an end-of-season recap for all the teams covered in this column. I will discuss the highlights of the season and take a look ahead to the 2022 season. Included in that recap will be a discussion of the many teams (5 of the 6 covered in this column) who will be joining new conferences in 2022.