Independents Season Recap Part 1
November 30th, 2021 9:00am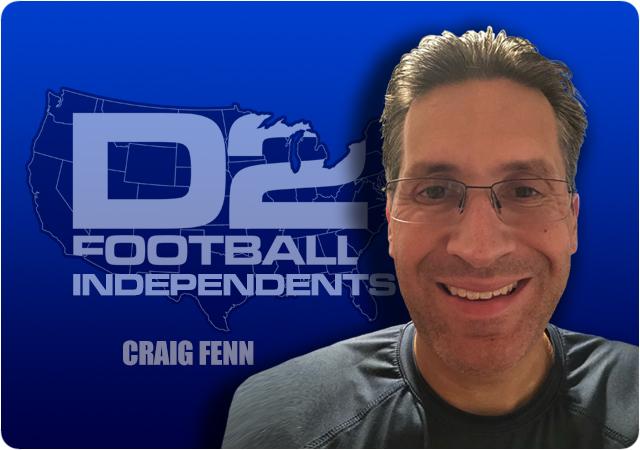 End Of Season Recap Part 1 – Looking back at the 2021 season
With the end of the 2021 season upon us, it's time to put a cap on it. First up, it's award time.
Independent Column Awards
Team of the Year: Central Washington Wildcats
The Wildcats won their last six games of the regular season and finished with an 8-3 record, winning the GNAC conference title for the fourth straight year, and qualifying for the NCAA Division 2 playoffs. They also retired the GNAC conference title for the foreseeable future (as will be discussed in extreme detail later) when they will join Western Oregon and Simon Fraser next season as affiliate members of the Lone Star Conference. CWU was the GNAC's last representative in the NCAA Division 2 playoffs, placed as an unseeded team in Super Region 3 and losing to Northwest Missouri State in the first round.
The CWU season turned in the second half of their Week 5 game against then-undefeated and eventual LSC champion Midwestern State. Tied 20-20 in the fourth quarter with the fate of their season on the line, do-everything linebacker Donte Hamilton intercepted passes on three consecutive MSU drives, allowing CWU to take a lead they would not give up. This game also saw the emergence of Quincy Glasper as the Wildcats' starting quarterback. Glasper used his arms (245 passing yards and 2 touchdowns) and his legs (46 yards and 1 touchdown) to move the CWU offense with the added dimension of mobility that didn't exist with original starter JJ Lemming.
Honorable mention goes to Barton. The Bulldogs finished their first full season since 1950 with the first winning record (6-5) in their program's history. They also won more games in this season than they had in all their previous seasons combined. They even held their own playing a full (but unofficial) SAC schedule, finishing 4-5 against the SAC (5-5 if you count fellow Independent and future SAC member Erskine).
Game of the Year: Western Oregon 41-38 over West Texas A&M
Western Oregon was probably best known for their inconsistency this season. However, this game was the Wolves' best of the season. This game was your classic shootout where the team who had the ball last was the team who won. Western Oregon had the ball last, and they won. The offense was clicking on all cylinders, and they made just enough stops to allow WOU to come back from 17-7 down and stay score for score with the Buffaloes the rest of the way. Ryan Worthley had his best game as WOU quarterback, throwing for 379 yards and 2 touchdowns. Running back Omari Land scored three touchdowns and had 98 yards on the ground.
Honorable mention goes to Barton's 26-20 overtime win over then-undefeated Wingate in the battle of the Bulldogs. Barton kept with Wingate the entire way, having a 20-14 lead in the fourth quarter before Wingate evened it up with two field goals by McLean Robertson. Barton Shane Perry forced Wingate running back Alexander Wilson to fumble, which Barton's Kendarius Jenkins recovered to keep Wingate off the scoreboard. Barton then won the game on the next drive with a Jordan Terrell 9-yard touchdown run in what was Barton's top win of the season.
Player of the Year: Jordan Terrell, running back, Barton College
Jordan Terrell literally came out of nowhere to nearly win the NCAA rushing title this season. He finished with 1843 rushing yards, 12 behind Truman's Cory Schrader. He also scored 15 rushing touchdowns, which tied him with Northwest Missouri State's Al McKellar for number 13 in the nation. His 329 carries were 49 more than the next closest runner. He took full advantage of Barton's big offensive line and two-tight end offense, making cuts to find holes, and then hitting those holes with speed. In many of Barton's games this season, Terrell would still gain large chunks of yards even though everyone in the building knew he was getting the ball and he was going to go off-tackle left, off-tackle right, or right up the gut. What he did as a redshirt freshman on a team playing its first full season of football is truly remarkable. His jersey number says it all – he truly is number 1.
Honorable mention goes to wide receiver Senika McKie of Erskine. McKie led the Fleet with 96 catches for 1133 yards and 7 touchdowns. The 96 receptions were second in Division 2 and the 1133 yards were ninth. McKie's top was in the season's final week against Kentucky State, when he caught 19 balls for 229 yards and a touchdown. He had more than 100 yards receiving in five games in 2021, and he had more than ten catches in four games. Like Terrell, he wore jersey number 1 and he was Erskine's number 1 player. McKie was named to the Harlon Hill Trophy nomination list for Super Region 2.
With the awards now out of the way, let's look back at the 2021 season.
2021 Season Recaps - Independents
Barton Bulldogs
2021 Record: 6-5
Player of the Year: RB Jordan Terrell
Jordan Terrell was the nation's busiest rusher, carrying the ball 329 times. His 1843 yards were second in the nation, just 12 yards behind the nation's leader, Truman's Cory Schrader. Terrell was the engine behind not just Barton's offense, but the Bulldogs' entire game plan, which relied on a powerful offensive line that kept the ball in Barton's hands and, keeping games close, and wearing down opposing defenses late in games.
Game of the Year: Week 7 versus Wingate (Barton wins 26-20 in overtime)
Wingate led for most of the first half and the third quarter, but couldn't shake Barton, who pulled ahead late in the third on a 4-yard Jordan Terrell touchdown run. Wingate would tie the game on two McLean Robertson field goals, including one from 54 yards with a minute left to force overtime. It was the Barton defense that made the biggest play of the game when Shane Perry forced Wingate's Alexander Wilson to fumble, causing Wingate to go scoreless on their first overtime drive. There would not be a second drive as Terrell scored again from 9 yards out to win it.
Season Overview:
Barton went L-W-L-W for their first four games and then went W-L-W-L-W-L-W for the rest of the season. They did manage a two-game winning streak, but probably more impressive is that the Bulldogs didn't lose two consecutive games at any point this season, quite impressive for a team in their first full season. Barton got revenge from Spring season losses to Erskine and Wingate but went 0-2 against 2021 Fall playoff teams Lenoir-Rhyne and Newberry in the Spring and Fall seasons. A Week 11 win over UVA-Wise clinched Barton's first-ever winning season. The six wins was more than the grand total of wins Barton had in the entire program history. The Bulldogs went a respectable 4-5 against official SAC teams.
Bluefield State College Big Blue
2021 Record: 3-3
Player of the Year: QB J'Rell Joseph
On a team where the defense was usually ahead of the offense, J'Rell Joseph was solid as the Big Blue's freshman quarterback. He threw for over 200 yards in three games this season, and his four touchdown passes against Elizabeth City was his high for the season. His playmaking ability helped keep the Big Blue in most of their games until the final moments and was a good compliment to the Bluefield State defense.
Game of the Year: Week 2 versus Elizabeth City State (Bluefield State wins 35-27)
This was the Big Blue's first win since the 1980 season, when they defeated West Liberty by a 21-8 score. Bluefield State answered a 21-point Elizabeth City first quarter with a 21-point second quarter, driven by three J'Rell Joseph touchdown passes, two to Perry Wilder and another to Berkarion Black. The Vikings would take a 27-21 lead in the third quarter on an 80-yard reception by Brandon Joiner, but the Big Blu would close out the scoring with a 14-point fourth quarter. Bluefield State's defense would then hold off three Elizabeth City attempts to score a potential game-tying touchdown and get their first win in 41 years.
Season Overview:
The Big Blue played a 6-game season with three games in both September and October. A scrimmage game against the UNC Greensboro club football team was cancelled and is being counted as a forfeit win for Bluefield State although the UNCG club football team is not a "countable" opponent. Bluefield State lost their first game 21-14 to NAIA member Lawrence Tech, a game where the Big Blue had the ball at the end of the game at the LTU 38-yard line but lost the ball on downs. Then came a three-game winning streak over Elizabeth City, Johnson C. Smith, and Fort Lauderdale. The season ended with two tough losses, a last-minute loss to Erskine and the season's only blowout in a loss to Barton. The final game of the season was to be a home game against St. Anselm, but the game was cancelled out of concern for the health of the Big Blue players. The Big Blue used a combination of a strong defense and just enough offense to stay in almost every game this season, a formula that they hope to repeat in 2022.
Erskine Flying Fleet
2021 Record: 3-8
Player of the Year: WR Senika McKie
Senika McKie was among the nation's leaders in receptions with 96 and receiving yards with 1133. He was the top target on an Erskine offense that relied heavily on the pass, and he put up those numbers despite most defenses concentrating their efforts on preventing him from getting open.
Game of the Year: Week 7 versus Bluefield State (Erskine wins 24-19)
Bluefield State had the game just where they wanted it. Their defense held Erskine back all game, their offense did just enough,and the Big Blue defense had Erskine back at their own 3-yard line with 1:41 left and the score 19-17 in Bluefield State's favor. From there, the Flying Fleet got...running. Kevon Catoe got the Fleet out of the shadow of their own goalposts with a 15-yard run. Two runs by Brownlee along with a penalty for a late hit would move the ball to near midfield and give Erskine hope for a possible game-winning field goal. After a sack of Brownlee by Bluefield State's Kenya Walker, Brownlee completed passes to Senika McKie and Javian Bellamy to get agonizingly close to field goal range. From there, Brownlee and his legs took over. An 11-yard run got the Fleet into field goal range, and after an incomplete pass to McKie, Brownlee removed all doubt by taking it all the way for the game-winning touchdown. 97 yards and a win in 1 minute and 27 seconds.
Season Overview:
The Flying Fleet lived up to their nickname in 2021, being a quick-paced, pass-dominant offense led by star receiver Senika McKie, who caught passes from three quarterbacks in 2021. However, the offensive strategy led to far too many short, quick, and empty possessions and the Erskine defense spending far too much time on the field. The Fleet earned their first win over Virginia-Lynchburg after starting the season with three consecutive losses. They would then lose to Svannah State the following week and win their next two games over Bluefield State and Allen University. Three consecutive losses ended the Fleet's season as they couldn't replicate the magic of the Bluefield State and Allen victories.
2021 Season Recaps – GNAC
Central Washington Wildcats
2021 Record: 8-3 (4-0 GNAC, GNAC Champions)
Player of the Year: LB Donte Hamilton
Hamilton only led CWU in one defensive category (his 6 interceptions was three more than any other CWU defender), but his leadership and ability to do just about everything on the field allowed the Wildcats' defense to excel for the majority of the 2021 season. He was second in tackles with 76, second in tackles for loss with 14.5, and second in sacks with 5.5. Hamilton also won the GNAC Defensive Player of the Year for the 2021 season.
Game of the Year: Week 5 versus Midwestern State (Central Washington wins 30-20)
The game against Midwestern State was the turning point of the Wildcats' season. The CWU defense dominated the last third of the game, forcing turnover after turnover and giving the Wildcats the opportunity to come back and win by a 30-20 score. The Wildcats would not lose again in the regular season, and Quincy Glasper moved into the starting quarterback role and didn't give it up.
Season Overview:
The three major pillars of CWU's success this season were the emergence of Quincy Glasper at quarterback, the emergence of Tyler Flanagan as the primary running back, and Donte Hamilton being the best player when the defense was on the field. Glasper introduced the dual-threat quarterback to the Wildcats' offense, which ran much more efficiently compared to the less mobile JJ Lemming. Flanagan's emergence complimented the power running of Rashaad Boddie. Hamilton led the Wildcats in interceptions and tackles and was all over the field at middle linebacker. These allowed CWU to win their final 6 games of the regular season after going W-L-W-L in their first four games, qualifiying for the Division 2 playoffs. The Wildcats won what is likely the final GNAC football championship, as an agreement between the GNAC and the Lone Star Conference has all current GNAC football schools joining the LSC as football-only members in 2022 (much more on that later).
Simon Fraser University
2021 Record: 1-7 (0-4 GNAC)
Player of the Year: LB Griffin Barrett
The native of Moose Jaw, Saskatchewan (I had to write that in at least one of these articles!) was SFU's top tackler by quite a wide margin. His 98 tackles led all GNAC defenders and was 12 more than the next closest defender, CWU's Jahleel Breland. Barrett was a consistent presence for an SFU defense that struggled for consistency all season.
Game of the Year: Week 6 versus Montana State-Northern (Simon Fraser won 30-3)
When coaches say "a win is a win", it means it doesn't matter how you got the win, but that you got the win in the first place. This game was certainly not pretty from an outsider's view, but I am sure it was beautiful to SFU's eyes. SFU shook off a slow start and five turnovers (3 interceptions and 2 fumbles) and scored 30 straight points after spotting MSUN a field goal in the first quarter. It was the SFU defense and special teams that turned the game around for SFU. SFU turned MSUN over six times, scoring 21 points off those turnovers, including a Drew Nicholson interception return for a touchdown. SFU also recovered a blocked punt in the end zone for a touchdown.
Season Overview:
SFU seems to always be rebuilding, and this season was no exception. Mike Rigell's first full season as SFU head coach began with losing by very large margins to Division 1 Idaho and highly-ranked Division 3 Linfield (as of this writing, Linfield has won two games and is still in the Division 3 playoffs) and losing all of their GNAC games. It was in the Linfield game where Rigell found SFU's potential quarterback of the future in Justin Seiber, who entered the game in the second quarter and threw for 297 yards and three touchdowns. However, all was not great for the sophomore Seiber, who threw for 1219 yards but just 8 touchdowns against 10 interceptions, and had progressively fewer passing yards in each game as the season went on, with a low of 41 yards in SFU's final game against Central Washington. SFU won just the one game against MSU-Northern but showed some signs of improvement with their passing game, along with a secondary that had its moments despite only having 7 interceptions. Kicker Kristie Elliott was also a bright spot, becoming the first Canadian female to score in an NCAA football game.
Western Oregon Wolves
2021 Season Record: 4-6 (2-2 GNAC)
Player of the Year: RB Omari Land
Omari Land led the Wolves' ground attack with 949 yards and 10 touchdowns. He gained over 100 yards in three games, including a 209-yard effort in the Wolves' first game against Simon Fraser in Week 4. He also gained 150 yards in WOU's second of two consecutive games against Central Washington. The redshirt junior from Oakland stands to be WOU's top returning player on offense in 2022.
Game of the Year: Week 5 versus West Texas A&M (Western Oregon won 41-38)
While this was by no means a defensive clinic, this was one of the Wolves' few games this season where both the running game and passing games were effective. Trailing 17-7 in the second, Ryan Worthley connected with Thomas Wright on a 56-yard touchdown pass to bring the Wolves back within 17-14. Omari Land would score to put the Wolves up 21-17, and away we went. WOU and West Texas A&M traded scores for the rest of the game until Andrew Valladares scored the game's final points on an 8-yard touchdown run with 17 seconds left to win the game for WOU. It was your classic back-and-forth shootout and one worthy that will be remembered for a long time.
Season Overview:
Like SFU, WOU started their season with some very tough games. A loss to RMAC winner Colorado Mines was followed with a defensive struggle against Texas A&M-Kingsville that was closer than the final score. A loss to Division 1 Portland State was notable for a strong showing by the Wolves' defense. A win at SFU was followed with the classic against West Texas A&M, but WOU couldn't keep the momentum going as they lost to Central Washington the next two games. WOU would alternate wins and losses to finish the season. WOU struggled to put together a game where both the offense and defense was on at the same time. Even the win over West Texas A&M was mostly due to their best offensive effort of the season. Either the offense was on and the defense wasn't, or vice versa.