Independents Season Recap Part 2
December 1st, 2021 9:00am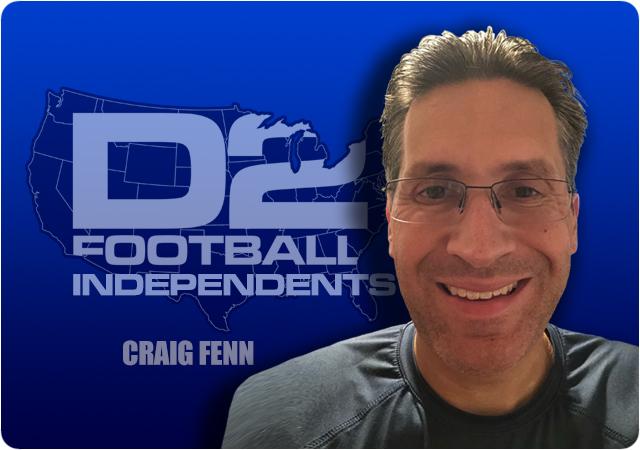 End Of Season Recap Part 2 – Looking forward to the 2022 season
I'm going to come out and say it now – I'm not going to try to predict who will be good and who won't be good in 2022 when we just finished the 2021 season. There are simply too many moving parts – new recruits coming in, players graduating and using up their eligibility, and the more-present-than-ever transfer portal. I will, however, list what I think each team will need to address going into the 2022 season.
Barton – Build with an eye on the top half of the SAC
It's an understatement to say that Barton overachieved in 2021. A 6-5 record and holding their own against the SAC in their first full season now raises the bar of expectations. Next year, they are expected to look toward the top half of the SAC, competing with SAC champion Newberry and perennial playoff contender Lenoir-Rhyne. To do that, they will need to build their overall depth. On offense, it means bringing in more threats to compliment the "triplets" – Jaquan Lynch, Kameron Johnson, and Jordan Terrell. On defense, it means increasing speed and size to compete with the best teams in the SAC. Barton isn't going to surprise anyone in 2022 – now they need to work toward taking that next step to becoming a consistently competitive team.
Bluefield State – Build overall team depth and strengthen offense
The Big Blue was this close to a winning record in 2021 with offensive deficiencies and issues with their depth. Much of this is obviously due to being a first-year team, and many of those issues will be resolved through experience and more recruiting classes. The defense is already solid and there are some pieces on offense, now head coach Tony Coaxum need to work towards filling in the gaps along the offensive line and adding depth at the skill positions and adding depth to the defense. Time will benefit the Big Blue.
Erskine – Build overall depth and get someone to stay
Despite their 3-8 record, Erskine did have some bright spots. At the top was the passing game with quarterback Lance Brownlee and wide receiver Senika McKie. However, McKie and Brownlee are a part of a mass exodus of Fleet players heading to the transfer portal. Joining them is quarterback Craig Pender, kicker Bennett Caldwell, offensive lineman Collyn Richardson, and wide receivers JohnCameron Correll and Devante Roberson. That is potentially a lot of talent leaving from a team that currently needs more talent. The Erskine coaching staff may be facing a rebuild after just one full season.
Central Washington – Keep the offense strong and retool the defense
Many of CWU's top offensive threats are slated to return in 2022, including Quincy Glasper, Tyler Flanagan, and Darius Morrison. Offensive lineman Will Ortner and wide receivers JoJo Hillel and Tony Archie will be lost to graduation. It will be on defense, however, where the Wildcats have some big shoes to fill, as defensive leaders Zach Stecklein and Donte Hamilton will both be out of eligibility. CWU will need to build on last season's success and begin building the type of depth and talent to push for the playoffs again.
Simon Fraser – A little of everything, but especially size up front on both sides of the ball
SFU needs improvement in nearly every area, but no place is it more true than along the offensive and defensive lines. SFU quarterbacks saw an exceptional amount of pressure and their running backs were only able to gain small chunks of yards, if any. On defense, they were prone to giving up large amounts of yards on the ground, in some cases to the point where teams that aren't necessarily known for being run-dominant were gaining hundreds of yards on the ground. SFU needs to get much bigger up front on both sides of the ball to have any chance of success in upcoming seasons.
Western Oregon – Replace graduating players and build depth
The Wolves lose some of their top talent, including quarterback Ryan Worthley, lineman Jakob Pruitt, and wide receiver Jarren Ford on offense and defensive back Curtis Anderson and lineman Twister McComas on defense. The Wolves will need to replace those pieces and build overall depth to compete on a more consistent basis in future seasons. Like the Texas A&M-Kingsville game, the Wolves are close but not yet close enough, and that needs to change for them to improve on their 4-6 record.
2022 Conference Changes – Get those moving vans ready!
Today, the Independent ranks are mostly a transient phase for teams before they move to their conference homes, or in the case of the GNAC, having too small a conference to be given full recognition as a conference. Only Bluefield State currently lives as a true Independent, and we will see if they are joined by anyone else next year.
Looking ahead to 2022, this column will lose five of its six current teams. Barton and Erskine had agreements in place to join the SAC as affiliate members in the 2022 and 2023 seasons. Also, in a recent development, the GNAC and the Lone Star Conference have agreed to allow the three football-playing members to join the LSC as football-only members in 2022.
So then, who joins the Big Blue? Post University in Connecticut is in the process of developing a Division 2 football team and played a Junior Varsity season in 2021. We could see them make the jump to Varsity in 2022 and play as an Independent. It should be noted that they are in the middle of Northeast-10 territory and are already NE10 affiliate members in ice hockey, so maybe there's something in the works for football?
To the SAC: Barton and Erskine
Barton and Erskine competed as Independents in 2021 with both schools having agreements to join the SAC as affiliate members in football for the 2022 and 2023 seasons (so, what happens in 2024?). The schools are members of Conference Carolinas in non-football sports, and there are rumors that Conference Carolinas may try their shot at sponsoring football, but it's just rumors as far as I know.
Next year, Barton will become an official member of the SAC after getting a full preview of SAC conference play this season. The Bulldogs went 4-5 in their full yet unofficial SAC schedule (5-5 if you count the win against future SAC member Erskine).
Erskine will join Barton after playing an Independent schedule in 2021, facing just two SAC schools (Catawba and Newberry) in 2021 and going 0-2 against them.
Based on this year's results, Barton is the team most likely to be competitive in the SAC next season. Provided their core players stay in the Bulldogs uniform, Barton may be ready for a run to the top half of the SAC next season. Erskine has significant work to do to become more competitive – their fast-paced offense and defensive issues combined to cause some disastrous results, and they will need to address those issues to prevent from being at or near the bottom of the SAC next season. The Fleet have also had several top players enter the transfer portal, including star receiver Senika McKie and two of their quarterbacks, so this offseason could be a difficult one for Erskine.
To the LSC: Central Washington, Simon Fraser, and Western Oregon
"…and then there were three…"
For the past decade-plus, GNAC football has become a forgotten conference to much of the country, losing team after team and failing to gain any current permanent members since Simon Fraser played their first GNAC schedule in 2010. Today the GNAC fields just three football teams, which is not enough to be recognized by the NCAA as an official conference.
This is what the GNAC has lost over the years:
2008 – Western Washington drops football, but remains a GNAC member in other sports
2015 – Dixie State moves to the RMAC (they've since moved to Division 1)
2015 – South Dakota Mines moves to the RMAC
2019 – Humboldt State drops football and moves most sports to the CCAA
2020 – Azusa Pacific drops football and moves to the PacWest Conference
That's much more than half the league gone. There were also the 2006 and 2007 seasons where the GNAC didn't even sponsor football, and Central Washington and Western Washington were affiliate members in the now-defunct North Central Conference. They rejoined and reformed the GNAC football conference in 2008. Simply put, the GNAC has lived its life as a conference in limbo.
Down in the Southwest, the LSC has absorbed more defections over the last decade than the GNAC. Early on, there was a mass exodus of schools to the newly-formed GAC and to the MIAA. Later, Texas-based schools began to seek fortunes in Division 1.
See what the LSC has lost over the years:
2010 – East Central moved to the GAC
2010 – Central Oklahoma moved to the MIAA
2010 – Southeast Oklahoma moved to the GAC
2010 – Southwest Oklahoma moved to the GAC
2010 – Northeastern State moved to the MIAA
2012 – Incarnate Word moved to Division 1 FCS
2012 – Abilene Christian moved to Division 1 FCS
2014 – McMurry spent one season as an LSC member and moved to Division 3
2016 – Oklahoma Panhandle State moved to the NAIA
2019 – Tarleton State moved to Division 1 FCS
2021 – Texas A&M-Commerce will move to Division 1 FCS for the 2022 season
Today, the LSC is down to seven teams, and the LSC could very well be called the "Lonely" Star Conference.
An Alliance Is Born
In 2017, there was a light (or should I say a Lone Star?) for the GNAC. A scheduling alliance was formed between the Lone Star Conference and the GNAC where non-conference games would be scheduled between the two conferences to ensure full schedules. That agreement was formalized in 2019 to go until the end of the 2023 season. With the impending move of Texas A&M-Commerce (the last original member of the LSC to still be in the LSC as of today) to Division 1 and the consistent struggles of GNAC teams to fill a schedule, the two conferences got together and that scheduling alliance became official affiliate memberships for all three GNAC football schools beginning in 2022. The GNAC football schools will remain GNAC members in other sports but are now LSC members in football.
What Are the Positives from the Alliance?
For the GNAC football schools, it means legitimacy. Joining the LSC ends any issue the NCAA had with the GNAC not having enough teams to be an official conference. It also means opportunity. The GNAC schools will now make trips to Texas and New Mexico every season, increasing the schools' visibility and ability to recruit outside of their immediate geographic areas and their normal recruiting targets. Maybe we'll start seeing some Texans "Rep the Leaf" someday? Finally, it means a stronger schedule. GNAC schools will be able to play LSC stalwarts Angelo State, West Texas A&M, and Texas A&M-Kingsville every season instead of every once in a while.
For the LSC football schools, it means life. Just four years ago an LSC member won the Division 2 National Championship for the first time in the conference's history, and that school is leaving next season. The LSC's Texas base has been shrinking with defections to Division 1. Adding three new schools from within Super Region 4 ensures a full league and no questions about being an official conference. It also means new recruiting opportunities for LSC schools in the Pacific Northwest. It is pretty warm in Texas and New Mexico, after all. Finally, it means the immediate addition of a young playoff team in Central Washington, which finished 8-2 and went 3-1 against LSC schools, including a win over LSC champion Midwestern State. CWU stands to be competitive next season if things work out their way. That should increase the overall strength of schedule for LSC members.
What are the Negatives from the Alliance?
First off, there's the travel. I expect that every new and old LSC football school's athletics budget will need to increase to accommodate for the long road trips between the Southwest and the Pacific Northwest. Plane flights aren't cheap, so you might see some "pay" games for some schools who may have issues with the increased travel costs. I am concerned that the added travel cost may be difficult to meet for schools with smaller athletics budgets. Add to that, GNAC member Simon Fraser is based in Burnaby, British Columbia, so current LSC schools will need to make sure all personnel can travel into Canada.
Second, Central Washington is the only GNAC school that finished this season with a winning record. Western Oregon finished 4-6, and Simon Fraser finished 1-7, with their only win against a low-level NAIA school. Both Western Oregon and Simon Fraser need to improve to increase the overall strength of the LSC, whose two worst teams were the two New Mexico teams that combined for four wins in 2021. Adding a Simon Fraser team that may project as the LSC's worst does not help.
Third, there is the issue of non-conference scheduling. In Super Region 4, the NSIC uses a "silo" schedule, so the RMAC is the only choice for non-conference, in-region games for the LSC. With a 9-game conference schedule in the new LSC, this is probably not a huge issue, but it won't be easy either. Is it possible that the reworked LSC causes a shift in the Super Regions since Super Region 4 will now have three conferences while the other Super Regions have four conferences?
Finally, there's the overall perception of the reworked LSC. How does a Texas-based conference handle the interests of schools over that large an area? Right now, things seem positive since all parties involved need to go forward together. What happens if there is, for example, an issue with the schools in the Pacific Northwest?
What do I think about the changes?
Clearly, this was a necessary move to ensure the overall health of two (now one) conferences. The GNAC and the LSC have absorbed the loss of too many members and haven't been able to replace them at the same rate, and the alliance remedies that for the immediate future. As the stronger of the two conferences, the LSC will likely be at an advantage for some time over the new members, although I expect Central Washington will place in the top half of the new LSC and Western Oregon may be competitive more often than not (they did beat West Texas A&M and lost a close game to Texas A&M-Kingsville). Lots of work needs to be done to ensure that the increased travel over the massive geographical area (I mean, Texas is huge by itself!) isn't a detriment to the football success and the athletics budgets of all LSC members, old and new.
(Beginning of the "Get off my lawn" portion of this program)
I've only covered the GNAC this one season, and while I think the alliance with the LSC is positive, this does likely mean the permanent end of the GNAC as a football conference. As football continues to drive athletics policies and conference affiliations at all levels, regional conferences and rivalries continue to change with many dying off.
College sports used to be driven by beating your neighbors and then proving your team is better than that team that the media says is the best. You knew who you were going to play every year, and you could set your watch to it. Not so much anymore. Schools look for the next bigger thing and they sometimes lose sight of the fact that maybe where they were wasn't so bad after all. And what are we left with? The remnants of Division 2 football in the Pacific Northwest having to align themselves with a group of schools in the Southwest.
(End of the "Get off my lawn" portion of this program)
I'll be honest – it kind of sucks to see this happening. Ideally, the Pacific Northwest would have their own conference and the Southwest would have a conference full of teams (again, it's Texas!). But you know what would suck worse? Angelo State alums hearing from their athletic director that their school is dropping football two seasons after a deep playoff run. Central Washington coaches telling their players that they need to transfer because the program is being mothballed. UT-Permian Basin fans trying to make sense of their school's impending move to the NAIA.
On the other hand, I think it will work because the schools involved need it to work, and I expect that discussions regarding the logistical hurdles like travel costs have already been discussed with each school (at least I hope so). I can see those long road trips being the stuff of (hopefully good) stories when players get together many years later. Sure, it won't be like a big, happy family of teams when they strap on the pads and meet on the field next season, but without each other, they risk not even having that.
Best of luck to the new LSC. I hope those stars aren't as lonely today.
In closing…
I wanted to send out a "Thank You" to Brandon for allowing me to contribute to the web site and helping me start out right. I also wanted to thank the posters on the GNAC message board – they were encouraging and helped me learn things about their teams I wouldn't have learned anywhere else. It's really something to be a part of the site after following and posting on the message board for many years. I remember spending many hours in my university's computer lab in the mid-1990's looking for information about who New Haven was playing next, and finding it wasn't easy, if it was there at all. Now I know where to find the "official" Ellensburg, Washington wind gauge! To that end, I hope I held up my end of the deal and gave the teams in this column the proper coverage. There are some good writers and fans who know their teams and conferences inside and out, and the standard here is high.
Last but not least, I am appreciative that we have sports again. I know that some people would be like "so what" or "that doesn't really matter" or "it's just sports", and you know what? They're right, it is just sports. There are more serious things in the world going on, and there always will be. Thing is, sports is a way that people from different places, backgrounds, races, and economies can all come together and share in something. It is a source of unity, and that does matter, whether you're on the field or not. I think we can learn a thing or two from football, particularly working together to make something remarkable happen.
Now comes the cold and quiet season, but with Springtime hope is renewed to all our little corners once again.
Kickoff is in just under 10 months.