Independents Week 10 Preview
November 4th, 2021 12:00pm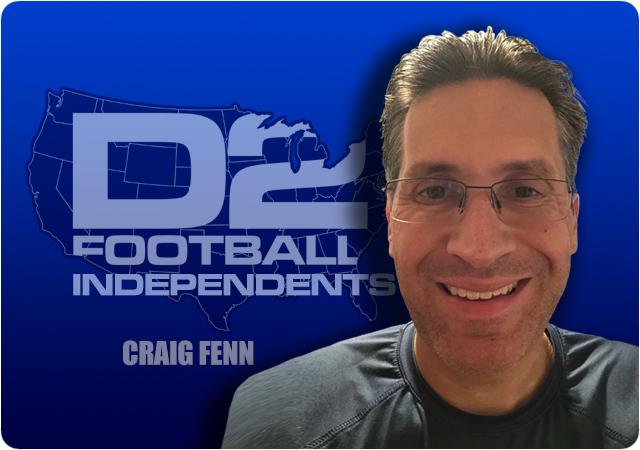 "I'm warning you!...He's got huge, sharp…er…He can leap about…Look at the bones!"
While Week 9's results weren't necessarily unexpected in terms of who won and lost, the margins of victory were a bit on the surprising side. For some reason, following the games this past week at times seemed like I was watching King Arthur's Knights getting mauled time and time again by the Killer Rabbit of Caerbannog. Since this is football, no one on the short end of the scoreboard would be calling for the Holy Hand Grenade to save them.
Anyway, with archaic references out of the way, let's get to the games. As mentioned, all four games were won handily. Down South, Barton ran all around and through Bluefield State, and Newberry's rushing attack was too much for Erskine. In the Northwest, Western Oregon finished its 2021 GNAC slate with a win over Simon Fraser, and Central Washington had a record-breaking win against Lincoln University of California.
Regional Rankings – Part 2
Central Washington won against Lincoln University of California, but the game didn't count towards the Wildcats' D2 record since Lincoln is not an NCAA member. How did it affect CWU's standing in Super Region 4?
Survey says…
| | | | | |
| --- | --- | --- | --- | --- |
| Ranking | School | Overall Record | Division 2 Record | Regional Record |
| 1 | Colorado Mines | 8-1 | 8-1 | 8-1 |
| 2 | Augustana (SD) | 8-1 | 8-1 | 8-1 |
| 3 | Central Washington | 6-2 | 5-1 | 5-1 |
| 4 | Midwestern State | 6-2 | 6-1 | 5-1 |
| 5 | Angelo State | 7-2 | 7-2 | 6-2 |
| 6 | Western Colorado | 8-1 | 8-1 | 8-1 |
| 7 | Bemidji State | 7-2 | 7-2 | 7-2 |
| 8 | Minnesota-Duluth | 7-2 | 7-2 | 7-2 |
| 9 | Colorado Mesa | 6-2 | 6-2 | 5-2 |
| 10 | Northern State (SD) | 7-2 | 7-2 | 7-2 |
(Adapted from https://www.d2football.com/regional-rankings-11/01/2021/)
…It didn't. CWU is still number 3 in the rankings.
Teams that moved up this week were:
Colorado Mines, who jumped over Augustana into the number 1 spot after beating Chadron State.
Western Colorado, whose win over Colorado Mesa moved them from number 9 into the number 6 spot
Minnesota-Duluth, whose win over Minot State moved them from number 10 into the number 8 spot.
Northern State (SD), whose 7-2 record got them into the top 10, replacing Wayne State (NE) in the top 10.
Teams that dropped this week were:
Augustana, who fell to number 2 despite winning their game with Winona State.
Wayne State (NE), whose overtime loss to Upper Iowa dropped them from the number 7 spot out of the top 10 altogether.
Colorado Mesa, whose loss to Western Colorado dropped them from number 8 to number 9.
Bemidji State dropped one spot from number 6 to number 7 despite winning big over Southwest Minnesota State, who now has a 2-7 record.
Central Washington is likely to take a strength of schedule hit this week with a game against 1-8 Western New Mexico. How that impacts the Wildcats in the rankings won't be known until next week, however, the main order of business for CWU is to beat who is in front of them.
Week 9 Recap
Barton wins at home against Bluefield State 62-7
It was a happy Homecoming Game for Barton, who were able to get back to old habits against Bluefield State. The Bulldogs ground out chunks of yards on the ground and wore down the Bluefield State defense. The Big Blue was in it early, drawing within 10-7 on a 12-yard touchdown pass by J'Rell Joseph (7 of 13 passes for 31 yards, 1 touchdown, and 1 interception) to Perry Wilder (2 catches for 17 yards) with 11:30 left in the second quarter. However, unlike most of Bluefield State's previous games, the Big Blue defense wasn't up to the task of defending the Bulldogs. Barton racked up 205 rushing yards (compared to just 48 for the Big Blue) in the first half on their way to a 27-7 halftime lead, and the Bulldogs didn't let up. They would score the game's last 52 points and win by a 62-7 score. After punting on their first drive, Barton would get points on their next 10 drives. Jordan Terrell (27 carries for 158 yards and 2 touchdowns) and many of the Barton starters were lifted in the third quarter with the Bulldogs already up handily.
Terrell led the rejuvenated Bulldogs running attack, which gained 361 yards to Bluefield State's 88 yards. Jaquan Lynch didn't have to throw much, completing just 8 of 14 passes for 98 yards and 1 touchdown. The Barton defense also stood up strong against J'Rell Joseph and the Big Blue offense, only allowing 128 total yards and turning the Big Blue over 4 times. The win was exactly what Barton needed after three difficult SAC games and with two difficult SAC games to close out the season. Bluefield State has now lost two straight, but still has a chance to finish the 2021 season with a winning record when they take the field again in two weeks against St. Anselm.
Barton improves to 5-4 and Bluefield State falls to 3-3.
Erskine loses at home against Newberry 48-10
Newberry was a near carbon-copy of earlier Erskine opponent North Greenville, and that was very bad news for the Fleet, who have had significant difficulty defending the run this season. The fact that Newberry's punter didn't see the field until there was 4:25 left in the game tells you just about all you need to know regarding how this game went. Newberry went to the ground often and were not disappointed with the results. The Wolves scored on their first 8 possessions of the game (2 field goals and 6 touchdowns) and led Erskine 20-3 at halftime, outgaining the Fleet by 304 to 84 yards on their way to a 48-10 win. The Wolves outgained Erskine by 503 yards to 221 yards and held the ball for 34:29 of the game.
Lance Brownlee's magic run, carrying Erskine to two straight wins, came to a halt. Brownlee completed 18 of 25 passes for 180 yards, and 1 interception and could not bring the Erskine offense the success it had the previous two weeks. Fleet star receiver Senika McKie had 8 catches for 70 yards but didn't see the end zone. The Erskine running game, which isn't the focus of their offense but can be a sign of their offensive success, was held to 41 yards on 28 carries. Erskine's defense was led by defensive back Elijah Horton, who had 8 tackles.
Erskine falls to 3-6 and Newberry improves to 7-2.
Central Washington wins at home against Lincoln University of California 92-0
When writing about this game in the Week 9 preview, I pretty much said that I would be surprised if this game ended in anything other than a blowout. Comments like "Expect lots of JJ Lemming and the second team" and "CWU wins by at least 40 points" were some of the highlights from that preview. But once the teams took the field, let's just say I'm not sure the word "blowout" is an appropriate description of what occurred. Maybe something like "unfortunate"?
JJ Lemming did get the start at quarterback for Central Washington, giving starter Quincy Glasper the week off to recover from the injury he aggravated against Western Oregon. The Wildcats got off to a bit of a shaky start, moving the ball into the red zone but having the drive end on an ill-advised pass from Lemming that was intercepted in the end zone by Lincoln's defensive back Trey Haskins and returned 28 yards to the Lincoln 28-yard line.
That was the high point of the game for Lincoln.
CWU had 10 possessions in the first half, bookended by the interception on the first drive and halftime halting the tenth drive. All eight drives in between ended in touchdowns. Lincoln committed five turnovers, 3 interceptions and 2 lost fumbles, and CWU took full advantage of the short field and the undermanned Oaklanders defense. CWU outgained Lincoln 270-21 in the first half, with the Oaklanders having negative-3 rushing yards. The score at halftime was 58-0 in favor of CWU. Lincoln actually led in time of possession by 16:55 to 13:05 in the first half.
The second half wasn't much different. Zachary Matlock took over for Lemming to start the third quarter and continued the scoring with a 27-yard touchdown pass to Tai-John Mizutani to make the score 65-0. Matlock would throw two touchdowns in the second half, with the second a 19-yard pass to Marcus Cook, his first touchdown with CWU. From then on, it was CWU bringing in players who haven't seen much action this season. That included Davine Tullis, who despite being listed on the CWU roster as a cornerback, led all rushers with 128 yards on 9 carries and 2 touchdowns. The scoring barrage ended with a 43-yard touchdown run by Tullis with 11:51 remaining in the game, giving the Wildcats a 92-0 lead. CWU took the extra point and threw it through the uprights to show Lincoln they would not score any more on this day. Matlock took knees on every snap of the last two CWU possessions to further that point. Van Soderberg didn't see the field until this stage of the game, (purposely?) shanking a 6-yard punt with 4:56 remaining after Matlock's first set of kneel-downs.
CWU outgained Lincoln by 435 to 38 yards, with 300 of those yards on the ground. The Wildcats only attempted 12 passes, but they completed 7 of them for 135 yards, and 6 of those completions went for touchdowns. The CWU defense turned over Lincoln 8 times (4 interceptions and 4 lost fumbles). Donte Hamilton was his usual ubiquitous presence, leading in tackles with 6 and having one of CWU's interceptions. For Lincoln, Terence Robertson led in passing with 24 yards on 4 of 15 passes with 3 interceptions, Trey Haskins (who also played defensive back and has Lincoln's interception) led in rushing yards with 21 on 2 carries, and Faizon Knight led in receiving yards with 21 on 2 catches. The Oaklanders didn't reach the red zone once in the game.
CWU broke the GNAC record for most points through three quarters with 86, and possibly broke the GNAC record for most points by one team in a game. CWU kicker Patrick Hegarty tied the GNAC record for most extra points in a game with 10. CWU also broke program records for most points in a half with 56, most points in a game with 92, and most touchdowns in a game with 13.
Central Washington improves to 6-2 and Lincoln falls to 1-7.
Western Oregon wins at home against Simon Fraser 42-3
"If it ain't broke, don't fix it."
Western Oregon had a simple game plan against Simon Fraser when they met in Week 4, and they stuck with it this time around. It was a heavy dose of Omari Land (20 carries for 138 yards and 1 touchdown) and the Wolves' running game, rushing for 286 yards to SFU's 2. Yep, 2. SFU gained just 97 total yards to WOU's 409 and WOU held the ball for 36:04 to SFU's 23:56. Ryan Worthley (7 of 10 passes for 71 yards and 3 touchdowns) didn't need to throw when handing off to Land, Dominique Loggins Loggins (14 carries for 83 yards), Gannon Winker (4 carries for 44 yards and 1 touchdown), or Andrew Valladares (6 carries for 37 yards) was plenty enough for the Wolves to win. The Wolves scored touchdowns on their first three drives and 6 of their first 8 drives and were not threatened by SFU at any point of the game. SFU had a much more promising result the first time they played WOU even though SFU lost the game.
SFU was led by Justin Seiber, who completed just 8 of 19 passes for 68 yards and 1 interception. Somto Anyadike led SFU rushers with 24 yards on 7 carries. Robert Meadors led SFU receivers with 3 receptions for 36 yards. Kristie Elliott scored SFU's only points for the game on a 28-yard field goal with 4:21 left in the second quarter. Defensive standout Griffin Barrett led SFU with 13 tackles.
Western Oregon improves to 3-5 and 2-2 in the GNAC and Simon Fraser falls to 1-6 and 0-3 in the GNAC. The Wolves have concluded their GNAC schedule for the 2021 season.
Team Records
Independents
Barton: 5-4
Bluefield State: 3-3
Erskine: 3-6

GNAC
Central Washington: 6-2, 3-0 GNAC (GNAC Champions)
Western Oregon: 3-5, 2-2 GNAC
Simon Fraser: 1-6, 0-3 GNAC
Week 10 Preview
All games are on Saturday, November 6.
Barton (5-4) hosts Lenoir-Rhyne (SAC, 6-2), 4:00 PM Eastern time
Series history: Lenoir-Rhyne leads 7-0
Last meeting: 2021 Spring season (Lenoir-Rhyne won 44-13)
A win for Barton in the either of the next two games will clinch a winning record for the Bulldogs in their first full season since 1950. Getting that win this week will not be easy, as Lenoir-Rhyne is rolling. The Bears, who started the season 2-2 with 7-point losses to Newberry and UVA-Wise, have won four games in a row and have been dominant the last three weeks, including a 31-6 win last week over then-SAC leader Wingate. They entered this week's Super Region 2 rankings in the number 10 spot and dropping Wingate from those rankings. It is a matchup of two of the top five rushers in Division 2, with Barton's Jordan Terrell (number 2 with 1440 yards) meeting LR's Dwayne McGee (number 5 with 1239 yards).
LR has the number 15 scoring defense in Division 2, allowing 15.75 points per game. The Bears' offense averages 37.63 points a game. McGee anchors the running game for an offense that is nearly even in rushing and passing yards. LR has gained 1907 yards on the ground and 1984 in the air and have only committed 9 turnovers while forcing 17 turnovers. Quarterback Grayson Willingham has completed 175 of 282 passes for 1961 yards, 15 touchdowns, and 6 interceptions. Four receivers (Deondre Lester, Ryan Carter, Kelin Parsons, and Dareke Young) have at least 271 yards receiving, led by Lester with 567 yards. Lester also leads in receiving touchdowns with 5. McGee has 17 rushing touchdowns to go with his 1236 rushing yards.
The Bears have made 62.5 tackles for loss and 22 sacks this season. Their defense is led by linebacker Preston Joseph, who has 48 tackles; and defensive lineman Amari Houston, who leads the LR defense with 11.5 tackles for loss and 5.5 sacks. Safety Jimmie Palmer III leads with 4 interceptions.
Barton will be hard-pressed to keep up with the fast-charging Bears, who are looking to regain what they believe is their spot atop the SAC and in the NCAA playoffs. The Bulldogs have played above expectations all season long, and they will need to run the ball against an LR defense that only gives up 86 yards per game. The Bulldogs will keep it interesting into the second half, but LR is too good right now and will put together a big fourth quarter to win. Lenoir-Rhyne wins by 14 points.
Bluefield State has the week off
The Big Blue host St. Anselm of the Northeast-10 Conference next week in both teams' final game of the season.
Until then, here's one for the trivia buffs – The answer is: "This Nobel Prize-winning mathematician famous for game theory was born in Bluefield."
Make sure your answer is in the form of a question!
"Who is John Nash?"
Erskine (3-6) at Shorter University (GSC, 2-7), 1:00 PM Eastern time
Series history: Shorter leads 1-0
Last meeting: 2021 Spring season (Shorter won 24-13)
Erskine heads to GSC member Shorter for the Flying Fleet's last road game of the season. Shorter has had the misfortune of playing in the loaded GSC this season, having lost by wide margins to the GSC's top teams (Valdosta State, West Alabama, West Georgia, and West Florida) and have yet to win a conference game this season. Their overall statistical profile, while certainly impacted by the teams they have played, tell the story of a difficult season. The Hawks have been outrushed (189 yards a game to 126 yards) and outpassed (258 yards a game to 167 yards) by significant margins. They have been outscored on average score of 32 to 17. They have turned the ball over only 10 times and have forced 11 turnovers on the season. Shorter's two wins have come against Division 3 Brevard College and SIAC member Clark Atlanta.
On offense, four rushers have at least 150 yards on the ground, led by Jaiden Dollard, who has 383 yards on 100 carries and 4 touchdowns. Quarterback Aeneas Dennis has completed 133 of 225 passes for 1492 yards, 11 touchdowns, and 8 interceptions. Dennis has also run for 235 yards and 3 touchdowns. Dennis will look for wide receiver Dorian Anderson, who leads the team with 22 catches for 268 yards and 4 touchdowns. Tight end Kyle Morlock is another important weapon with 14 catches for 258 yards and 3 touchdowns.
On defense, defensive backs Kolby Reynolds (48) and Nemo Reddish (46) lead in tackles. Defensive lineman Fabian Reid Jr. leads in tackles for loss with 8 and sacks with 4. Five Hawks have one interception on the season.
I think Erskine will have opportunities in this game to make plays and score points. The Fleet will need to limit their mistakes and make plays in both the rushing and passing game to keep it close. The Erskine defense will need to bend but not break against a Shorter offense that will look to run the ball. A higher time of possession could help Erskine in this game. I do think that Shorter will make enough plays late to win. Shorter win by 4 to 7 points.
Central Washington (6-2) at Western New Mexico (LSC, 1-8), 11:00 AM Pacific time
Series history: Central Washington leads 3-0
Last meeting: 2019 (Central Washington won 36-27)
Here's another trivia question – The clue is "The most common mascot name in the LSC."
Remember that all answers must be in the form of a question!
"What is a Mustang?"
Central Washington completes the LSC portion of their schedule with a trip to the former home of renowned outlaw "Billy the Kid" to take on the Western New Mexico Mustangs. Can WNMU ambush the Wildcats this week? It will take an awful lot for that to happen. Central Washington left the game with Lincoln with a win and some rest for the Wildcats' starters, including starting quarterback Quincy Glasper, who got the week off. The Mustangs' only win came in Week 1 against still-winless Adams State, and they have only had two close games in their 8-game losing streak: a 27-19 loss to UT-Permian Basin and 50-47 against Eastern New Mexico in the "Green Chile Bowl". WNMU has averaged just 17.89 points per game and have given up 42.78 points a game.
On offense, the Mustangs have turned the ball over 25 times (13 interceptions and 12 lost fumbles). Quarterback Devin Larsen puts up fairly big numbers in the passing game, averaging 260 yards a game. However, he has 13 touchdowns and 11 interceptions on the season while averaging 43 passes a game. Bryce Coleman is the leading rusher with 421 yards and 4 touchdowns. James Hoben and Oly Ta'Ase have also gained significant yards on the ground for the Mustangs. Five receivers have at least 200 yards receiving, led by Allen Ortiz, who has 22 catches for 440 yards and 2 touchdowns.
The WNMU defense gives up an average of 440 yards per game, 175 rushing and 265 passing. Their defense has forced 11 turnovers but has only one interception the entire season. The defense does get into the backfield and has 69.5 tackles for loss and 27.5 sacks. Linebacker Kaleb Gutierrez leads the team with 71 tackles. Defensive lineman Tylen Coleman might be the main Mustangs defender to look out for. He uses his speed as an undersized (6-feet, 235 pounds) lineman to make 11 sacks and 12 tackles for loss. Gerard McKnight and Isaiah Webb are also near the team lead in tackles.
The recurring theme for CWU will be to do what they are supposed to do. Play their game and there will be no issues. WNMU has kept a few games close this season, and they have some players who can make plays and give the Wildcats headaches if given the opportunity. However, CWU is deeper on both sides of the ball, and they are more like the teams that have beaten the Mustangs by wide margins this season. I expect the Wildcats to sweep their New Mexico slate this season in a game reminiscent of their Week 1 game against Eastern New Mexico. Central Washington wins by 24 to 30 points.
Simon Fraser has the week off
SFU stays on the road for their final game of the season next week at Central Washington.
If you're in Canada and in need of a sports fix to make up for the lack of an SFU game, there's always Hockey Night in Canada. On November 6 it will be Boston at Toronto and NY Rangers at Calgary. Coverage starts at 6:30 PM Eastern time on CBC.
Final trivia question of this week's column – The clue is "The year Hockey Night in Canada started."
"What is 1952?"
Western Oregon (3-5) at Chadron State (RMAC, 4-5), 11:00 AM Pacific time
Series history: First meeting
Western Oregon goes back to the RMAC for this matchup hoping for better results than their Week 1 matchup with Colorado Mines (a 42-3 loss). The Wolves travel to Don Beebe (the former Buffalo Bills receiver from the 1990's) Stadium to face Chadron State, who like WOU, have also lost to the Colorado School of Mines. The Eagles' season has been very similar to the Wolves'-The Eagles have beaten most of the teams that were below them, they won one game that might have been considered an upset, and they lost the games they were expected to lose. Like WOU did against Texas A&M-Kingsville, CSC lost a close game to an LSC opponent in Angelo State (a 28-24 loss in Week 2). Wide receivers Cole Thurness (42 catches for 404 yards and 5 touchdowns) and Chad Mikelson (29 catches for 541 yards and 6 touchdowns) lead the Eagles' receivers.
The Eagles' offense is run by quarterback Dalton Holst, who has completed 154 of 269 passes for 2051 yards and 16 touchdowns against 8 interceptions. Jeydon Cox (437 yards and 5 touchdowns, leads a diverse running attack with three rushers having over 350 yards each. The Eagles have turned the ball over 17 times (10 interceptions) and have only created 13 turnovers this season. On defense, the Eagles are led by linebacker Noah Kerchal, who leads in tackles with 60 and has quite the picture on his biography page. Linebackers Travis Wilson and Jeremiah Makahununiu are also near the top in total tackles. Defensive lineman Hunter O'Connor leads in tackles for loss with 7, with fellow lineman Gabe Perkins and linebacker Joey Geil having 6.5 tackles for loss each. Defensive back Bobby Peele is the Eagles' ballhawk, leading with 5 interceptions.
The Wolves will need to have the consistency that they had in their wins and haven't had in their losses. On offense, it needs to be Omari Land and the deep WOU running game setting the tone and making things less stressful for Ryan Worthley and the WOU passing game. The WOU defense, who have been strong at points this season, should be able to create some turnovers and give additional opportunities to the offense. CSC has also allowed 24 sacks on the season while only getting 22 sacks, so this may be a possible opportunity for the Wolves' defense as well.
In my opinion, this might be the best game of the week. I can see it going down to the wire like the WOU/West Texas A&M game from earlier this season. I think the Wolves will be motivated to break even for the season and I think they come back home with a win. Western Oregon by a touchdown.
And one last thing before we go…
In light of the Central Washington/Lincoln game and seeing/tracking many first-year teams this season, I had a few thoughts. Hopefully this doesn't end up devolving into a rant.
I have to say, I was a bit irritated about the CWU/LU game. Now, I'm not irritated at Central Washington-they needed the game, they agreed to the game, and, in my opinion, they handled it about as best as they could have possibly handled it. CWU scored 92 points with one foot on the brake and one foot on the gas. They could have scored 125 points if they wanted to, and they did the right thing by stopping when they did. I'm not irritated with the Lincoln players. They wanted to be on a football team, but their university may have jumped into the football pool with both feet without knowing how deep it was. I don't think I can be irritated with most of the Lincoln coaches either, maybe they didn't know what they were getting into when they signed. But, Lincoln's head football coach is also their athletic director, and I fear he has done his players a significant disservice by scheduling the way they did and putting his students in positions that have mostly been impossible for them. I was worried for their physical and mental well-being, since there was clearly nothing they could do to challenge the Wildcats in any phase of the game at any moment of the game. No pass for him-those players deserve better.
I have followed and currently write about teams in this column who have started programs from scratch. The three Independent teams (Barton, Bluefield State, and Erskine) all started football programs after not fielding teams for decades. Also, I follow the Northeast-10 Conference (Shameless plug-if you don't already, read Paul Falewicz's NE10 column, it's really good!) since my alma mater (New Haven) is an NE10 member. New Haven brought back football five years after dropping the sport in 2003. In addition to New Haven, Franklin Pierce joined the NE10's football members in 2019 and had their first season that year.
Of the teams listed above, the three Independent teams have met with varying levels of success this season, New Haven actually won five games in their 2009 season, and while Franklin Pierce has only won two games to this point (1 in 2019 and 1 in 2021), you can see the improvement from year 1 to year 2. What all these teams have in common is that they have a clear commitment to the sport. They all either built new facilities (Barton and Franklin Pierce), improved existing facilities (New Haven), or rented facilities (Bluefield State and Erskine). Erskine plays in a high school stadium that is better than many college stadiums. You can see the financial and personnel commitment that each of those schools has made, even if it hasn't yet translated to wins.
I don't know about Lincoln's institutional commitment to football. They're playing all road games this season-is it because they need the money to fund the athletics program? They couldn't rent a high school stadium for even a couple home games? I'm sure Oakland has quite a few stadiums, maybe they could use the Coliseum now that the Raiders are in Las Vegas? Could they not convince anyone to travel to Oakland?
I remember New Haven having to play a bunch of games for checks to keep the football program solvent as an Independent between 1998 and 2003, and it was a significant reason why they dropped football despite many years of success. When football was brought back, New Haven played a Junior Varsity schedule in 2008 to prepare for the 2009 season. Couldn't Lincoln have played a club or Junior Varsity schedule this year? I'm not the one to answer those questions. Of course, Lincoln isn't the only team mentioned in this column for whom these questions could be asked-there's also Virginia-Lynchburg and Fort Lauderdale, extremely small schools with enrollments of around 500 students who for some reason want to field football teams.
Anyway, we will do this all over again in two weeks. Lincoln will head up the West Coast to Monmouth, Oregon to face Western Oregon in the Wolves' final game of the 2021 season, and no, I don't expect it to be very competitive. Maybe not 92-0, but then again, the chances of a repeat of that are, amazingly, not zero.