Independents Week 11 Preview
November 11th, 2021 12:00am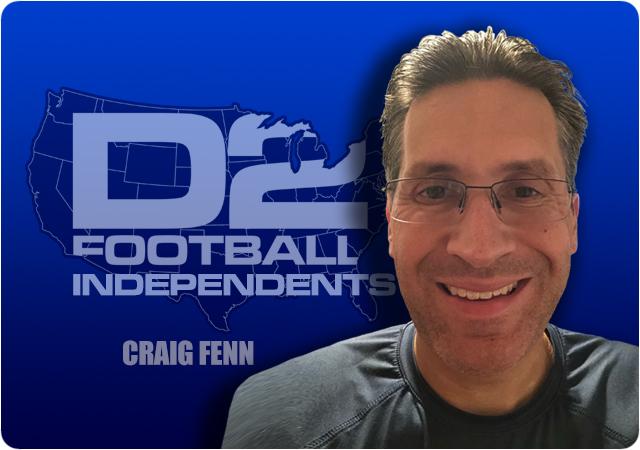 Like Week 9, all the teams who won in Week 10 all won handily, but I promise there will be no rants this week.
Barton had one decent half and one really bad half in the Bulldogs' loss to Lenoir-Rhyne. Erskine's Fleet neither flew nor ran in losing to GSC member Shorter. Central Washington's defense didn't play their A game, but their offense sure did in defeating LSC member Western New Mexico. Western Oregon, like Barton, had one decent half and one really bad half in losing to Chadron State.
We have reached the final week of the regular season, and all the teams in this column will be in action. Five teams will be playing to build toward next season. One team, Central Washington, is playing for a playoff spot and a chance to extend their season.
Regional Rankings – Part 3 – The Final Rankings
"Boy, that escalated quickly…I mean, that really got out of hand fast.
It jumped up a notch.
It did, didn't it?"
The final set of Regional Rankings before the NCAA's official playoff announcement were released this past Monday. So, what about the Super Region 4 rankings?
Survey says…
| | | | | | |
| --- | --- | --- | --- | --- | --- |
| Ranking | School | Overall Record | Division 2 Record | Regional Record | Next Opponent |
| 1 | Colorado Mines | 9-1 | 9-1 | 9-1 | Adams State |
| 2 | Angelo State | 8-2 | 8-2 | 7-2 | Texas A&M-Kingsville |
| 3 | Augustana (SD) | 8-2 | 8-2 | 8-2 | Southwest Minnesota State |
| 4 | Bemidji State | 8-2 | 8-2 | 8-2 | U of Mary |
| 5 | Western Colorado | 8-1 | 8-1 | 8-1 | CSU-Pueblo |
| 6 | Central Washington | 7-2 | 6-1 | 6-1 | Simon Fraser |
| 7 | Minnesota-Duluth | 8-2 | 8-2 | 8-2 | Northern State (SD) |
| 8 | Midwestern State | 6-3 | 6-2 | 5-2 | UT-Permian Basin |
| 9 | Sioux Falls | 7-3 | 7-3 | 7-3 | Upper Iowa |
| 10 | Colorado Mesa | 7-2 | 7-2 | 6-2 | South Dakota Mines |
(Adapted from https://www.d2football.com/regional-rankings-11/08/2021/)
…Absolute chaos if your name isn't Colorado School of Mines. CSM was the only team in the Super Region 4 rankings that didn't have their ranking change this week.
All kinds of movement in this week's rankings, including some big drops.
Big movers this past week were:
Angelo State – The Rams moved up three spots to the number 2 after their win over Texas A&M-Commerce. They are now the only LSC team in the top 7 of the rankings.
Bemidji State – The Beavers moved up three spots to number 4 with their win over then-number 10 Northern State (SD).
Central Washington – The Wildcats dropped three spots to number 6 despite winning against Western New Mexico.
Midwestern State dropped four spots to number 8 after their loss to West Texas A&M.
Northern State (SD) dropped out of the top 10 with their loss to Bemidji State.
Sioux Falls entered the top 10 with their win against Wayne State (NE). They play Upper Iowa this week.
With this column focusing on the Independents and GNAC, it's time to zero in on what happened to Central Washington in the rankings this past week. The Wildcats beat Western New Mexico 54-29, but they got hit with a triple-whammy. First, Western New Mexico is now 1-9 this season, so that's a strength of schedule hit to CWU. Also, league mate Western Oregon lost to Chadron State, also weakening CWU's opponents' winning percentage. Finally, Midwestern State, CWU's best win this season, lost to West Texas A&M, which is another negative on CWU's opponents' winning percentage.
CWU has their final regular season game at home against Simon Fraser. SFU has a 1-6 record and an 0-4 record against Division 2 opponents. CWU will be heavily favored to win, but will beating SFU drop CWU even further down the playoff rankings? That will be the big question for Wildcats fans this weekend. Until CWU is announced as a playoff team (if CWU is announced as a playoff team, that is), hold on to your butts, Wildcats fans.
And about those playoff selections-The official announcement of the Division 2 playoff teams and matchups will be broadcast on the NCAA web site at 5:00 PM Eastern time on Sunday, November 13.
Week 10 Recap
Barton loses against Lenoir-Rhyne 56-20
One thing that this young Barton team has managed to avoid for the most part this season is a half or a full game where simply nothing works and their opponent ends up winning big. The Newberry and Tusculum games (maybe parts of the Mars Hill game too) were really the only times this season where Barton ran into that situation. Even in the Tusculum game, they showed some life after falling behind 27-0 in the first half, coming back to within 27-17 before Tusculum pulled away to win 41-17.
Add the Bulldogs' second half against Lenoir-Rhyne to that list of bad halves. It was likely the worst half of football they've had all season. At halftime, though, it didn't necessarily seem like a collapse was imminent. LR lead Barton 21-13 in what was a closely played first half. Barton led 3-0 and 10-7 and was within 14-13 late in the second quarter when Jadus Davis (10 carries for 63 yards and 3 touchdowns) scored on a 3-yard touchdown run to make it 21-13 in favor of the Bears.
Once the teams came out for the second half, LR turned the intensity up to 11, wanting to make a message to the SAC and the playoff committee that the Bears belong in the playoff field. The Bears outscored Barton 35-7, outgained Barton 259-174, and scored touchdowns on their first four drives of the second half. Despite LR's second-half surge, Barton still had a chance to make the game interesting early in the fourth quarter. Down 35-13, Barton was desperately trying to score to get back into the game, but defensive back Percy King removed all doubt by picking off Jaquan Lynch (12 of 24 passes for 156 yards and 1 interception; also 9 carries for 68 yards) and returning it 80 yards to put the Bears up 42-13. There would be no more talk of any Barton comeback.
Jordan Terrell, who did gain 107 yards on 26 carries and scored a touchdown, was kept in check by the Bears defense until LR was ahead by a wide margin. Dwyane McGee won the battle of the running backs by 152 yards to 107 and teamed up with Davis to anchor a Bears running attack that gained 287 yards and scored 4 touchdowns. Grayson Willingham also had a solid game for LR, completing 19 of 27 passes for 186 yards, 3 touchdowns, and 1 interception and completing passes to 7 receivers. Kelin Parsons led LR with 6 receptions for 67 yards and 1 touchdown. Kameron Johnson (5 receptions for 65 yards) and Jack White (2 catches for 12 yards) were the only Bulldogs with more than one catch.
On defense, Barton was led by linebacker Shane Smith, who had 18 tackles. Defensive back Kendarius Jenkins (9 tackles and 1 interception) and linebacker Matt Smith (8 tackles) also had solid games for the Bulldogs. Linebacker Jon Ross Maye was in the backfield often for Lenoir-Rhyne, making 10 tackles and 2.5 tackles for loss.
Barton falls to 5-5 and Lenoir-Rhyne improves to 7-2.
Bluefield State had the week off
The Big Blue will host St. Anselm of the Northeast-10 Conference this coming week.
Erskine loses at Shorter University 38-7
This was one of those games where from looking at the statistics, you could easily see that the final score could have been much, much worse for Erskine. Shorter outgained Erskine by 579 to 108 total yards, 293 to 60 passing yards, and 286 to 48 rushing yards. The Hawks also held the ball for 40:54 of the game. Shorter scored early and often, leading 24-0 at the half. Erskine would score first with 11:18 left in the third quarter, but it was the only time the Fleet would put points on the board. Shorter would add two touchdowns to round out the day's scoring and win 38-7.
For Erskine, there were very few positives. Lance Brownlee only completed 6 of 18 passes for 45 yards in his second straight difficult game. Josh Heatley led the Fleet on the ground with 42 yards on 10 carries ad the Fleet's only touchdown. Senika McKie was able to get open enough to make 4 catches for 51 yards and was the only Erskine receiver to make more than 1 catch. Linebacker Brandon Lane (11 tackles) and defensive back Marion Smalls (10 tackles) led Erskine's defense.
Shorter was led by Aeneas Dennis, who completed 22 of 29 passes for 260 yards and 2 touchdowns. Dennis also had 76 yards rushing on 14 carries and a touchdown. Jaiden Dollard (24 carries for 101 yards and 1 touchdown) and Noah Holland (9 carries for 28 yards) were also strong on the ground for the Hawks. Wide receiver Kyle Morlock led a host of Shorter receivers with 7 catches for 104 yards and 2 touchdowns. Timothy Walker (6 tackles) and Tory Jones (5 tackles) led the Shorter defense.
Erskine falls to 3-7 and Shorter improves to 3-7.
Central Washington wins at Western New Mexico 54-29
When Western New Mexico's Nicholas Herber made a 32-yard field goal midway through the third quarter, the Mustangs drew within 23-16 and we had ourselves a football game. WNMU quarterback Devin Larsen (29 of 58 passes for 358 yards, 2 touchdowns, and 1 interception) was finding his receivers and the Mustangs were making many positive plays against a CWU defense that has been used to dictating the course of the game to their opponents. From that point on, the Wildcats' offense, which had also been moving the ball effectively to that point, turned things up a notch. Tyler Flanagan (8 carries for 106 yards and 1 touchdown) raced 69 yards for a touchdown to put CWU up 30-16, and the Mustangs could not muster a rally as the Wildcats would add 3 more touchdowns and a field goal to win 54-29.
It was the CWU offense that carried the Wildcats to victory and not the defense, which struggled at times to corral the Mustangs' passing attack. Quincy Glasper (36 of 55 passes for 442 yards and 5 touchdowns; 9 carries for 46 yards) was the best player on the field, throwing touchdown passes to 5 different receivers and completing passes to 8 receivers. In a game that demanded that he throw the ball, he more than matched what Larsen accomplished for WNMU. Glasper is a legitimate dual-threat quarterback and the leader of the Wildcats' offense. CWU fans should be excited about the future with him running the offense. At the same time, however, both quarterbacks threw a very high number of passes, which in some cases could be a sign of desperation. However, CWU had a very efficient running game (25 carries for 170 yards and 2 touchdowns) to go along with the passing game, and WNMU (23 carries for 40 yards and 2 touchdowns) didn't. This discrepancy in rushing yardage could have been a reason why CWU was almost unstoppable in the second half, scoring points on 6 of their 8 drives (4 touchdowns).
While the CWU defense didn't play their typical tight game, they made a key interception to end a WNMU drive with the score 40-23 and the Mustangs having a small bit of hope. Defensive back Michael Chisley returned the interception from the CWU 48-yard line to the WNMU 43-yard line. CWU took full advantage and scored on a 20-yard touchdown pass from Glasper to Tai-John Mizutani (4 catches for 30 yards and 1 touchdown) to end all hope for the Mustangs, who were now behind 47-23 with just 4:26 left.
As much as there is to not like about CWU's performance, the main positive from this game is that CWU can win a game where everything is not going perfectly (it does help that the opponent is now 1-9). Also, the CWU offense has averaged 45.5 points in the games Quincy Glasper has started at quarterback, a number that should bring attention to potential playoff opponents. Finally, CWU improved to a 2-0 record against teams named the Mustangs.
Central Washington improves to 7-2 and Western New Mexico falls to 1-9.
Simon Fraser had the week off
SFU will travel to Central Washington to take on the Wildcats in the final regular season and final GNAC game for both teams.
Western Oregon loses at Chadron State 45-7
At halftime, Western Oregon trailed Chadron State 7-0. The Wolves kept the game just about even, gaining 149 yards to Chadron State's 164 yards. The only score in the first half was an Ahlonte Hair (2 receptions for 57 yards and 2 touchdowns) 10-yard touchdown reception from Eagles quarterback Dalton Holst (13 for 28 passes for 133 yards and 2 touchdowns). Another Hair touchdown reception of 47 yards on the Eagles' first drive of the second half put Chadron State up 14-0. But the Wolves were still in it despite having difficulty moving the ball for more than a handful of plays at a time (WOU punted 10 times in the game, the same as CSC, but CSC did much more with their drives).
It took three minutes for everything to fall apart for the Wolves.
CSC kicker Gunnar Jones tried a surprise pop-up onside kick which the Eagles recovered at the WOU 25-yard line. CSC would get a 40-yard field goal from Jones at the end the drive. The Wolves would fair no better when they had the ball after the next kickoff. Ryan Worthley (3 for 11 passes for 65 yards and 1 interception) would be intercepted by defensive back Jahvonte Hair at the WOU 35-yard line and returned to the WOU 19-yard line. Jeydon Cox (13 carries for 112 yards and 2 touchdowns) scored on a 19-yard touchdown run on the next play and it was now 24-0. Game, set, match-Eagles.
To start the fourth quarter, a Dominique Loggins (4 carries for 7 yards) fumble was recovered by Kael Juelfs (2 tackles) for a CSC touchdown, and the rout was on. WOU would finally score on a 58-yard touchdown pass from Gannon Winker (4 of 12 passes for 137 yards and 1 touchdown; 7 carries for 37 yards) to Thomas Wright (4 catches for 136 yards and a touchdown), but that only prevented a shutout. CSC would add one more touchdown to win 45-7.
WOU suffered from many of the same issues that plagued them all season – Sustaining and finishing drives and limiting mistakes. Their first drive ended in a missed field goal, and they didn't get close to the Eagles' end zone again until the competitive phase of the game had passed. Statistically, WOU didn't do all that bad, gaining 389 yards to CSC's 411, but most of WOU's drives moved the ball for a little bit, and then they would be stopped.
While WOU's inefficiency on offense was a significant issue, the mistakes were what really doomed the Wolves. WOU made two critical mistakes (the onside kick and interception) that led to 10 CSC points and turned a competitive 14-0 game into a 24-0 rout. Those mistakes gave CSC short-field opportunities and put significant pressure on the WOU defense, which could not hold the Eagles back. A third WOU mistake, the Loggins fumble that made the score 31-0, solidified the outcome in the Eagles' favor. On too many occasions this season has WOU gone large stretches of the game without scoring while their opponents put up many unanswered points. Look at the two CWU/WOU games for prime examples of this occurring.
Western Oregon falls to 3-6 and Chadron State improves to 5-5.
Team Records
Independents
Barton: 5-5
Bluefield State: 3-3
Erskine: 3-7

GNAC
Central Washington: 7-2, 3-0 GNAC (GNAC Champions)
Western Oregon: 3-6, 2-2 GNAC
Simon Fraser: 1-6, 0-3 GNAC
Week 11 Preview
All games are on Saturday, November 13.
Barton (5-5) at Virginia-Wise (SAC, 5-5), 2:00 PM Eastern time
Series history: First meeting
The Barton Bulldogs have already made a significant amount of history in their first full season since 1950, winning as many games this season as they have won in their entire program's history. OK, so their entire program's history was five seasons from 1947 to 1950 and this past Spring, but what they're doing is still quite impressive. This week, the Bulldogs try to clinch the first winning season in their program's history with a win on the road against the Uva-Wise Cavaliers.
The Cavaliers come into this game with a similar win-loss profile as Barton, but with a couple differences. One, they defeated Lenoir-Rhyne in Week 5 and possibly cost the Bears the SAC championship. They also defeated Catawba last week. However, Wise lost to Wingate while Barton gave Wingate their first loss of the season.
On offense, the Cavaliers are going to pass more than they run. They average 270 yards per game in the air and just 94 yards per game on the ground. They typically don't win the time of possession battle as a result, holding the ball on average for 27 minutes per game. Jaevon Gillespie leads the running game with 552 yards on 102 carries and 9 touchdowns. J'Quan Anderson (197 yards and 2 touchdowns) and Jakoby Johnson (107 yards and 1 touchdowns) will also carry the ball. Lendon Redwine will take the snaps for the Cavaliers, completing 231 of 388 passes for 2527 yards, 22 touchdowns, and 13 interceptions. Eight Cavaliers have at least 100 receiving yards on the season, led by Utah State transfer Devin Heckstall, who has 751 yards on 42 catches and 6 touchdowns. JJ McNeil III (43 catches for 552 yards and 4 touchdowns) and Darrien Newton (29 catches for 279 yards and 5 touchdowns) are also receiving threats for Wise.
Defensively, the Cavaliers are somewhat stingy against the pass, only allowing 214 yards per game and picking off 13 passes. They have, however, given up 24 touchdown passes. They give up 147 yards per game rushing, which Barton will try to take advantage of. They have given up more points than they have scored, 277 to 259. The Wise defense is anchored by defensive tackles Joel Burgess and Chavon Fields. Burgess leads in total tackles with 55, is second in tackles for loss with 9.5, and leads in sacks with 5.5. Fields leads in tackles for loss with 10.5 and is second in sacks with 5.0 to go along with his 41 total tackles. Cornerback and Murray State transfer Markel Dailey leads in interceptions with 5, with fellow defensive back Robert Carter close behind with 3.
Barton has alternated wins and losses the last six weeks, and if they continue the pattern this week, they are due for a win. I expect this game will be tight throughout. Both teams are looking to finish the season with a winning record and have positive momentum going into the recruiting season. Barton should be able to establish the all-important running game against a Wise defense that may be vulnerable to the run. I think the Barton running game will wear down the Wise defense and Jordan Terrell will make some big runs late. I think Barton wins a close one and finishes their first full season since 1950 with their first-ever winning record, winning by 7 to 10 points.
Bluefield State (3-3) hosts St. Anselm (Northeast-10, 3-6), 12:00 PM Eastern time (NOW CANCELLED)
Here's a question before this preview - Can you tell which of the game previews I wrote over the weekend? Yep, this one. Big thank you to NE10 columnist Paul Falewicz, who found that the game was cancelled. Bluefield State head coach Tony Coaxum asked for the cancellation, citing the desire to protect the health of his players. St. Anselm is looking for another game at this time, but the status of that search is unknown.
Until then, I'l leave the preview here and I apologize for running it without knowing of the cancellation.
Series history: First meeting
"Necessity is the mother of invention."
As has been mentioned a few times in this column, I graduated from a school currently in the Northeast-10 Conference (New Haven, who happened to win the NE10 championship last week and will hopefully be in the Super Region 1 playoff bracket). I also spend a good chunk of time on the NE10 portion of the D2football message board. The NE10 only has 9 teams due to defections to Division 1, so each team in the conference plays 8 conference games and schedules one true out-of-conference game. Since that is just 9 total games, the NE10 put in a scheduling arrangement where eight NE10 members play a fellow NE10 member in a "non-conference" game and end up playing one conference member twice this season. For example, New Haven plays Franklin Pierce twice this season through that arrangement. St. Anselm was the odd team out, so they needed a game. As it turns out, Bluefield State was happy to host the Hawks, who will make the 800-plus-mile trip from Manchester, New Hampshire to Bluefield, West Virginia.
From Bluefield State's opponents this season, St. Anselm probably compares closest to Erskine in terms of style of play. The Hawks average 314 passing yards a game and just 66 rushing yards a game. They have the Northeast-10 Conference's leading passer in Drew Willoughby, who has completed 249 of 429 passes for 2802 yards and 22 touchdowns, but he has also thrown 20 interceptions. His main target is the NE10's leading receiver in Anthony Brown, who has 56 catches for 812 yards and 9 touchdowns. Vincent Wagner is far and away the best runner for St. Anselm, gaining 503 yards on 108 carries. On defense, linebacker Liam Flynn and defensive back Ryan Sullivan are tied for the lead in tackles with 57 each. Flynn also leads in tackles for loss with 9.5., and Sullivan is also tied in interceptions with linebacker Devin Williams with two. Defensive lineman Brandon Hudgins leads in sacks with 3.5.
For Bluefield State to stay competitive in this game, they will need to get turnovers and take advantage of them. St. Anselm quarterbacks have thrown 21 interceptions this season, including 6 (with two returned for touchdowns) in a loss to New Haven. The Hawks will throw the ball a lot and will take risky throws, and the Big Blue need to be ready. Playing Erskine earlier this season will certainly help the Big Blue, but St. Anselm has more talent and experience than Erskine. Bluefield State will keep it close early, but their issues with finishing drives along with the strength of St. Anselm's passing game will put too much pressure on the Big Blue defense. St. Anselm keeps Bluefield State from finishing their first season since 1980 with a winning record. The Hawks win going away by 14 to 17 points.
Erskine (3-7) hosts Kentucky State (SIAC, 6-4), 1:00 PM Eastern time
Series history: First meeting
Erskine finishes their first full season since 1951 with a home game against their third and final SIAC opponent in Kentucky State. The Fleet have split their first two games with SIAC opponents, losing to Savannah State and defeating Allen. Kentucky State and Erskine share Savannah State as a common opponent, with SSU winning both games. Kentucky State has won 4 of their last 5 games after their loss to Savannah State in Week 5. The Thorobreds have improved significantly under head coach Charlie Jackson, who took over an 0-10 team after the 2018 season and is looking for his second straight seven-win season.
On offense, the Thorobreds are just like their mascot-they are going to run, and they are going to run a lot. They average 340 yards a game, averaging 6.5 yards per rushing attempt. They only average 66 yards passing and have thrown 68 passes the entire season. Leading rusher Brett Sylve (145 carries for 933 yards and 13 touchdowns) is the fourth-leading rusher in KSU program history with 2213 yards and counting. Seven other Thorobreds have at least 246 yards rushing, and a total of 10 have scored at least one rushing touchdown this season. Quarterback Jonathan Jerry has completed just 23 of 45 passes for 479 yards, 3 touchdowns, and 1 interception. Jerry has also gained 267 yards rushing with one touchdown. DeVon Mc Coy (6 catches for 106 yards and 3 touchdowns) and Emery Bryant (5 catches for 126 yards) are the main receiving threats if (and that's a big if) Kentucky State throws the football.
Defensively, the Thorobreds are led by linebacker and Central Michigan transfer Chuck Jones, who leads in total tackles with 45 and is tied for second in tackles for loss with 8. Kentucky State has accumulated 99 tackles for loss on the season. KSU's top four tacklers and their sack leader (Eldridge Dockery, with 4.5) are all linebackers. Defensive back Isaiah McFarland leads the pass defense with 3 interceptions. This is a defense that wants to get in the backfield and put pressure on whoever has the ball.
Erskine's troubles defending the running game have been well-documented in this column, and Kentucky State is just the latest run-dominant team that they will try to hold back. However, Erskine's lack of success defending against the run in previous weeks suggests another defensive nightmare for the Fleet. Erskine will need to have their offense going to have any chance at winning, and I'm not sure that will happen. Kentucky State gets their second straight seven-win season, winning by 17 to 20 points.
Central Washington (7-2, 3-0 GNAC) hosts Simon Fraser (1-6, 0-3 GNAC), 1:00 PM Pacific time
Series history: Central Washington leads 39-10
Last meeting: 2021 (Central Washington won 36-14)
In the last GNAC game of the season, Central Washington hosts Simon Fraser in a game that is important to both teams for very different reasons. For CWU, beating SFU this week will (almost certainly) clinch a playoff berth in the NCAA Division 2 Playoffs and guarantee that this column will have a game preview next week. For SFU, they haven't won a GNAC game since 2019 when they defeated Azusa Pacific 24-17. This is also the last time they defeated a Division 2 opponent. SFU has won just 2 of their last 60 games against Division 2 opponents since the end of the 2013 season. So to say that SFU is overdue for a win is a bit of an understatement. Whether SFU can get that win is another story altogether.
In CWU's previous meeting with SFU, it was the CWU running game that drove the Wildcats to victory, gaining 370 yards and scoring 4 touchdowns. Rashaad Boddie had a career day, rushing for 279 yards and 3 touchdowns. CWU was able to pull away in the second half with the running game making up for a so-so game by JJ Lemming, who completed just 14 of 31 passes for 147 yards and an interception. SFU's Justin Seiber threw for 285 yards, but he needed 50 passes to do it.
This time around, Quincy Glasper is running the CWU offense, and the Wildcats have significantly improved since he took over at quarterback. The main question for CWU will be whether their overall strategy changes from the first matchup with SFU since the running game was so successful the first time around. I can't imagine their strategy will change all that much. Also, were the issues that CWU had defending the pass against Western New Mexico a one-time thing, or will SFU be able to move the ball in the air this week?
CWU can't get caught looking ahead and thinking about a possible playoff game next week. Leave no doubt, win this game, and let the rankings fall where they may. CWU needs to play sharp, limit mistakes, and make sure SFU doesn't gain confidence and be in position to spring the upset. I expect those things will happen. Central Washington wins by 25 points.
Western Oregon (3-6) hosts Lincoln University of California (Non-NCAA, 1-8), 1:05 PM Pacific time
Series history: First meeting
Well, the Lincoln Oaklanders are back in this column, heading up I-5 to try their luck again against a GNAC opponent in Western Oregon. You might remember Lincoln's first attempt against a GNAC opponent didn't turn out too well, so we'll see if this week is any different. The Oaklanders went to Western Colorado last week and lost by a score of 72-6. They have now been outscored 342-33 by their five Division 2 opponents this season. That's an average score of 68-7 if you're scoring at home.
What we did see when Lincoln played Central Washington (other than the outcome) is that you're never quite sure who Lincoln will suit up and where they will play. A very different lineup was present for the CWU game compared to their previous game at Texas A&M-Kingsville. So, in this preview I will make a note of those Lincoln players who played against Western Colorado, and I guess we'll see who plays against the Wolves when they kick off on Saturday.
Against Westen Colorado, Lincoln started Lamar Housely at quarterback, and he completed 7 of 19 passes for 28 yards, 1 touchdown, and 2 interceptions. David Teu, who did play against CWU, was the team's leading rusher with 32 yards on 13 carries. Isaiah Ross (2 carries for 9 yards) was the only other Lincoln runner with positive yards. Four Lincoln receivers caught passes, led by Valonsky Jeanty, who has 3 catches for 11 yards. Rashaun Ramsey scored Lincoln's only touchdown and had 2 catches for 3 yards. Tommy Ologundudu led the Oaklanders with 14 yards receiving. On defense, Emmit Gooden led in tackles with 9 and had 1.5 tackles for loss. Calvin Sinclair IV led in tackles for loss with 2 and sacks with 2. At least four Oaklanders saw action on both sides of the ball.
As has already been said, I couldn't tell you who Lincoln will suit up when they face the Wolves. I managed to misplace my Magic 8 Ball, so I guess I'll just wait until kickoff to find out. From what I did see against CWU and from Lincoln's other opponents this season, this game will likely be a glorified scrimmage for WOU. Maybe this game will help the Wolves figure out where returning players will fit in next season. Like the CWU game, expect WOU to go deep into their bench and use many players who haven't seen much action this season. Western Oregon lost their chance at a break-even season last week, but they will have a happy send-off for their seniors and finish the season with a win. Western Oregon wins by at least 35 points.