Independents Week 9 Preview
October 28th, 2021 12:00am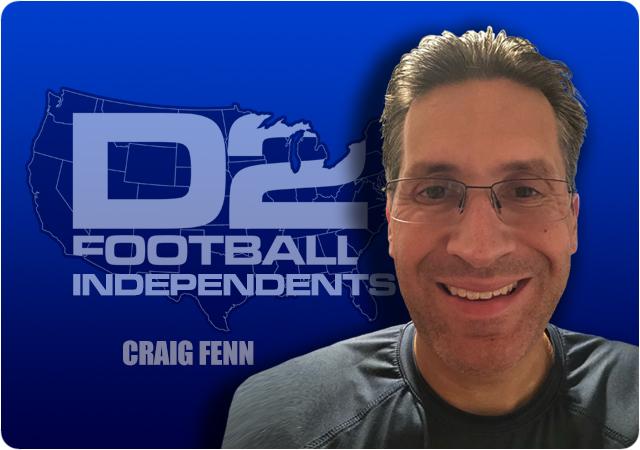 Week 8 saw the race to the GNAC championship conclude with Central Washington winning their fourth straight GNAC championship. The Wildcats won in dominant fashion for the second straight game against Western Oregon. Also in the GNAC, Simon Fraser kept it close for a while, but just couldn't keep up with Angelo State.
Elsewhere, Barton had its running game shut down for the first time this season in a loss to Tusculum, and Erskine won their second game in a row in a back-and-forth shootout with Allen.
The Playoff Race is Now Real
"Yeah? Well, you know, that's just like, uh, your opinion, man."
On Monday, October 25, the first official set of NCAA Regional Ranking were released, and as expected, Central Washington stands as the lone team from this column in those rankings. The 5-2 Wildcats came in at #3 in the Super Region 4 rankings with a 5-1 Division 2 record. CWU is scheduled to play non-NCAA Lincoln University of California this week in a game that will not count toward their ranking, win or lose. Then the Wildcats will go to Western New Mexico on November 6 and come back home to face Simon Fraser on November 13 to finish the season. Those two teams have a combined record of 2-12. It looks very likely that all CWU needs to do is win those games and they will be in the playoffs. If CWU earns a playoff berth, it will be the first for a GNAC team since 2018, when Azusa Pacific represented the GNAC as the #7 team in Super Region 4 and lost 58-0 to then-LSC member Tarleton State.
The first official Super Region 4 rankings are as follows:
| | | | |
| --- | --- | --- | --- |
| Ranking | School | Overall Record | Division 2 Record |
| 1 | Augustana | 7-1 | 7-1 |
| 2 | Colorado Mines | 7-1 | 7-1 |
| 3 | Central Washington | 5-2 | 5-1 |
| 4 | Midwestern State | 5-1 | 4-1 |
| 5 | Angelo State | 6-2 | 5-2 |
| 6 | Bemidji State | 6-2 | 6-2 |
| 7 | Wayne State (NE) | 6-2 | 6-2 |
| 8 | Colorado Mesa | 6-1 | 5-1 |
| 9 | Western Colorado | 7-1 | 7-1 |
| 10 | Minnesota-Duluth | 6-2 | 6-2 |
(From https://www.d2football.com/regional-rankings-10/25/2021/)
Thing look very promising for CWU, but a word of warning-I am reminded of what happened to my alma mater when they were in a similar situation at the end of the 2010 season. New Haven, who had just brought back football the year before after dropping the sport in 2003, had an 8-1 record and already won the Northeast-10 Conference championship. All they needed to do was win at home against 1-7 St. Anselm and a playoff spot was theirs. Three hours later, St. Anselm won 35-26 and had a happy trip back to New Hampshire. No playoffs for the Chargers and the Northeast-10. CWU had best not screw around the next three weeks.
Week 8 Recap
Barton loses at Tusculum 41-17
At least for this past week, we know what happens when someone finally puts the brakes on the Barton running game, and it isn't good for the Bulldogs. Jordan Terrell had his worst game of the season by far, gaining only 37 yards on 23 carries while scoring one touchdown. As a team, Barton was outrushed by Tusculum by 232 to 25 yards, numbers Barton hasn't dealt with all season. While Barton has shown a more diverse offensive attack in recent weeks (they did outgain Tusculum passing by 185 to 157 yards), gaining only 25 yards on the ground is definitely not good when practically your entire game plan depends on a successful running game.
Tusculum got out to a 27-0 lead behind a Cortney Jackson (13 carries for 108 yards and 2 touchdowns) touchdown run and three touchdown passes of 9, 48, and 42 yards from Ivan Corbin (11 of 19 passes for 147 yards and 3 touchdowns). The Bulldogs did, however, show some life at the end of the first half and into the third quarter. The Bulldogs ended the first half with a 26-yard field goal by Jackson Brooks at the halftime buzzer, followed with two touchdowns by Terrell (a 2-yard run) and Kameron Johnson (a 65-yard reception) to get within 27-17, but they would get no closer. Tusculum matched Barton's two touchdowns with two touchdowns of their own on short runs by Corbin and Jackson to complete the day's scoring.
Positive spots for Barton included 92 yards receiving on 4 catches by Kameron Johnson, who continues to be a solid contributor in the passing game. Barton quarterback Jaquan Lynch had 167 yards on 12 of 25 passing with a touchdown and an interception. Kendarius Jenkins (12 tackles and 1 tackle for loss) and J.L. Ledbetter (9 tackles, 3 tackles for loss, and 1 sack) led the Bulldogs' defense.
Barton falls to 4-4 and Tusculum improves to 4-4.
Bluefield State had the week off
The Big Blue head to Barton this coming week to take on the Bulldogs.
Erskine wins at home against Allen 47-40
Like the Western Oregon/West Texas A&M shootout in Week 5, this game nearly came down to whoever having the ball last winning the game, with the Flying Fleet and Allen trading scores and rallies throughout. Trailing 40-38, Erskine scored on a 5-yard touchdown run by Dearius Hazel (19 carries for 84 yards and a touchdown) to retake the lead 44-40 with 4:11 left in the game. Then Allen made the biggest error of the game, one that may have cost them a chance at victory. The ensuing kickoff, which wasn't the traditional onside kick, was not fielded by a Yellow Jackets player and was recovered by Erskine linebacker Dorian Robinson at the Allen 23-yard line. The Fleet offense was back on the field, where they went on a 5-play, 21-yard drive ending in a 20-yard field goal by Bennett Caldwell (2 of 3 fields goals and 5 of 5 extra points), extending Erskine's lead to 47-40. As important as the points was the time taken away from another potential Allen rally. Erskine's offense was their best defense, taking 2:08 off the clock and leaving the Yellow Jackets with just 2:19 left. The next Allen drive ended with quarterback David Wright (25 of 39 passes for 344 yards, 4 touchdowns, and 2 interceptions; 16 carries for 75 yards) having a fourth-down pass intercepted at the Erskine 47-yard line by Fleet defensive back Ty Simpson (who also have 3 tackles and a forced fumble). Erskine would run out the clock and seal the victory.
This game was a classic back-and forth game, with three lead changes in both halves. Allen led 26-21 at halftime when Wright completed a 5-yard touchdown pass to Jayden Horace (8 receptions for 132 yards and 2 touchdowns). Erskine answered with a 22-yard field goal from Caldwell to make it 26-24. Ty Simpson forced Allen returner Cesian Tucker to fumble the ball on the ensuing kickoff and Dameon Green returned the ball 25 yards to put the Fleet ahead 31-26. Erskine would add a 3-yard Senika McKie touchdown reception from Lance Brownlee (20 of 25 passes for 215 yards, 3 touchdowns, and 1 interception) to make it 38-26. But the Yellow Jackets would come back on the back of Wright and the passing game. Juluis Pearson (2 catches for 30 yards and a touchdown) caught a 28-yard touchdown pass to bring the Yellow Jackets within 38-32, and Beau Herrington (20 carries for 74 yards and 2 touchdowns) would regain the lead for Allen at 40-38 with a 2-yard touchdown run, setting the stage for the frantic finish.
This is the first winning streak for Erskine since the 1950 season, when they beat Newberry and East Tennessee State, and it came in a game that played to Erskine's strengths-heavy on passing and just enough defensive plays to win the game.
Erskine improves to 3-5 and Allen falls to 3-4.
Central Washington wins at home against Western Oregon 53-21
"It's like déjà vu all over again."
If SFU's game against Montana State-Northern was the "hold my beer' game, Round 2 of the Central Washington/Western Oregon home-and home was the Yogi Berra game. Stop me if any of this sounds familiar. Western Oregon took the opening kickoff and scored on a Ryan Worthley (13 of 25 passes for 137 yards, 2 touchdowns, and 2 interceptions) 15-yard touchdown pass to Jarren Ford (4 catches for 49 yards and 1 touchdown). The Wolves had reason to feel good about their hopes when they forced a CWU punt and then drove back into the red zone on their next possession. But a Tanner Volk (who also had 4 tackles) interception of a Worthley pass into the end zone would mark the last time the Wolves would reach the end zone for quite a while. CWU's Patrick Hegarty would answer with a 39-yard field goal, beginning a run of 39 straight points for the Wildcats. Starting with the Hegarty field goal, CWU would score points on 8 of their next 10 possessions, including a 39-yard pass from wide receiver Tai-John Mizutani to Tony Archie (4 catches for 71 yards and 1 touchdown) to put CWU up 32-7. While WOU would score two touchdowns in the fourth quarter, the last being on a 67-yard run by Omari Land (17 carries for 154 yards with the touchdown), it was much too little, too late, for the Wolves, who were held back most of the night by the CWU defense once again.
CWU sweeps the home-and-home with WOU, and with a 3-0 GNAC record, they won their fourth consecutive GNAC championship. Not all was great for the Wildcats, however. Starting quarterback Quincy Glasper (10 of 15 passes for 94 yards and a touchdown; 11 runs for 66 yards and a touchdown), in the words of CWU coach Chris Fisk, had a "minor tweak" of a previous injury in the third quarter. His status for CWU's next game is unknown at this time. JJ Lemming (7 of 9 passes for 155 yards and 2 touchdowns) came in relief of Glasper in the third quarter and the CWU offense didn't miss a step, scoring four touchdowns with Lemming in charge. Also, WOU did rush for 231 yards, but many of those yards came after the game was well in hand. All in all, a happy Homecoming game for the Wildcats, who kept the Wolves from "dancing on their logo" again.
Central Washington improves to 5-2 and Western Oregon falls to 2-5.
Simon Fraser loses at Angelo State 51-10
When Angelo State got out to a quick 15-0 lead, I'm sure many were thinking "Yep, here comes the blowout." But after that, SFU settled in a bit, moving the ball on some drives and holding back the Angelo State offense. A 30-yard Kristie Elliott field goal after an SFU interception of a Zach Bronkhorst (11 of 16 passes for 122 yards, 1 touchdown, and 1 interception) pass by Brendan Lowry (who also had 3 tackles) got SFU within 15-3. With 2:56 left in the first half, the SFU defense even stopped the Rams on a goal-line stand at the SFU 1-yard line.
Then it all fell apart for SFU, and yep, the blowout came.
Three SFU plays after the goal-line stand gained zero yards and SFU was forced to punt from the back of their end zone. SFU punter Kees Metselaar took a safety and his subsequent free kick went down to the ASU 10-yard line and landed in the hands of returner/running back Alfred Grear. 90 yards later, Grear had a kick return touchdown, and the Rams were up 23-3 just one minute after the goal-line stand. Any hopes that SFU had of staying in the game with ASU in the second half were gone. SFU did score a touchdown in the third quarter on a Justin Seiber (15 of 24 passes for 136 yards, 1 touchdown, and 2 interceptions) 13-yard touchdown to wide receiver Robert Meadors (4 receptions for 21 yards and 1 touchdown), by then the score was 30-10 ASU and SFU defense was worn down by the bigger Rams, who would then score touchdowns on their next three drives to cap the night's scoring. SFU made far too many mistakes and doesn't have the overall talent and depth to make up for those mistakes.
Angelo State outgained SFU by 461 to 190 yards, with the Rams gaining 292 yards on the ground. Nataniel Omayebu III (15 carries for 112 yards and 2 touchdowns) and Grear (7 carries for 104 yards and 1 touchdown) led the ASU rushing attack. Kellen Pachot had 5 receptions for 75 yards and a touchdown for the Rams. SFU wide receiver Riley Morrison (46 receiving yards) led all receivers with 8 catches, and linebacker Barrett Griffin led all defenders with 11 tackles.
Simon Fraser falls to 1-5 and Angelo State improves to 5-2.
Team Records
Independents
Barton: 4-4
Bluefield State: 3-2
Erskine: 3-5
GNAC
Central Washington: 5-2, 3-0 GNAC (GNAC Champions)
Western Oregon: 2-5, 1-2 GNAC
Simon Fraser: 1-5, 0-2 GNAC
Week 9 Preview
All games are on Saturday, October 30.
Barton (4-4) hosts Bluefield State (3-2), 2:00 PM Eastern time
Series history: First meeting
Barton comes back for its Homecoming game with hopes of getting back in the win column against fellow Independent Bluefield State. The Bulldogs will look to get their running game back on track after gaining only 25 yards against Tusculum. Despite last week's loss, Barton has shown more diversity on offense, with Kameron Johnson emerging as a top receiver for Jaquan Lynch to accompany Jordan Terrell and the Barton rushing attack.
The Big Blue had last week off after the tough loss at Erskine where the Flying Fleet won with a last-minute drive. Barton will be their toughest challenge of the season, with the Bulldogs having played an SAC schedule and defeating SAC leader Wingate two weeks ago. Barton has mostly improved as the season has gone on, but the loss to Tusculum was a sign that the Bulldogs are still young and still working on consistency.
Bluefield State should keep Barton at bay for some of the game with their defense, and the Big Blue offense will have some long drives and keep Terrell and Barton's offense off the field. However, the Big Blue has had difficulty finishing drives and their defense hasn't faced an offensive front and running back like Terrell this season. The more talented and battle-tested Bulldogs will ultimately wear down the Big Blue. Barton should pull away in the second half and get their fifth win of the season, by 17 to 20 points.
Erskine (3-5) hosts Newberry (SAC, 6-2), 1:00 PM Eastern time
Series history: Tied 3-3-1
Last meeting: 2021 Spring season (Newberry won 54-14)
Newberry was a visitor to this column is Week 1 when they defeated Barton by a 31-7 score. The Wolves are ranked #8 in Super Region 2 and need to win as many games as they can to try to get into playoff contention. With a showdown for first place in the SAC next week against Wingate, it is certainly possible Newberry might get caught looking past an Erskine team with a losing record, but on a two-game winning streak. On offense, Newberry is nearly equal in rushing and passing yards. The Wolves gain an average of 193 yards per game on the ground and 208 yards in the air. If the game is close, the wolves might be at a disadvantage-they have only made 5 of 14 field goals on the season while Erskine has made 8 of 12 field goals. Newberry doesn't score many points (just 25 per game), but they hold teams to just 15 points per game, and they hold the ball for 33:29 per game.
On offense, Newberry is led on the ground by Mario Anderson, who has 735 yards and 5 touchdowns on 135 carries. Quarterback Dre Harris will also have his share of carries and has gained 302 yards this season along with his 1548 passing yards. Harris has accounted for 18 touchdowns, 13 passing and 5 rushing. Bryson Woodruff (44 catches for 628 yards and 7 touchdowns) and Bobby Irby (34 catches for 505 yards and 4 touchdowns) are Harris' main targets in the passing game.
On defense, Newberry wants to get in the backfield. The Wolves have 51 tackles for loss on the season, led by defensive lineman Tyran Dixon (7.5), linebacker AJ Valentine (5.5) and Devante Gambrell (5.0). Valentine is the overall tackle leader with 42, while Dixon and linebacker Alex Smith both have 37 tackles. Defensive back Anthony Blue leads in interceptions with 3, but Newberry as a team only has 4, but they still only give up 168 yards passing per game. The Wolves may not turn teams over with interceptions, but they do have 6 fumble recoveries and they are very good at keeping teams from moving forward.
Erskine has had two major issues during the season – very low time of possession (24:48 per game) and issues controlling strong running games. Newberry is strong in both these areas and has a strong defense. It will be difficult for Erskine to consistently move the ball with their passing game, especially if Senika McKie doesn't consistently get open. I also couldn't tell you with complete certainty who Erskine will use at quarterback, as Lance Brownlee was the third Fleet quarterback to have a start this season. My guess is Brownlee will start since he has had a large role in Erskine's winning streak.
I expect Newberry will have an easier time with Erskine than they did with Barton and beat the Fleet by 24 to 30 points.
Central Washington (5-2) hosts Lincoln University of California (Non-NCAA, 1-6), 6:00 PM Pacific time
Series history: First meeting
From Oakland, California come the Lincoln Oaklanders, a first-year, non-NCAA school who is probably best known for hiring Oakland native and NBA legend Gary Payton to coach their mens' basketball team in their first season this Fall and recruiting Damian Lillard's half-brother Jairren to play basketball there. The University has been around since 1919 and mainly offers business programs and are trying to start athletics programs with a student enrollment of just over 500 students. Fielding any athletics program with such a low enrollment is no easy feat, and like most first-year programs, Lincoln has not met with much success, with their only win in 7 games coming against Division 3 Willamette by a 34-9 score. They have been outscored 178-27 by their three Division 2 opponents this season, all from the LSC (Eastern New Mexico, UT-Permian Basin, and Texas A&M-Kingsville). They have also played Division 1 FCS Stephen F. Austin, losing 61-13. LU's football coach, Desmond Gumbs, is also the LU athletic director.
Information about the Oaklanders is a bit tough to come by, as their athletics programs do not have a web site and the only information they have provided about their program has been from the program's Twitter page and a football schedule posted on the university's web site. Of course, I think I'd rather have no web site at all than a non-functional web site like Virginia-Lynchburg had when I attempted to profile them. So, off I go to the web site for LU's most recent opponent, Texas A&M-Kingsville, for this profile (Thank you Javelinas!). According to the TAMUK web site, notable LU players include quarterback Cameron Burston, who had 141 yards passing and 64 yards rushing, and accounted for all 3 of LU's touchdowns. David Walker and Larry Whitfield will get carries out of the backfield for the Oaklanders, and Calvin Green is LU's leading receiver (at least against TAMUK he was). Nick Patterson led LU in tackles against TAMUK with 12, and the Oaklanders did get two interceptions, one each by Kobe Jenkins and Claude Allen. Deon White and Early Jerrick each had 7 tackles for LU. It is possible that LU may play different players against CWU, since the Oaklanders played Isaiah Rios and Terrence Robertson at quarterback in their game prior to TAMUK against UT-Permian Basin and Burston, Johnson, Whitfield, and Green didn't have offensive statistics in the game. I honestly don't know if it matters-LU is just starting a program and CWU's program is strong.
CWU might be the best Division 2 opponent Lincoln has faced this season, and I expect this result will be like their previous results against Division 2 opponents. The main issue for the Wildcats will be keeping sharp and avoiding injuries to key players in a game that will not count toward their Division 2 record, which is a big part of the playoff formula. I think for that reason, I can see CWU starting to pull starters early since I expect the Wildcats will be up handily in short order. Expect to see a lot of JJ Lemming and the CWU second team in the second half. It wouldn't surprise me if Lemming goes the whole way if Quincy Glasper is still having issues with the injury he aggravated in the Western Oregon game. CWU wins by at least 40 points, and it's probably not going to be that close unless CWU calls off the cats early (Did you think I was going to say "call off the dogs?" Don't want to offend the cats!).
CWU fans have officially been warned-the last time I picked a spread this large; it was picking Bluefield State by 30 to 35 over fellow first-year program Fort Lauderdale, and that game was still in doubt into the fourth quarter and Bluefield State only won 23-9. That being said, Bluefield State is not playing at near the level that CWU is at now, so I'm bit more confident with this prediction. Still, don't go to Vegas with this pick.
Simon Fraser (1-5, 0-2 GNAC) at Westen Oregon (2-5, 1-2 GNAC), 1:05 PM Pacific time
Series history: Western Oregon leads 31-10
Last meeting: 2021 (Western Oregon won 24-7)
SFU begins its all-GNAC end-of-the-season road trip in Monmouth to take on the Wolves, who might be a bit surprised that Central Washington isn't in the opposing locker room. SFU has had one conference win since the 2104 season, and that was over Azusa Pacific in 2019. WOU is looking to regain the winning touch that has eluded them since beating West Texas A&M three weeks ago.
Major questions to be answered in the game include: Can WOU can stay consistent if they get off to another quick start like in the two games with CWU? Can the Wolves stick to a run-heavy game plan with Omari Land against SFU? Can WOU finish drives and limit penalties? Can SFU get enough from their defense to keep the game close? Does SFU move the ball effectively and limit turnovers? Can SFU get enough from their running game keep the WOU defense honest and give Justin Seiber time in the passing game?
I expect that WOU will take the same approach to SFU as they did in their first meeting and focus on the SFU offensive and defensive fronts. If it worked so well for the Wolves the first time, why mess around with something else? I don't expect Ryan Worthley to test the solid SFU secondary all that much, mainly because he won't need to. Omari Land and Andrew Valladares will take care of things on the ground. The Wolves get their third win of the season and complete the season sweep of SFU, winning by 17 to 21 points.