Inside D2Football - Week Two Preview
September 3rd, 2023 1:00pm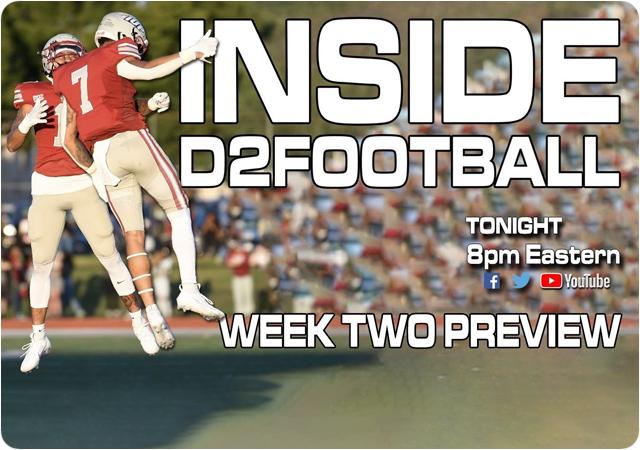 YouTube Auto-Generated Transcript:
[Music]
thank you [Music]
well hello everybody and thank you for joining us tonight on inside D2 football with Tony Nicolette Justin Polizzi
Amanda Wiki Chris Ferguson and special guest Antonio Clark I am Brandon Meisner
again thank you for joining us we have a heck of a night to to have some fun and
talk about a lot of fun things what a great weekend in division two football uh some of the main things to talk about Grand Valley at Colorado Mines uh epic
comeback by the Lakers we're going to talk about that Ashland and iup important super region one game uh that
was close majority of the game and uh we got so much more than that way too much
to list so let's go ahead and get that started and as I mentioned the first game we're going to talk about was on
Thursday Grand Valley was at Colorado Mines uh didn't look good for the Lakers
at one point but they managed to tie the game only to see Colorado School of
Mines come back kick the game-winning field goal with the second to on the clock I had Two Tonys there but Tony
Nicolette what were your thoughts on the game well first of all uh
um a special thanks to Tim Flynn and the staff at mines for hosting uh you know both Tony and I
um very gracious host fantastic facility um you know as a quick aside is a long time D2 fan that's been on my bucket
list that stadium for a long time so to be able to get to see a game there was a real blast and so I'm so grateful to the
staff there for for having me now getting to the game itself um you know I looked actually like it
was going to be a little bit more uh you know kind of steady and intriguing throughout last year's game was a little
bit clunkier uh I think in the get get going it was only seven nothing and a half and uh after a quick stop the
Lakers got on uh mine's first possession Grand Valley went six plays 99 yards to take a seven nothing lead and mines
responded to tie the game and so he thought okay this is going to get uh this is gonna get interesting and then
Grand Valley's second possession went okay and then from then until basically the latter part of the third quarter
mines looked like they were just gonna run the Lakers out of the gym I mean it was uh it was really something they were
extremely efficient on offense uh they were doing a great job stuffing Grand Valley's Run game on defense
um and I'll be honest with you in the stadium and this is part of guys why when we have this show we all try to
watch as much tape as we can or actually get to as many stadiums as we can because you just get a such a different
sense of the game from seeing it and it's always an even more emphatic sense that or an understanding that you get
when you're in the building that game felt like mines was actually going to boat race them and I'll be honest it
almost felt like once they took the air out of the ball I was a little surprised I thought if they had cut their foot on the gas there wouldn't have been any
chance for Grand Valley to come back but they you know went uh stopped throwing his aggressively started running the
ball Grandpa was forcing a lot of three and outs and the Laker offense started to figure some things out especially in
the pass game with that you know kind of two-minute urgency as you got into the last basically 18 19 minutes of game
clock and they made that Furious comeback uh to be able to tie it so you got to give Grand Valley Credit for
despite having all the cards stacked against them for the better part of that game they still found a way to dig deep
and and and and almost make the the full comeback and get us get a win in the last second there but uh yeah I mean the
way the game felt in the stadium was that mines was just gonna run them out and I was very surprised to see that not
in the fact that mines isn't capable of that but we just haven't seen that out of Grand Valley team in a couple of years
so uh Tony you've played at everybody should know you were former player so
you've played there um tell us your thoughts on the atmosphere there since Tony Nicolette
brought it up and then tell us your thoughts on the game please um it it's always an amazing atmosphere
Marvel K Stadium it it's great um there's students are super into it
um people show up it's an amazing it's an amazing deal what they got going on up there but as far as the game it was
just advertising it was a heavyweight bout um Grand Valley took a really mean right hook and where they look like they might
have faltered but they got back in it and swung back um I think things I wasn't surprised by
John matoka looked amazing efficient um he's not going to turn the ball over
he's going to gain yards um max McLeod Max McLeod I don't even think he played his best game still went
for like 150 yards um mine's running game even though they lost Mike Zieman their running game it's
it's more explosive now uh simply put Noah Roper um Dickerson those guys are explosive
they're fast it showed um mind front seven defensively is the real deal nothing's changed from last
year they cause a lot of pressure they have the Grand Valley guys Under Pressure a lot like the plays they made
they made them on the Run getting out of the pocket extending plays and whatnot so I I think it was a great game
um I think mine showed um they took a lot from their loss in the championship game to Ferris State last year I think
they always build a little bit more um Grand Valley I'm expecting them to bounce back strongly this week though
like the way they they fought back that showed like Championship metal in my opinion
fellas let me ask you being a neutral Observer and watching this I'll be real
Frank I kind of thought that maybe there would be some residual effects that mines would have after a pretty
deflating loss in the championship a year ago uh just the way it went down and everything else
I'll be real Frank they I didn't get any impression of that them I mean coming
right out of the gate and everything else what what you know Tony Nicolette what are your thoughts uh did you were
you a little bit surprised that that they came out and played as well as they did not at all uh with from a couple of
different perspectives one you know one of the things that I was concerned about for them was how many
guys did they lose you know they had I think it was 33 60 year seniors on that roster last year and I think they lost
fewer than 10 of those so when you keep that much experience uh including the Harlan Hill winner man you're going to
be pretty in pretty good shape coming into the game um and I thought uh what the mine staff
did in terms of their learnings from those games was was was real great um
matoka was on the move a lot they got him uh either with quick routes or they
had him rotating the pocket or they did a lot of um you know basically direct uh quick
outs to a receiver catching the ball in the backfield so whoever he had in front of him could block and it's basically
just like a long handoff and so they were able to mix the run in such a way that it still facilitate or excuse me uh
mix the pass in such a way that it was essentially an extension of the Run game and and Grand Valley just really was
didn't seem like they were adept at stopping it and it looked a lot like some of the things that Ferris tries to
do and that fair and that Grand Valley stopped very successfully last year so you know there was some youth at a couple of spots in Grand Valley's D and
I wonder if maybe that showed a little bit uh they did a great job of trying to neutralize just how effective Grand
Valley's defensive front was and they were able to get pressure on matoke at different points they did have three sacks and he had to scramble on a few
different occasions but you didn't hear Abe Swanson's name called a lot uh uh during the night either I think part of
that was because last year he was wreaking all kinds of havoc and they were trying to figure out ways to all right how do we get away from him and
they were very successful at it AC let me ask him that game was what 28-7 at one point were you kind of
thinking that game was over and then did you kind of feel a bit of a mood change oh absolutely uh you know I I I'm on the
sidelines and I'm taking pictures during these games but I'm still like watching it Through My Lens it seemed like Monza
is going to blow the doors off of him but Grand Valley like I said they just they just stuck in there like I said
they're a team that is always competing for championships you could tell they're in games like this like I don't think
that Grand Valley sideline like being on it walking by it I don't think they ever stopped believing that they could win
the game yeah I thought it was wild at the end when Peterson had the big touchdown it
was like oh what's going on here now you know uh I I think the Grand Valley receivers too I I think they were very
confident very confident against mines the second day I felt like they thought we can we can break loose at any time
and that show later in the game like uh I I'm not sure his name I think his last name is fiorney he had a long one number
five how long went up the sideline like they were getting behind the mines defenders in the on the back end
one last uh no I thought Kate Peterson played really well second half uh Grand Valley quarterbacks the best
I've ever seen him play yeah he did play he did play a real good game Brandon that's a good observation and I mean a
game like that I mean you saw two of the best quarterbacks in division two and you saw it in week one
and it was a real neat showcase I mean we're all so lucky to be able to get games like this
um but yeah that was it was Elite level quarterback play I mean uh uh Kate had an interception but honestly that one
was and I don't know where Tony was in terms of real relative to that that was one that I think it was to Tierney and
it just slipped through his hands yeah and the defender behind him had fallen down and it basically trickled right
down to him laying on the ground and if and if tyranny had made the catch he it would have been a long game it might
have even been a touchdown right uh but yeah so I mean that was the only blemish on cage record and it wasn't even
necessarily his fault so he played a great game as in matoka of course all right oh go ahead Tony
oh it just wasn't surprising at all when you got top level quarterbacks like that that's like what you expect to see like
quarterbacks are going to drive the games you got the best quarterbacks in the land you're gonna have the best teams in the land
yep in another game speaking of that with a great quarterback who is uh Ashland at iup karst Hunter was the free
agent of the summer I guess and ends up at iup and he helps uh the Crimson Hawks
hold off Ashland 24-17 uh in the first half Matt uh you
know I made a point to watch this game in in the first half I thought uh they did a pretty good job did iup uh and
Ashland was able to take advantage of some iup mistakes but what what I thought was iup's biggest uh issue in
the first half was they were getting into third and long too much they were having too many negative plays on first
and second down and made them very predictable and then when they would be able to run with with Hunter it was
simply so that they could uh you know gain some yardage to punt on Third and 17. and that situation so I think
there's still a little bit um trying to figure out how to use them what try to how to use Hunter what were
your thoughts on the game 100 agree I'll be real Frank Brandon I was shocked to see them under your Center so much with
cars Hunter you need to let him be the athlete he is and having him under Center in my opinion isn't the best way
to do that um they they ran a whole lot of eye formation let's go off uh left tackle I
mean I was almost sitting there calling it when I was watching it where it was like I it seemed like when they went
under Center probably 25 percent of the time they were just going to go off left tackle and they would go for negative
one negative two one yard and and all sudden they're getting put in bad down
and distance he is too good an athlete in my opinion to not have him basically
just sit back in the gun and they can operate and do everything they need to from there in modern day football in my
opinion um and they should be letting him become more of a threat he's he can't be a
threat in the running game when he's under Center and I I thought that was something that was kind of uh they can
still do plenty of play action and all that kind of stuff with him and the gun and I thought that they had better place
when those moments happened and you saw at the very end there they were able to hit a ball over the top uh blown
coverage and then I got a pick on a on a drop ball by a receiver from Ashland a very competitive game I think that's a
good game for iup to have right out of the gate you know have a little bit of struggle there
um you know prepare them well going forward because I still think they're the best team you know probably in the in the
psac and uh you know I ended up being a very well well fought game you know last
week we had talked about how we thought Ashland was too highly ranked I think
that's still true but I thought that they did very well everything you know they did great
everything considering all the obstacles that they're facing turnover roster turnover coach turnover all of that you
know and they got a gauntlet of a schedule they're playing Ferris next week but I thought that they showed really well so in spite of the fact that
we've kind of talked about iup and I think largely the case the reason we did that is because it's interesting to see
how a player like karst Hunter plays out there in well I guess out there that
depends on where you live but uh you know uh plays in the psac you know
that's not a style that they necessarily have out there and he that's why he is absolutely and that team is one of the
most interesting this year to see how uh that all plays out Brandon I think they have plenty of weapons offensively I
think we're going to see them come alive a little bit more offensively but but you know we'll we'll have to
wait and see I mean if they decide to kind of go a little bit more with that you know the eye formation a little bit
more of a lunch pail you know pound it format uh you know that's that's less turnovers and stuff like that but we'll
have to kind of wait and see how they uh they develop you know a team that we said might be underrated or at least I
did uh with CSU Pueblo and I thought that they played a heck of a first game uh
last night as they oh no excuse me Saturday night as they uh well that would be last night yeah as they played
midwest state 30 yeah you know what Brandon watching them I mean they turn on the game it was like they were in the
two minute drill right from the jump and they scored right away they were getting some turnovers they were really you know
uh coming after Midwestern State up front uh kind of forced in the issue uh
big pick six here you know right now by Pittman uh who's gotten our Elite 100
Squad and uh you know Fuller threw the ball a lot chance Fuller you know comes
over from Fort Hayes uh threw the ball over 40 times you know they they had some real nice spots there and uh you
can tell they have some weapons uh in the receiving game they also had some spots where you could tell they had some
things to work on um but uh you know defensively uh I I
think that that Pueblo looked pretty darn good and uh they're gonna be they're gonna be a team that I think
we're going to be real interested in the watch this year they got plenty of weapons offensively and uh you know
Fuller was uh through three uh three touchdowns one pick they did getting some pressures on him as you can see
right there and I think that's something that Pueblo's gonna have to shore up a little bit um you know what for from your eyes
there AC uh what were your thoughts on Pueblo in that contest uh exactly what you said Pueblo Pueblo
defense was very impressive that's secondary uh that secondary truly might be the best in the nation like Daniel
Boone was an All-American last year as you mentioned Pittman he's a lockdown guy and Corey McClellan like you know he
doesn't get as much love but he's an all-conference guy that's really a standout that's been a starter for years
too so really experience in the back end uh I think they're front seven left a
little bit to be desired uh I thought Midwestern did of all the things they did well they ran the ball I guess
somewhat well um offensively for Pueblo I'd like to see them run the ball a little bit better you know I remember Pueblo from
back in the days when they're running 12 13 Personnel just pounding the rock on people so I'd like to see them run the
ball a little bit better but Fuller he he looked he didn't look bad at all you know he was efficient as well the pick
was crazy uh I actually have it in pictures a lot of people don't think it was a pick it totally was uh you know
red so I've had it the dude stripped him as they're going to the ground the ball
just never touched the ground and just stayed on their hitch as they went together in the midwestern guy got up with it it was an interception but
Pueblo overall I would say they just have a new energy like not to say that coach Kristen stuff was still or
anything but coach veal there's just a whole new vibe in Pueblo he has the whole town locked in it it was an
amazing atmosphere being in uh I think they're going to be really impressive but this week against Grand Valley like
you said they're uh their offensive line Grand Valley's front seven is going to be playing pissed off I imagine
um they're they're going to be in their house uh it's going to be a very interesting matchup Fuller took some
hits this weekend against Midwestern uh I'm very interested to see but I think
Pueblo secondary is uh gonna lead the way and they're gonna be a really good team this year they can challenge mines
all right I tell you what AC you stay right there and we're gonna bring you
back and we'll we'll bring you back and we'll talk about the game when it's time to preview so thanks for joining us and
we will see you in a little bit right guys let's move on in super Region
2 Limestone played West Georgia a 21-19 win for West Georgia but Justin
an extremely strong showing by the Limestone and in spite of the fact that it was a loss maybe it says hey these
guys are for real because they're they're doing it again that they are and when you watch the
game on on Thursday night it was you didn't really know what to expect um it was kind of a toss-up you knew
West Georgia was coming into it mad because they missed out in the playoffs last year and and Limestone first winning season first time in the
playoffs and when you look at the stat sheet guys Limestone won in a lot of categories in the statute they had more
first downs in West Georgia uh had more passing yards than West Georgia had more
total offense in West Georgia and and just when you look at the um look at
that box score every time West Georgia got up early took a 7-0 lead in the first quarter but then Limestone
answered it was seven to six or West Georgia scores again makes it 14-6 Limestone answers now it's 14 12.
right so every time West Georgia scored Limestone had an answer and the final
score 21-19 um Limestone scored with under two minutes or a minute 32 left to make it
21-19 and they were going for two to try to tie it up so you know uh I I I was
really impressed with what Limestone showed they kept it close every time like I said every time West Georgia seemed to score Limestone had the answer
and that's what you were looking for from this game you knew it had the potential to be like that uh Trey Stewart
um you know 20 rushes 122 yards Dustin noler 22 of 29 for 261 and two
touchdowns so and no interceptions they took care of the football um they they didn't turn it over and and
that that says a lot about limestone when you look at West Georgia um Ben Whitlock took snaps under Center
for this one and really 12 or 14 for 163 had one interception but it was really a
ground game for West Georgia that got it going uh Wesley Kennedy was 10 for 169 and raheed Mosley uh was 14 for 77 and
and they both they both had uh touchdowns on the ground so all three of their touchdowns came on the ground for West Georgia so a really strong showing
by the Wolves kind of what we expected to see from both teams it was exciting I enjoyed watching this one and it's a
great week one and it showcases a little bit I think what we're going to see here in week two right fantastic you know it
was a fantastic I was just thinking like there were a bunch of great non-cons some that might have been a little off
the radar one of those those is Winona State at Saginaw Valley but Whit I bet
you were just you know tickled pink to see a non-conference game well after many many years of without
them this is all I'm loving it I mean whether it was Duluth in northern Michigan uh where Duluth kind of had
their way and then there was uh the gliac kind of went the other way in this in this contest and uh it was very
interesting to me that that you know uh Saginaw got up to a big start uh you
know there didn't give up any anything uh right between until right before half and uh then then they end up running the
ball quite a bit and pounding a Winona defense who'd been a pretty solid defensive running team a year ago and uh
they ended up going for you know 400 yards of them on the offense or of offense against them on the ground and
uh built uh 27-0 lead uh Winona got it down to within two scores uh you know uh
late but for the most part uh you know basically uh Saginaw didn't have to even
throw the ball what 11 times and uh they were able to pretty much dominate in the ground game so uh I wasn't I was
expecting you know to for Winona to probably lose by about two scores somewhere in that 10 points so I figured
that was about right just wasn't really thinking it would be this way I thought it'd be a little bit more competitive game uh Tony what what was kind of your
take well I found it interesting uh uh with that this actually looks a lot like what
Saginaw was in the first few games of 2022. uh you didn't know for sure who
the starting quarterback was Andrew Brito kind of got uh a hold of that early but I mean he wasn't uh the sole
uh owner of that job in the early going and so you saw Jairus Grissom who was uh
starting in his stead last year get the start in this game but he actually didn't play probably much more than
maybe a third of it they they really mixed in multiple signal callers to try and get a feel for who they wanted to to
run things and I don't know if it was more just to see who the hot hand was or uh just to try and get a feel for who
they want the guy to be moving through the season but going back to what I was starting with when you look back to what
they did to West Virginia Wesleyan Bowie State and Northwood in their first three games last year they ran over all three
of them so you see them go for 400 yards in this game kind of kind of feels a lot like what they were doing at the start
of last year while they were figuring out what they wanted to do at quarterback and leaning on a defense that despite a couple what key losses
still looks like it's pretty good yeah and Winona started uh transfer from
University of South Dakota Cole stenstrom who was um guy who had started games with the coyotes uh down at USD
and I thought he might offer him a little bit a burst in the running game uh that didn't happen and he ended up
going what 16 for 37 with two scores two picks um they're they're gonna need to
get more out of the quarterback play going forward for them uh during the regular or you know their their regular
uh Northern Sun slate yeah and then Saginaw Valley only had one sack in that game too so I it's not
like they were you know they may have made them running for his life but they weren't getting home so I don't know how beat up he was or wasn't
sure all right so I want to share this tweet really quickly with everybody and uh
one of our staff members who happens to be here with us was extremely happy says I can't think of a time that the
CIAA won two games against the FCS on the same day so uh tell us a little
about that Ferg man what a day what a day um so the two games that that uh we're
referencing is uh Virginia state and Norfolk State which are the big rivals you know Virginia state is known as big
state and Norfolk State despite the being division one is little State because they kind of branched off
um uh I came to their own School uh so you know it's really one of those things that uh when they get together I was
cringe because I'm like man I don't like these games uh but nonetheless uh you
know kind of going to this game there are some things that happen that uh won't be talked about and then there's one particular thing that will be talked
about so uh Virginia state racked up 487 yards of offense in this game
um they traded blows with Norfolk State um and and they took the lead for good
uh early in the fourth quarter and so you know as you kind of went through
this game you're like wow like man they're they're trying to hang on against an opponent that's you know not
great but they have an advantage on depth you know it's a FCS school right so we get to the very end of the game
right um in Norfolk State um gets all the way down well into the
into the Red Zone um they decide to go for the win uh and
try to take the lead uh really late in the fourth quarter and instead of kicker field goal to maybe go to overtime uh
and Virginia state stops them you know they're inside the five at this point um and and what happens next is just
utter chaos um Virginia state goes four downs the fourth down they're inside their own
like you know three yard line um the backup quarterback could have just
um you know went to the end zone took a safety in the game you know do something
but he decides to run out of the end zone and try to get the first down and and doesn't run the clock out has one
second left on the game so now Norfolk State has this opportunity to to kick a field goal to go to
overtime again and it's just like are you serious like really uh and then
Norfolk State attempts to feel gold but they couldn't even get kick off because they fumbled the snap and Virginia take
Virginia state takes it and runs it back for a touchdown so you know this game could have been more of like a you know
they won by like like you know one point or something like that they took the safety
um but it ended up being a non-point game that was not truly a nine point game um but nonetheless hats off to Virginia
state because they ran for 316 yards and Upton Bailey who was kind of sharing
carries um last year with Darius Higgins he alone ran for 183 yards and typically
when Virginia state is competitive to um to that level of playing against a
Norfolk State they always have this one back that's really really strong if you think about Trent Cannon for a cup for a
few from a few years ago that's exactly how they beat him and they did it again so um definitely hats out hats off to
Virginia state there uh the other game was uh Bowie State travel up to Delaware
State you know I I was on here and talking last week about I don't really know what Bowie state has a lot of
transfers um they have another quarterback named Amir it's not Amir Hall this time
but uh uh he actually he passed 247 yards in this game uh and and did just
enough to sort of keep Del State at Bay um you know we kind of know Bowie State for uh their defense scoring and they
actually did the defense actually scored through a phone call recovery um in this game and so
um you know it looks like I was interacting with some Bowie State folks uh on Twitter and and they said well it
looks like the revenge tour is now on um so uh you know next week which we'll
talk about there's a there's a game against the gliac yet again um so uh I'll leave that for there but I
don't know maybe the revenge tour sure is on I'm looking forward to it um
so uh just one other thing I want to just throw out there um uh Central State uh also played a FCS
opponent and Mississippi Mississippi Valley uh in a nutrasight game and they
also won that game too oh wow 441. um so uh both the CIAA and the SIC took
down um their division one uh a3cu brethrens uh in multiple games uh yesterday that's
how big it was they're ripping the deuce well that's that's awesome so making us look good so all right uh let's go ahead
and look at some other results from the top 25 uh that I know the Texas small that's as big as we can get it uh Ferris
State big winner over Mercyhurst your thoughts Tony yeah um kind of a clunky start in this
one uh Ferris really didn't have the ball for the better part of the first half of the first quarter uh they got a
punt return touchdown off of mercyhurst's first possession uh and then mercy Hearst went down scored
kicked off shortly thereafter Ferris fumbled and gave mercier's a short field so this was actually a 14-12 ferris game
uh as the first quarter waned and then you know despite not having the ball for half a quarter uh ho-hum 646 yards of
offense uh 12 different ball carriers in this game CJ Jefferson and Carson gulker
with a pair of scores each uh Xavier Wade makes his triumphant return three grabs a buck 25 and a score I mean you
know standard fare nothing particularly interesting about other than that
you know one thing that uh I was noticing uh Malik Mitchell didn't take care of really good care of the ball
again uh is that is that an Achilles heel if they have one well
yeah Brandon we've talked about this and I know Whit and I have talked about it um and I think maybe we've talked about it
more off air than we have on but that's part of the ferris's style is there's a
certain risk tolerance that they have um you know their style of play is going
to sometimes be loose with the ball with you know the motions and the and sometimes extra pitches and things like
that if so many different people handle the ball I mean if you look at them on a just on a strictly statistical basis the
number of times that they put the ball on the deck in a year is actually pretty high and much higher than you would
think for a team of that caliber they don't lose them all and usually that's why you see games where you know two
years ago against Saginaw Valley seven turnovers but they still won last year against Saginaw Valley five turnovers
still one last year against Pitt State in the in the playoffs five turnovers still wins so that's just a there's a
there's a high risk tolerance for uh for that team that's how they play um so you know I I don't think that
that's particular anything particularly noteworthy because that's how they kind of have always played there fair enough
uh in the in the MIAA Pittsburgh state uh won over Washburn uh it was a game
that was close throughout and eventually uh Pittsburgh state uh kind of you know
took control late in the uh late late in the second half and you know kind of
extended that lead thought Washburn showed well but at the same time uh you know that that there is a slow start
Factor sometimes it looks like the gorillas are um as good as they were last year and I I did not attend the game did not see
the game but apparently according to people that I know they say the gorilla defense looked really good so uh likely
going to uh uh see a repeat of them having a great season and uh hopefully
they do because I picked them as the conference Champs of the MIAA and I prefer to be right
um doesn't happen enough uh Northwest Missouri had a struggle at Missouri Southern it was they were down 14 to
nothing at one point uh end up tying it at 17 and near the half and the
Northwest came away uh with the win in this one but uh not that of impressive
uh performance for the Bearcats and I felt like watching it that uh Southern was certainly ready for them and
certainly not intimidated and uh certainly ready to play yeah Brett Brennan uh obviously you know
you being a Northwest grad when you had when you're watching this game where you think what was your immediate concerns
about the Bearcats going forward well the first thing I thought was like
I said I felt like
Missouri Southern was certainly more emotionally ready to play sure and
I thought they were playing harder but that's not something that that does not
happen at Northwest from time to time you know when when you're the when you're the top dog so you know quote
unquote it's hard to get motivated um they were also get getting beat over the top I thought the secondary was
going to be uh maybe one of the best that they've ever had right and they got burnt badly a couple times now that
could just be uh a you know a a check you know they could just uh uh need to
fix something and then that goes away because the secondary did play a lot better towards the uh you know as the
game went along it played a lot better uh but you know on the one play you saw you know a fast receivers out running a
middle linebacker that's probably not a the kind of coverage you want on that player so that might have been it um the
offense I thought did okay at times the past Pro was good but there was uh there
were a lot of drops in the receivers and after the early drops they kind of took care of that thought Mike Owens he
played really well those are my general thoughts you know whenever there's a game going on I'm doing a thousand things during game day so I didn't have
only my intention was certainly not only on that game uh nonetheless those were
my uh those are my thoughts about that game personal all right very good let's move on what we got next Angelo State big win
at West Alabama is that 38-14 um Minnesota state wow uh they went into
Sioux Falls came away with a big win uh scored 54 points with you were at that
gate yeah you know interesting game uh it felt like Mankato was in control from
the jump but they had a few big turnovers in Sioux Falls as all of a sudden you know polls to within 20 to 13
uh at half and it's a one score game uh then Sheen Butler Lawson who missed the
first half uh comes in to play uh for them after the half and Sheen Butler
Lawson just went wild he went up for over 200 yards uh on eight coats and
four of them went for scores uh you're gonna see you know one you know uh well here's another run by Vassar where I
mean basically Sioux Falls just gotta tackle somebody on this one and um but but then as the game kind of
continued uh I was a little bit surprised that Sioux Falls wasn't able to find a way to
kind of slow down that Maverick running game but it certainly makes somebody kind of wonder when Mankato runs for
over 400 yards is this a return to kind of their old Mo
where they want to be a road grader on people because they are physically huge uh I was standing next to some of the
guys um as I was kind of walking the sidelines and uh I I could have lived in
a few of their shadows and I'm not a small person so um it was um they looked big on video I
mean they look they look huge just watching the games yeah so it it almost kind of to me kind of fired a little bit
of a warning shot for you know the rest of the conference like Hey we're back and this is who we're gonna be be ready
for this I just want to mention Butler Lawson 221 yards
and Christian Ambassador also had 144 yards yes that's outstanding yes yeah well
well what would happen he I shared it with him after the game and I said I've never seen you run like this before and
I watched y'all last year and he said you know I've went through a big uh program for for some speed and and stuff
like that and lost some weight and um so immediately I felt guilty about my own
eating habits but no um it you know he hey they're gonna be beneficial here in
a couple weeks yeah that's right that's a good good point we gotta plug the sponsor here shortly nice leader Brandon
I like that all right before before we get to that let's go ahead and keep going down uh top 25 Delta State wins at
uh Missouri s t uh Bemidji State shows that their offense did not miss a beat
as they handle Northern State pretty easily as I said on Twitter a good
Governor I was not expecting this um Bemidji I I just I thought Northern
State was ready to really challenge them here and then here's Ali Muhammad straight straight from Minot State right
to the end zone for Bemidji here um he is going to change them I mean
he's explosive and he's going to give them something in the running game that
they haven't had like that in a good while uh there's our Elite 100 uh uh
Dwayne Ingram right there uh one of his two scores uh kind of showing why he's
one of the top players at our level uh but Mankato Mankato Bob Bemidji across the board I mean look at the speed they
have in the return game um they're just they're just like a whole nother level from what I mean this
this year when you really look at them and you know you see all right here they got play action uh Duncan Busby scores
he's going to be the new deep threat um they just were really impressive to
me I was not expecting this to be a one-sided game and uh Northern State who
my people thought might be able to compete for a playoff spot there's Ali Muhammad going again
and you know they got to be left wondering what what are they what are they going to do now because they're they got Duluth showing up in their yard
this coming week so things don't get any easier for them that's right right uh
Wausau Baptist wins Big over South uh Western Oklahoma uh Shepherd a 2726 over Southern
Connecticut uh Ashland we talked about Harding well you know what give me one sec with Shepherd
um for what it's worth I don't have them ranked in my top 25. people can tweet me
all they want with that um and they right now with everything they lost I really think that I had a
real concern here they were down 14-7 at half against a team who's you know three
and eight season a year ago um that's a concern uh so they come back they win this game
by a point and I mean this is not the same Shepherd team and I'll be real
interested to see when they have upcoming games with Cal Kutztown and others like that
can they get through those without a blemish I'm not sure if they have so I'm not really sure I'm looking at them as a
top 25 just yet uh Feel Free People want to fight me in the comments that's fine
but those are just kind of my thoughts and looking at that all right uh a team that has very few concerns right now in
my opinion Harding uh they win big at uh Southern Nazarene they scored over 50
points oh man uh they they make me feel good about my preseason rank having them in
the top 10. I like what I'm seeing from them uh they went to Southern Naz there and uh did a number Gage Porter uh had a
little struggles here a little high ball and I ended up having three picks and I was on the struggle train a little bit
and uh Harding you know they're just going to Pound The Rock
um you take a look at here's their fullback right there uh Blake Dela Cruz who scores four times in this game as
they ran for nearly 300 yards and uh they're just when they get going man
it's that that's a bad deal to be on the other side of that and uh they they did an interesting thing right here B look
at they're going to run well wait a second we're not gonna run we're gonna throw this one and coquillan's got a got
a good enough arm here that they've had a little extra dimension in this which is why I think that this could be one of
the scarier teams that they've had because uh they're they've got a little bit more multiple that they can do there
and their defense is getting after you and you got and you can see that right here kind of across the board so uh
Harding's still my top ten and uh you know I I think a lot of people you know
thought engage Porter was going to really come in and have a wow year for southern Nassau for a good season to go
but uh didn't quite start off that waveform here and as you can see Harding
continues to to go ahead and just do their thing in the second half and uh yeah I'm I'm interested to see Brandon
going forward we got some real nice games gonna be lining up with a surging
Henderson State um and obviously uh Ouachita Baptist and uh the gac's gonna be interesting watch
this year it is uh sorry go good just one second I just want to Circle back to
one thing anybody from Shepherd that wants to reach out to Whit on Twitter it's at Matt D2 football reach out to
him go ahead and hit him up there just in case you're wondering all right
all right what do we got next uh Slippery Rock uh wins uh 28-17 versus
Wayne State in the MIAA Emporia State had uh very little a little to no
trouble with Lincoln um Ray Gleason threw for about 4 000
yards so Chris do you have him in your in your fantasy team this year or did he get by somebody else okay
let me tell you Brandon I know whose team he's on he's on Wayne cavatis and he was going against my ass this week
you say that with some angst yeah of course of course he was anyway I you
know every time we bring on Gleason Chris like to talk about it so I couldn't remember whose team he was on but I thought I'd mention that so they
hardly never get anybody I wanted from last year they made it a point to put me last yeah that's okay that's okay
uh let's look at this uh Wing It impressive win over Albany State uh 30
to 7. we went to West Georgia Benedict dominate Shaw uh Indy had a pretty good
win I think 20 39 to 20 over Hillsdale uh Lewis didn't actually gain them you
know the the transfer that we were really excited about didn't gain a ton of yards in that one either so I mean I thought they peed on him but if you
really love it there was I thought they really did yeah okay I thought they keyed on him in that contest okay uh
Virginia Union about um one hour ago beat Morehouse uh 45 to
13 in just uh FYI to everybody else um potential top 25 well I know they get
votes uh four Valley States down 24 to 14. to uh Tuskegee at the half I thought
people might want to know that um uh and it was a part of our pickum a week ago yes yes we all pick four Valley
so we're we're either gonna Justin and I are either gonna look really bad I mean just horrible or bad poor Valley will
pull it off pull it out and that will we won't look quite so bad but uh in any case back back to the games uh Lenore
Ryan wins 45-7 at St Augustine or against Saint Augustine's uh Davenport
yeah 31-17 over Thomas More and that is are the uh that rounds out the games in
the top 25 uh or the teams involved with the top 25 games guys uh any other
things involving top 25 teams that we need to touch on you know it always takes a long time this part of the year
to talk about the top 25 because it's sorting itself out what are your thoughts
just a quick gliac defense here you meh Davenport Flynn's over Thomas More it was 24 nothing and a half that wasn't a
clue oh okay okay I like I like it when I whenever I
uh ask somebody to be part of this I always say you need to advocate for your conference and I like you doing that
Tony that makes that makes you feel good you're standing up for the gliac Brandon somebody I was going to talk about and I forgot to Angelo State
um down at halftime uh of that game and kind of came roaring
back um they don't necessarily look like they're going to be quite as athletic at their
skill positions offensively they do have Gerald Gardner from Lake Erie uh
quarterback who grad transfer uh who was a uh uh what it was an all League second
team for in the GMAC a year ago and so he he was their starting quarterback and
he kind of had some moments and then got you know got it going and I ended up having two scores two picks something
like that 290 yards in the air so uh I'll be interested to kind of watch that
development right there um because they landed we weren't sure who they were gonna land on as a quarterback but uh you know they came
through strong there and uh you know we'll talk a little bit later in this about who they got up on tap this coming
week yep and with uh to your point I I agree with you 100 and I think you know
it's hard because you don't know we talked about some question marks say hey we talked about West Alabama you know West Alabama goes on the road or the
they're at Limestone this week so like to me that's a good measuring stick right there of you know where where is
West owl and then how how does that how does that correlate with Angelo State too right like we talked about just who
do you play week week one week Tuesday at a conference yeah yep all right all right uh some other
news and notes from around uh the country what do we got uh Dwayne McGee
uh did not play uh in that game so uh a really good player that uh well not part
of their game I'm sorry Lenore Ryan running back all right I'm sorry yep um also what do we got uh Kyle sheets
heard on the opening kickoff for Slippery Rock um well I don't know if I told you the
story here Brandon but yeah he's also on this this stupid D2 fantasy league that
fergen and Clee Twist of my arm to get into so I picked Kyle sheets yeah he he
was running for me at wide out he gets hurt on the opening kickoff nothing like a little wit curse there
I'm not saying I'm just saying but um and then the running back from Harding uh you know uh fitzfield he
didn't even play so other than that I did great so all right
is that what you're telling us yeah I'm I'm already hating my team and this
process yes uh one of the things even though uh God forbid he doesn't isn't involved
with fantasy do I play you this week yes
all right he'll have a whole new scoring system and playoff system revamp by Midway through the season for next time
after like one week to Tool up just for this yeah
all right let's listen a defensive player Ian Marshall did not play for Northern State and uh he's an elite 100
player uh a couple fun stories uh fun
well it's interesting uh you're probably right that it's not exactly fun they
don't have power down on Valdosta but Brandon's having fun with the story yeah anyway
depends on if you're an outdoor person that didn't affect you but uh anyway no it's really kind of a bad situation there uh you know really difficult to
coach a team much less simply be a student or a resident of Valdosta they
played the game with no power there's no visible scoreboard that kept the time on on the
field and um and that sort of thing if you read the story there generators were used to
locker rooms in the restrooms and I cannot imagine how difficult that was uh
to to play a game there and it's truly it's truly it would have been truly like playing a game in 1920 or something like
that you know yeah they've been without power for three days and uh pretty tough situation down there and um I mean at
that point you're worried more about just living in and surviving and everything else than you were about playing a football game that kind of
heat that's a safety issue for a lot of people in the population yeah well I mean think about uh food for people and
preparing it or having it you know and you know quite frankly a lot of times uh
football players aren't the richest kids in the world so they might need the campus food and right and that sort of
thing and and so it's it's an ordeal so um
as a Valdosta student um they did have like the um the the
dining Halls open um they did get those opened up pretty quickly um but yeah I mean a lot of the systems
were down went down there was a lot of trees down um a lot of roads that still are not not
yet cleared from from what I understand so like the main roads are for side roads or not so for them that I pulled
off a football game through all that um it's a pretty pretty big deal uh pretty good for morale too
yeah right and then now they got to get ready for a road game at what Albany State and stuff like that so it's not
they kind of a tough little start for them yeah well like it didn't show on the scoreboard because they dominated
but yeah um well and yeah but like you said guys it's it's a mess down there and my
thoughts are with all those people in Valdosta yep but think about how hard it is to to coach in a game like that into
playing a game like that when the peripherals aren't there you don't know how you can't look up at the scoreboard and you can't see how much time is on
the clock you don't know what down you know what I mean like you it's hard enough to watch a game get a lone player coach in a game where you know you
blinking you really can't see what you know time time in the quarter or you know anything like that so yeah well I
think I think that's simply a game you survive and luckily for Valdosta State it was not an opponent uh that could
come back to harm them even if they had lost you know there's you know I I'm I'm
painfully pathetically always looking at the bright side of anything and that's one uh one for Valdosta State at least
the opponent wasn't somebody who could hurt him um but something fun in that one uh McCall Bennett was a redshirt freshman
kicker uh made an extra point uh with 625 left in the game the significance of
that is that she was the first uh Valdosta State female to play in a
football game in program history so yep uh congratulations to her now the last
thing that we want to touch on in this segment was that UT premium Basin scored 96
points and that's certainly obviously a School record and you know I think
um you know Whit and I got our panties in a bunch a little bit about sportsmanship and thought Oh man they're
running up the score so I went back and watched the second half to see what they did and
um there they started at Drive started at opponent 45 opponent 14 opponent 17.
Midfield opponent 32 and opponent 28 and
uh one drive uh was non-drive because it was a pick six they threw only one pass
beyond the line of scrimmage in the second half so congratulations to them for for scoring a ton of points and uh
again I you know I I was ready to come in guns ablazing and they didn't do anything wrong so yeah and I mean and
it's it's what Texas College who's what is are there maybe the worst team
in the Nai if we're gonna be real Frank yeah and they it's been like that for a
good while and um you know you just don't want to see it period
um uh so I mean it it is what it is and you
know it's one of those where Maybe by all means maybe they try not to to
schedule that next year and try and find somebody who's who's not going to be such a one-sided football game and you
know get yourself in that spot but right you know um it's just it's never a real good look
because you don't like to see that for for the the losing team and now the losing team's got to go play an FCS
after this so I mean that's but that's their own scheduling too so Arkansas
yeah I just I just want to mention uh one of the tweets I saw about this game
was somebody um adding um the Texas Department of Public Safety reporting a crime
um when they saw the scorching that game uh that ain't right I mean I know I know
but nonetheless um yeah you know Texas college is a is a
hvcu so we never like to see that over here but they're kind of in that League like Virginia Lynchburg and some of
those schools that that's all they do is schedule like those games like that so right right um it's not uncommon to see
scores like this and unfortunately places like the Lone Star will probably continue to schedule them because of the
difficulty in scheduling so it's kind of unfortunate I know it yeah yeah
all right well uh we've come to the point of the show where we need to mention something else that's
unfortunate that would be my waistline and wits waistline but uh having said that
um it will help us dominate a 28 inch pizza there's less than a month with and
you're practicing at all uh well just in general like life you know and I tell
you through that pizza three times in the last week uh but uh it wasn't from boss and you were at the Sioux Falls
game uh excuse me the Augustana game and you sent me a picture of the the Press Box supplied by boss and apparently it
is a very popular pizza I've never had it yeah there was about 20 boxes that have been demolished so they had been
practicing at Augustana I can tell you that um but uh that was the football game I
was at yesterday or it was 99 degrees and uh my big behind was out on the turf
which um I don't have a body built for that type of situation so at halftime
when things were comfortable I ducked out but um no uh I did a little bit of
practicing yesterday Brandon so you'll be proud I could practice on that right now yeah
um my hands would not be crossed my hands would be getting pizza at that point but um you know something I was
just talking uh with Jeremy seafelt the owner operator of bosses and he actually
mentioned me he said hey wit on Springfield Missouri
he said they're at the Holiday Inn he said Holiday Inn in Suites I-44
Springfield Missouri he said somehow they came across his radar and
he would love to open up a boss's right there kind of tied in with the hotel
so we're putting that out there in the event any of our you know any of our loyal fan base things that may be
something that might work for them once again boss will come train you the whole deal and all that stuff and you know you
can make a pizza for the you know the people who come in and are patrons and then you can eat a pizza and eat wings
and the way you know Brandon and I would do things you know one for them one for us
Homer Simpson filling up the gas and one for me
exactly all right well yeah that that that's
somewhat uh cute and funny what is not cute and funny however
are my results in this week's pickup uh I just just just bad and our our
results our results
Chuck's not here to brag about his all right so I got a question guys are are
we so um narcissistic that we want Valley to
win so that we have a little bit better record in our picks or are we so
vindictive that we wanted to lose so Chuck's is not perfect that last part okay I I like the
vindictiveness so yes all right well we'll keep track of that obviously not a good start to the season minus Chuck
congratulations chuck whatever all right yeah Didn't I pick Tuskegee
what no all right we're gonna go back and watch the tape because I picked Tuskegee to
win their league why wouldn't I pick them to lose air well may we you go back Tony and if you if you say that I want
to have I want to have less red on my thing than you did so that's all
right one further review Tony was smarter than the rest of this all right no just you I just you
that's a low bar man come on man expect more out of you than that uh let's look
at the realistic expectations all right
let's look and your card for this week Bowie State at Davenport
first did you have any real quick thoughts on that one I'm going to this game oh sweet okay yeah I'm going to
this game um you know I think it's going to be really interesting um because you know Davenport definitely
took their foot off the gas so you know it's gonna you know you just got two
teams that are really going to be going at it um I don't expect much running from Bowie State
um so it's probably gonna key in on the pass a little bit more um you know on the other side you've got a pretty seasoned team in Davenport so
um it's gonna be a really interesting game to watch yeah yeah the uh what will be interesting is
I think you know if Davenport has a weakness it would be defense and if Bowie state has a strength it would be
defense so it's two you know two different teams will be interesting to find that result lenoir-rhyne Fayetteville State
Justin Chris thoughts quickly yeah I I think Lenoir Ryan got it got
going well offensively this past week I look for them to continue that this week I'll be interesting to see if Dwayne
McGee's back in the lineup this week and what he brings to the to that stable uh in the backfield for the Bears
yeah I I just throw out there that you know Fable stage defense um has didn't really miss much of a step
um Fayetteville State's offense does have question marks so they can't afford to get behind by two School horses I
think that'll kind of put be the nail in the coffin for a win for them
uh westchester's at Slippery Rock and that's a good early season matchup in
the psac yeah you know you know not slippery rock is just you know kind of one of the teams that's always off the
top 25 or tis um is off the top 25 a lot of times but they're not like 75 they're right there
in the in the mix so that'll be an interesting game Ferris State at Ashland you know Tony I'm so old that that to me
feels like a gliac game but it's a non-conference game it does it does and what's funny is there was a stretch in
time where um Ashland actually gave Ferris a lot of fits and even knocked them off once or
twice um you know going back into the mid teens uh you know uh Tony and nice was
still building thing kind of in the Ascension phase at Ferris and Lee Owens was well established at Ashland so
um but yeah I know based on what we've seen uh thus far right yeah this yeah
Ferris is going to be the favorite here there's no doubt about that and that's that's why they're in bold uh wing it is
at Mars Hill they had a good opening week Justin yeah they did uh they did some really good things I think they answered maybe
some question marks on the offensive side of the football for us uh and Mars Hill I think we still have some question
marks you know losing snelson and herzua on the offensive side of the ball uh they have they have pretty much a good portion of their defense back but Marcel
did not have a week one game uh they had the bye week week one so it'll be interesting to see if that week one game
for Wingate really helps them and and you know they figure some things out they've got some rhythm going so I'm
actually calling this game this week so I'm looking forward to that but uh this should be a pretty good sack a sack game
uh that you know early but it should be a pretty good second how did you get on the radio it's like a Make-a-Wish thing
are you okay buddy I mean they feel bad for me so they they you
know come on every once in a while all right uh West Georgia is at Texas A M
Kingsville that's to me that's kind of intriguing yeah Kingsville handled Mesa
this last week uh what 30 to 10 or something and they bring back the quarterback they got some you know
they're building something there um is the athleticism of West Georgia gonna
be too much that'll be an interesting watch it will be and and I think too you know I was impressed with West Georgia
offensively they did some good stuff they established a run uh be interesting to see if they get that pass game roll
on me they were able to do some good things in the passing game but just see if they can if they could score some points and stretch the field out a
little bit more sure all right and uh Wayne State Nebraska is at Minnesota
state wow uh yeah yeah these guys split a year ago uh Wayne State kind of
handled them uh at home but then in the playoffs when they had to go to Mankato
it didn't work out so well um I'm real interested to see how well
Wayne State can defend the running game here of Mankato I think that they they bring back and know a little bit more
what they had than what Sioux Falls did a week ago defensively uh so I think it's gonna be a close game but I still
have a hard time not uh thinking Mankato was the favorite yep no doubt about that so let's go
ahead and look at the Pick Em uh for this week and let's go ahead and AC
we're going to bring you back in uh your your picks will not be official but you
will be part of the discussion especially if he beats us then they're really unofficial
all right so uh um Emporia State is it Northwest Missouri Limestone West Alabama Colorado
Mines at Angelo State uh UT Permian Basin at Western Colorado and CSU Pueblo
is at Grand Valley let's take him in order uh start um at the top in Emporia State is at
Northwest Justin go ahead and start yeah I I was impressed with Northwest uh
this week and so I'm going to continue with that I think Owens he's playing well I look for Northwest to uh to
continue it this week okay all right um and Tony
you know Brandon this is we talked a little bit last week about some of those games where you're kind of like you know I got to see it first with I guess with
this being you know a Missouri school it's a show me thing so uh I I don't know I always feel like
Emporia has got enough to beat Northwest and they just never do it so it's hard for me to pick against the trend there
so I'll I'll take the Bearcats as well okay and uh I believe that this is the
year that important that literally is like a 20-year drought
against Northwest I think 94 was the last time that the Emporia won and I'm
gonna pick ESU in this one are you trying to make the uh the Bearcat hype video right now
I don't care concentrate on beating people not concentrate on what they say or what
others say uh go ahead wit you're the next you know when I was watching them Corey
estate at media day I got the impression that this was that this was kind of that
game that they thought they could have had last year and uh I I think they just
know a lot more what they have offensively um I'm a little bit concerned with
Northwest that their defense may not be where they have been of late so I guess
I'm making the hype video too but uh I'm gonna take Emporia State in this one okay and Chris Ferguson
you know um you know Emporia hasn't necessarily been known to have the greatest defense
um so I I don't really see a ton like but so much resistance when you have a
Northwest plane you know halfway decent on offense um and they seem to be kind of balanced
too you know the running back uh from yesterday I thought I did pretty pretty well uh so yes Paris yeah yeah
nonetheless nonetheless I think you know Emporia if this is the year that they
can that they're going to beat no rest it's got to be this year I mean they're so close they're so so close
um so I'm also going to take uh Emporia in this one uh as a Revenge game okay but I thought Ferg was picking both
teams there for a moment I did too you got to give you guessing yeah hey
see if you had to pick who would you pick uh just going off Northwest Missouri's
pedigree and now finding out that it's like a 20-year drought I I think I'm gonna go with Northwest all right all
right we will not hold you to these uh next game Limestone at West Alabama Tony
you will start you know I I'm impressed with what
Limestone did how tough they played the other day but I I think West Alabama's got too much
okay uh I am actually going to go with limestone and I think that they are going to win
this one um by 10 points uh wit kind of struggled with this one I think
West Alabama's defense is going to keep this to a low scoring contest but I'm
not convinced that their offense is good enough to win it uh I still think the trajectory on this Limestone team is up
I'm going to take him to to win uh what I think will be a real big one for them
okay perk yeah
man this feels like an elimination game already uh you know because whoever
loses is going to have a really hard time getting into the lower seeds um as the year goes on
um so anyway uh yeah I agree with everything that y'all said West Alabama
um you know the offense is questionable the defense is legit um and and Limestone certainly has the
the horsepower but is it enough it gets a really really good defense
all right uh Justin yeah I fur you kind of down the head for
me when I was looking at this game it's it's hard to feel like this isn't a must win for both teams particularly if they
you know have playoff aspirations um I I was impressed with Limestone last
week they hung tough against West Georgia and West out you know they did some good things against Angelo um
ultimately I think the defense at home for West Alabama is going to be the difference here I think they're going to
figure it out offensively and it it pains me to go against the the Grain and go against the sack a little bit but I
think West Alabama at home has the edge here and what I feel is like an early season must win
right and AC if you had to pick what would you pick oh I'm gonna go with limestone
playoff implications even though it's early uh what they did last year surprisingly making the playoffs and how
they played last season I'm gonna go Limestone on the road all right next game Colorado School of Minds at Angelo
State I will be the first person to select this one and I
no matter how impressive Angela was in that game I'm gonna have to go with mines in this one
what well uh I just don't know if Angelo
State this version of Angelo State right now that we have is ready to win uh this big a game with
a guy who is really hard to beat with matoka now the the concern I have is
actually further with can can this be a letdown game uh from for mines because coming of a
really big emotional win with Grand Valley um then you're hopping on a plane going
and playing a team that's always going to be very athletic good defense
um I and and frankly Angelo State should be the more motivated team here after they mine's end of their season the year
ago uh I just think mines is is further along the road right now and I got mines
Chris this is this has turned into a little bit of a rivalry I feel like yeah many
kind of a mini one yeah yeah they've met you know the playoffs oh we like to play you we're going to play in the regular
season you know and and my is so one Angelo has beaten
Minds with matoka there um so I'm not particularly concerned
about that um yeah Angelo isn't the same but we also had
doubts about them coming into week one and and look what they did um I'm gonna go against the grain here
as well I'm gonna go with with Angelo as much as I like mines um I think that uh there's also home
field advantage to consider here when it's kind of even and and so I like Angelo for a mini upset here
all right uh Justin yeah I was impressed with mines last week and and I don't think that's going
to stop this week I think mines is gonna is gonna win this one on the road but uh and I and I think there's a little
bit of a chip on my shoulders because I think a lot of people they feel like they may have been written off you know yeah yeah playing that game last week
going on the road here so I think there's a little bit of a chip on their shoulder I I like mines in this one guys
all right Tony yeah it's hard for me to go away from mines here guys I mean they you know
they they lost to Angelo last year in a game that you know maybe they should have won early they solved the riddle in
the playoffs and you know I talked about this uh earlier in the show you got 24 six year seniors that came back you got
the Harlan Hill winner who's just so hard to beat um I I thought I got the sense in the
stadium the other night that mines has a chip on their shoulder like coach post said I I just feel like they're they're
playing like nobody believes in them uh this year even though they've got all these guys back and they've proven a lot
on the field over the last couple of Seasons so I don't know I I think this is I think this is mine's game to Lose
Myself yeah their trajectory is that they should win the national championship this year
since that would be one step uh higher each year AC do you have the guts as the
rmac columnist pick Angelo State
I definitely have the guts to do it but I just don't see Angelo getting it done
uh matoka matokeo's too much you know he went in he went into Angelo and he did their season last year
um I think what Tony saying like he was there at the game even though Martin has had a lot of success they're not like a
team that's complacent at all like matoka he's a really nice guy and speaks
really well and sounds a little but like he's a dog on the field on the sideline so I expect him going back to Texas to
play at home I I think mines gets it done and with the armac you can definitely hold me to these things
all right uh UT Permian Basin will travel to Western Colorado wit
you know I know UT Permian basins you know they're coming out there
aggressive they got a really good offense and you know I just I don't
think I watch Western Colorado the other day they impressed me um I was expecting that to be a much
tougher game that they had with with West Texas and they kind of controlled the action to be honest and I like them
in this contest as well I think they're an athletic team and uh I may be even having them at the edge of my top 25.
I'm sorry who'd you pick again with Western Colorado okay thank you all right
all right uh Chris I'm going Western as well
all right Justin yeah I'm on the western bandwagon right now I think UT Permian based you know
they put up 96 points last week and but when you when you rattled off their drives it was you know
all in positive field position right like so let's see what happens when you when you have to go on the road and play a tough team and you're gonna have to
earn your stripes so to speak so uh but I'm Western Colorado by the way
you're vindictiveness uh might be rewarded Matt Tuskegee is now up 31-14
in the third okay all right uh Tony back to UTPB in western Colorado yeah
despite my uh flyer on uh Permian Basin to win the Lone Star I just don't see the Lone Star
in terms of top to bottom being as as uh strong as the armac at the current
state so I mean we know what western Colorado is they're a team that you know uh played both mines and Pueblo tough
last year um and they handled A A A Lone Star Team pretty easily last week so yeah for
Permian base to go on the road and win at altitude I gotta I got a hard time seeing that at this point so I'll take
Western Colorado also all right well I will be the contrarian
and I was I was impressed with the Permian base I understand the the
opponent was not that good but I believe that the coach you know he we called it was good at
East Central last year and yep seems to be doing the same thing again and quarterback and everything yep yeah I
mean and and so it's it seems like you know I did so poorly this week anyway it's almost you know like a gamble that
I need to get get one here to feel good about myself so uh yeah AC what are your thoughts
uh uh speaking of chips on their shoulders I think Western has probably the biggest one in the armac they feel
like you know they beat Pueblo last year they played mines close they feel like they're kind of counted out I think that
Victory they got over Western Colorado or west Texas last week was huge for them with the new starting quarterback
so I think they'll have a lot more confidence with their new guy leading them and they have the altitude on their
side give me Western again this week very good all right our final game this
week this is the big one uh oh man man it's hard to say when in their minds and
Angel are playing but goodness gracious uh CSU Pueblo is that Grand Valley what a nice game in Ferg you get to pick
first yeah so somebody asked in the in the chat if I also go to this game too and I thought about it and I was like
well you know what the heck I mean Bowie State Davenport it's a 12 o'clock game this is seven o'clock game that's plenty
of time so yeah you get that that Poster's suspect you got to watch out for that dude Ferg
you know this is a very very fascinating game um Pueblo has definitely got
um a lot more to work with but then to to say Grand Valley loses two in
a row like that I don't know especially at home uh so give me Grand Valley
okay Justin
I'm I'm a little bit I love that we have to make good games in the first couple weeks of the season
but it's fantastic it really is but I don't I don't see Grand Valley going on let me interrupt Justin it's only going
to get better win the MIAA and the northern sign opening their schedules this is only going to get better it's going to go
back to the way it used to be when when it was the Golden Era and it was freaking perfect anyway sorry go ahead
well I like I there's one's this one's tough
fight but I just don't see Grand Valley going 0-2 to start and and I don't see them losing at home so uh and it doesn't
matter who they play so I'm gonna take Grand Valley all right Tony
yeah look guys last year CSU Pueblo ran all over Midwestern State and then
didn't do anything against Grand Valley at home so um you know I think you're gonna see
history repeat itself here except the venue is going to be different I just don't see Grand Valley dropping this one
um if they if they do then obviously they've got bigger issues because then they're going to be 0-2 trying to find a way into his playoff spot in super
Region Three I just don't think I don't think the kids or the staff are going to be ready for that one they're going to come out a little angry I think on
Saturday well this past week I picked Grand Valley and they let me down
having said that I'm still going to pick them to win this week I believe in what's happening at CSU Pueblo
but I agree with that this is a prove it to me situation and you're gonna have to
they're gonna have to prove it to me this week I think the Lakers win though uh wit
well well well um Pueblo showed me a few things
um I think if this was seven on seven I might I might go with Pueblo I I'm not
sure that they don't have have some of the athletes in space but the problem is fortunately
I'm not feeling real good about what's going to happen at the line of scrimmage uh uh I just think Grand Valley is gonna be
able to run the football um I also feel like uh if they if Pueblo
had some challenges protecting the quarterback this last week I think that's going to get all the worse with a
Grand Valley so um they're gonna have to get rid of the ball real fast and let their their skill
guys make some plays I think that they're a greater threat this year without a doubt
but I still like Grand Valley at home a little too much there's a big ask for for what's essentially kind of a a
younger Pueblo team in terms of they haven't played together very much right the one thing that we'll have going for
them is that and this is impressive in his freshman season chance Fuller didn't
start a game until he played Northwest Missouri and he went into Maryville and won as a freshman yeah that's that's
he's kind of an X Factor here because he's a gunslinger he's kind of like Brandon all to Bemidji
he's gonna be fired in no matter what right now AC now that we've talked about it give us
the answer to the quiz who's going to win this game
it's all right in that energy that they have going up there uh their leaders I
think bones Daniel bones didn't come out trying to have himself a game to have that defense really uh ready to go in
they're just gonna be excited to play up there like that's a great Stadium a great venue like similar to how Tony was
describing mines I've never been to Grand Valley but I would imagine it's the exact same kind of kind of vibe you
know even on the road you're going to be able to multiply it by three because
five okay but uh I'm gonna go with Pueblo uh
having Fuller having that experience playing in the Mi double A I don't think he'll be scared walking in there leading
him so I'm gonna take Pueblo in a close one because I do think Grand Valley is gonna come out you know with something
to prove after after last week when they probably feel like they could have won that game all right very good so I wrote that down
we will see how you do next week and uh we will ridicule you yeah if you get these wrong you will be
ridiculed that's just the way that's just the way this goes all right guys uh we'll be right back stick with us
just wanted to take this opportunity to thank those who have supported G2 football this year
D2 football is free but it isn't cheap your support helps offset our expenses
and allows us to expand our coverage do you like what we're doing please consider supporting us visit
d2football.com support or if you want to do it the old-fashioned way click
contact on the website to find our mailing address but again thank you for supporting D2
football [Music] all right I also want to thank Jeff
Jamie Jason Justin and Nathan who helped
support us late in the week and I haven't had an opportunity to update that video but I wanted to thank you and
let you all know that it can be done without you um you know this is a it's it's a labor
of love and it helps when it's not a labor of the pocketbook as well so uh we
appreciate any help you can financially uh give to us uh again uh like say every week remember to
uh to follow us on social media like this video And subscribe to the channel apparently if you share this that's good
I really don't care that much about the the way other I I don't even consider this to be a YouTube channel it's a it's
a supplement to what we do on the website but uh apparently all those things help get more recognition for
your videos um and I would appreciate that to help us grow division two it'll be more fun
the more people are watching this um again I uh at D2 football is our main
Twitter account and then we're facebook.com D2 football Instagram D2 football my uh Twitter uh account is at
Brandon Meisner you'll probably get the spelling wrong but uh that is me uh during the week uh columnist we've got
them all in here they break down the teams and the races and their conference the best thing is they provide a perspective that you you don't get there
it's it's a truer perspective and it's not as much homerism or any homerism in
some cases so uh remember uh we have scores every game that you can access our scoreboard many ways to sort that
highly highly helpful and uh we also have the biggest collection of D2 fans in our uh message board I was able to
approve a bunch of them this week and again that's a manual approval I apologize but it's the way to keep
spam out we're not always successful but we've had one spam in last six months I
consider that to be not too bad also had spam in years but it used to go great with mac and cheese
I loved it I loved it all right uh I also want to thank uh Fox 31 Denver uh
iup Sports CSU Pueblo the armac network West Georgia Sports uh Channel 10 in
Cadillac what's that you know the the call letters for that one Tony
you know it's 9 and 10 News yes that's it but yeah but I forget what the call letters are okay don't worry it's a
northern it's a northern Michigan uh they the nine and ten news goes from Cadillac which is kind of the lower
Southern edge of the of the what's considered Northern Michigan and then covers all the way to the tip of the
mitt and all the up so okay wow okay anyway thanks to them koam uh k-e-l-o
Lakeland PBS and Harding Sports so appreciate all them and anybody that we
might have missed um it is now time for the most exciting
portion of the show which is comments and questions
does boss have a spam pizza is that a topping selection uh not that I'm aware
of uh I think that future you two are gonna eat me it should have spam on it
they do have pineapple and they do have um other stuff with lettuce on it that
would never cross my lips but um no and by the way by the way not not to not to
uh not to tease anything here but the owner operator did kind of chirp
us a little bit and say some things to Brandon and I that were less than positive
about this tag team taking care of business and we will be posting that
next week I'm just throwing that out there right now but carry on all right
let's look at the questions uh what do we got here all right uh
uh K Ferg you get the answer the first one buddy Calvin wants to know who had the most
impressive Victory Bowie or Benedict well I Benedict's victory was like they
just shut out Shaw and I mean that was a shocker with what Shaw does have coming
back to just roll over them by 50. um it was bad
um but we kind of knew what Benedict had in this case and so I think that uh the
mystery that was Bowie State to go and be the FCS team on the road uh worst of more impressive victory
all right let's take that one off and go to this one so at D2 football does that mean all of
us are just me yeah it doesn't matter uh what are your thoughts on video reviews so far I will answer I freaking love it
I love it that it exists and even if it doesn't get it right the fact that the
possibility exists is awesome we're just not gonna play this game of these clowns
out here got this call so wrong and we can't fix it we can at least have a chance for
a corrected call and I I think it's great yeah I if they were to use the Pueblo
game last night they would add zero chance of doing video because there was blur every change the thing change the
thing change the thing it was just anytime it was a pass down the field you couldn't see it so you know we need to
make sure that we're getting a solid you know hard cam shot on these to be able
to have that be useful um after watching after watching plenty of stuff not to make this a big Festival
on on streaming and you know people getting a neighborhood shot where you
can see somebody you know three blocks down moving their car but you know
not that I'm calling anybody out but next time I will and but I mean so this
this is obviously going to be only as good as the Stream so you know sometimes just because you
got five cameras doesn't mean I need for you to click five times in three seconds and and make me confused that's
all I'm saying I agree Casey I can tell that you wanted to talk about this because this was your world did you want
to say something about switching uh they're like so in broadcast I think
this kind of goes like across the board in D2 sometimes they broadcast like to
have this tight angle where you have the front seven and then have to snap like try to pull out and you always miss the
action like I'd rather have a wider shot than a tight shot so I can at least see what's going on but uh I I overall on
video replay like why not be trying to get it right you know right that's right there's so many games that are wanting
decided on these calls so like I don't mind spending the time and you know there's nothing wrong with getting it
right if you can get it right why not try to absolutely apparently the uh the
Mi double A has now fixed or certain cameras specifically for replay so
they've all added like a third so uh that's not necessarily part of the broadcast
all right uh let's look at this um about Shepard
so Brad Bradley one of our best fans of the show
best supporters of D2 football says uh I'll just say that Shepard sure looks like a team that was placing four guys
who were in the NFL camps that's exactly what it looked like I mean in it's not it's not bama you know you don't replace
uh that string and receivers or now they're Stringer quarterbacks it is harder in the deuce to replace that and
they had a crazy amount of guys in the NFL camps from one division two offense
that that this was to be expected there's nothing I don't think any of us thought that that was even a fair ask
right and especially what they lost to the quarterback position which is
maybe one of the best we've seen in the last 10 years I mean well I think that period yeah I think that's
indisputable in terms of what the NFL looks for yes you know it's it's
indisputable I I can't remember a D2 guy that made the roster and they and the
situation happened as it did in Chicago where they cut the guy who they thought was going to be the backup I mean I
can't recall that ever happening yeah he's getting bumped up right yeah I just I I can't anyway so I mean that alone is
a big deal yeah he he made throws all the time that I didn't think other people
uh could make all right uh nice to have some big out of conference
match-ups Bradley is a fan of Northern sun and just like wit I'm sure he likes
seeing them I they used to be part of all of our lives and it's wonderful that
that some of them are coming back and they're in schools are realizing the value of them you know what I I ended up
having uh grabbed a grab some food uh before the USF Mankato game with Mr Brad
Koenig and some of the other real loyal Mankato fans and uh you know once again
Great Brothers to have out there people who want to go to games who have that kind of Interest I love seeing it
um I love the fact that the northern Sun I'm going to get a chance to see a new non-con every week the way it's
scheduled now that probably hasn't been great for the teams to try and schedule that in weeks five six seven eight and
everything else that's not the beginning of the season but it's still going to be enjoyable for me no questions yeah I
mean the the scheduling will be easier as we move along though with you know when everybody's scheduling one and two
versus like you said six seven ten when Jamestown comes back Northern Sun's
closing their doors you guys have your chance Brandon they would not want to go back to the stone ages and do that crap
again I I don't I don't believe that they would do that they're smarter than that all right let's go ahead and get
the next one uh Henry Emery and Henry Stomp the Mud Hole in conquered that was
probably the most surprising game from the sack this weekend I agree Ryan not Shane
um I agree that that was a big surprise and I thought goodness gracious I know nothing about football because I picked
Concord to win the the Mec yeah I I changed my uh fantasy team after that
game I'm glad I didn't play play those guys on my team this week I mean it was
just such a surprise yeah it was such a surprise and uh you know now Bluefield
State um has to go play them um so and I am terrified to see what may happen now
well uh this was posted during the picks results and Peggy is apparently a master
of the obvious because you know we did not do good you are very correct
it feels like it feels like a teacher's telling us uh you all did not do good on this test you call yourself experts
that's fine Pagan you can take our paycheck that's exactly right
all right uh let's look at uh um this one I think this is interesting
Tony because I think you and I have talked about this a little bit I'm surprised Ashland hasn't been better in super region one
I would agree with that with a certain level of limitations right and that's
the limitation being that and you get and you're right we've talked about this I I think there's going to be a
progressive uh the amount of time that that gliac
high level caliber of play that they had would continue to stay above you know where they are in
the gmax it's it's a it's it's a Time limited thing because that tends to they're gonna end up playing much more
like the the collective and the collective and the GMAC no disrespect to some of those teams a lot of them
formerly act teams the demand week in week out there is not the same as what the gliac has traditionally been so over
time yeah we that they're just not going to be at that Advantage was going to be a
limited thing and I would tell you that even towards the end of their time in the gliac I don't know that Ashland yeah
they've made the playoffs and they'd done some things I I still didn't feel like that they I mean they weren't going
to be fairest year in and year out I was talking about how they did you know five six eight years ago but you know in that
last year in the league it was you know that wasn't the same Ashland team right so I don't know I don't know how
much of an advantage they had going into Super region one anyway okay and and and I do want to say the
Top Flight teams in the in the psac and the Shepherds of the world of what they've had the last few years I mean I
know they haven't shown well in some of those uh semi-final games but that the the caliber of play at some with some of
those schools is better than what it was 10 years ago so that's my thing yeah well when did
she when does anybody remember exactly when Shepard joined the psac
I think every Everybody adjusts to what's happening and and you know to who
else is their surroundings the same thing you said about Ashland going to the GMAC you know when when Shepherd
comes to the psac and starts winning it all the time and in fact they were winning the Super region as a member of
the Mec it has an effect on on everything it's human nature it is not
an insult it is not a criticism it is human nature if if it if you have
three seconds to try to beat out of ground ball you will run harder than you would if you had five seconds to beat it
out you were always humans just barely beat stuff it is just human nature so all right let me see if
uh we have any more 2019 was the answer thank you to inkblot and Bradley
um so they've uh helped um improve uh the play uh
of of the pscc I would say and then let's do one final comment and this will
be directed I guess to Whit and myself unless somebody else wants to come and be a part of this
strong consideration we just need to figure out the technology
I mean it's hard for me to I'm going to be focused on you know I'm getting my game face on I'm not going to be
thinking about streaming I'm going to be thinking about Charlie I'm just saying
press play and start to eat come on this isn't that tough you got the platform
here you can't do a live stream for that I'll be honest with you I am honestly
concerned about throwing up like 17 weeks there's a demand a
bucket there or something by the way I did find out an important detail we can stand while we eat if we
want to which I kind of found when I was practicing have I stood I could things were just
kind of moving better because you know I'm just saying B um so next time you have pizza I'm gonna
need for you to stand and eat it and see what your thoughts are about this because you're gonna need to start
practicing a little bit more I'm already kind of in game shape right now and you know again I'm in some shape but it's
round but uh all right well let's when's the date for this again are we gonna do it on a Friday or the or
the Saturday wit well they they played during the the day right on Saturday so
we're gonna need to have it Friday we'll see at the local news ones to cover it because I mean it's just kind of a big
deal and all and um you know maybe we'll get the local coaches to show up and everything else
and you know maybe one will cheer me on the other will cheer you on and oh wait
we could get the cheerleaders to come and cheer us on yes
troll yeah they would love to watch two fat old dudes well I mean look at me why
wouldn't they I mean by looking at you that's why they wouldn't so in any case
this is going to be uh epic too this episode is rated R
sponsored by Tiger Beat [Laughter] the heart is this much heartthrop
this month how about years um so so Brandon
who wins the humility award and their humility issue that's a good one too I was gonna ask something then we started
talking about food and I completely forgot but um no we're we're gonna make this a big ordeal guys I'm just telling
you we're gonna have to do like in the pickup ordeals the right word yep yeah yeah the pick them we're gonna have to
see who's picking Whit and Brandon and who's taking Bosses Pizza yeah I got the
pizza I'm Tanya right now is that right yeah you think Nancy would have us as a
favorite or a dog Tony you've met me you know how fat I am man it does not equate automatically to
being able to hammer that much food dude in a 28 inch pizza is no joke
and as you get old you can't you can't power eat like you used to man trust me
yeah well that might be true but all right guys
um that will do it for tonight that'll be the last thoughts that you all need in your head is about us eating pizza
so again uh for Justin Tony kafer wit and thank you Antonio for joining us
tonight it was a pleasure I am Brandon Meisner and uh please again join us next
week for inside D2 football foreign
[Music]