LSC Week Ten Preview
November 2nd, 2023 2:00pm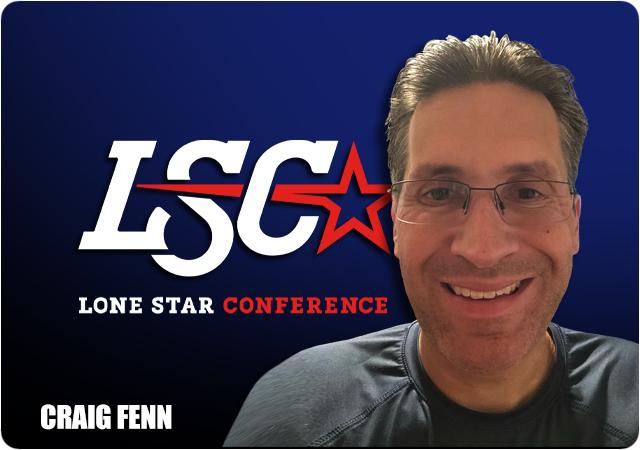 Week 9 Recap
Here are your highlights from Week 9 in the LSC:
Central Washington comes back from 10 down in the fourth quarter to win at Texas A&M-Kingsville and get their seventh straight win.
Texas-Permian Basin was a bit sloppy at times but held off Western Oregon 28-16.
Angelo State beat West Texas A&M in a game that really could have had a bigger margin of victory for the Rams.
Midwestern State and Eastern New Mexico weren't challenged in winning their games.
Now, about last week:
Eastern New Mexico wins at Lincoln University (Missouri) 62-17
How this game went for ENMU could be summed up in one Oprah-inspired Tweet made mid-way through the game:
You get a touchdown
You get a touchdown
EVERYONE gets a touchdown
Six Greyhounds scored touchdowns on the night, led by running back Elijah Zeh's three rushing touchdowns to go along with 82 rushing yards. ENMU quarterback Mario Sanchez led all rushers with 102 yards and made the most of his 5 pass attempts, completing 4 of them for 121 yards and a 92-yard touchdown pass to Andre Jones that made it 14-0. ENMU led 34-7 after one quarter and thoroughly dominated the winless Blue Tigers to the tune of 669 total yards (548 rushing) to LU's 218. The only mistake ENMU made was a missed two-point play when they were already up 20-0.
Lincoln, led by quarterback Xzavier Vaughn (125 passing yards and 2 touchdowns), has now lost 37 straight games dating back to 2019, and they haven't had a winning season since…wait for it…1972?
Eastern New Mexico improves to 4-5 and Lincoln (Missouri) falls to 0-9.
Texas-Permian Basin wins at home over Western Oregon 28-16
Western Oregon actually did OK in this game, to a point. If you add the missed chances, errors, and in general not taking advantage of UTPB mistakes except for an onside kick recovery late in the game, there you have the difference in this one. WOU turned UTPB over three times and got nothing out of it. I guess if you count the onside kick as a turnover, then WOU turned UTPB over 4 times and only managed 7 points from it, but the overall theme is the same – WOU didn't nearly take advantage of UTPB mistakes or this one could have been interesting.
The UTPB offense went on a scoring spree in the second and third quarters, scoring on three consecutive drives to extend their lead from 7-3 to 28-3, and the Falcons put it into cruise control after that. Kenny Hrncir threw for 379 yards, three touchdowns, and an interception. Ben Patterson and Deon Cook shredded the WOU defense, gaining 142 and 133 yards. Brenden Hodge (139 receiving yards) and Austin Bacher (99 rushing yards) were WOU standouts.
Texas-Permian Basin improves to 8-1 and Western Oregon falls to 3-6.
Central Washington wins at Texas A&M-Kingsville 21-17
Central Washington led for all of 1:31 of their game against Texas A&M-Kingsville. Lucky for the Wildcats, it was the last 1:31 of the game. Trailing the Javelinas the entire way after Christian Anderson opened up the scoring with a 2-yard touchdown run with 7:57 left in the first quarter, the TAMUK defense kept CWU from even crossing midfield in the first half. But the Javelinas still kept CWU at arm's length after CWU took the first drive of the second half 75 yards to pull within 10-7. After CWU's first score, TAMUK quarterback Wade Freeman III made his first mistake of the night, getting intercepted by (who else?) Tanner Volk, but the TAMUK defense stood tall and prevented any further damage and even scoring after on a Roger Hagan 12-yard run the next time they took the ball going into the fourth quarter.
That was the high point for the Javelinas and for Hagan.
After Hagan's touchdown and forcing a CWU three-and-out, Hagan took the ball again but fumbled the ball away at the TAMUK 30-yard line. Kennedy McGill, who to this point had been having a very rough game, threw his best pass of the night, a 30-yard touchdown to Darius Morrison. The momentum that TAMUK had seemingly taken from CWU was back on the Wildcats' side. The teams traded punts until CWU got the ball back at the 5:46 mark, where McGill led the drive that may have saved CWU's season and may have doomed TAMUK's. McGill capped the 65-yard drive with a "tush push" touchdown sneak with 1:31 left, and Josh Flowers ended it with an interception of Freeman's last pass of the night. This is definitely one the Javelinas let get away.
Central Washington improves to 7-2 and Texas A&M-Kingsville falls to 5-3.
Angelo State wins at West Texas A&M 27-10
Give the West Texas A&M defense some credit – this game really could have been a lot worse than the final score. Angelo State held the ball for nearly 35 minutes, gained 513 (396 rushing) yards to WTAMU's 221, and caused two turnovers. WTAMU's offense couldn't help the defense at all, playing like they were stuck in quicksand for most of the night. Of the 13 WTAMU possessions on the night, only twice did the Buffaloes have drives of more than 23 yards, both in the second half. One of those drives ended in an interception and the other drive ended in a touchdown long after the game's outcome was in doubt. Neither team did all that much throwing the ball; ASU because they didn't have to (Gerald Gardner completed a very ENMU-like 5 passes for 107 yards and a touchdown) and WTAMU because they couldn't (Kyle Brown only had 50 passing yards on 8 of 25 passes and 2 interceptions).
Angelo State improves to 5-3 and West Texas A&M falls to 3-6.
Midwestern State wins at home over Western New Mexico 56-7
Western New Mexico was hanging in there. They weren't moving the ball very well in the first half, but their defense was doing a lot of bending but not breaking, holding MSU to just three field goals in the first half. Maybe if WNMU could get their offense going even a little bit, they might have a chance to pull off the upset?
Nope, not by a long shot.
Those mushroom clouds you saw over Wichita Falls last night were the full-scale implosions of first the WNMU defense, followed by its offense. MSU drove 75 yards on their first drive to go up 16-0 on a James Cooper Jr. 1-yard touchdown run. Then after trading punts, MSU scored another field goal, forced a safety, scored another touchdown, forced two straight WNMU fumbles, and then scored touchdowns after both of those fumbles. All told, it was a 33-0 third quarter for MSU, who was now up 42-0. MSU added two more touchdowns in the fourth quarter while WNMU finally got one of their own after being down 49-0.
MSU outgained WNMU 447 (348 rushing) to 134 yards. The amazing thing about this yardage total was that WNMU actually had 183 passing yards, meaning they finished with negative-49 rushing yards! Sure, some of that was due to yards lost on quarterback sacks, but I don't care if your team is the most die-hard, stubborn adherent to the Air Raid or the Run-and-Shoot – that's just not acceptable. MSU's Jalen March led all rushers with 147 yards and James Cooper Jr. finished one yard short of passing for 100 yards for the second straight week. Hunter Davis threw for 183 yards for WNMU and managed a 73-yard touchdown pass to Deuce Zimmerman, but WNMU's band of Mustangs pretty much all had flat tires on this night.
Midwestern State improves to 4-4 and Western New Mexico falls to 1-7.
Playoff Watch
This week we finally have an official list of the top 10 teams in Super Region 4 in their real order:
| School | Conference | Overall | In-Region |
| --- | --- | --- | --- |
| Colorado Mines | RMAC | 9-0 | 8-0 |
| Western Colorado | RMAC | 8-1 | 8-1 |
| Texas-Permian Basin | LSC | 7-1 | 6-1 |
| Central Washington | LSC | 7-0 | 7-0 |
| Augustana | NSIC | 8-1 | 8-1 |
| Minnesota State-Mankato | NSIC | 8-1 | 8-1 |
| Bemidji State | NSIC | 7-1 | 7-1 |
| Wayne State (Neb.) | NSIC | 6-3 | 6-3 |
| Angelo State | LSC | 5-3 | 4-3 |
| Texas A&M-Kingsville | LSC | 5-3 | 4-3 |
Right now things look good for the LSC to have two playoff teams, but no one should assume anything with two weeks of football left. Angelo State might have been in the number 8 spot, but they were really hurt by Wayne State (Neb.)'s win in a blizzard over previously undefeated Augustana, which pulled WSC out of the Region 4 underworld and into the number 8 spot.
What's the outlook for this upcoming week among the region's top 10?
Colorado Mines and Western Colorado will be heavily favored the last two weeks of the season and look to finish 1 and 2 in the region. This week, Mines hosts 2-7 New Mexico Highlands and Western Colorado hosts 0-9 Fort Lewis.
UTPB goes to Western New Mexico for a game the Falcons should win easily given WNMU has yet to beat a Division 2 opponent this season.
Central Washington has the week off. The Wildcats have a flight booked to Midland next week to face UTPB.
Now, there is a 4-team NSIC blockade keeping Angelo State out of the top 7. Augustana goes to 4-5 Northern State, MSU-Mankato goes to 4-5 Winona State, Bemidji State hosts 6-3 MSU-Moorhead, and Wayne State (Neb.) goes to 3-6 Sioux Falls. Maybe there's an upset in there somewhere? Two upsets?
Angelo State hosts Midwestern State and Texas A&M-Kingsville goes to Western Oregon. ASU and TAMUK are favored to win those games, but they both need to win out and get some help.
LSC Standings
| School | LSC | Overall |
| --- | --- | --- |
| Texas-Permian Basin | 6-0 | 8-1 |
| Central Washington | 7-0 | 7-2 |
| Angelo State | 4-2 | 5-3 |
| Texas A&M-Kingsville | 3-3 | 5-3 |
| Midwestern State | 3-3 | 4-4 |
| Western Oregon | 2-4 | 3-6 |
| West Texas A&M | 2-5 | 3-6 |
| Eastern New Mexico | 1-5 | 4-5 |
| Western New Mexico | 0-6 | 1-7 |
Next week's game between UTPB and CWU will be for the LSC championship, as they both are at least two full games clear of the rest of the LSC.
Week 10 Preview
This is the calm before the storm of the CWU/UTPB game for the LSC championship, but there is still important football here. Angelo State and Texas A&M-Kingsville are still trying to move up the playoff rankings with hopes to break that NSIC blockade. In Portales, the latest edition of the Wagon Wheel Game has the Greyhounds hosting West Texas A&M in the first meeting between former colleagues Josh Lynn and Kelley Lee. And maybe, just maybe, Western New Mexico puts together a full 60 minutes of football against Texas-Permian Basin? Maybe?
All games are on Saturday, November 4. All game times are in the Central time zone.
West Texas A&M at Eastern New Mexico, 1:00 PM
Series History: Series tied 18-18
Last meeting: 2022 (Eastern New Mexico won 24-21)
The Wagon Wheel Game, Number 37.
Lee versus Lynn, Number 1.
Josh Lynn and Kelley Lee shared the same sidelines at ENMU from 2012 to 2016, with Lee serving as Lynn's offensive coordinator. This week is the first time the former colleagues face each other, and it's with the Wagon Wheel on the line. Last year, the Greyhounds won in Canyon on a last-second touchdown catch by Tyree Cherry. ENMU has struggled since entering LSC play, just winning their first conference game in Week 3 and losing their last five in the LSC. WTAMU was this close to giving UTPB their first LSC defeat of 2023, but it ended up being one of three tough, close losses in the middle of the season.
ENMU has shown a more consistent offense than WTAMU, but West Texas A&M has carried a stronger defense. I think WTAMU's defense gives them the edge in what should be a very close game. I think it will be back-and-forth and WTAMU wins it late. West Texas A&M by 3 points.
#18 Texas-Permian Basin at Western New Mexico, 1:00 PM
Series History: Texas-Permian Basin leads 5-2
Last meeting: 2022 (Texas-Permian Basin won 37-14)
Last week showed that UTPB can win even when they were a bit sloppy, but that will doom the Falcons against better teams. This could be your classic "trap game" with UTPB on the road against a team they should have no business losing to with a big game next week. On paper, this game looks very much like one of the games UTPB won by outrageous margins early on this season. You have the UTPB offense, who has only been slowed down but not stopped, against a WNMU defense that has seriously struggled, giving up 45 points a game. The Mustangs also don't have a Division 2 win, with their only win over almost-Division 2 Sul Ross State. The UTPB defense, which has flown under the radar given the success of the UTPB offense, has also been solid, and a WNMU offense that has had significant trouble running the ball (and even some trouble passing it) may have quite a bit of trouble against the UTPB defense.
This may look like a trap game, but this has also been the type of matchup where the Falcons have absolutely blown their opponents out. I expect nothing different here, and I'm hoping for WNMU's sake that UTPB doesn't find their way past 60 points, especially after Midwestern State put up 56 against WNMU last week with their offense. A lot will need to happen for this game to be close. Upon asking my off-brand Magic 8-Ball about what exactly would need to happen for this game to be close, it answered "Above my pay grade", so there you have it. Texas-Permian Basin by 21 to 24 points.
Texas A&M-Kingsville at Western Oregon, 3:05 PM
Series History: Western Oregon leads 5-2
Last meeting: 2022 (Western Oregon won 48-37)
Late last season, Western Oregon was one of the teams you didn't want to play, winning 5 of their last 6 games. The Wolves are currently dealing with a 3-game losing streak where accumulated mistakes have prevented them from being more competitive. Unfortunately, they face a Texas A&M-Kingsville team that wants to cause mistakes and turn teams over but have themselves shown to sometimes be error-prone in tight games like last week's loss to CWU. Neither team's offense is spectacular, but I expect WOU to have a difficult time if they need to rely too much on their running game against the TAMUK defense. Gannon Winker needs to keep the TAMUK defense honest, but his inconsistency and lack of a strong receiving corps doesn't convince me this will happen. I think TAMUK will grind out a win with their running game and an efficient game from Wade Freeman III. Texas A&M-Kingsville by 7 points.
Midwestern State at Angelo State, 6:00 PM
Series History: Midwestern State leads 15-9
Last meeting: 2022 (Angelo State won 37-19)
It's amazing to me that Midwestern State is 4-4. MSU has had one game this season where the starting quarterback has broken 100 yards passing (2 if you want to be generous since James Cooper Jr. had 99 passing yards), but there is a lot of talent in the running backs' room. The Mustangs have averaged 224 yards a game on the ground with Devin Cross and Jalen March leading the way. The MSU defense has also given up more than 17 points in a game once – 31 points to ENMU. Imagine where they would be if they had a stronger passing game. Iowa in the Big Ten has been mocked for the last two seasons for an historically inept offense, but they have found ways to stay competitive and win against most opponents. MSU has been doing some of that themselves in 2023. Wins are wins, doesn't matter if they're ugly or not.
Angelo State is far from your typical three-loss team. The teams they have lost to have a combined ONE Division 2 loss and they are three of the top 4 teams in the current region 4 rankings (1, 3, and 4, to be exact). Yes, ASU isn't the dominant force this season that they were last season, but they are still deeper and more talented on both sides of the ball than MSU except for maybe the MSU running backs. Again, this comes back to the whole "what if" about where MSU would be with a decent passing game. ASU's defense should be able to hold back the Mustangs' ground game enough to dare them to throw, and MSU hasn't shown all season that they can throw. Angelo State by 14 points.
#23 Central Washington has the week off.
West Texas A&M's regular season ends this week.