MIAA Week Four Column
September 22nd, 2022 6:00am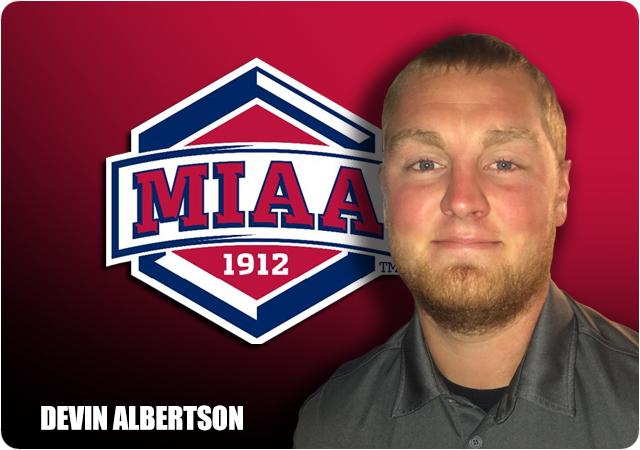 Just like that, we are 27% done with the regular season. What do we know about the MIAA so far? I believe five teams have a legit chance to be playoff contenders. I wish we had out of conference games to showcase the strength of the conference to the rest of Division II, but that is a topic for another day (most likely on Inside Division II every Sunday night at 7pm). Now before I recap week three and dive into week four, let's look at what each team wore on the gridiron last weekend.
*All references to the photos used are at the bottom of the column.
Week Two Uniform Grades
Central Missouri: B+
Solid look for the Mules, but nothing special.

Central Oklahoma: B+
Another solid look, one of Central Oklahoma's better looks.


Emporia State: A-
The old gold pops of the black. Great look for Emporia State.

Fort Hays: A
I looked and looked but I could not find a good picture of the Fort Hays threads from the Lincoln game. The Fort Hays wore all white with their black helmets. It was a fantastic look.
Lincoln: B+
The dark blue looks great with the silver helmet.

Missouri Southern: B+
The Lions have worn this look before this year, great look.

Missouri Western: A-
Same for Missouri Western, the all-white looks a lot better than how the Griffons played.

Nebraska-Kearney: A
This is one of the Lopers' better uniform combinations. Quite sharp.

Northeastern State: C
Again, I am just not a fan of gray uniforms. The green pants help though.


Northwest Missouri: B-
This one might be a bit controversial. I love that the Bearcats honor the late Scott Bostwick with his favorite black tops and the red paw. But for me, it is one of my least favorite looks aesthetically for Northwest Missouri.

Pittsburg State: A++
This look might be my favorite uniform combination in the MIAA. The classic red on gold is simply amazing. I am rooting for the red on gold vs ice white for October 8th when Northwest Missouri plays at Pittsburg State.

Washburn: B+
Another solid look for Washburn.

Week Three Game Recaps
Nebraska-Kearney 21 Washburn 13
A great defensive win for Nebraska Kearney. The Lopers held Washburn to under 200 yards passing and did not allow any plays over 20 yards. With TJ Davis and the Lopers rushing attack, if that defense shows up every week, the Lopers are nearly impossible to beat. Washburn will be fine, just a rough game offensively. The Ichabods did a great job of shutting out Nebraska-Kearney in the second half. However, Davis was able to lead a seven minute drive to seal the win for the Lopers. Just a fantastic football game.
Emporia State 36 Missouri Western 12
A weather delay hit this game at halftime but I am not sure if Missouri Western ever actually made the trip to Emporia. Missouri Western had a dominant running game in the first two weeks of the season but it was held in check by the Hornets. Then on the side of the ball, let's talk about the craft lefty in quarterback Braden Gleason. Gleason totaled 323 yards of offense and five touchdowns on the day. Missouri Western was able to score late in the third quarter to pull within 29 to 12. Gleason responded with a quick pass to Corey Thomas, Thomas sidestepped a tackle and was gone for a 54 yard touchdown. Just a great game for Emporia State to beat a team that was uber impressive the first two games of the season.
Northwest Missouri 24 Central Missouri 7
It was fitting that the Northwest Missouri defense played lights out on Family Day. The Mules were held to 103 yards of total offense and 55 of those yards came on the only touchdown of the day. Outside of the touchdown pass from Cedric Case to Xavier Jackson, the Mules ran 46 plays to get 48 yards. The Northwest Missouri offense just played ball control and scored one drive each quarter. When the defense is that dominant, that is all you need. The offense will need to be more explosive against better competition though.
Missouri Southern 40 Central Oklahoma 21
This was a 20 to 14 game going into the fourth quarter. Missouri Southern scored three touchdowns in the fourth quarter and rolled a win. One of the biggest things I noticed in this game was the difference on third downs. Missouri Southern was eight of 16 while Central Oklahoma was a putrid two of fourteen on third down. Central Oklahoma cannot get into shootouts if their passing offense continues to struggle. Right now, they have to win in low scoring, grind it out games. The fourth quarter was not that type of game.
Fort Hays 51 Lincoln 14
No Fuller, no problem for Fort Hays. Jack Dawson stepped in and played well throwing for a couple touchdowns and running in two more. Hopefully this game can get the Tigers rest and back on the right track after a rough start to the season.
Pittsburg State 49 Northeastern State 14
This game started off with a Pittsburg State pick-six and a blocked punt for a touchdown. The Gorillas offense did not touch the ball until 9:42 minutes left in the first quarter and they were up 14 to 0. This game was 42 to 14 at halftime and the Gorillas coasted in the second half.
MIAA Week Three Power Rankings
Northwest Missouri --

Pittsburg State --

Nebraska-Kearney +1

Washburn +1

Missouri Western -2

Emporia State +2

Fort Hays -1

Missouri Southern +1

Central Oklahoma -2

Central Missouri --

Northeastern State --

Lincoln --

The gap between Northwest Missouri and Pittsburg State is shrinking.

Missouri Western dropped two spots after failing to show up in Emporia. I still have Missouri Western over Emporia State in the power rankings but I do not feel good about it.
MIAA Picks
Last Week: 4-2 (66.7%)
Season: 12-6 (66.7%)
Week Three Game Previews
A couple interesting tests for the top teams in the MIAA and an interesting subplot in Oklahoma. Let's jump into the games.
Game of the Week: #16 Pittsburg State (3-0) at Emporia State (2-1)
All-time series: Pittsburg State leads 62-31-2.
Last Year: Pittsburg State won 30-28.
This game features the two leading passers in the MIAA in Braden Gleason (330 yards per game) and Chad Dodson Jr (276 yards per game). So you already know this is my favorite game of the week. Pittsburg State has been impressive and steady through the first three weeks. The offense has shown an ability to make big plays through Dodson, especially to Bryce Murphy. Which Emporia State team is going to show up on Saturday? The one that pulverized Missouri Western or the team that lost to Central Oklahoma? It is a small sample size, but the Hornets have played their best football at home this year. I just believe Pittsburg State is a little more talented and consistent at this point.
Pittsburg State 34 Emporia State 21
#25 Washburn (2-1) at Missouri Western (2-1)
All-time series: Missouri Western leads 26-21.
Last Year: Washburn won 47-41.
Both of these teams are coming off disappointing losses. The loser of this game can kiss a conference championship goodbye and would be on the brink of postseason elimination. Both of these teams have Pittsburg State and Northwest Missouri on their schedules and the Griffons still have to play Nebraska-Kearney. It is now or never for these two teams. I have yet to get a Missouri Western game correct this year. However, I still like this Washburn team. Head Coach Craig Schurig will have the Ichabods ready to go for this game on the road. The Ichabods score a late touchdown to win this one.
Washburn 34 Missouri Western 27
#3 Northwest Missouri (3-0) at Central Oklahoma (1-2)
All-time series: Northwest Missouri leads 10-3.
Last Year: Northwest Missouri won 38-0.
Adam Dorrel gets his first crack at his old team in this game. Unfortunately for the Bronchos, Northwest Missouri is playing lights out on defense. Central Oklahoma has struggled to move the ball through the air this year and I doubt the running game is going to work against the Bearcats. Northwest Missouri is allowing 11.3 rushing yards per game and 0.4 yards per carry on the year. That is just absurd. The injuries are starting to pile up in the Northwest Missouri secondary but that will be a bigger issue against teams like Pittsburg State and Washburn in a couple weeks. The Bearcats cannot overlook Central Oklahoma before they go into a three game stretch against the best the MIAA has to offer. October will be a big month for the highly ranked Bearcats. This game will be more interesting next year when Dorrel makes his return to Maryville with another year of recruiting and development.
Northwest Missouri 30 Central Oklahoma 10
Central Missouri (0-3) at #19 Nebraska-Kearney (2-1)
All-time series: Central Missouri leads 7-1.
Last Year: Nebraska-Kearney won 31-28.
Nebraska-Kearney is coming off an emotional rollercoaster in the last two weeks after a last minute loss to Pittsburg State and a hard fought win at Washburn. Central Missouri is better than their 0-3 record would suggest. The Mules have struggled to run the ball with any success this year, which has put a lot of pressure on Cedric Case. I think Central Missouri keeps this game close for a half, but the Lopers are just better right now. TJ Davis and company will wear down the Central Missouri front seven and pull away late. The Lopers need to improve their passing attack, that is something I will be keeping an eye on this week. Also, TJ Davis still has another year of eligibility and has said he is coming back in 2023. I just want to say this cannot be good news for MIAA defensive coordinators.
Nebraska-Kearney 30 Central Missouri 17
Missouri Southern (2-1) at Fort Hays (1-2)
All-time series: Fort Hays leads 18-13.
Last Year: Fort Hays won 42-21.
Will Chance Fuller play this week after missing action over the last two games? I have not heard anything out of Hays so far. Missouri Southern has improved over the last couple of years and looked quite impressive in the fourth quarter in last week's win over Central Oklahoma. I have a feeling Fuller is back this week and the Tigers get back to .500 on the year but the Lions will not go quietly into the night.
Fort Hays 23 Missouri Southern 17
Lincoln (0-3) at Northeastern State (0-3)
All-time series: Tied at 2-2.
Last Year: Northeastern State won 49-48 in OT.
Look, neither one of these teams are good at football and this might be their only chance at a win in 2022. However, when these teams played each other last year, it was a blast to watch. I can only dream for the same type of glorious game to happen again this year. I do think both of these teams are better than what they were in 2021. Give me the Riverhawks to squeak out another win this year.
Northeastern State 31 Lincoln 30
Central Missouri: Tweet from @UCMFootballTeam
Central Oklahoma: Tweet from @dani_terzer
Emporia State: Game Story Photo Gallery from Emporia State Athletics
Fort Hays:
Lincoln: Tweet from @LUMO_FB
Missouri Southern: Tweet from @MOSOFootball
Missouri Western: Game Story from Missouri Western Athletics-Photos from Arianne Boma
Nebraska-Kearney: Game Story from Nebraska-Kearney Athletics-Photos from Todd Gouttula
Northeastern State: Tweet from @RiverHawkSports
Northwest Missouri: Tweet from @NWBearcat_FB
Pittsburg State: Tweet from @PittStGorillas
Washburn: Game Story from Washburn Athletics-Photos from Bob Skeebo
Editor's Note: Northwest Missouri v. Central Missouri score prediction was changed to reflect the proper opponent for Northwest Missouri.