2021 MIAA Week One Column
August 30th, 2021 12:00pm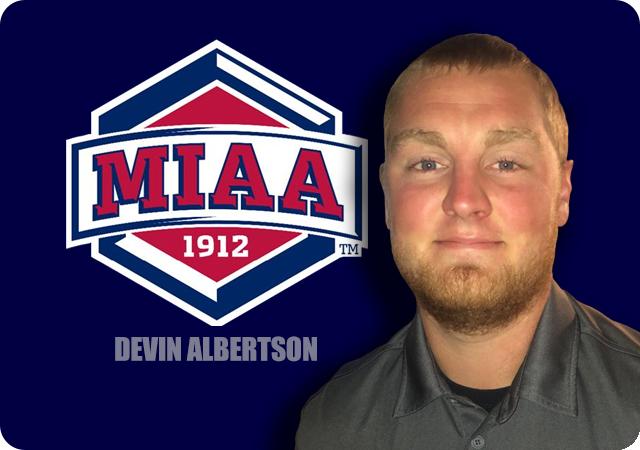 It has been a long time, but Division II and MIAA football are finally back.
Now what will this season bring? Will games be postponed/canceled due to COVID19? Probably a few, but I hope we can get a full season in. Who is ready to contribute after not playing at all in 2020? Can teams gel early in the season? Will there be more injuries than usual?
People smarter than me can try to answer those questions, I am going to try to focus on the teams on the field and appreciate every game we do get to have.
Here are my week one power rankings. This was difficult to construct because we have not seen these teams play in a real game in two years.
MIAA Week One Power Rankings
Northwest Missouri State

Fort Hays State

Central Missouri

Nebraska Kearney

Missouri Western

Washburn

Pittsburg State

Central Oklahoma

Emporia State

Missouri Southern

Lincoln

Northeastern State
I played the hits with Northwest Missouri State, Fort Hays State and Central Missouri at the top of the conference.

Braden Wright and Chance Fuller paired with two good defenses put Northwest Missouri State and Fort Hays State at the top of the MIAA.

A seasoned defense and Kyle Bradley give me faith in Central Missouri to be in the top three of the MIAA.

The middle of the conference could go in multiple directions.

Nebraska Kearney brings in the strongest rushing attack in the MIAA.

Missouri Western is one of the more talented teams in the conference, it depends on how well Anthony Vespo plays.

The father-son duo of Craig and Mitch Schurig gives me hope for Washburn, I might have them too low at 6.

Pittsburg State had an offensive identity issue in 2019, new coach Brian Wright will look to rectify that this year with Mak Sexton at quarterback.

Emporia State struggled offensively in 2019 and that put them towards the bottom of the MIAA.

Missouri Southern is in another year of transition at coach with Atiba Bradley, I do not have much faith in them right now.

Finally, in deciding between Lincoln and Northeastern State for 11, I went with the one proven commodity between the two schools, Lincoln running back Hosea Franklin.
Game of the Week: #4 Northwest Missouri State at Fort Hays State
All-time series: Northwest Missouri State leads 20-14-1
2019: Northwest Missouri State won 36-33 (Double Overtime)
My top two teams in the MIAA are facing off in the season opener. What a way to start the 2021 season. Fort Hays State struggled to run the ball in 2019, but coach Chris Brown will have the Fort Hays State defense flying around the field making plays and being physical. Chance Fuller is the best returning quarterback in the MIAA and will give the Tigers a big advantage in every game they are in. Northwest Missouri State will have the best front seven and defense in the MIAA and possibly the country. Braden Wright could be the best dual threat quarterback in the MIAA and he has a chance to be a special player in 2021. Pair Wright with Imoni Donadelle, Alec Tatum and Indianapolis transfer running back Al McKeller and I like the ceiling of the Northwest offense.
Despite the game being in Hays, give me Northwest Missouri State in this one.
Northwest Missouri State 31 Fort Hays State 20
Pittsburg State at #11 Central Missouri
All-time series: Pittsburg State leads 43-12-2
2019: Central Missouri won 36-28
Central Missouri has to replace three offensive studs in quarterback Brook Bolles, tight end Zach Davidson and wide receiver Shae Watt. Coach Jim Svoboda is one of the best offensive minds in the country and will get Kyle Bradley up to speed quickly. I love Central Missouri's one-two combo in the backfield in Devante Turner and Koby Wilkerson. Codie Bell highlights a seasoned group on defense. The Mules will be better defensively in 2021 but I do not see the offense reaching the same heights that it did in 2019. Pittsburg State is under new leadership with Brian Wright. I am not sure what to expect from the Pittsburg State offense this year, but Mak Sexton was their "passing game" quarterback in 2019 and is back under center this year.
I will take the experienced coach and roster in the season opener.
Central Missouri 30 Pittsburg State 23

Missouri Western at Central Oklahoma
All-time series: Missouri Western leads 7-3
2019: Missouri Western won 50-43
Missouri Western had an interesting 2019 season. They nearly upset Northwest Missouri State and Central Missouri, beat Fort Hays State and Pittsburg State but were blown out by Nebraska Kearney. I believe Missouri Western has the athletes to play with the top teams in the MIAA, but can quarterback Anthony Vespo elevate them to the next level? This game is a big test before playing against Fort Hays State next week. Central Oklahoma had so many injuries at quarterback in 2019. Keats Calhoon is back at quarterback. Calhoon played well in 2018 and 2019 but each season was cut short due to season ending injuries. If the big lefty can stay healthy in 2021, Central Oklahoma could be a team to watch this year.
However, I will take the better roster to take this one in a high scoring affair.
Missouri Western 42 Central Oklahoma 40
Missouri Southern at Nebraska Kearney
All-time series: Tied at 3-3
2019: Nebraska Kearney won 39-27
Missouri Southern was improved offensively in 2019 but could not stop a nosebleed on defense. Quarterback Jacob Park is gone and so is my confidence in their offense. Now will Missouri Southern's defense improve after two years off? I have my doubts, especially when the program has another coaching change in Atiba Bradley. Nebraska Kearney is an interesting case study this year. They made a big statement in 2019 when they upset Northwest Missouri State. TJ Davis is back at quarterback along with Dayton Sealey at running back. Jacey Nutter and Tell Spies will headline the Nebraska Kearney defense. I expect the Nebraska Kearney run defense to be stout this year, the secondary in the question mark.
I believe Nebraska Kearney will roll to a victory at home.
Nebraska Kearney 38 Missouri Southern 10
Washburn at Lincoln
All-time series: Washburn leads 7-0
2019: Washburn won 49-27
As I said early, I like the father-son duo in Topeka with the Schurigs. The defense in 2019 put a lot of pressure on the Washburn offense to score 40+ just to have a shot of winning. If the defense can improve this year, Washburn has the tools to upset the apple cart in the MIAA. On the other hand, Lincoln did challenge Washburn in 2019 in Topeka. Hosea Franklin carved Washburn up for 251 yards (12.6 yards per carry) and two touchdowns.
Unfortunately for Lincoln, Franklin does not have enough help and Mitch Schurig will be too much for the Lincoln defense.
Washburn 45 Lincoln 20
Emporia State at Northeastern State
All-time series: Emporia State leads 9-5
2019: Emporia State won 51-14
Dalton Cowan is back under center for Emporia State. They look to build off winning their last two contests in 2019. No better way to keep building than to play a team that went winless in 2019 like Northeastern State. Northeastern State were outscored by nearly 53 points per game in 2019. While they might be improved in 2021, not enough to win this game.
Emporia State 45 Northeastern State 13