2021 MIAA Week Two Column
September 6th, 2021 12:00pm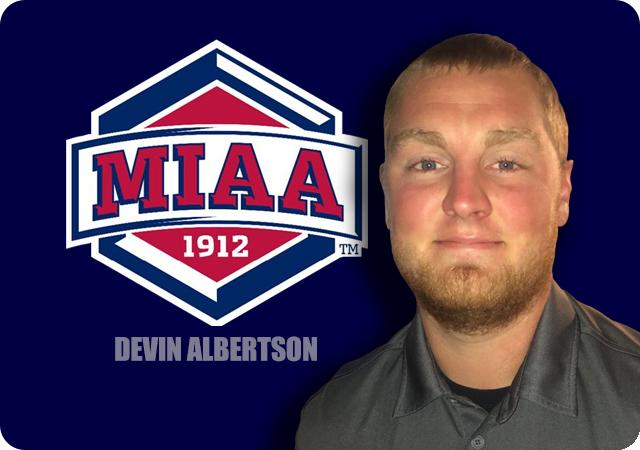 What a first week of action in the MIAA. A defensive slugfest in Hays. Upsets in Warrensburg and Edmond. Blowouts in Jefferson City, Kearney and Tahlequah.
I went 4-2 in my week one picks, with Pittsburg State and Central Oklahoma being the only games I got wrong.
Week 1 Reactions
Northwest Missouri State's defense is as good as advertised. They held Fort Hays State to seven points while recording two interceptions and a safety. Fort Hays State needs to improve their running game going forward as they only ran for 48 yards at 2.5 yards per attempt. There is just too much pressure on Chance Fuller to carry the offense with his arm. I had hope that Northwest Missouri State had fixed their passing offense with a new offensive coordinator and Braden Wright being his third year as a starter. That was not the case. Wright was 13/23 for 96 yards and one touchdown. That will not be good enough if Northwest Missouri wants to win the MIAA and contend for a national title. Al McKeller is an absolute stud though, so that is a blast.
Pittsburg State is back! Mak Sexton threw for 247 yards and four touchdowns, earning MIAA Offensive Player of the Week. Tucker Horak ran for 126 yards at 7.4 yards per carry. It was quite impressive for Pittsburg State to go into Warrensburg and handle Central Missouri the way they did. Central Missouri was out of sync offensively (two turnovers and 3/15 on third downs).
Missouri Western attempted a furious comeback that fell short at Central Oklahoma. Central Oklahoma dominated the first half 24-7. TCU transfer quarterback Stephon Brown got the start for Central Oklahoma and it paid off. Brown not only threw for 189 yards and one touchdown, he also ran for 126 yards and one touchdown. However, Central Oklahoma's offense went stale in the second half, five punts and a missed field goal. Missouri Western had the ball three times in the fourth quarter after cutting the lead to four. Missouri Western ran 12 plays for -21 yards to end the game. A nice resume building win for Central Oklahoma.
Nebraska Kearney, Washburn and Emporia State all took care of business and beat up on the three worst teams in the MIAA, no surprises there. Lincoln might be even worse than I thought or Washburn is much better than expected.
MIAA Week Two Power Rankings
Northwest Missouri State 1-0 --

Fort Hays State 0-1 --

Pittsburg State 1-0 +4

Nebraska Kearney 1-0 --

Central Missouri 0-1 -2

Washburn 1-0 --

Central Oklahoma 1-0 +1

Missouri Western 0-1 -3

Emporia State 1-0 --

Missouri Southern 0-1 --

Lincoln 0-1 --

Northeastern State 0-1 --

Northwest Missouri snuck past Fort Hays State in week one. I still think they are the best two teams in the MIAA, especially on defense.

Pittsburg State jumped to three after dominating Central Missouri on the road. They will have another big test at home against Nebraska Kearney.

I kept Central Missouri ahead of Washburn for now, but they travel to Topeka this Saturday. A loss could knock Central Missouri out of the playoffs after two weeks. Washburn will look to build on their 76-12 win over Lincoln.

Central Oklahoma jumped Missouri Western after beating them head-to-head, kinda self explanatory.

Missouri Western dropping three spots was more about other teams impressing me than Missouri Western losing by four.

Emporia State did not show enough to rise in the power rankings but proved they belong over the bottom three teams.
Game of the Week: Nebraska Kearney (1-0) at Pittsburg State (1-0)
Saturday 7pm
All-time: Pittsburg State leads 14-8
2019: Pittsburg State 37-14
I had a few questions about Pittsburg state going into the year because of the new coach and a lack of identity in 2019. But they answered those questions in Warrensburg last Thursday night. Mak Sexton played a fabulous game and Pittsburg State's defense played excellent. Nebraska Kearney brings a completely different style on offense for the Pittsburg State defense. TJ Davis is a dynamic dual threat quarterback that will stress the Pittsburg State defense.
In the end, I am going to roll with Pittsburg State at home.
Pittsburg State 27 Nebraska Kearney 24
Fort Hays State (0-1) at Missouri Western (0-1)
Thursday 7pm
All-time: Missouri Western leads 16-12-1
2019: Missouri Western 28-17
This game has huge postseason implications. Getting into the playoffs with two losses is always a gamble. Starting 0-2 is almost a playoff death wish. Fort Hays State has at least already played Northwest Missouri State, but Missouri Western losing to Central Oklahoma hurts their resume so much. Chance Fuller and the Fort Hays State offense will be fine and the defense is legit. Anthony Vespo still needs to prove more before I can trust Missouri Western to beat one of the best teams in the MIAA.
Give me Fort Hays State to bounce back and get the win this week.
Fort Hays State 30 Missouri Western 24

Central Missouri (0-1) at Washburn (1-0)
Thursday, 6pm
All-time: Central Missouri leads 28-19-2
2019: Central Missouri 55-27
Two teams who had two completely different outcomes in week one. Central Missouri got worked by Pittsburg State at home while Washburn routed Lincoln 76-12 on the road. Kyle Bradley will look to bounce back after a shaky week one performance, though I expect Central Missouri to run the ball more effectively this week and take some pressure off of Bradley. Central Missouri's experienced defense looked a lot like the average defense we saw in 2019. Mitch Schurig was extremely efficient against Lincoln (16/22 for 269 yards, two touchdowns and one interception). Schurig is probably the most dependable quarterback in the MIAA right now.
I am going to ride with the Schurig and take Washburn in this one.
Washburn 38 Central Missouri 30
Central Oklahoma (1-0) at Emporia State (1-0)
Saturday 7pm
All-time: Central Oklahoma leads 11-9-1
2019: Emporia State 34-14
This is Emporia State's first true test of the season, while Central Oklahoma was able to upset Missouri Western last week. I thought Central Oklahoma would go with Keats Calhoon at quarterback but they went with the TCU transfer in Stephon Brown. Calhoon is a better pure passer but Brown brings another element to the offense with his legs. The running game outside of Brown was nonexistent for Central Oklahoma against Missouri Western. Emporia State was able to do whatever they wanted against Northwestern State, Braden Gleason threw for 322 yards and three touchdowns. Will Emporia State be able to handle the step up in competition? Which Central Oklahoma offense will show up, the one that scored 24 points in the first half or the one that got shutout in the second half?
I think Central Oklahoma is just the better team at this point.
Central Oklahoma 34 Emporia State 24
Northeastern State (0-1) at Missouri Southern (0-1)
Saturday 2pm
All-time: Missouri Southern leads 6-2
2019: Missouri Southern 86-7
This is a game that both of these teams circle in the offseason as a winnable game. In 2019, Missouri Southern destroyed Northeastern State 86-7. I am going to go out on a limb and say the score will be closer this time around. Northeastern State is on a 25 game losing streak. Their last win was October 28, 2017 vs Missouri Southern in double overtime, 32-29. Missouri Southern is also on a four game losing streak with their last win coming against Northeastern State. Two un-good teams on a Saturday afternoon, should be a lot of fun.
I think the losing streak continues for Northeastern State.
Missouri Southern 34 Northeastern State 17
Lincoln (0-1) at Northwest Missouri State (1-0)
Canceled-COVID
This game was canceled due to COVID issues in the Lincoln football program. Northwest Missouri State chose not to look for a replacement game. Too bad, the Northwest Missouri State offense needs more reps to work out their issues. Also, I wanted to see a legit chance of #CatsBy90 being a reality. Screw you COVID.