2021 MIAA Week Five
September 29th, 2021 11:00pm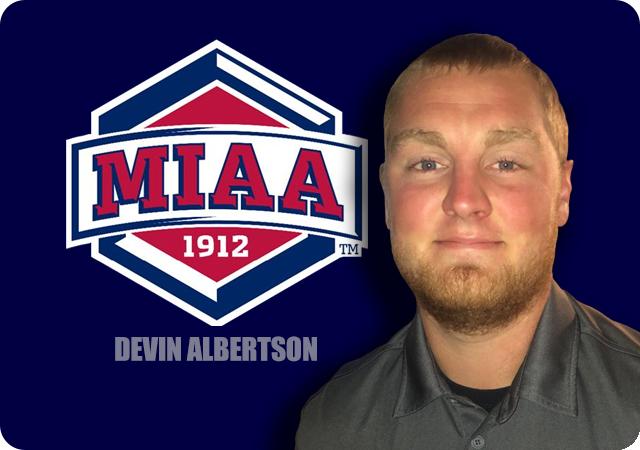 Week Four was a lot of fun and Week Five is rivalry week in the MIAA.
Washburn 47 Missouri Western 41
Do you like passing, points and more points? Then you would have loved this game. Anthony Vespo set a Missouri Western record with 448 passing yards. Mitch Schurig was named Co-Offensive Player of the Week after throwing for 388 yards and five touchdowns for Washburn. Washburn scored a touchdown on all four drives in the third quarter and that was the difference in this game. Great win for Washburn to keep their postseason hopes alive. Another disappointing ending for a talented Missouri Western squad.
Nebraska Kearney 31 Central Missouri 28
Central Missouri showed signs of life against Nebraska Kearney. Central Missouri scored on three of their first four drives with the only drive not ending in points was because of a missed field goal. Nebraska Kearney scored touchdowns on their first two drives and then the offense went dormant for the rest of the first half. Nebraska Kearney did not take their first lead of the game until 7:58 left in the game. Now Central Missouri retook the lead right away to go back up 28-24. I loved Nebraksa Kearney's response with a 10 play, 70 yards touchdown drive that practically ran out the clock. Gritty wins count the same as blowout wins.
Northwest Missouri 38 Central Oklahoma 0
Northwest Missouri might have the best defense in Division II and they played like it against Central Oklahoma. Northwest Missouri only allowed 32 yards of offense in the first half and 112 yards in the entire game. Mike Hohensee played well again and Alec Tatum was the Co-Offensive Player of the Week after a career day with 11 receptions 205 yards and two touchdowns.
Northeastern State 49 Lincoln 48 OT
This was a fun game. Can you believe this was a 13-7 lead at halftime for Lincoln? Both teams combined for seven touchdowns and 50 points in the third quarter, including 36 points in the last five minutes of the quarter. Northeastern State had a chance to win in regulation but the 25 yard field goal was blocked by Lincoln/s TeAndre Skinner. Lincoln scored first in overtime but missed the extra point attempt. Northeastern State was able to score and make the extra point for the walkoff win. Northeastern State is a .500 team for now so that is fun.
Fort Hays 42 Missouri Southern 21
Fort Hays was up 35-7 at halftime and cruised to a win. Shoutout to Adrian Soto on a tremendous rushing performance for Fort Hays with 17 carries for 198 yards and two touchdowns.
Pittsburg State 30 Emporia State 28
Emporia State is a tough team to put away but Pittsburg State survived to advance to 3-1 on the year. Pittsburg State was up by two scores at three different times of the game.
Last week: 6-0
Season: 16-7
MIAA Week Five Power Rankings
Northwest Missouri State --

Nebraska Kearney --

Washburn --

Pittsburg State --

Missouri Western --

Fort Hays State --

Emporia State --

Central Missouri --

Central Oklahoma --

Northeastern State --

Missouri Southern --

Lincoln --
Week Five Games
Turnpike Tussle: Washburn (3-1) at Emporia State (2-2)
Saturday, 1pm
All-time: Emporia State leads 57-53-6
2019: Washburn won 37-17
Washburn Emporia State
Points Scored 44.0 33.5
Points Allowed 22.8 24.0
Pass Yards 290.8 331.0
Pass Yards Allowed 235.5 226.8
Rush Yards 190.5 124.5
Rush Yards Allowed 127.5 99.5
Total Offense 481.3 455.5
Total Defense 363.0 326.3
Washburn is going to be in for another shootout. Emporia State is a team that is hard to put away on a normal Saturday, let alone when they are facing their biggest rival. As much as I like Braden Gleason and the Emporia State offense, I trust Mitch Schurig as well as the Washburn defense a little more.
Washburn 38 Missouri Western 35
Pittsburg State (3-1) at Missouri Southern (1-3)
Saturday, 2pm
All-time: Pittsburg State leads 42-9-1
2019: Pittsburg State won 65-6
Pittsburg State Missouri Southern
Points Scored 32.5 13.0
Points Allowed 21.3 27.8
Pass Yards 256.8 162.0
Pass Yards Allowed 256.8 166.5
Rush Yards 161.0 126.3
Rush Yards Allowed 138.5 238.0
Total Offense 417.8 288.3
Total Defense 395.3 404.5
Missouri Southern's offense lacks the pop to keep pace with Mak Sexton and the Pittsburg State offense. Pittsburg State's defense does look improved this year and I expect a big game out of that unit against their rival across the state line. Pittsburg State should cruise to 4-1.
Pittsburg State 34 Missouri Southern 17
Lincoln (0-3) at Central Oklahoma (1-3)
Saturday, 2pm
All-time: Central Oklahoma leads 3-0
2019: Central Oklahoma won 63-0
Lincoln Central Oklahoma
Points Scored 20.0 13.8
Points Allowed 65.7 25.8
Pass Yards 266.0 147.5
Pass Yards Allowed 287.3 239.0
Rush Yards 65.7 107.0
Rush Yards Allowed 271.7 149.5
Total Offense 331.7 254.5
Total Defense 559.0 388.5
Despite Central Oklahoma's offensive woes the last two weeks, 10 total points scored. I do not expect a team coached by Nick Bobeck to continue to struggle to score points. As impressive as Lincoln was in last week's loss, it was still against Northeastern State. Central Oklahoma has not scored 30 points yet this year, that changes Saturday. Also, Lincoln has never beaten Central Oklahoma and that streak continues.
Central Oklahoma 31 Lincoln 23
Central Missouri (0-4) at Northeastern State (2-2)
Saturday, 2pm
All-time: Central Missouri leads 7-1
2019: Central Missouri won 70-7
Central Missouri Northeastern State
Points Scored 15.3 22.5
Points Allowed 35.5 37.8
Pass Yards 262.8 177.0
Pass Yards Allowed 246.3 319.5
Rush Yards 111.0 142.0
Rush Yards Allowed 235.0 162.0
Total Offense 373.8 319.0
Total Defense 481.3 481.5
It is not everyday that a winless team goes on the road against a .500 team and is the favorite. However, Central Missouri has lost to the best four teams in the MIAA while Northeastern has beaten Missouri Southern and Lincoln. Logan Twehous jump started the Central Missouri offense last week. I expect that to continue this week and for Central Missouri to put a terrible September behind them.
Central Missouri 41 Northeastern State 13
Game of the Week: #4 Northwest Missouri (3-0) at Missouri Western (2-2)
Saturday, 6pm
All-time: Northwest Missouri leads 28-13
2019: Northwest Missouri won 45-35
Northwest Missouri Missouri Western
Points Scored 33.3 33.0
Points Allowed 4.7 36.0
Pass Yards 225.0 330.3
Pass Yards Allowed 239.0 294.7
Rush Yards 233.0 136.0
Rush Yards Allowed 41.3 148.0
Total Offense 458.0 466.3
Total Defense 280.3 442.7
I expect a sold out crowd at Spratt Stadium under the lights. Black and gold on one side and green on the other. Missouri Western lives on big plays on offense and turnovers on defense. It makes them inconsistent from drive to drive and quarter to quarter. On the other sideline, Northwest Missouri is led by the best scoring defense in Division II and an improving offense. I give Missouri Western a slight advantage on offense but a huge advantage to the Northwest Missouri defense. Northwest Missouri has not allowed any points in the first half or fourth quarter this season. Missouri Western scores all 17 in the third quarter but Northwest Missouri cruises to a win.
Northwest Missouri 34 Missouri Western 17
#15 Nebraska Kearney (4-0) at Fort Hays (2-2)
Saturday, 7pm
All-time: Nebraska Kearney leads 34-31-1
2019: Fort Hays won 37-31
Nebraska Kearney Fort Hays
Points Scored 31.3 38.0
Points Allowed 17.3 18.5
Pass Yards 200.0 317.8
Pass Yards Allowed 218.8 193.5
Rush Yards 272.8 179.0
Rush Yards Allowed 139.5 136.5
Total Offense 472.8 496.8
Total Defense 358.3 330.0
Fort Hays has righted the ship over the last two weeks against inferior opponents but the passing attack still has not found its groove in 2021. On the other side, Nebraska Kearney is looking to keep their perfect season intact. I believe last week was a wake up call for Nebraska Kearney. Styles make fights in the MIAA in 2021 and Nebraska Kearney will bring their A game to Hays on Saturday. TJ Davis runs wild again.
Nebraska Kearney 30 Fort Hays 24