2021 MIAA Playoffs Round Two Preview
November 24th, 2021 7:00am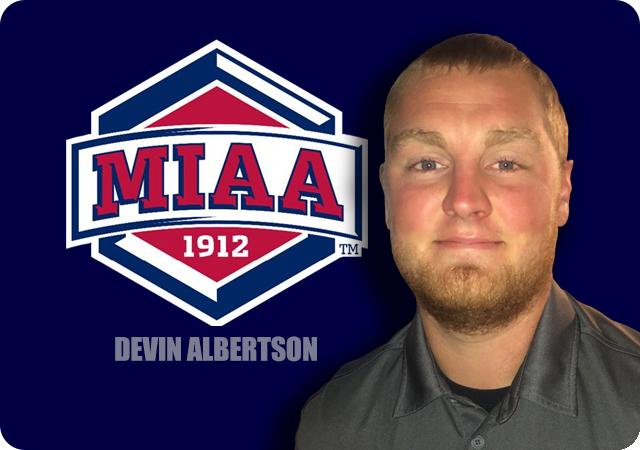 Northwest Missouri State and Nebraska Kearney were able to survive and advance to the second round of the Division II playoffs. Washburn's season ended at the hands of Harding. Let's take a look at what happened in each one of these games.
Round One Recap
#4 Northwest Missouri 50 Central Washington 21
Northwest Missouri State dominated this game. The Bearcats were getting six yards a play all day long. Al McKeller ran wild for 130 yards and two scores. Braden Wright came in for the injured Mike Hohensee and played great: 11 of 15 for 178 yards and three touchdowns passing to go along with a rushing touchdown. The 21 points scored by Central Washington was not reflected of the outstanding performance by the Northwest Missouri defense. The first touchdown was set up by a fumble that gave the ball to Central Washington at the Bearcat 13 yard line. The last two touchdowns came in the fourth quarter off a kickoff return for a touchdown and a score against the second team defense. The starting defense allowed nine yards rushing on 18 attempts. Dominant performance.
#21 Nebraska Kearney 31 #13 Western Colorado 24
Nebraska Kearney had a chance to ice this game when they were up 24-10. Then Western Colorado went on an impressive 12 play-86 yard drive to cut the lead to 24-17. Nebraska Kearney had two chances to go on long drives and bleed out the clock but went three and out both times. The second one led to a 50 yard punt return that set up Western Colorado at the Nebraska Kearney 20 yard line. Two plays later, the game was tied at 24. But what impressed me is what TJ Davis and company did in response. Western Colorado had all the momentum and were on the verge of stealing this game from the Lopers. Nebraska Kearney went on a nine play-74 yard drive capped off by a TJ Davis touchdown run leaving under two minutes left in the game. Western Colorado drove 72 yards down to the Nebraska Kearney three yard line but false started with under 10 seconds left to end the game. Brutal way for Western Colorado to lose, but Nebraska Kearney was the better team. It worries me that the Lopers blew another lead and had to score late to win, but all playoff wins are tough. Congrats to the Lopers for their first playoff win since 2009. Nebraska Kearney is now 2-4 all-time in the Division II playoffs.
#3 Harding 30 #17 Washburn 14
Harding controlled this game from start to finish. I am not a big believer in time of possession and its impact on the scoreboard. However, Harding had the ball for nearly 48 minutes in this ball game and outgained Washburn 411 to -2 on the ground. Washburn never stopped the fullback dive and Harding just gashed them all day. Harding's fullback Cole Chancey had 41 carries for 177 yards and one touchdown. In comparison, Washburn ran 36 total plays on offense. Washburn could not sustain drives and it killed them. Harding was just flat out better than Washburn.
Last week: 3-0
Season: 49-19 (72.1%)
Round Two Games
#4 Northwest Missouri (10-1) at #3 Harding (11-1)
Saturday, 1pm
All-time: Northwest Missouri leads 3-0
Last Meeting in 2019: Northwest Missouri won 7-6
| | | |
| --- | --- | --- |
| | Northwest Missouri | Harding |
| Points Scored | 38.6 (13th) | 42.8 (5th) |
| Points Allowed | 10.2 (2nd) | 11.6 (3rd) |
| Pass Yards | 250.6 (41st) | 36.8 (163rd) |
| Pass Yards Allowed | 161.5 (17th) | 186.4 43rd) |
| Rush Yards | 232.5 (11th) | 402.2 (1st) |
| Rush Yards Allowed | 40.4 (1st) | 63.9 (3rd) |
| Total Offense | 483.1 (6th) | 438.9 (25th) |
| Total Defense | 201.8 (2nd) | 250.3 (10th) |
| Turnover Margin | -2 (100th) | +8 (28th) |
Do you like running the football and defense? Then you should love this top five matchup. Harding's triple option offense is the best rushing attack in all of Division II. The Bisons rushing attack is led by fullback Cole Chancey. Chancey has 251 carries for 1,341 yards and 24 touchdowns in 2021, but more importantly Chancey has rushed for 5,024 yards and 66 touchdowns in his four years at Harding. In addition to Chancey, Harding has five more players with over 300 yards rushing: Omar Sinclair-821 yards and five touchdowns
Jhalen Spicer-505 yards and 6 touchdowns
Paden Preston-495 yards and six touchdowns
Blake Delacruz-379 yards and five touchdowns
Taylor Bissell-331 yards and four touchdowns
One thing I noticed after watching the Harding-Washburn playoff game is how physical Harding played. The offensive line was resetting the line of scrimmage on every play and the defensive line was fantastic against the run. The Bisons tackle and play fast. I was impressed by their speed at the linebacker level.
For Northwest Missouri, the big question is if starting quarterback Mike Hohensee is healthy and can he be effective with limited mobility? Hohensee injured his knee (non-contact injury) on a scramble against Central Washington. I expected Hohensee to play with a brace but we saw the Northwest Missouri offense struggle earlier this season when Hohensee's mobility was limited by an ankle injury. If Hohensee cannot go or is ineffective, Braden Wright is available and played well in relief duty last week. Based on what I have seen from Hohensee and Wright, I would consider Hohensee the more accurate passer but Wright has a stronger arm and is faster though Hohensee can run as well. Whether it is Hohensee or Wright, the Bearcats are going to lean heavily on senior transfer running back Al McKeller. Harding's run defense will be the best unit the Bearcats have faced in 2021. This game hinges on the Bearcats ability to run the ball effectively and get the ball to their three playmaking wide receivers in Imoni Donadelle, Kaden Davis and Alec Tatum. I have seen Rich Wright scheme up and nullify a triple option attack enough times to trust the Bearcats defense to hold Harding under 20 points. Especially with Sma Roberts and Zach Howard on the interior defensive line for Northwest Missouri, I dare anyone to name a better duo in Division II. Northwest Missouri has to avoid going three and out on offense. The offense has gone three and out 17 times this year, seven with Hohensee at quarterback, three with Wright and seven with the third stringer Krause. Most of the three and outs came when the game was all but over. The three games the Bearcats offense struggled to score the most had the most three and outs at key parts of the game: Fort Hays (3), Pittsburg State (2) and Washburn (1). Can the Bearcats score 20-30 points in this game? If they can, they will win this ballgame. Also, the kicking game could be the deciding factor in a game like this where points will be at a premium. Northwest Missouri misses one extra point but wins the game.
Northwest Missouri 20 Harding 17
#21 Nebraska Kearney (10-2) at #24 Angelo State (10-2)
Saturday, 1pm
All-time: First ever meeting.
| | | |
| --- | --- | --- |
| | Nebraska Kearney | Angelo State |
| Points Scored | 35.7 (27th) | 38.0 (18th) |
| Points Allowed | 23.5 (60th) | 15.8 (15th) |
| Pass Yards | 204.7 (89th) | 214.0 (75th) |
| Pass Yards Allowed | 235.1 (118th) | 177.4 (32nd) |
| Rush Yards | 265.8 (5th) | 228.5 (13th) |
| Rush Yards Allowed | 150.3 (85th) | 70.2 (4th) |
| Total Offense | 470.4 (10th) | 442.5 (22nd) |
| Total Defense | 385.4 (106th) | 247.7 (7th) |
| Turnover Margin | +4 (52nd) | +16 (6th) |
Angelo State dominated Minnesota Duluth in the first round last week in a 48-14 win. The Rams are a run first team, lead by the three headed attack of Nathaniel Omayebu III-1,071 yards and 10 touchdowns, CJ Odom-639 yards and four touchdowns, and Alfred Grear-570 yards-three touchdowns. The Rams passing attack is guided by junior quarterback Zach Bronkhorst. Bronkhorst got knocked out of the Midwestern State game and missed the Central Washington and Western New Mexico games. His first game back they lost to West Texas A&M 31-15. Since that point, Angelo State's offense has averaged nearly 47 points per game. The Rams defense has also been stellar since the West Texas A&M game, allowing only just over 11 points per game. Angelo State has speed to burn and is my favorite to win Super Region Four at this time. Angelo State has a solid defense, especially against the run. I would say the Rams rush defense is better than Western Colorado's but not as good as Northwest Missouri's run defense. Angelo State ran a three man front against Minnesota Duluth, choosing speed over size on defense. I am curious to see if that works against the Nebraska Kearney run heavy style or if Angelo plays heavier personnel against the Lopers. Either way, in a game with two good to great offenses, the difference is in the defenses. Angelo State has a much better and more reliable defense. The Rams get a couple more stops than Nebraska Kearney and get a hard fought win.
Angelo State 34 Nebraska Kearney 30
BONUS CONTENT:
I went and dove into the 16 teams that are still in the playoffs and looked at their stats. I ranked each team by the major offensive and defensive categories: points, total yards, passing yards, rushing yards, 3rd down conversion percentage, scoring margin and turnover margin.
The Offensive Stats Chart:
The Defensive Stats Chart:
The breakdown for the teams in Super Region Three:
The breakdown for the teams in Super Region Four:
The breakdown for the teams in Super Region One:
The breakdown for the teams in Super Region Two:
My picks for all of the second round playoff games:
Super Region One:
New Haven over Kutztown
Shepherd over Notre Dame
Super Region Two:
Valdosta State over West Georgia
Bowie State over Newberry
Super Region Three:
Ferris State over Grand Valley State
Northwest Missouri over Harding
Super Region Four:
Angelo State over Nebraska Kearney
Bemidji State over Colorado Mines