MIAA Week Three Column
September 15th, 2022 6:00am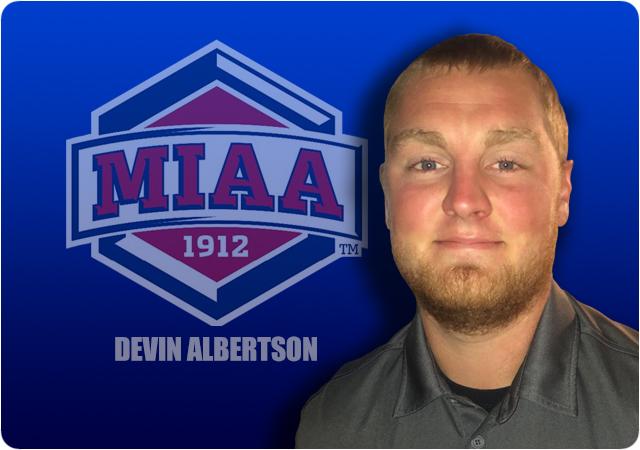 Just when you think you know the MIAA, the conference throws you a couple nasty curveballs to humble you. Now before I get into the actual play on the field, let's take a look at the uniforms for Week Two.
*All references to the photos used are at the bottom of the column.
Week Two Uniform Grades
Central Missouri: B-
While I understand the patriotic reason for the red, white and blue Mule logo on the helmet, it just is not my favorite look for Central Missouri. The uniform is just okay, I am not a huge fan of the big white stripe on the shoulder either. But again, it's not a terrible look.

Central Oklahoma: A
Not only a solid look with a tremendous helmet, but Coach Dorrel's hat is also super strong.

Emporia State: A
All-white with gold numbers and a black helmet? Yes please. While the Hornets fell flat in the game, the threads were amazing.

Fort Hays: A
The all-black look for Fort Hays is fantastic. Chef's kiss.

Lincoln: B+
Absolutely nothing wrong with this look, I would just prefer the all blue to the blue on white.

Missouri Southern: B+
The white on white is good, not a fan of the green stripe down the pants or the green outlined logo on the helmet. I still think the green logo on the yellow helmet would be an upgrade.

Missouri Western: A
A great look for the Griffons. The yellow pants pop and complete the look. The helmet looks great as well.

Nebraska-Kearney: C-
I might be in the minority on this one, but I dislike the black uniforms for Nebraska-Kearney. At least it was black on black instead of black on blue like they have done in the past. Just too much going on for me with the blue helmet, black uniforms and yellow numbers.

Northeastern State: A
A huge improvement over the opening game look. The all-green is slick and the helmet is a great asset.

Northwest Missouri: A+
Ice white is always a winner in my book. The Bearcats wear it well.

Pittsburg State: A+
A classic look for the Gorillas. I am a big fan of the Pittsburg State road threads.

Washburn: A
All-white uniforms are almost always going to get an A grade from me. Well done Washburn

I am going to end the uniform talk with a shout out to the best equipment manager in Division II Football, Tucker Peve. Last week was his final week as the equipment manager at Northwest Missouri. Here is the video Northwest Missouri put out on Tucker leaving: https://twitter.com/NWBearcat_FB/status/1569053995288633345?s=20&t=OJOr91D7PGiSQrZxDN9trw
Week Two Game Recaps
Pittsburg State 35 Nebraska-Kearney 28
Nebraska-Kearney scored on their first three possessions and looked unstoppable on offense, taking early leads of 14-0 and 21-7. But give Pittsburg State credit, they battled back and scored on four straight possessions. That included a 10 play-74 yard drive to end the first half to pull with 21-14. Pittsburg State made a couple adjustments on defense to limit TJ Davis, who was still quite good in this game. On the other side, Chad Dodson Jr was excellent in this game. Dodson was accurate and played with spunk. Not only did Dodson hit Bryce Murphy for the unbelievable game-winning touchdown, but Pittsburg State was 7/11 on third down conversions including 6/8 on 3rd and 7+. Just a great win for Pittsburg State.
Missouri Western 35 Fort Hays 19
Well, I was wrong on Missouri Western this year. This team is flat out good. Two dominant wins to start the season. The Griffons ran for 311 yards and five touchdowns in the win, averaging over six yards per attempt. Fort Hays was without Chance Fuller so it took some steam out of their offense. However, this game was more about Missouri
Western making a statement than Fort Hays.
Washburn 40 Central Missouri 32
Central Missouri was leading 24-12 with six minutes to go in the first half. Then Kellen Simoncic happened. Simoncic threw for four touchdowns over the next five drives. Simoncic threw for 297 yards and six touchdowns in the win, but also threw three interceptions. Central Missouri might be a little better than I expected this year. The Mules have given Pittsburg State and Washburn fits in the first two weeks.
Central Oklahoma 21 Emporia State 13
Emporia State's running game was abysmal in this game. Last week, Central Oklahoma was torched for 341 rushing yards. This week, Emporia State ran for a measly 51 on under two yards per attempt. While Braden Gleason did throw for 417 yards but it was too much to ask him to carry the offense with no run support. Win first win of the Adam Dorrel era in Edmond. Still not a great offensive performance, but the defense looked much better for Central Oklahoma.
Northwest Missouri 58 Lincoln 20
The only reason the score was not even more lopsided is because Northwest Missouri turned the ball over four times. The Bearcats put up 670 total yards of offense at nearly 10 yards per play. Lincoln was held to 24 rushing yards on 33 attempts. This game was never in question, but Northwest Missouri has a couple things to clean up before playing the top teams in the MIAA.
Missouri Southern 30 Northeastern State 13
This game was tied at 13 with 13:35 left in the third quarter. I like what the Missouri Southern defense brings to the table, but there is something missing for the Lions offense. It might be what keeps Missouri Southern from taking the next step as a program.
MIAA Week Three Power Rankings
Northwest Missouri --

Pittsburg State +1

Missouri Western +4

Nebraska-Kearney -2

Washburn -1

Fort Hays --

Central Oklahoma +3

Emporia State -3

Missouri Southern -1

Central Missouri -1

Northeastern State --

Lincoln --

A few shake ups in the power rankings this week. Pittsburg State and Missouri Western jump into the top three and Nebraska-Kearney drops to four. Washburn dropped a spot, but that was more about the Missouri Western rise than the fall of Washburn.

Central Oklahoma jumped up after the win over Emporia State.

I am still not sure what to do with Fort Hays. If Fuller returns soon, I still believe they are a dangerous foe.
MIAA Picks
Last Week: 3-3 (50%)
Season: 8-4 (66.7%)
Week Three Game Previews
All I can say is that I hope my picks are better this week. Last week was ROUGH.

Game of the Week: #21 Nebraska-Kearney (1-1) at #18 Washburn (2-0)
All-time series: Nebraska-Kearney leads 16-13
Last Year: Nebraska-Kearney won 28-24
I like Washuburn's offense led by Kellen Simoncic. However, the Ichabods run defense leaves a lot to be desired. On the other side, TJ Davis and the Nebraska-Kearney rushing attack is lethal. However, the Lopers passing attack has been lacking to say the least and the defense is still a leaky faucet. I expect Nebraska-Kearney to control the ball and be highly efficient with their offensive possessions. But Washburn is able to move the ball in big chunks. Washburn leads late,l but TJ Davis leads the Lopers on a game winning touchdown drive like he did in 2021 to keep the Lopers MIAA conference championship and playoff hopes alive. The Lopers can't afford to fall to 1-2 with games against Missouri Western and Northwest Missouri still left on the schedule.
Nebraska-Kearney 31 Washburn 30
Missouri Western (2-0) at Emporia State (1-1)
All-time series: Missouri Western leads 27-16
Last Year: Missouri Western won 38-37
I want to take Emporia State in this matchup just to poke fun at my friends in St. Joseph (though I think they like playing the underdog role). But Emporia State has many flaws outside of Braden Gleason while Missouri Western has been a well-oiled machine so far this year. Last year this game was a barnburner down to the last play. I do not expect the same thing to happen this year, but I am weary of this prediction. This would be a game that Missouri Western would drop after a strong start. I did rank Missouri Western in my ballot for the D2Football.com Top 25 Poll this past week.
Missouri Western 34 Emporia State 21
Central Missouri (0-2) at #3 Northwest Missouri (2-0)
All-time series: Northwest Missouri leads 62-35-2
Last Year: Northwest Missouri won 47-7
Central Missouri has improved this year despite their 0-2 record. The Mules played Pittsburg State and Washburn close in the first two weeks. However, is Cedric Case ready to carry the Mules offense when Northwest Missouri takes away his running game? I do not believe he is at this time. Mike Hohensee has been extremely efficient and effective this year at quarterback for Northwest Missouri. Braden Wright has provided a nice change of pace for the offense in ground attack. This should not be the blowout that it was last year, but Northwest Missouri will still cruise to a victory, a late Central Missouri score makes the game look closer than it was.
Northwest Missouri 45 Central Missouri 20
Central Oklahoma (1-1) at Missouri Southern (1-1)
All-time series: Central Oklahoma leads 6-3
Last Year: Missouri Southern won 14-10
I expect points to be at a premium in this game like it was in 2021. I do not trust either offense in this game. In the end, I think Central Oklahoma gets revenge for last year and leaves Joplin with a win. I may have judged the Bronchos too harshly after the opening game loss at Missouri Western.
Central Oklahoma 20 Missouri Southern 17
Fort Hays (0-2) at Lincoln (0-2)
All-time series: Fort Hays leads 9-2
Last Year: Fort Hays won 72-0
It does not matter if Chance Fuller plays in this game or not, Fort Hays should roll in this game to their first win of 2022. Lincoln does look a little improved, but a gap still remains between Lincoln and some of the other teams in the MIAA.
Fort Hays 45 Lincoln 20
Northeastern State (0-2) at #20 Pittsburg State (2-0)
All-time series: Pittsburg State leads 9-0
Last Year: Pittsburg State won 48-13
I do not expect this to be much of a game. I am looking to see if Pittsburg State will work on their running game in this game. The Gorillas rushing attack is averaging under 100 yards per game, which is unacceptable with as big as their offensive line is. I am a believer in the passing attack led by Chad Dodson Jr and Bryce Murphy.
Pittsburg State 51 Northeastern State 17
Picture Sources
Central Missouri: https://twitter.com/UCMMULES/status/1568106435996688384?s=20&t=OJOr91D7PGiSQrZxDN9trw
Central Oklahoma: https://twitter.com/sarahcphipps/status/1568086106280808448?s=20&t=OJOr91D7PGiSQrZxDN9trw
Emporia State: https://twitter.com/esuhornetsfb/status/1567877273176375299?s=20&t=OJOr91D7PGiSQrZxDN9trw
Fort Hays: https://twitter.com/FHSUFootball/status/1568075415180263424?s=20&t=OJOr91D7PGiSQrZxDN9trw
Lincoln: https://twitter.com/LUMO_FB/status/1569349242723893252?s=20&t=OJOr91D7PGiSQrZxDN9trw
Missouri Southern: https://twitter.com/MOSOFootball/status/1569009001827864577?s=20&t=OJOr91D7PGiSQrZxDN9trw
Missouri Western: https://twitter.com/TommyKFEQ/status/1568110925286105088?s=20&t=OJOr91D7PGiSQrZxDN9trw
Nebraska-Kearney: https://twitter.com/UNK_Football/status/1567830800539992065?s=20&t=OJOr91D7PGiSQrZxDN9trw
Northeastern State: https://twitter.com/RiverHawkSports/status/1568760353571635200?s=20&t=OJOr91D7PGiSQrZxDN9trw
Northwest Missouri: https://twitter.com/NWBearcat_FB/status/1568052679380799491?s=20&t=OJOr91D7PGiSQrZxDN9trw
Pittsburg State: https://twitter.com/PSUfbequipment/status/1567642692024164353?s=20&t=OJOr91D7PGiSQrZxDN9trw
Washburn: https://twitter.com/IchabodFTBL/status/1568080788347813888?s=20&t=OJOr91D7PGiSQrZxDN9trw