Week Nine National Roundup
October 29th, 2022 11:30pm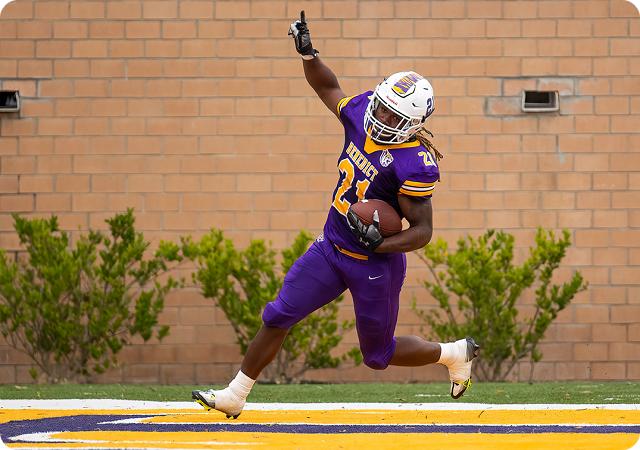 What. A. Day. Week Nine of the D2 season delivered about as much drama as you could hope for. Super Region 1 was especially wild with two undefeated teams losing for the first time and a significant power shift in the Northeast 10. Championship pictures are starting to look a little clearer in Super Region 2, nothing is resolved yet in Super Region 4 (especially in the NSIC) and Super Region 3 was surprisingly calm. Lets look at some of the top stories from an incredible weekend of football.
By Chuck Bitner, national columnist
Gannon upsets #12 IUP
Gannon pulled off its first win over a ranked opponent in more than a decade with an upset of #12 IUP. The back and forth affair featured eight lead changes but the Gannon defense secured the victory by forcing turnovers on IUP's final two possessions of the game. Gannon quarterback Kory Curtis was undoubtedly the player of the game, completing 23 of 28 passes for 342 yards and four TDs, while also rushing for a pair of scores. IUP had entered the contest undefeated overall and at the top of PSAC west division standings. The loss drops them to 5-1 in the division and into a three way tie with Gannon and Slippery Rock. We'll get into the tiebreakers for this scenario in the week ten preview column. This result also throws a huge wrench in the regional rankings machine with Gannon now in the picture and IUP falling from an unbeaten status into a cluster of one-loss teams.

Hillsdale upsets #9 Ashland
IUP was not the only team to lose its undefeated status on Saturday. Ashland was humbled in a 36-20 loss at Hillsdale. The Chargers entered the game at .500 having dropped three of the last four but led the entire second half and put up some very solid numbers against one of the top defenses in the nation. The Chargers mounted scoring drives of 79, 75, 68 and 86 yards. The offense was efficient and found ways to extend drives en route to an eight minute advantage in time of possession. The win won't propell Hillsdale into the playoff discussion, but it will have a huge impact on Ashland's prospects. While not officially ranked in order last week, our projections indicated Ashland was likely in the number position last week. With the loss, the Eagles could potentially fall as low as fifth when the rankings are released on Monday.
Chowan takes down #11 Virginia Union
Not enough discussion of undefeated teams losing yet? Good. Because we have one more. Virginia Union saw the perfect season slip away in a devasting 26-21 loss at home to Chowan. The story of the game was Chowan's defense. The Hawks held Jada Byers, the nation's leading rusher, to a season-low 109 yards and no rushing touchdowns. As if that wasn't a big enough accomplishment, the Hawks also produced points with a 45 yard pick-six and a return for touchdown following a blocked field goal. Chowan can now wrap up a divisional title next season in the regular season finale against Elizabeth City State. Virginia Union dropping to 8-1 will impact their standing in the regional rankings but the Panthers should remain in a good position to make the playoffs as long as they beat rival Virginia State this coming Saturday.

#24 Davenport stays undefeated
It's been so easy to doubt Davenport. They've been having a remarkable season, running their record to 7-0 and besting all of the teams in the bottom half of the GLIAC, but...they hadn't played Saginaw Valley State, Grand Valley State or Ferris State. It was easy to assume their perfect season would come crashing down with that three week stretch to close the season. Well, it didn't and it won't. The Panthers took down Saginaw Valley 29-28 on Saturday to earn the program's first ever victory over a ranked opponent. And it was no fluke. They trailed the entire first half, and large parts of the second, but they stayed patient, just like they have all season. They took the lead with 9:51 remaining. After the defense forced a three-and-out , the Panthers' offense embarked on a 12 play drive that used up the remaining 8:03 of the clock. An unbelievable drive to salt the game away and continue Davenport's remarkable season. With a current record of 7-0 against D2, and the SOS boost they are getting in the last three weeks, we should expect to see Davenport in the playoffs. They will be huge underdogs against Ferris and Grand Valley but can probably absorb losses to both and still make the postseason.

Assumption upsets #25 New Haven
Assumption ended New Haven's six game winning streak with a hard-earned 14-13 win at home. It was the second time this year the Greyhounds knocked off a ranked opponent and did it with defense. The total of all points scored in those two victories is 30. With the win, Assumption now jumps to the top of the NE10 standings with a 5-1 league record. The Greyhounds are 6-1 against D2 opponents so expect to seem them in the rankings picture on Monday. New Haven falls to 6-2 overall and will be in a precarious spot for playoffs. This also really hurts Bentley. Although Bentley has a head to head win over Assumption, Assumption has the better record. New Haven then has head to head over Bentley. Keep in mind, the committee does not just asses teams within their conference, they are measured against all the teams. But from a hierarchy point of view just within the NE10, it's Assumption, New Haven then Bentley. Two might make the playoffs. Three will not.

#10 Colorado Mines mounts second half rally to beat Western Colorado
Mines trailed 10-3 at the half and 20-3 in the third. But with playoff hopes slipping away, the Orediggers dug deep. And they delivered. They reeled off 27 unanswered and overcome some uncharacteristic turnovers to beat Western Colorado 30-20. Two weeks remain, but with meetings against New Mexico Highlands and Fort Lewis, I feel pretty confident saying Mines will claim the outright RMAC title and a spot in the playoffs. The big question might be how high will they climb in the final regional rankings? A number two seed is not out of the question.

Henderson State hangs on to beat Southern Nazarene in OT
It took a dramatic OT stop of a two-point conversion play, but Henderson State kept their playoff chances afloat with a 42-41 win at Southern Nazarene. Korien Burrell led the Reddies with 135 yards and five rushing touchdowns. Also noteworthy, Southern Nazarene Quarterback Gage Porter, one of the top rushers in Division II, accounted for six touchdowns (5 rushing, 1 passing).

Wingate beats Lenoir-Rhyne for first time since 2017
Wingate raced out to a 17-0 lead over Lenoir-Rhyne but had to come from behind late to pull out a win. The Bulldogs surrendered 21 unanswered before creating a turnover deep in LR territory that would lead to the game winning score. The Bulldogs' rush defense, one of the best in the nation, held LR to just 12 rushing yards. The D also accumulated four sacks and three turnovers. Wingate has a crucial meeting with Newberry this coming Saturday.

#14 Northwest Missouri State wins at #19 Nebraska-Kearney
It looked bleak for a while, but the Bearcats pulled out a win with a pair of fourth quarter touchdowns. Nebraska-Kearney led by 10 points at the start of the fourth but the Bearcats executed two of their better drives of the day in the final period. The go-ahead points were the culmination of a 90 yard drive. Northwest remains two games back in the MIAA race but are still alive for the post-season.
Winona State stays perfect in NSIC South
Winona State is atop the NSIC South standings for another week following a thoroughly dominant 24-7 win over Augustana. The Warriors posted only 245 yards of offense but rode good defense and a couple of turnovers to the win. Winona leads a group of four NSIC South teams that are all sitting at 7-2 overall. The Warriors should handle Upper Iowa this week but close the season with a surging Minnesota State team.

#15 Benedict goes to 9-0, wins SIAC East
Benedict just keeps rolling. Deondra Duehart led the Tigers with 252 yards on just 13 carries. That's an astounding 19.4 yards per carry. Four of his rushes resulted in touchdowns. The Tigers wrapped up the SIAC east division title on Saturday and will host Tuskegee in the championship on November 12. Expect to see Benedict as the #2 team in Super Region 2 behind Delta State when regional rankings are released Monday.

Limestone earns program's first winning season
For the first time in program history, Limestone will finish a season with a winning record. The Saints beat in-state rival Newberry on Saturday, 42-37. The offense, which has been impressive all year, rolled up 553 total yards with 257 rushing and 296 passing. Tre Stewart, one of the top rushers in the country, finished the day with 161 yards and a touchdown. The take-down of the #16 Wolves is likely the biggest win in program history. At 6-2 against D2, making the championship game or playoffs may be a stretch, but this team has so much to celebrate about their 2022 season. Finishing with two more wins is very achievable.

It's late as I write this and I'm tired, so here are some rapid fire notes...Shepherd wrapped up the PSAC east division titlle with a game to spare. They will play at the west division champ on November 12...Tuskegee won the SIAC West divisoin with a win at Kentucky State. They will play Benedict for the SIAC title in two weeks... Mars Hill and Tusculum both won again. They will play this coming Saturday at Mars Hill. The winner will claim the SAC Mountain division and play in the conference championship game....Valdosta State ended a four game skid with a 58-37 win at North Greenville. The Blazers must win the last two games to finish with a winning record...Delta State and Mississippi College played one of the most entertaining games of the weekend. Delta State came away with their eight straight win and a likely #1 ranking in SR2...Bemidji State won their seventh in a row. The Beavers lead the NSIC North division at 7-2 overall and 4-0 in divisional play...Truman State also extended their win streak to seven. The Bulldogs have two more tough games, facing McKendree and Indianapolis...After starting the year 0-5, Winston-Salem State has now won three in a row. Unfathomably, they still have a shot at winning the CIAA south division if they can beat Fayetteville State on Saturday....Congrats to Seton Hill. The Griffins got their first win of 2022 in fine fashion, beating Edinboro 45-14.

I'd say that's a wrap, but its definitely not all of it. This weekend sure was a memorable one in D2 Football. Be sure to join us Sunday night on Inside D2 Football for more discussion on the top games and our projections for the regional rankings.
Questions, suggestions, comments, complaints? Email me at chu[email protected] and follow me onTwitter @D2Chuck.