Around the Nation - Week Ten Preview
November 3rd, 2022 9:00am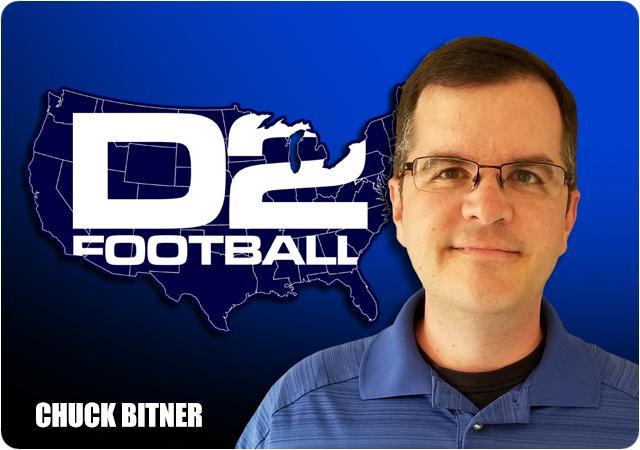 No time for soft intros, we have way too much to discuss. Off we go...
Top 25 Movement
The most eventful Saturday of the season resulted in a lot of movement in the Top 25. Amazingly, even with all the upsets, the top 10 was mostly unchanged from the week before. From 10-25, things got pretty crazy. Six teams dropped from the Top 25, which is as many as I can recall in a single week in a long time. Those six teams were replaced by Minnesota State, Emporia State, Wingate, Bemidji State, West Georgia and Truman State. Given all the movement in the poll, Minnesota State made the rare leap from unranked to Top 15, entering at number 14.
Regional rankings reaction
Regional Rankings - 10/31/2022
As much as we'd like to think the Top 25 is important, the regional rankings produced by the Division II football championship committee are far more significant as they will determine the playoff field. On Monday, we got our first look at the ordered rankings for each super region. Here are some of my reactions for each region.
Note: for the purposes of regional rankings, when I mention the term "ranked opponent" I am referring to a team ranked in the regional top 10, not the national top 25. Wins over ranked opponents in the regional rankings is a statistic that is tracked for rankings criteria. Also, for the puposes of regional rankings, records referenced in this section account for games against Division II opponents only.
Super Region One
Shepherd lands at number one and that wasn't really up for debate as they are the only undefeated team left in the region. Ashland likely would have been first had they remained unbeaten. The loss to Hillsdale only dropped them to second but holding onto that spot is not a given even if they do win the last two. Assumption was the team I was watching for. I had them projected as high as three because of strong SOS, but it was difficult to gauge how the committee would view fewer countable games played. Fourth seems about right for them. My only real complaint with SR1 is Concord. I projected them 7th. Gannon, Bentley and New Haven all appear to have gotten a lot of credit for beating ranked opponents. All three have one victory over a ranked opponent, Concord has none. Based on the primary criteria of winning percentage and strength of schedule, I believe Concord deserves to be higher than 10.
Super Region Two
Super Region Two was the easiest to project, in my opinion and I don't have any objections to the committee's rankings. I do think its closer between Delta State and Benedict than most people might think, but the SOS does favor Delta State. Wingate is third, which is where I expected them to be, but its interesting because they have the worst loss on the board among the teams in contention. They are the only team with a loss to a team that is under .500. I had Virginia Union ahead of West Florida because of the better winning percentage (7-1 v. 6-1) but West Florida has a much higher SOS so I'm okay with the Argos 4th and VUU 5th. I was happy to see Limestone in the list and 9th is where I thought they'd be.
Super Region Three
Super region three has the most undefeated teams (four) and a one-loss team with the highest SOS in the country (Ferris State). Because of this, I said on Inside D2 Football this week that Ouachita fans should prepare to be a little disappointed. They are a 9-0 team but I was expecting them to be as low as 5th. They landed 4th as the committee favored their 9-0 record to Davenport's 7-0, which was the right call. The 8-10 I projected for this region was Emporia State, Henderson State, Harding. The committee went in a very different direction with Harding, Emporia State, Northwest Missouri. Harding has a much higher SOS than Henderson State, but they have the same record and Henderson State beat Harding on the field. So I'm struggling with that and was surprised to see Northwest Missouri State landed the 10th spot ahead Henderson State. Granted, Henderson State has a bad loss (Southern Arkansas, 4-5) but that's not part of the published criteria.
Super Region Four
Angelo State was the clear number one. Not only are the Rams the only unbeaten team, they are the only team with less than two losses. Colorado Mines was easy to slot #2 because of high SOS but with six more two-loss teams behind them, it just gets really busy. The trickiest thing about SR4 is accounting for all the head-to-head results and the wins over ranked opponents. Both will be significant factors. I had Minnesota State at three and frankly, struggled reverse engineering my way into the committee's thinking of placing Winona State ahead of them. They are very close, but I haven't found the data that favors Winona, even when we digging into wins over ranked opponents and Performance Indicator. We could look at results against common opponents. Minnesota State lost to Wayne, Winona State beat Wayne. So, there's that. But Minnesota State beat the Bemidji State team that Winona lost to. Scratching my head over that one, I feel it should be Minnesota State at three and Winona at four. After that, it's just clogged with two loss teams. Texas A&M-Kingsville was a big variable because their SOS is good but with only seven countable games and a 5-2 record, their winning percentage is lower. I think 8th is where they should be. Looking at where things stand today, and what's still ahead, I feel confident saying there will be a three-loss team in the SR4 field. Maybe more than one.
Week 10 Top games
I'm changing up the approach a little bit since our emphasis is on the final push for conference championships and the post season. There are a lot of interesting game this week that will shape both of those races so I'm spreading the net a little wider.
Assumption (6-2) at Saint Anselm (5-3) 12:00
Assumption firmly inserted themselves into the SR1 playoff circle with a huge win at home over New Haven – their second upset of a Top 25 team this year. The win also forced a three-way tie for first place in the Northeast 10. For more on the tie-break scenarios, check out Paul Falewicz's column. As for this game, it's not an easy one for Assumption. Saint Anselm lost to Pace last week but they're having a nice season at 5-3. They have struggled to score points against the better defenses in the NE10 though and that is a bad sign. Assumption has not allowed more than 14 points to a D2 opponent this year. It's homecoming for St. Anselm, so that helps, but I like Assumption by 10.
#15 Virginia Union (8-1) at Virginia State (6-3) 12:00
Virginia Union had their toughest outing of the year last week and it was costly. But they are still in a good position for the post season, as long as they can defeat bitter rival Virginia State. It could turn into a shootout. The Panthers and Trojans are first and second in the CIAA in scoring offense (although there is a big separation between VUU's 45.1ppg and VSU's 31.6.) Both teams like to run the ball and as much as we've talked about VUU and Jada Byers this year, VSU is not far behind them in rushing offense. The difference is on the defensive side of the ball. Virginia Union is one of the better rush defenses in the nation and have allowed only five rush TDs all year. Virginia Union rebounds with a rivalry win.
#6 Shepherd (9-0) at East Stroudsburg (4-5) 1:00
This won't have a material impact on standings or rankings unless East Stroudsburg can pull the upset. That's unlikely, but not out of the question. I think ESU is a little better than their 4-5 record would tell you. The appeal with this game has to do with Shepherd's record setting quarterback Tyson Bagent. Last week, Bagent broke the Division II record for games in a career with more than 200 passing yards and games in a career with more than three passing touchdowns. With three more passing touchdowns, Bagent can break the Division II record for passing touchdowns in a career. All of the records mentioned were previously set by Jimmy Terwilliger, who is currently the head coach at East Stroudsburg. I think Shepherd wins by double digits, but expect a good fight from East Stroudsburg.
#19 Davenport (8-0) at #5 Ferris State (7-1) 1:00
Is this the week the perfect season comes to an end for Davenport? Yes, but we said that last week too. I don't think they have the matchups at the line of scrimmage, but it certainly would help if they can keep the offense on the field like they did last week at Saginaw Valley State. The hottest player in the GLIAC right now is Davenport QB Jason Whittaker. If Davenport can spread out the Ferris defense, make them cover the field and give Whittaker time to work, they're going to have a chance. I don't see the upset happening, but with the way the Panthers have played this year, it would be foolish to say they have no chance. Win or lose, with the SOS bump Davenport is getting in the next two weeks, they have a good chance of making the playoffs.
Mckendree (5-4) at #25 Truman State (7-1) 1:00
Truman State made a deserved appearance in the Top 25 this week following their seventh straight win. The Bulldogs lost by one point to still-undefeated Davenport in the season opener. Since then, the trajectory of their season has been impressive. They've blown out teams they should and they've won close games against good teams. They finish the season with McKendree and Indianapolis. It might look like a mismatch but don't be fooled by McKendree's 5-4 record. They can beat anyone in the GLVC. It should definitely be a fun one for the fans. The Bulldogs have the best defense in the GLVC, but McKendree has the best offense. The McKendree passing offense is a machine, but Truman can hold their on in pass D and they have more INTs (13) than TDs allowed (12). I think it's a one-score difference and Truman was won four one-score games this year.
Tusculum (8-1) at Mars Hill (6-2) 1:00
In the first year of divisional play in the South Atlantic Conference, the league will have both divisions decided by play-in games in week 10. I don't think they could have asked for anything better. The first of those games will take place at Mars Hill where the red-hot and still under-the-radar Tusculum Pioneers will come to town. They're close in a lot of ways. Mars Hill's run defense will be a problem for Tusculum but the Pioneers have come a long way the passing game this season and I think they can overcome a good run defense. A big factor to watch for in this game is Tusculum's ability to create turnovers. The Pioneers are tied for second in the nation in total turnovers gained with 24. That will be significant in this game. I like Tusculum to win the SAC Mountain division and play for the conference championship next week.
Newberry (7-2) at #21 Wingate (8-1) 2:00
Both of these teams have beaten Lenoir-Rhyne in recent weeks to put themselves in position to win the inaugural SAC Piedmont division and earn a place in the conference championship game. Newberry took one on the chin last week, being upset by Limestone and giving up more than 500 yards in the loss. Wingate is not as explosive offensively as Limestone, but their defense is among the best I've seen in the SAC over the past decade. Newberry is a good rushing team and they rely on QB improve with the dynamic Dre Harris. That plays to Wingate's strengths on defense. I think this will be low scoring and I like Wingate to win by less than a touchdown.
#23 Albany State (7-2) at Fort Valley State (7-2) 2:00
This is a rivalry game featuring two of the SIAC's teams from the state of Georgia. Each year, they meet at a neutral site in Columbus, Georgia to play the game known as the Fountain City Classic. This year's edition was looking like a possible play-in/elimination game for the post season. Some of that luster wore off a week ago when Fort Valley was beaten at home by Savannah State. The Wildcats still have a chance at the post season if they win this game and finish 8-2. Albany State has the better path to playoffs as they would complete the season with a record of 8-1 against Division II competition with a win on Saturday. The teams are about equal strength offensively and both are well balanced. Albany State's defense is the difference and they know how to play Fort Valley. In the last four Fountain City Classics, Fort Valley has scored a total of 21 points. All four were Albany State wins. I'll take the Rams to make if five straight in this series.
Wayne State (7-2) at Sioux Falls (7-2) 2:00
Sioux Falls was the clubhouse leader in the NSIC just weeks ago but they've dropped the last two and sit in a gaggle of 7-2 NSIC teams trying to make the post season. Among those other teams is Wayne State. The Wildcats currently sit one spot behind Sioux Falls in the super region four rankings. At fifth and sixth with a lot of competition behind them, it is likely to be an elimination game for the loser. Sioux Falls has a two-game slump to pull out of and this is tough spot to do it against a confident Wayne State team. The Cougars made too many mistakes last week in the loss to Minnesota State and if they repeat that, Nick Bohn, the most efficient passer in the NSIC, will make them pay. There are a lot of factors that point towards a Wayne State win but I am going with Sioux Falls to get off the deck and keep their post season hopes alive.
Northern State (6-3) at #22 Bemidji State (7-2) 2:00
Bemidji State is looking to close the regular season with a nine-game win streak and take their spot in the post season. But Northern State's playoff hopes are not dead yet either. They didn't make the SR4 top 10 this week but with Bemidji and Duluth still ahead, the Wolves have a chance at making a steep climb in a short time. They have their own win streak intact, having notched four in a row since a one point setback at UMary. Northern might just have the defense to slow down Bemidji's NSIC leading offense. The Beavers top the league in scoring, total offense and passing offense. With the NSIC's best run defense, Northern has a really good shot at forcing Bemidji to be one dimensional. In the end, I think Bemidji's experience and offensive talent will win the day but this could come down to the final possession.
#24 West Georgia (6-2) at #7 Delta State (9-0) 3:00
If last week reinforced anything, its that it is really hard to make it through a season undefeated. Delta State has taken care of every challenge but they still have to get through a talented West Georgia team. An upset here would not be shocking but I was really impressed by the patience and resolve Delta State showed last week against a tough Mississippi College team. The Statesmen are a team that has figured out lots of ways to win and I haven't seen that from West Georgia. They have overwhelmed the teams they were supposed to beat but also struggled in some spots where they should not have. I think they'll have something for Delta State but not quite enough to get a win.
#3 Ouachita Baptist (9-0) at Southeastern Oklahoma State (6-3) 3:00
Southeastern was just 2-3 as we approached midseason but a four game winning streak has the Savage Storm standing at 6-3 and playing with confidence. The outcome of this game hinges on defense, and the two units have completely different challenges. Southeastern has to slow down Ouachita's dominant rushing attack and keep TJ Cole, who is tied for the national lead in rushing TDs, out of the end zone. Ouachita must stop the Savage Storm's explosive passing game led by quarterback Daulton Hatley and receiver Marquis Gray. Ouachita got punched hard by East Central last week and were fortunate to come out of that game with a win. That exposed some vulnerabilities but I think it will make the Tigers a better team. I'll take Ouachita on the road, but this game does have the feel of upset potential.
Central Washington (5-3) at #2 Angelo State (9-0) 7:00
Central Washington's win over Texas A&M-Kingsville propelled them into the regional rankings picture. The Wildcats are 10th in the order right now but could make a major jump with an upset win over current SR4 #1 Angelo State. It is very likely that a three-loss team will make the field in SR4 and if so, the team with a win over a ranked Angelo State would probably be it. Central Washington is a very well-rounded team. The thing is, everything they do well, Angelo State does a little better. The Rams have one of the best defenses in the country and should be able to force Central Washington into uncomfortable passing situations. Central's task is to hold up against the power rushing of Nate Omayebu and Kason Phillips. Not an easy thing to do. This would be much tougher task for Angelo State if it was a road game, but at home, I like the Rams by double digits.
Off the Grid Game(s) of the week
Each week I attempt to shine a spotlight on a game that will not have rankings implications but has some intrigue worthy of our attention. This week, we're going into the SIAC for a pair of interesting games.
#12 Benedict (9-0) at Allen (1-6) 2:00
Benedict isn't exactly off the grid this year. They're undefeated and will play for the SIAC championship next week. But this game and rivalry is still an unknown around the nation. Why is it noteworthy? Because the schools are literally across the street from each other in Columbia, South Carolina. If you stand at the intersection of Harden Street and Taylor Street facing east, to your left is Benedict College, to your right is Allen University. Benedict is the obvious choice for the win.
Clark Atlanta (3-6) at Morehouse (0-9) 2:00
Not to be outdone, Morehouse and Clark Atlanta are also next-door neighbors in the Atlanta University Center neighborhood that also includes Spelman College and Morris Brown College. The schools are closely linked and share some resources. Morehouse and Clark Atlanta face each other every year on the final day of the SIAC's regular season. Morehouse is winless this year, but this a throw-out-the-records kind of game. I'll take Morehouse to get their first and only win of the year.
Questions, suggestions, comments, complaints? Email me at [email protected] and follow me on Twitter @D2Chuck.