Around the Nation - Week 11 Preview
November 10th, 2022 8:00am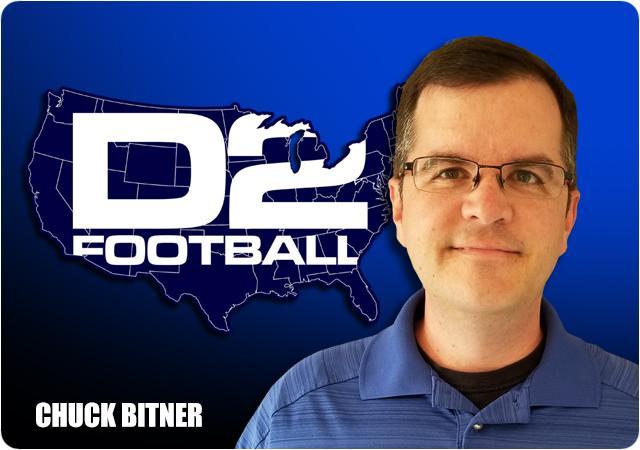 Well, here we are. The final week of the season. It seems to come around quicker every year. It feels like just days ago that I posted my first column and now this will be the final one before we move into the post season.
Before I dive into the top games, I want to acknowledge that this will be the final game day of the season for most Division II teams. Everything below is going to focus on the teams vying for playoff spots but we try really hard to make D2football.com about all of D2. No matter who you are in the world of Division II football, no matter how many games you've won or lost, you have our respect and admiration for the work you put into your program. Give it everything you have one last time for yourself and your teammates. And know that we love you for it.
-----
Playoff Selection show: The Divsion II Championship selection show will air live on the NCAA website at 5:30pm, eastern on Sunday, November 13. Saying this now as if I won't be asked a thousand times between Saturday afternoon and Sunday night...
On Monday of this week we got the final look at the Top 10 in each region before the playoff field is announced this coming Sunday. Here are the full rankings, followed by a few notes and observations on each region.
Super Region One: While only one ranked team lost (Bentley) there were a couple of other notable changes. Assumption moved from number four to number two. I mentioned on Inside D2 Football that I saw justification for exactly that, but I did not think the committee would do it. I was happy to see that they did as it shows they are taking a completely fresh look at these teams each week. Concord moved up to eight and Kutztown pulled off the rare feat of entering the rankings following a loss. I think the drama in this region is mostly resolved and while we will see some shifting, I think it is very probable we will see the same names in the top seven on Sunday.
Super Region Two: SR2 is where all the action was last week. With a handful of losses among the ranked teams, we had a different looking Top 10 this week. Delta State's loss only dropped them one spot, but with as tight as it is behind, they could be vulnerable if they don't beat West Alabama this weekend. Wingate's loss to Newberry only dropped them two spots because they have high SOS, four wins over teams over .500 and two wins against ranked opponents. They're in a good position, but not safe by any means. Outside the top 7, Tuskegee and Newberry could still make the field if they win their conference championship games this weekend. The only teams that I think are truly safe in SR2 are Benedict and Virginia Union.
Super Region Three: Almost nothing changed in super region three. Davenport was the only ranked team to lose, but that loss was to Ferris State so Davenport actually remained in fifth. Interestingly, the committee felt so good about the Ferris State win that they moved the Bulldogs up to number two, ahead of Pittsburg State. Ferris State's SOS might be the highest I've ever seen, so I see the value there, but still surprised by the move. It is a 7-1 record versus a 10-0 record. This feels like the committee rewarding Ferris State for difficult scheduling and hinting to the MIAA that playing all their games within the conference can hurt them in the rankings.
Super Region Four: Angelo State and Colorado Mines held down the top two spots, as expected. The committee shuffled a few teams around, moving Minnesota State to three and Bemidji State to four. This came at the expense of Winona State and Wayne State, who both won their games last week. However, the selection criteria supports both of these moves and frankly, did last week as well. Sioux Falls remains in-play in seventh despite three straight losses, but they are not in a secure position by any means. The Coo should beat Upper Iowa this week, but I would not be surprised to see CSU-Pueblo move ahead of them for the final playoff spot if they beat Black Hills State.
Week 11 Top Games
There are many games that have potential to impact regional rankings so this week, I will have less analysis and more of an overview of the games we need to be paying attention to. To keep it organized, I will run the games by region. I can't hit every game, but these are the ones that may have the most impact.
Note: The rankings listed below are the team's ranking in the super region top 10, not the national top 25. Records shown include Divsion II results only.
Super Region One
PSAC Championship: #1 Shepherd (10-0) at #3 IUP (8-1) 3:00
While both teams should be solidly in the playoff field regardless of the outcome, the result could shake up the order a bit, especially if IUP wins. A victory for the Crimson Hawks may vault them to #1 while Shepherd would fall no further than three, and probably land at two. The bigger variable might where IUP would land if they fall for the second time in three weeks. I think they would still make the top seven but may fall to an unseeded position. The head-to-head loss to Gannon could be an issue if they both finish with two losses. As for this game, I can see it going either way but it's hard to pick against a Shepherd team that can beat you in so many ways and has a proven ability to come from behind to win close games.
#10 Kutztown (7-3) at #5 Slippery Rock (9-1) 1:00
I was surprised to see Kutztown in the rankings this week and while I think their chances are very slim, a win over Slippery Rock would be a major asset in the resume. I don't see it happening though. I've watched Kutztown in person the last two weeks and frankly, they have not looked like a team hungry to go take a playoff spot. Slippery Rock has. I hope we see a more inspired Kutztown team this week since they do still have life in the playoff race, but I think Rock will take care of business.
Shippensburg (4-6) at #7 Gannon (8-2) 12:00
This might be the one game that could knock a team out. Gannon sits at seventh in the rankings and would lose that spot to a two-loss Concord or New Haven if they're upset this week. Shippensburg has had some moments this year, but they are very young, and the 4-6 record is where they are. But I've seen a lot of Shippensburg teams punch above their weight over the years so this is not an easy opponent in this spot. Gannon is the better team and with everything to play for, I think they'll get it done and make their first ever trip to the Division II playoffs.
#8 Concord (8-2) at UNC Pembroke (5-5) 4:00
Concord needs some help to move up a spot and make the field, but priority number one is to beat UNC Pembroke. This is a tougher spot than it may appear on paper. UNCP is 5-5 so this game means something for them. The problem for the Braves is that they have been inconsistent on both sides of the ball. Concord's offense has been putting up massive numbers and UNCP will have a hard time with that.
Super Region Two
CIAA Championship: Chowan (7-3) v. Fayetteville State (8-2) 1:00
Fayetteville State is making their fifth straight appearance in the CIAA Championship game. The bad news is they've lost the previous four. The good news is they've already proven they can beat Chowan. They met back on September 29. FSU won that game 13-10 to start a six-game winning streak that continues into this weekend. Chowan hasn't lost since that day and have reeled off impressive wins over Bowie State, Virginia Union, and Virginia State. In a very crowded SR2, both teams have only remote chances at a playoff bid but this should be a competitive matchup. I'll go with Fayetteville State.
SAC Championship: #7 Mars Hill (7-1) at Newberry (8-2) 1:00
The first ever fall SAC championship game maye be a play-in game for the D2 playoffs. This matchup will be very competitive. I happened to be at the last three Newberry v. Mars Hill matchups in my time covering the SAC and they were all thrillers decided by four points or less. I think we'll get a similar game. Mars Hill is good at maximizing what they do well offensively. They like to run the ball and if they can establish that, it sets up the pass. Last week, the Lions had 263 yards on just 10 pass completions. When the running game works, they can burn a defense with home runs in the passing game. Newberry is similar. They like to run the ball with the physical, downhill approach and once that gets going, they'll open it to start stretching the field. And the Wolves have playmakers at the receiver positions. I think Mars Hill's defense matches up well against Newberry, but the Wolves often play well at home. When they play well, they are hard to beat. It's a toss-up but I'm taking the Wolves to repeat as SAC champions.
SIAC Championship: #9 Tuskegee (8-1) at #1 Benedict (10-0) 2:00
Benedict has been one of the pleasant surprises from around the nation this year. The Tigers were projected to finish second in the SIAC east division but have exceeded expectations with a 10-0 record and a current #1 position in the region. They are the favorites to win this game but do not underestimate Tuskegee. Head coach Reginal Ruffin won four SIAC championship games in nine years at Miles. He knows how to prepare a team for this moment. That said, Benedict is the more complete team and more recently battle tested. Tuskegee's offense has been good against bad teams but not very impressive against weaker opponents. Benedict has one of the top performing defenses in the country. I like Benedict to complete the undefeated season.
Emory & Henry (5-5) at #8 Limestone (7-2) 12:00
Limestone is heading into the final game of the regular season with a legitimate chance of making the playoffs. That has never been said or written before. It has been an historic season for the Saints' program, which is still less than a decade old. They need some help to get into the top 7, but it may not take much. Benedict winning to keep Tuskegee out of the frame and Newberry winning to give Mars Hill a second loss may be all it would take. Remember, Limestone has head-to-head wins over both teams in the SAC championship. If they all finish with two D2 losses, Limestone should be ahead of both, which would give them a good shot at a top seven spot. The biggest concern for the Saints is blocking out the playoff noise and focusing on an Emory & Henry team that has proven it can compete.
West Alabama (5-5) at #2 Delta State (8-1) 3:00
Delta State's loss to West Georgia last week may cost them the outright GSC title and number one seed in the playoffs, but they are still in a good position. That said, they don't have a large margin for error. If West Alabama were to upset them, it may drop them into a mess of two-loss teams and it is not a given they would still make the field. The GSC has a rotation for each team to play one conference opponent twice. This is the second meeting, and the Statesmen did beat West Alabama earlier in the season.
Super Region Three
#1 Grand Valley State (9-0) at #5 Davenport (7-1) 12:00
Grand Valley State is the heavy favorite to complete the undefeated regular season and take the number one seed in SR3. They'll have to earn it against a good Davenport team, but a loss would be surprising. If things go as expected, I'll be curious about where Davenport lands on Sunday. They'll have a resume that may keep them in the top seven but its not a sure thing. It may be very close between Davenport, the winner of Northwest / Emporia and the loser of Truman State / UIndy.
#10 Northwest Missouri State (8-2) at #8 Emporia State (8-2) 2:00
It's simple for these two, but at the same time, not so simple. The loser is out of the playoff picture. We know that. The winner will have a chance but will have to nervously wait until 5pm Sunday to find out if they made it. Two very impressive streaks are on the line here. Northwest Missouri State has not missed the D2 playoffs since 2003 and have not lost to Emporia State since 1994. We've seen some crazy occurrences in the other regions in recent weeks. Will it hit SR3 this week?
#6 Truman State (8-1) at #7 Indianapolis (7-1) 2:00
All the GLVC teams play each other during the season so the league does not have a conference championship game. But unofficially, that is what we have here. Truman State and UIndy are both 5-0 in league play so the winner takes the title and locks up a playoff spot. The loser will still have a chance at making the field but will have to wait to learn their fate. UIndy has done a great job overcoming injuries in recent weeks but I think they'll need every man for this one. Truman has been rolling and I like them to get a tough road win.
#4 Ouachita Baptist (10-0) at Henderson State (8-2) 3:00
The game known as the Battle of the Ravine is one of the best rivalries in Division II athletics. The campuses of these schools sit directly across the street from each other in the town of Arkadelphia, Arkansas. If it wasn't for state route 67 running between them, you would not be able to tell where one campus ends and the other begins. The stadiums are close enough for the teams to dress in their home locker room and walk to the opposing stadium. It is an intense rivalry that captures the entire community. Throw in the fact that you have 10-0 v. 8-2 and its as good as it gets. I think Henderson State has reason to feel a little disrespected by the rankings. They have something to prove and they have the team good enough to do it. There is more pressure on Ouachita to finish the undefeated season so this is a good spot for a mild upset by the Reddies.
Fort Hays (3-7) at #3 Pittsburg State (10-0) 3:00
Pittsburg State is clearly the better team and should win by a couple of scores. But this is worth mentioning as the Gorillas have an undefeated season on the line. Their last undefeated regular season occurred in 2004.
Super Region Four
All the drama in SR4 is in the NSIC. #1 Angelo State from the LSC is in, and probably gets the top seed even if they stumble this weekend. #2 Colorado Mines from the RMAC must win to secure their spot, but few things could be more certain than the Orediggers beating winless Fort Lewis. But then we have a scrum for the remaining five spots, and it is conceivable all five will go to NSIC teams. Let's dig in…
#5 Winona State (8-2) at #3 Minnesota State (8-2) 1:00
Winona State got a raw deal in the regional rankings. They sat at number three last week, won their game at Upper Iowa and fell to number 5 this week. But the injustice was not in the fall, it was that the committee didn't get the initial ranking correct. They had Winona over Minnesota State in the October 31 rankings, which I could not find any justification for. Now you must be a little confused if you're a Warriors fan, and I don't blame you. Whether that was right or wrong at the time can be debated but the good news is, they get to settle it on the field. Winona State has done a fantastic job this year and they have a great chance to extend their season into the playoffs. But I love the trajectory Minnesota State has been on. They have been getting stronger as a team and I think they'll win this and make an argument for climbing as high as number two in the region.
MSU Moorhead (4-6) at #6 Wayne State (8-2) 1:00
This is straightforward for Wayne State. Win the game over 4-6 MSU Moorhead and take a spot in the playoffs. An upset would be a stretch. Moorhead has not beaten a team with a winning record this year.
#8 CSU-Pueblo (7-3) at Black Hills State (6-3) 2:00
After the first month of the season, CSU-Pueblo was 1-3 and considered very unlikely to be a playoff team. Well, here we are in mid-November and they have a really good chance to play their way in. In fact, I like their chances. They need to move up one spot and although Sioux Falls should easily win at Upper Iowa, the Thunderwolves could move ahead of them with a win over a 6-3 Black Hills State. Lots to play for if you're the Thunderwolves and I think they will extend their win streak to seven games and it may be very hard to keep them out of the bracket.
#9 Minnesota-Duluth (7-3) at Northern State (6-4) 2:00
UMD has three losses, but playoffs are still on the table. A couple of things need to go their way, starting with a win at Northern State, which is no gimmie. A stumble from CSU Pueblo is a must-have and they need an upset that is unlikely to happen, like Upper Iowa beating Sioux Falls or Wayne State falling to MSU Moorhead. It's not impossible, but a longshot for the Bulldogs.
#4 Bemidji State (8-2) at Mary (2-8) 3:00
Bemidji State is looking for a ninth straight win and a second straight NSIC North division title. It should come in comfortable fashion against 2-8 Mary. Bemidji should be at home in the first round of the playoffs.
It will be an intense Saturday afternoon watching these teams fight for playoff bids. The playoff selection show will air at 5pm Sunday on the NCAA website. We will have reactions on Inside D2 Football at 8pm.
Questions, suggestions, comments, complaints? Email me at [email protected] and follow on Twitter @D2Chuck.