Around the Nation - First Round Playoff Preview
November 18th, 2022 5:00am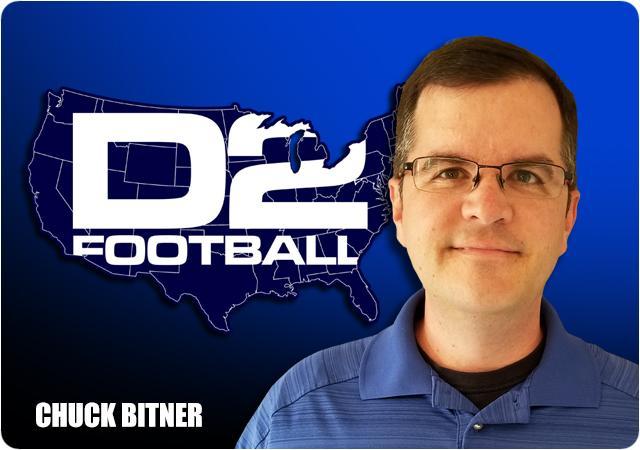 Playoffs. True playoffs. The way a championship tournament is meant to be. We can discuss, debate and argue over who should have gotten some of the final spots in the field and I laid out some of my thoughts earlier this week. But the selection process is done and it is time to settle a championship on the field. Here is the rundown of this week's playoff schedule.
Note: All rankings referrenced below are from the regional rankings that established the playoff participants.
Super Region One
Idle: IUP
Notre Dame (9-2) at #4 Ashland (9-1) 1:00
This will be third meeting between Ashland and Notre Dame in the past 15 months. They have opened the season against each other for the past two years, with Notre Dame winning last year's opener and Ashland winning at home to kick off the 2022 season. Both schools are in the state of Ohio, separated by about 70 miles. Despite that, they compete in different conferences. Ashland in the Great Midwest, Notre Dame in the Mountain East. The season opener went in favor of Ashland. The Eagles were the better team that day and probably a little further ahead of where NDC was. But Notre Dame has gotten stronger as the season has gone on. Over the first six games of the season, the Falcons were allowing 22 points per game. Over the last five, that number has come down to 6.8. Ashland's offense has struggled a bit in the second half of the season so that makes this a good matchup for the NDC defense. The Ashland defense is also very good so I won't be surprised if this is low scoring. Chris Brimm and Idris Lawrence had the NDC offense rolling and they should be the difference. One noteworthy thing, WR Logan Bolin is just seven catches short of setting a new career receptions record at Ashland. My pick: Notre Dame.
New Haven (8-2) at #2 Shepherd (10-1) 12:00
Shepherd and New Haven have not met on the football field since a home-and-home series in 1992 and 1993. This will be the first post-season meeting between the schools. New Haven needed some help to get into the post season and even with some upsets that worked in their favor, it was still really close. It kinda feels like the Chargers are playing with house money and that can make a talented team very dangerous. On top of that, they're catching Shepherd on the rebound from a tough loss that may have shown the roadmap for how to beat them. New Haven has a tough, physical defense and if they can get after Tyson Bagent the way IUP did, they will have a chance. I do believe they can keep this close and give themselves a chance in the fourth quarter, but they've struggled offensively against good defenses like Bowie State, Bentley and Assumption. Ram Stadium is a tough place to win. My pick: Shepherd
Slippery Rock (9-2) at #3 Assumption (8-2) 12:00
Assumption and Slippery Rock have met only once before, but it was in very similar circumstances. The Rock hosted the Greyhounds in the second round of the 2015 playoffs. Rock had a sizable lead for most of that game, but Assumption nearly pulled off an upset with 20 unanswered points in the fourth quarter. The 41-39 final is unlikely to be repeated this weekend. Assumption has one of the best defenses in the region. Prior to last week's 65-21 win over Post, the Greyhounds had not allowed more than 14 points to a Division II opponent all season. Included in those results is shutout of the same Kutztown team that beat Slippery Rock last Saturday. That said, The Rock has more offensive firepower than any team Assumption has played. The Rock sat several players who were nursing injuries last week, including quarterback Noah Grover, leading rusher Chris D'Or and leading receiver Kyle Sheets. It has been said that all three are expected to play this week. Their absences may have been tactical decisions as SRU was expected to be in the playoff field regardless of last week's results. The Rock offense will have its hands full with a defense that has 26 sacks and 16 interceptions for the season, but with the Rock offense at full strength, they'll put up some points. As good as Assumption's defense is, Slippery Rock may be better. They allow fewer points per game and match up well with an Assumption offense that is productive, but not explosive. My Pick: Slippery Rock.
Super Region Two
Idle: Benedict
Wingate (9-2) at #4 Virginia Union (9-1) 1:00
Wingate is in the playoffs for the fourth time in five years and will travel to Virginia Union, who is hosting a playoff game for the first time since 1990. Wingate has a long history of competing against CIAA teams but the Bulldogs and Panthers have met only once prior to this season, in 2001. This will be a matchup of strengths that will be fun to watch. Virginia Union ranks 9th in the country in rushing offense, ignited by Jada Byers who leads the nation in total rushing yards (1809) and yards per game (180). But the Panthers will have their hands full with the Wingate defense thank ranks 4th nationally against the run. The Bulldogs also lead nation in tackles for loss and are second in sacks. They've been a shut-down rush D all year. Jada Byers will get his yards but I like the Bulldogs' chances for forcing Virginia Union to make plays throwing the ball. That may not be their preference, but I saw the Panthers at Bowie State earlier this year and was very impressed with the passing prowess of Jahkari Grant and the ability of John Jiles to make contested catches. I am confident the Wingate defense can win this game but the offense will have to step up against a Virginia Union defense that is better than some might realize. I believe this may be the most competitive matchup of the weekend and it could easily go either way. My pick: Wingate
Fayetteville State (9-2) at #2 Delta State (10-1) 2:00
No one outside the Fayetteville State locker room will think that they can win this game. The non-believers are probably right but bigger upsets have happened and coming off a breakthrough in the CIAA championship game, they'll have confidence on their side. To win, they will need a herculean effort on the defensive side of the ball. Only one defense has been able to frustrate Delta State this year and that was West Alabama. The played twice during the regular season and while both were wins for Statesmen, they were the two lowest point outputs of the year. The first time they met, Delta State rushed for 297 yards but in the second meeting, that number came down to 86. Fayetteville State needs to study that film and figure out how West Alabama did that. I would expect Delta State to attack in the run game because Fayetteville State does one of the top pass defenses in the country. The Broncos are third nationally in yards allowed per game and fourth in pass defense efficiency. If Delta State is sluggish, Fayetteville State can compete. But if the Statesmen are firing on all cylinders I just can't see an upset happening. My pick: Delta State.
Limestone (8-3) at #3 West Florida (9-1) 2:00
West Florida is in the playoffs for the fourth time in five season. The Argonauts' program has orchestrated one of the fastest ascents in college sports history, reaching the national finals twice in the program's first four years of existence, and winning the championship in 2019. Limestone launched their program around the same time as West Florida and lets just say they didn't have the same meteoric rise. The Saints were winless in 2021, made a late-cycle coaching change in February and gave outsiders no reason to have expectations of success in 2022. A few months later, here they are in the playoffs. This fall marked the first winning season in program history and now the first playoff appearance. This is a tough matchup as West Florida has dudes all over the field on offense, from QB PeeWee Jarret to WR David Durden to elusive RB Shomari Mason. They will be a lot to handle for a Limestone defense that has given up 29 points per game over the last four weeks. BUT…The Saints did win all four of those games. Limestone's offense is dynamic and balanced. Tre Stewart is the focal point, with 141 rushing yards per game, but Dustin Noller has been reliable at QB and they have six receivers with more than 20 catches. They can give you a lot different looks and that makes them dangerous. There have to be some upsets somewhere in this first round. Why not go with the team that's been upsetting the whole season. My pick: Limestone.
Super Region Three
Idle: Grand Valley State
Davenport (8-2) at #2 Ferris State (9-1) 1:00
Live Video | Live Stats
I really want to find a way that Davenport can win this game but its not coming easily. The reality is these teams played just two weeks ago while it was a one-score game as late as the third quarter, the outcome was never really in doubt. The Bulldogs gave up only 183 total yards. If Davenport is going to have a chance, they need a huge passing day from Jason Whittaker, who has been one of the primary reasons for the Panthers' success. But not many teams have had success passing against the Ferris State defense. It has been a remarkable season for Davenport but its hard to foresee it continuing beyond this week. My pick: Ferris State.
Northwest Missouri State (9-2) at #4 Ouachita Baptist (11-0) 2:00
As last week wound down, it looked very possible that Northwest Missouri State's streak of 17 straight playoff appearances would be broken. But a win over regionally ranked Emporia State gave the Bearcats a critical notch on the season-long resume that led to them earning an 18th straight trip to the post season. Ouachita is in the playoffs for the fifth time in program history and third in the last four seasons. Ouachita has the lofty national ranking and undefeated record that we normally associate with Northwest. But I am not totally convinved that makes them the favorite. The Tigers have a top five rushing offense, averaging 305 yards per game on the ground but Northwest has the nation's second best rush defense, allowing just 55 yards per game. The Tigers should be able to have more success than most teams do against Northwest but it will be a huge challenge. The Tigers' defense will need to keep this low scoring and give their offense time to find what will work for them. That's doable because the Northwest offense is not an elite unit and Ouachita can play some defense. That said, I don't think this is favorable matchup for Ouachita. It feels similar to Northwest v. Nebraska-Kearney and the Bearcats have that figured out. My pick: Northwest Missouri State
Indianapolis (9-1) at #3 Pittsburg State (11-0) 2:00
Live Video | Live Stats
Pitt State and UIndy will meet for the first time ever on Saturday. Both teams enter the post season as conference champions. The Gorillas won the MIAA with a perfect 11-0 record while the Greyhounds won a defacto championship bout with Truman State last week to finish 9-1 overall and 6-0 in the GLVC. I like the balance of Pitt State's offense and I really like how many players are involved at the skill positions. QB Chad Dodson, Jr. is underrated from a national perspective and they have three receivers averaging about 20 yards per catch. But I also feel like there is something in this UIndy team that could make an upset possible. A lot of players have stepped up since they lost their starting QB and standout rusher Toriano Clinton. JaQuan Buchanan has given them almost everything you'd expect from Clinton and Alonzo Derrick has added a lot to the offense with his 46 receptions. The other thing I like about UIndy is that they are +13 in turnover margin, which is third best in the country. Pitt is +1. I know Pitt is probably the better team but there have to be some upsets in the post season and this could be one of them. My pick: Indianapolis
Super Region Four
Idle: #1 Angelo State
Winona State (8-3) at #4 Bemidji State (9-2) 2:00
Bemidji State made their first ever D2 playoff appearance last year. They waited less than 12 months for a return trip. Winona State is in the playoffs for the seventh time and first since 2017. Bemidji State has been rolling with nine straight wins since starting the season 0-2. The winning streak started with a 34-24 win over Winona State in week three. Winona State has done a fantastic job reaching the post season under first year head coach Brian Bergstrom. But I am not completely sure we know exactly where they are at. They have quality wins over Wayne State, Sioux Falls and Augustana. USF and Augie were trending downward in the final month of the season and then Winona met a surging Minnesota State team in the last game of the year, which resulted in a loss. I like what they have done this year but Bemidji has been playing at a very consistent level. Their offense gets the accolades but the defense has been phenomenal. The Beavers have not given up more than 16 points in a game since week four. My pick: Bemidji State
CSU-Pueblo (8-3) at #2 Colorado Mines (9-2) 2:00
A month into the season, things didn't look great for either of these teams. Colorado Mines was just starting dig out from an 0-2 start and CSU-Pueblo had lost three in row after winning the opener. Playoffs were still possible, but the was no margin for error for either team. Well, the Orediggers reeled off nine straight wins and won the RMAC title outright. The Thunderwolves won seven straight, finished right behind Mines in the standings and made an impression worthy of a playoff bid. When they met in the regular season, Mines won 45-17 but I think we'll see a different kid of game this time. The Thunderwolves were struggling with their offensive identity at that time. During the three game losing streak, they scored 10, 10 and 17. Since then, they have averaged 44.5 points per game. Mines will be very hard to beat at home but this meeting should be a battle. My pick: Colorado Mines
Wayne State (9-2) #3 Minnesota State (9-2) 1:00
The last of the three regular season re-matches in SR4 will see Wayne State travel to Mankato, Minnesota to take on the Mavericks. Wayne State won the first meeting on October 8 by a final of 41-33. At that point in the season it looked like things could go south for Minnesota State. They were not playing their best football and were also struggling to navigate their way through some injuries. To their credit, the season went north, not south. It helped that Augie and Sioux Falls were starting to trail off, the Mavs took it to both teams and then thumped Winona in the finale. There are several really good 9-2 teams in the playoffs but, its possible that none are playing better than the Mavs. Wayne State will be a tough out. Minus a bad second half at Winona, they've played very well all year. But I think the Mavericks get the revenge win. My pick: Minnesota State
Don't forget to join us for recap of all the action on Inside D2 Football Sunday night at 8pm, eastern.
Questions, suggestions, comments, complaints? Email me at [email protected] and follow me on Twitter @D2Chuck.