Around the Nation - Second Round Playoff Preview
November 24th, 2022 5:00am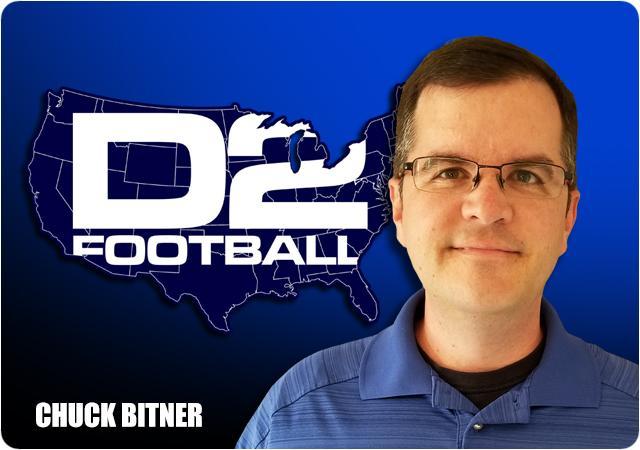 For the past decade, my columns for D2Football have been a place to celebrate the great things that happen in NCAA Division II, either within specific conferences or around the country. I've always felt that positivity is contagious and it's what gets people excited. But there are times when we must be critical or just present things as they are. The first round of 2022 playoffs was not a good showing. First, there was the blandness of the pairings, with five of twelve games being rematches from the regular season. Supposedly, it is a priority to avoid rematches but evidence suggests it isn't important. We've already gone down that road enough so I won't repeat myself. Regardless, what we got on the field was a bunch of lopsided affairs. Like last year, super region one was ultra-competitive with all three games going down to the final possession and being settled by seven points or less. Sadly, watching the rest of games ended up being about scouting rather than watching competitive football. The games played in super regions two, three and four resulted in an average margin of victory of 29 points. The closest margin among those nine games was Minnesota State hanging on for dear life to beat Wayne State by 17. Not very competitive and not entertaining.
Some of the games were mismatches to begin with, a few teams were down on numbers because of injuries (some of these teams were playing for the 12th week in a row) and weather was a factor in a few locations. It just wasn't a good day. The good news is round one is behind us and the results set up a fantastic looking schedule for round two. Here is what we have on-tap for our Thanksgiving weekend enjoyment…
Super Region Four
#3 Minnesota State (10-2) at #2 Colorado Mines (10-2)
Super region four had the most uninspiring first round bracket I've seen in a long time. Not because of the teams involved but because all three games in the first round were rematches of regular season conference games. But this…this is why we love playoffs. Minnesota State has been the class of the NSIC for the past decade and Colorado Mines has just about dominated the RMAC for the past few years. This will be MSU's first game against a non-NSIC opponent since the 2019 national championship game. The MSU program that has made two national finals appearances in the past eight years earned its reputation as a defensive force. More like an immoveable object. The past two seasons have not been up to that standard, but they have been very good in the second half of this year. That defense will have its hands full with a Mines offense that has very few weaknesses. The Orediggers average 502 total yards per game (second in the country) and lead the nation in total offensive touchdowns. Trigger man John Matocha is one of the best players in the country in my opinion. Behind him is 1,000 yard rusher Michael Zeman and two 1,000 yard receivers, Max McLeod and Josh Johnston. Mines also has a standout defense, giving up just 16 points and 282 yards per game. You won't beat them running the ball. The team that takes them out will have a strong passing game. I'm not convinced Minnesota State has that. Hayden Ekern has done a very good job providing stability and leadership for the MSU offense, but I don't think this MSU offense is the right matchup for Mines. At least for this year. Minnesota State seems like a year away from being something really special, but this year, Colorado Mines is the more complete team. Playing at home makes a big difference as well. My pick: Colorado Mines.
#4 Bemidji State (10-2) at #1 Angelo State (11-0)
There is a lot to like about this game. Bemidji State, will travel 1,400 miles from their home in northern Minnesota to southwest Texas to face Angelo State. The Beavers will bring one of the best passing offenses in the country with them. QB Brandon Alt, a two-time Harlon Hill nominee, leads the attack with 307 passing yards per game, and 37 touchdowns. Alt throws to a trio of receivers that average more than 19 yards per grab. The group is led by Brendan Beaulieu who is tied for first in the nation with 18 receiving TD. They are going to face off with the country's top pass defense. Angelo State is number one in pass defense efficiency and fourth in pass yards allowed. But I don't think Bemidji can be afraid of it. If they Beavers are going to win, they must do what they do well and that's get the ball to their playmakers in the air. I do not expect them to have success running the ball. The Beavers do like to run the ball, but average a modest 3.7 yards per carry. I don't think it will work well against Angelo State's defense. They will have to take chances, and probably will have to live with some sacks and turnovers to Angelo's aggressive defense. On the other side of the ball, the Bemidji defense is better than last year's unit by leaps and bounds and I think they can keep this close. There will be a lot of pressure on them early because the Beavers' offense does have a tendency to start slow. They cannot afford to fall behind by multiple scores early a long way from home. But I fear that may happen. As much as I like this Bemidji State team, a win here would be a little bit surprising. My pick: Angelo State
Super Region Three
#3 Pittsburg State (12-0) at #2 Ferris State (10-1)
Ferris State has made two appearances in the Division II championship in the last three seasons and they won it all a year ago. But they are the least accomplished program remaining in the Super Region three field. That sure is saying something. Their opponent this week is six-time finalist and two-time champion (2011, 1991) Pittsburg State. The Gorillas are the undefeated champions of the MIAA and the only 12-win team in Division II. You don't get through the MIAA without facing some of the best competition in D2, but this will be the toughest test the Gorillas have faced. I believe the Pitt defense can hold up well against the Ferris offense. The Bulldogs are good, but Pitt State is athletic on defense. They don't give up a lot of explosive plays and they don't give up a lot of points. The problem is, everything Pitt does well on defense, Ferris does a little bit better. You can go through nearly all the team stats, and everywhere Pitt excels, you find Ferris in front of them. I can see Ferris struggling a little bit to find traction offensively but I don't think their defense will flinch. Pitt has a good QB in Chad Dodson, Jr and a couple of receivers capable of big plays, but I think the Bulldog pass rush will be too disruptive for Pitt to be consistent. My pick: Ferris State
Northwest Missouri State (10-2) at #1 Grand Valley State (11-0)
There are eight games this week and they all involve good teams. Really good teams. But none of the others involve programs with the pedigree of Northwest Missouri State and Grand Valley State. Combined, they own 10 Division II championships and sixteen appearances in the national finals. On three occasions (2005, 2006, 2009) they met in Florence, Alabama for the national championship game. I happened to be present for all three of those contests. With the GLIAC and MIAA in the same super region, it is not currently possible for these two titans to meet in the finals, but the stakes are just as high as Northwest rolls into Allendale on Saturday. I have viewed Grand Valley State as the favorite to win the national championship since the preseason but have also viewed Northwest as the most dangerous team in the playoff bracket. Why do I think they're dangerous? Because it was not a given that they would be here. We haven't had a playoff without the Bearcats since 2003, but in a very tight field in SR3, it was conceivable that their 9-2 season might not be good enough. Fans steeled their nerves for potential disappointment, but based on last week's performance at Ouachita, elbowing into the post-season with the final spot in the region has given the Bearcats a new lease on life. In their most impressive and complete performance of the season, Northwest manhandled previously unbeaten Ouachita Baptist. It was never a contest, with the lead swelling to as much as 37 points by the end of the third quarter. The defense did what it always does and shut down a good running game. Ouachita's TJ Cole, one of the best runners in D2, finished the day with 19 yards as the Tigers were forced to shift to a passing attack. That was not unexpected, but the performance of the Northwest offense was eye opening. Mike Hohensee could not have done much better, hitting 23 or 30 passes for 322 yards and a pair of scores. He was aided by a running game that churned out 5.1 yards per carry. Those numbers are probably not reproduceable this week, but if they can play at that level, they're going to have a very good chance. That said, this is a different challenge than Ouachita. The Lakers defense is tops in the nation in points allowed with a scant 10.27 per game. They will not get pushed around by anyone and I think it is very likely that we will see some struggles from the Northwest offense. The Bearcat defense is more than capable of keeping this close and giving their offense time to figure it out, but I like Grand Valley's chances of making some big plays offensively. When you look at the Lakers on paper, no one jumps off the page. But watch them play, and you will see a lot of play making talent and probably the best offensive lineman in the county in Quinton Barrow. This should be a classic battle between two of the most successful programs in Division II. My pick: Grand Valley State
Super Region Two
Wingate (10-2) at #1 Benedict (11-0)
One of the closest matchups in terms of geography will take place in Benedict's first ever Division II playoff game. The two schools are only 90 miles apart, but they have not met on the football field since 1998. This matchup features two of the nation's top defensive units. Both are in the top five in scoring defense. Wingate allows just 10.58 ppg, Benedict surrenders 12.00. Wingate has held opponents to 10 points or less in eight of 12 games. Benedict has an efficient passing attack, led by SIAC offensive player of the year Eric Phoenix. But the Bulldog defense excels at making tackles behind the line of scrimmage and disrupting the pass with QB hurries and sacks. The Bulldogs are second in the nation in total sacks and sacks per game. It was a huge factor in last week's win at Virginia Union. Wingate's defense accumulated seven sacks and scored a pair of touchdowns and a safety. Wingate is not exceptional offensively though and that gives Benedict's defense a really good change to turn the tide. I expect a close, low-scoring game and turnovers will make the difference. This is a winnable game for both teams and I can see it going either way. My pick: Wingate
#3 West Florida (10-1) at #2 Delta State (11-1)
GSC co-champions West Florida and Delta State will meet for the second time this year. Delta State won the first round, 45-42 in overtime. That was the last of four straight road games to open the season for the Statesmen. It was also West Florida's only loss of the season. Logic might dictate that the second round may not be as high scoring, but 45-42 feels about right. This matchup features two of the top 4 scoring offenses in Division II. West Florida averages 43.9 ppg and Delta State averages 42.3. Conversely, neither team ranks in the top 50 in scoring defense. A lot of top level individual talent will be on display. Ten of the 15 players making up the first team All-GSC offense were from West Florida or Delta State. The honors are led by the GSC offensive player of the year, Patrick Shegog. The Delta State QB rushed for over 700 yards, with 14 TD and averaged 218 pass yards per game, adding another 22 TD. It is possible that he will be the best individual performer in the game, but West Florida has balance all over the field. The Argos have three players with more than 700 rushing yards for the season, including Shomari Mason who averages 7.7 yards per carry. One the nation's most reliable receivers, David Durden, leads the passing threat. This has potential to be the most exciting game of the post season. I can see it going either way but I like the overall diversity of West Florida's attack and I think they may be a little bit healthier. I'll take the Argos in a high scoring game decided by a game winner in the last two minutes. My pick: West Florida
Super Region One
#4 Ashland (10-1) at #1 IUP (9-1)
Ashland and IUP have played a couple of times in the recent past, but there isn't a long history between them. This post-season meeting is a precursor to the next four years. The programs will meet in week one from 2023 through 2026. Ashland certainly had it's doubters heading into the playoffs, as they were happy to point out. They did come through in a big way with a hard-earned win at home over MEC champs Notre Dame College. Now they wilk take to the road to battle another conference champion, IUP. The Crimson Hawks were idle last week, which was to their advantage as a few key players work through injuries. This could be a throw-back kind of game. IUP has some outstanding playmakers at receiver in Duane Brown and Hilton Ridley, while Ashland has Login Bolin who is just two catches away from becoming the career receptions leader at Ashland. But at heart, these are running teams. Both like to run the ball and stop the run and they do it well. I think IUP is a little more talented offensively, but there are some questions involved with that statement. Leading receiver Duane Brown sat out the PSAC championship and leading rusher Dayjure Stewart saw limited action. Brown was considered a possible game time decision and that was two weeks ago. That would seem to imply he will be ready, but we may not know until closer to game time. I think IUP has the depth to win with or without those two players but having them available would be worth a lot. Ashland can match up with IUP but I do think the Hawks are the more complete team. My pick: IUP.
Slippery Rock (10-2) at #2 Shepherd (11-1)
Slippery Rock won on the road as an unseeded team last week while Shepherd won a close contest at home. If both teams are at full strength, I can see this being one of the best contests of the weekend and a potential place for an unseeded team to pull off an upset. Shepherd continues to sport one of the most prolific offenses in Division II, with All-America level talent all over the field. It starts with Harlon Hill winner Tyson Bagent who is third nationally in passing yards per game and fourth in passing touchdowns. But its not all about Bagent. Ronnie Brown has 1,348 rushing yards on the season and Marlon Cook eclipsed 1,000 receiving yards a week ago. Overall, Shepherd had eight individuals named to the first team All-PSAC east team. But that Slippery Rock defense is no joke. We saw that again last week at Assumption. They are an underappreciated unit and they may be able to do enough to slow down Shepherd. We've seen IUP and New Haven do it in consecutive weeks. The Rams lowest point totals of the season were 21 at IUP and 16 against New Haven. It is possible to slow them down and I think the Rock has a fighting chance to do it. My hesitation on calling the upset is because of injury status at the offensive skill positions. Rock has absorbed a lot of injuries in the past couple of weeks. If they can get receivers Kyle Sheets and Max Maciejewski back on the field, in addition to RB Chris D'Or, I like their chances. But there are too many unknowns to feel comfortable picking them against one of the deepest rosters in the country. My pick: Shepherd
Tune in for Inside D2 Football on Sunday night at 8pm, eastern for a breakdown of all eight round two games.
Questions, suggestions, comments, complaints? Email me at [email protected] and follow me on Twitter @D2Chuck.