National Semifinals Preview
December 7th, 2022 5:00pm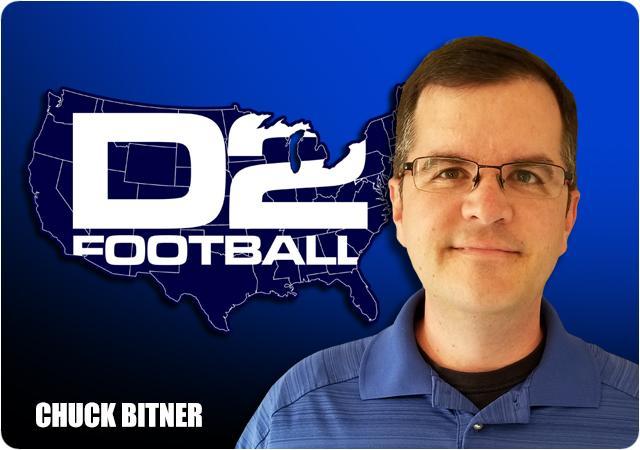 One week from Saturday, two teams will face off in McKinney, Texas with the national title on the line. Before we get there, we have pair of fantastic semifinal matchups to enjoy. No regional number one seeds remain as three road teams were victorious last week. That sets up an interesting scenario as both of our hosts played on the road last week. All four programs have been in the semifinals at least once before this year and three of the four are here for the second year in a row. West Florida and Ferris State each have one national championship trophy. They were first time champs in 2019 and 2021, respectively. Shepherd and Colorado School of Mines are attempting to earn their first Divsion II championship.
Postseason Awards
Before jumping into the match ups, I do want to mention the postseason awards that have been or will soon be announced. Ferris State's Caleb Murphy was named the Gene Upshaw Award winner on Monday. The Upshaw Award is presented to the top lineman (offensive or defensive) in Division II. Final voting for the Harlon Hill Trophy will conclude this week. The announcement of the 2022 winner will occur on Friday, December 16. While we are not official voters, a straw poll of the Inside D2 Football crew selected Colorado School of Mines QB John Matocha as the winner, followed by Shepherd QB Tyson Bagent, Virginia Union RB Jada Byers and Ferris State DE Caleb Murphy. Stayed tuned to D2football.com for upcoming news on the Cliff Harris Award (nation's top defensive player) and The Rimington Award (nation's top Center).
Television coverage
Both semifinal games will be broadcast on ESPN+
West Florida (12-1) at Ferris State (12-1) 12:00pm
West Florida Team Profile
Nickname: Argonauts
Location: Pensacola, Florida
Conference: Gulf South Conference (GSC)
Coach: Pete Shinnick, 6th season (55-20)
Players to watch
#5 RB Shomari Mason
#7 QB Peewee Jarrett
#17 WR David Durden
#35 LB Will Breland
#99 DL Pooda Walker
About the Argos
The 12-1 Argos earned a share of the Gulf South Conference title for the second year in a row and are making the program's third appearance in the national semifinals in the last five seasons. Since making the program's first postseason appearance in 2017, West Florida has built an incredible playoff resume. The Argos have an overall playoff record of 12-2 with two tips to the finals and a national championship in 2019. The 2022 edition of West Florida football looks pretty similar to past years in several areas. It is an offensive team, with an average of 43.54 points per game, which is good for second in the nation. Defensively, they're not elite, allowing 22.77 points and 373 total yards per game but those numbers are not far off the defensive unit of their 2019 national championship squad. Where this team differs from some of their more recent years is in the offensive philosophy. This is a run-first offense to the tune of about 243 yards per game (7th nationally). The Argos have four players with more than 500 rushing yards and 32 total rushing touchdowns (10th nationally). That said, the Argos also have one of the country's most productive receiver tandems in David Durden and Caden Leggett. Durden averages more than 20 yards per grab.
Ferris State Team Profile
Nickname: Bulldogs
Location: Big Rapids, Michigan
Conference: Great Lakes Intercollegiate Athletic Conference (GLIAC)
Coach: Tony Annese, 11th season (106-16)
Players to watch
#0 QB Mylik Mitchell
#1 RB / WR Marcus Taylor
#6 LB Konnor Near
#12 DL Caleb Murphy
#12 QB Carson Gulker
About the Bulldogs
Ferris State is in the national semifinals for the fourth consecutive season and will be seeking a third trip to the finals in the past four seasons. The Bulldogs broke through with the program's first Division II championship one year ago. Like their counterparts from Pensacola, there is a lot about the 2022 Ferris State Bulldogs that is familiar, but also a few things that are unique to this unit. One thing that remains consistent is a dominant defense. Even with three playoff games played against exceptional competition, the Bulldogs remain in the top 10 nationally with 14.46 points allowed per game. Opposing offenses have averaged only 68 rushing yards per game against this unit. The defensive front is among the best in the country. They are physically dominant and athletic as well. They are among the national leaders in tackles for loss and sacks and beyond that, It's hard to even quantify how disruptive they can be. One need look no further than Gene Upshaw award winner Caleb Murphy who has set an NCAA all-divisions singe season sack record (24.5 and counting). Offensively, #12 rushing for touchdowns from the quarterback position will look familiar, if you haven't seen Ferris since last year. But it is a different name, Carson Gulker, and he's actually not QB1 for this offense. Mylik Mitchell missed large parts of the season with injury but has led the offense in all three playoff wins. He is a pass-first quarterback but his rushing ability was the reason Ferris won last week at Grand Valley State.
How I see it
Tony Annese has spoken at length about playing to the strengths of the players you have. Both teams have done that very well this year. West Florida has leveraged the rushing attack more this season than in the past and Ferris has offensive packages designed for the skillsets of multiple quarterbacks. No one prepares for road playoff games better than the coaching staff at West Florida. The Argos have never lost a playoff game on an opponent's home field. This staff has taken a team to Ferris State before in identical circumstances. West Florida won that meeting in the 2019 national semifinals. That won't mean anything on Saturday but familiarity with the logistics and the facilities eliminates a few unknowns. That said, I don't think this is a good matchup for West Florida. It's hard to earn it running the ball against Ferris State and their pass rush is a game changer. West Florida does have a very good offensive line but I think he Bulldogs can be successful at creating pressure. Peewee Jarrett has been under 50% in all three playoff games so far and turning that around will be really hard against the Bulldog defense. West Florida will move the ball better than most teams do against Ferris State, but I believe the Bulldogs will force a few mistakes and take advantage. The Ferris State offense is not as elite as last years, but they have a lot of playmakers for West Florida to deal with and I really liked how they delivered last week under pressure.
My pick: Ferris State
Shepherd (13-1) at Colorado Mines (12-2) 3:30pm
Shepherd Team Profile
Nickname: Rams
Location: Shepherdstown, West Virginia
Conference: Pennsylvania State Athletic Conference (PSAC)
Coach: Ernie McCook, 5th season (44-9)
Players to watch
#2 QB Tyson Bagent
#9 DL Malik Halloway
#11 DE Kyle Smith
#30 RB Ronnie Brown
#76 OL Joey Fisher
About the Rams
Shepherd has advanced to the national semifinals for the second straight year and fifth time in program history. Their season started with ten straight wins before a loss to IUP in the PSAC championship game. They avenged that loss a week ago on the same field with a 48-13 drubbing of the Crimson Hawks. The Rams have weapons all over the field and it starts with defending Harlon Hill Trophy winner Tyson Bagent at quarterback. I could go on for paragraphs about him but two facts should tell you what you need to know. Bagent holds the Division II record for passing yards in a career and the all-divisions record for touchdown passes in a career. For a full list of Division II records held by Tyson Bagent, click here. But Shepherd's offensive prowess doesn't end at the QB position. RB Ronnie Brown is a difference maker and he's been peaking at the right time for this offense. One could argue he has been more instrumental in the playoff victories than Bagent. Four different receivers have more than 50 catches and the entire offensive line was either first or second team all PSAC-east. The defense is loaded as well with no less than two first team all conference players at all three levels.
Colorado Mines team Profile
Nickname: Orediggers
Location: Golden, Colorado
Conference: Rocky Mountain Athletic conference (RMAC)
Coach: Brandon Moore, 1st season (12-2)
Players to watch
#2 WR Josh Johnston
#10 QB John Matocha
#40 RB Michael Zeman
#46 LB Nolan Reeve
#78 OL Matt Armendariz
About the Orediggers
The Orediggers have been a team on a mission all year. They were in this same position exactly one year ago and come up just short. The goal since then has been to win the region again and take the next step. After an 0-2 start against some of the best competition in D2, it looked like that goal would be difficult to achieve. Twelve straight wins later, the Orediggers are right where they expected to be. I wouldn't say it has been easy for them, but their grit, focus and determination produced a dominant 9-0 RMAC record. They're riding a high after avenging the week two loss to Angelo State in last week's super region four final. Like Shepherd, everything starts with an elite quarterback. John Matocha leads the nation with 45 touchdown passes and currently ranks fifth in passing yards per game, even after facing the number one pass defense in D2 last week. Matocha is my top pick to win this year's Harlon Hill Trophy. If you want to see a few reasons why, check out this highlight reel. If you watch that, you will also see some phenomenal playmaking from wide receivers Max McLeod, Josh Johnston and Mason Karp. McLeod and Johnston are both over 1200 receiving yards for the season. I haven't even yet mentioned RB Michael Zeman, a 1,000 yard rusher and Harlon Hill finalist in 2021 or any of the standouts on the defense that leads the nation in total sacks and sacks per game.
How I see it
A couple of weeks ago on Inside D2 Football, a viewer asked what semifinal matchup we would most like to see. My answer was, regardless of the setting, I would love to see Shepherd and Mines play each other. They're not the same team, but they do mirror each other in many ways. They are teams that do everything well and don't have many weaknesses. That's not to say they can't be beaten, both have lost this year. But it is very hard to find favorable matchups almost anywhere on the field. I hope this won't be the case, but injuries could be a factor. Shepherd played most of last week's regional final down three wide receivers. Marlon Cook and Ryan Beach did not play and EJ Morgan left the game in the first half. The depth they have proved its worth, but it will be hard to beat a team as stout as Mines without any of those players. Mines has some concerns of their own with Michael Zeman and Matocha both taking a lot of shots last week. Regardless, the game plans won't change for either team. As good as Tyson Bagent is, Shepherd is a lot more dangerous when they can get the running game going with Ronnie Brown. I think the Mines coaches will come to the same conclusion and play aggressive run defense, especially if the Rams are down a few bodies at receiver. I think they will also be very aggressive in pass rush and maybe take a lot of chances with blitzes. To beat Bagent, a team must be willing to take some risks with heavy pressure and trust the back half of the defense. With as successful as Mines is at getting to the quarterback, I think it can be the difference in this game. That, and Matocha freelancing the entire field like he did last week at Angelo State. A part of me thinks that as good as these teams are offensively, it could turn into a defensive game. Shepherd is good squad on the defensive side of the ball. They proved that again last week in stifling IUP for all but one series.
Regardless of how this plays out, it will be a real treat for fans to watch two of the best quarterbacks in the game leading two the best teams in the country. Bagent will finish his career as one of the best and most successful quarterbacks in NCAA history. In a couple of weeks, we may be able to look back and say it was great battle that involved two Harlon Hill winners at quarterback.
My pick: Colorado School of Mines
Join us for the semifinals recap on Inside D2 Football Sunday night at 8pm, eastern.
Questions, suggestions, comments, complaints? Email me at [email protected] and follow me on Twitter @D2Chuc