Bob Eblen's National Column
September 10th, 2019 1:00pm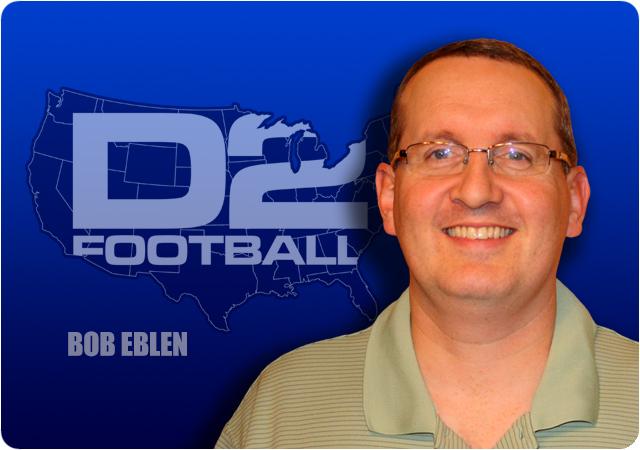 I have been saying it for years, but I love the first weekend of college football because there are always a few game results that come as a complete shock. Here are the five results from across D2 last weekend that surprised me the most:
Ferris State 24 Findlay 23
Yes, I did indeed pick FSU as my favorite to win the national title last week. Am I regretting that decision after this game? Maybe.
The Bulldogs did not look good at all, in fact they had to survive a missed 2-point conversion attempt by Findlay in the final minute to hang on and win the game. Sure, FSU was playing without Jayru Campbell but he doesn't play on the defensive side of the ball which is where most of the problems were last week: The Bulldogs gave up 28 first downs and 460 yards while managing just a single tackle for loss on the day. Remember, this is a defensive unit that has three preseason All-Americans on it!
Let's not forget that Findlay is a solid program that went 8-3 last year, but the Bulldogs did beat the Oilers 59-13 last season. Ferris State has tough road games at Central Washington and Ashland these next two weeks. We will find out in a hurry if the Bulldogs are a national title contender or not.
Concordia- St. Paul 41 Sioux Falls 17
Yes, I realize the Cougars were without standout running back Gabe Watson in this contest. I also realize that USF needed a last second score to beat CSP in the season opener last year. But the Cougars also return 18 starters from last year's 7-4 team and that led me to believe the playoffs were a good possibility. In fact, I had USF in my preseason Top 25. Coming into the game USF had been 7-0 against CSP since joining the NSIC in 2012.
Disastrous special teams play led to the big spread in this game. USF had a 6-yard punt, had a punt blocked for a touchdown and fumbled on a punt return leading to another CSP score. Quarterback Caden Walters also fumbled at the CSP 1-yard line when the Cougars were poised to go up 14-3 in the first quarter.
The Cougars do not have much time to get the ship righted with a very good Winona State team visiting on Saturday. An 0-2 start would pretty much mean a lost season for USF with the expectations being so high coming into the year.
The special teams errors can probably be fixed but I would also be concerned that a defense with 10 returning starters wasn't able to make key stops when necessary in this game. We will find out a lot more about what this USF team is made of on Saturday.
Millersville 21 Pace 20
Pace has long been a D2 doormat. In fact, last season's 7-3 record marked the Setters' first winning season in 19 years. However, head coach Andy Rondeau has done a great job in improving this program in each of his five years and with the returning talent on the roster, Pace looks like a team that could challenge in the NE-10 this season.
Millersville is coming off a 2-9 season and hasn't had a winning season since 2000. J.C. Morgan is in his second year as head coach and it appeared that the Marauders are still a year or two away from being a competitive program.
Pace jumped out to a 17-7 halftime lead and it appeared the Setters were well on their way to beating Millersville for a third straight season. But MU completely stifled the Pace running game in the second half and then held on as Pace kicker Pat Davis missed from 42 yards out late in the 4th quarter.
It will be interesting to see how the seasons play out for these two teams. Is Pace still a contender in the NE-10 and is Millersville greatly improved from last season?
Clarion 48 Shippensburg 28
Shippensburg won 35-13 when these two teams met last year, and Clarion came into this season riding a 6-game losing streak to close out 2018. So, it came as a big surprise when the Golden Eagles raced out to a 34-0 halftime lead in this contest and rushed for 341 yards on the day. Is Clarion a much-improved team, Shippensburg much worse or some of both? It will be interesting to see how things unfold for these two programs.
West Liberty 33 Wheeling 30
This is literally a brand new D2 football rivalry: The two schools are located just 20 minutes apart in eastern West Virginia and this is Wheeling's first season as a varsity football program.
Wheeling is a school that is in serious trouble from a financial standpoint. Since last spring the University laid off 40% of its instructors, cut several programs and has seen a huge drop in enrollment. There was serious doubt this summer if the school itself would survive, much less the athletic program.
To top it off, there are only four upperclassmen on the entire Wheeling football roster! With all the turmoil at the school and a brand-new team, I would never have guessed that Wheeling would compete well with anyone in the MEC. It took a touchdown with 31 seconds remaining for WLU to escape what would have been an embarrassing upset. Wheeling quarterback Tucker Strachan threw for 401 yards in the loss: he may be a player to keep an eye on this year.
Who knows, maybe football ends up helping to save Wheeling University. Stranger things have happened.