Bob Eblen's National Column
September 5th, 2019 9:00am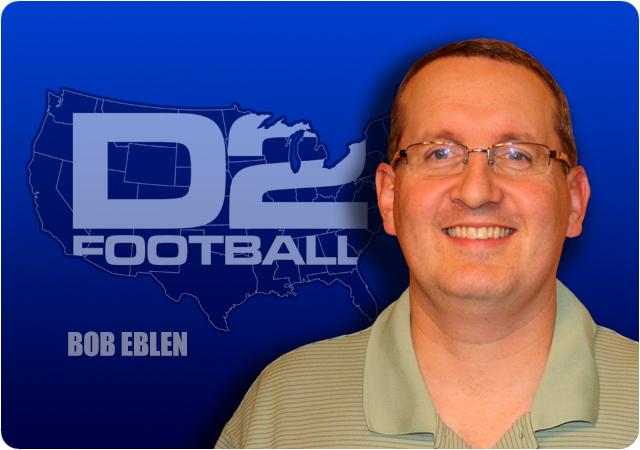 I have spent some time the last couple of weeks assessing which teams I feel have the best shot at winning the national championship this year. Valdosta State, Ferris State and Minnesota State are my three favorites, which I realize isn't exactly going out on a limb since these were three of the top teams in the country last season.
Minnesota State returns just about every key player from last year's 13-1 national semifinalist. D2football.com has four Maverick offensive players on our preseason All-America team, which should give you a pretty good idea of what that unit is capable of. The defense should also be good. This could be the year that the Mavericks move on from bridesmaid status to finally ending up on top.
Defending champion Valdosta State returns All-American quarterback Rogan Wells along with several other talented players from last season's record-setting offense. The question marks for VSU will be along the line of scrimmage on both sides of the ball and the fact that Gary Goff takes over for Kerwin Bell as head coach.
Ferris State returns 18 starters from last season's runner-up team, including Harlon Hill Trophy winning quarterback Jayru Campbell. If that's not enough to convince you that this team has a legitimate shot to win it all this year, check out this quote from senior back up quarterback Travis Russell, which recently appeared in The Ferris State Torch:
"My number one mission is to do whatever I have to do to help our team win. If they need me to block, I'll block. If they need me to start, I'll start. If they need me to sweep the floors, I'll sweep the floors. I love the guys on this team and that's the main reason I decided to come back is because I'm here to serve them and do whatever I can to help us win," Russell said. "There's no one else I'd rather play with when I strap up my helmet on Saturdays. These are the guys I want next to me."
When I see the talent Ferris State has returning, mix in the motivation from falling a couple of points short last year and then top it off with servant leadership coming from players like Russell, I am going with the Bulldogs as my favorite to win it all in 2019.
Interestingly, it will be Russell that starts for the Bulldogs when they host Findlay to open the season on Thursday night. That's because Campbell had offseason surgery on his nonthrowing elbow, and the coaching staff has decided to be conservative in getting him back to game action.
Championship Game Back to Texas
When Children's Mercy Park in Kansas City, KS backed out of its commitment to host the national championship game last fall, the McKinney, TX ISD Stadium came to the rescue and held the game on short notice. The game went smoothly, so McKinney was awarded the contest for the next three seasons.
I have long said there is no perfect location to hold the D2 championship game. However, there are a lot of things to like about having the game in McKinney: the $70M stadium is brand new. McKinney is a Dallas suburb so there is access to a major airport. And, the game is far enough south that we are unlikely to see major weather issues like the snowstorm that hit Kansas City in 2016.
Taking a Step Back
I started writing for this website back in 2004. My goal has always been to give the readers consistent insight into the top games and top stories each week in D2 football. For the most part I feel that has been accomplished as I have only been unable to churn out a column a couple of different times during my 15 years.
Originally, I had an interest in D2 football because my alma mater- the University of North Dakota- was a successful program in the division. However, UND moved to Division I after the 2007 season. At that time my plan was to write for another season and take it from there. One year became two, which became five, then ten and here I am in 2019 still writing.
I am a college football junkie and I regularly watch D-I games as well. But I think what has always drawn me to the D2 level of play is that it's a quality game but doesn't come with the trappings of football at the higher levels: Ticket costs are reasonable. For the most part the players are there because they want to continue to enjoy the sport while they get an education. The coaches are just normal guys, not multimillionaire celebrities.
I also have a very close relationship with the owner/editor of D2football.com, Brandon Misener. We communicate daily and he has even been a coach on both of my son's travel baseball teams. Our friendship goes beyond just football and with this site being Brandon's baby I have always felt a responsibility to do my part to help make it successful.
But after a lot of thinking about it this summer and talking things over with Brandon, I am going to step back into more of a reduced role as the national columnist at D2football.com. Instead of a weekly column that encapsulates the entire division and looks at the big upcoming games, I am going to be a more periodic contributor. What that exactly looks like will take shape over the course of the season. I will probably write occasionally about topics of interest or an individual player or game. Brandon and I might even do some podcasts. What I do know is that I no longer have the time to commit to a weekly column in the same form as what I have done in the past.
The good news is that the timing is great for me to take a bit of a step back. The website has a fresh look and we have a network of talented conference writers like we have not had before. I'm also very excited about what Brad Corpe is doing with The Countdown. His writing will help fill in some information I am no longer covering.
I didn't initially intend to write half a column on this subject to start off the year, but I felt I owed an explanation to the readers about the direction the column is going in the future. Now let's move on to enjoying what looks to be a very interesting opening weekend of D2 football!