NCAA Independents Week 2 Recap and Week 3 Preview
September 13th, 2021 12:00pm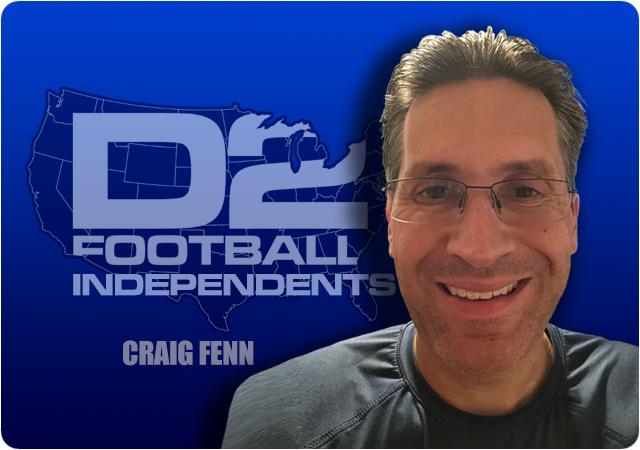 In Week 2, the main theme was Good News and Bad News. The Good News was that history was made with two schools getting their first wins in decades. The Bad News was that all three GNAC schools lost, with two of those games being blowouts.
In Week 3 we will see if Barton and Bluefield State can add to their historic wins in Week 2 by trying for winning streaks, and Erskine tries their hand at a CIAA opponent. The GNAC has its first conference game of the season when Central Washington opens the new SFU Stadium, and Western Oregon heads to longtime state rival and former league mate Portland State.
Let's look back at last week's games:
Bluefield State wins at Elizabeth City State 35-27
Good News: Bluefield State wins their first game since 1980
Bad News: Probably don't want to fall behind 21-0 too often
"There was plenty of time left."
The mantra of many a coach and player whose team comes back from huge deficits early in games, this was certainly true for Bluefield State. Elizabeth City State dominated the first quarter, opening the scoring with a 36-yard punt return for a touchdown by Josiah Hayes after the Vikings pinned the Big Blue deep in their territory. Zion Riddick got the pylon for the second touchdown, and defensive back Kazeahn Johnson brought a fumble back 25 yards to put the Vikings up 21-0 after the first quarter. Bluefield State looked lost on the field. But something happened once the second quarter started. The Big Blue started moving the football, and then they started scoring behind quarterback J'Rell Joseph, who threw three touchdowns in that quarter, with the highlight being a 75-yard completion to wide receiver Perry Wilder that accounted for their second touchdown. At halftime, the game was tied at 21.
The second half was more of about the Big Blue defense providing opportunities. After De'Abrie Smith completed an 80-yard touchdown to wide receiver Brandon Joyner to give the Vikings a 27-21 lead in the third quarter, they would not score again. The Big Blue outscored the Vikings 14-0 in the fourth, taking the lead for good on a Markaden Bryant 1-yard touchdown run to give the Big Blue a 28-27 lead. The game would end with the Vikings, down 35-27, running out of time as they attempted to get close enough for a Hail Mary pass. The Big Blue raised the Jolly Roger flag and celebrated the historic win, with head coach Tony Coaxum saying after the game that "This validates that this was the right thing for use to get the program back, keep stacking wins and to keep moving forward."
Joseph led Bluefield State with 232 yards passing and Bryant led with 50 yards rushing. Three Big Blue receivers caught at least one touchdown pass, with Berkarion Black catching two and Wilder and Kenta Jefferson each catching one..
Barton wins at Erskine 38-25
Good News: Barton is in the win column for the first time since 1950
Bad News: Maybe Barton's playing style doesn't lead much room for error, but for this game it worked.
So, Bluefield State won its first game in 41 years. Add 30 years to that and you have what Barton did in winning their first game since 1950. Barton's last win before last Saturday was a 7-6 victory in the 1950 season over the Builders of the Apprentice School, a shipbuilding trade college in Newport News, VA which still exists and still fields a football team.
Us older folks can remember a time when the biggest NFL game every week would come on and Pat Summerall and John Madden would make you feel like you were the only one they were talking to when they were giving their call of the game. I can't imagine how many times John Madden said "You have to run the ball and stop the run". It was the hallmark of teams like the Giants, Bears, and Steelers, who would pound on defenses with their massive offensive lines and running backs, and then dish out an equal amount of punishment with their defenses. It was old-school football, football without all the no-huddle, spread offenses that prevail today. The football of John Facenda's NFL Films videos.
All right, before I go all "Get off my lawn" here, this was exactly what Barton did this past week against Erskine. They would line up with two tight ends, extra offensive lineman, and ran their running back Jordan Terrell on zone-stretch plays, and then go up top for big passing plays. A simple game plan was exceptionally executed by the Bulldogs, who ran for 316 yards, led by Terrell, who had 229 yards on 29 carries and a touchdown. Quarterback Jaquan Lynch threw for 134 yards and ran for 86, accounting for four Barton touchdowns. Their defense bent but didn't break against Erskine's spread offense led by Craig Pinder, who threw for 239 yards and two interceptions. Barton's defense caused the Flying Fleet to make far too many mistakes to keep them in the game, which was put out of reach when Lynch went up top to Kameron Johnson for a 60-yard touchdown to put the Bulldogs up 31-19 in the fourth. Erskine wide receiver Senika McKie led all receivers with 10 catches for 120 yards.
Central Washington loses at Eastern Washington 63-14
Good news: Central Washington is a good Division 2 football team
Bad News: Eastern Washington is a good Division 1 football team
Eastern Washington scored on their first drive on an Eric Barriere 6-yard touchdown run and converted a 2-point conversion to go up 8-0. Central Washington immediately answered with a 1-yard touchdown run by running back Cameron McKinney to draw within 8-7. At this point, maybe it's time to start thinking about how long Central can stay in the game and maybe try for the big upset. But it was not to be, as that was as close as the Wildcats would get. Central didn't score again until a Rashaad Boddie (who led the Wildcats with 52 rushing yards) 1-yard touchdown run, which finalized the margin of victory for Eastern at 63-14.
Like Simon Fraser at Idaho in Week 1, the game was out of reach early, with Eastern up 46-7 at halftime, and the losing side (I'm sure) received a check and hopefully there were no injuries. Eastern outgained Central 645 yards to 234 while two CWU quarterbacks and wide receiver Jojo Hillel combined for 110 yards passing. Backup quarterback Zach Matlock was CWU's top passer, but he only completed 5 of 8 passes for 48 yards. Starting quarterback JJ Lemming had a day he would like to forget, completing just 4 of 16 passes for 28 yards and an interception. Tony Archie led the Wildcats with 48 receiving yards, including a catch that helped set up their first touchdown.
Eastern showed no hangover from their win against UNLV in Week 1. If anything, they look like a team ready to make a deep run in the Division 1 FCS playoffs. For Central, a more accurate assessment awaits them in future weeks when they are not facing high-level Division 1 FCS opponents.
Simon Fraser loses at Linfield 56-20
Good News: Simon Fraser scores their first points of the season
Bad News: Simon Fraser was down 25-0 when they scored their first points of the season
Simon Fraser went to Division III Linfield with the hopes that they could do enough to stay in the game. Unfortunately, those hopes were dashed early by a Linfield team that looked very much like the playoff team that they have been for many years going. After scoring a field goal on their second drive, the Wildcats perfectly executed a delayed-draw counter play that had most of the SFU defense fooled into going the wrong way, with Linfield running back Connor Morton scoring a 21-yard touchdown, putting Linfield up 10-0, and the rout was on.
When the second quarter started, Linfield scored again to make it 18-0 and in came Justin Seiber to relieve beleaguered SFU quarterback Brandon Niksich. Seiber led the SFU offense the rest of the way, completing 26 of 43 passes for 297 yards, three touchdowns, and one interception. All three touchdowns were to freshman wide receiver Caelin Johnson, who had a career day – 193 yards on 9 catches with 3 touchdowns. Wide receiver Riley Morrison also caught 11 passes for 87 yards. SFU even outscored Linfield 13-0 in the fourth quarter. However, SFU's passing game was the only bright spot as their running game finished with a net negative-11 yards. Also, the SFU defense struggled, giving up 56 points and 465 yards. Linfield's offense was led by Wyatt Smith, who completed 26 of 39 passes for 307 yards and 4 touchdowns. SFU kicker Kristie Elliott of North Vancouver, BC joined the historical theme of Week 2 by becoming the first Canadian female to score in an NCAA football game, making 2 of 3 extra points.
Western Oregon loses at Texas A&M-Kingsville 24-10
Good News: Western Oregon moved the ball effectively for most of the game and outgained the Javelinas
Bad News: Western Oregon shot (or is it bit) themselves in the foot way too many times
Don't let the final score fool you, Western Oregon could have won this game. They outgained Texas A&M-Kingsville 308 yards to 270 and moved the ball into Javelinas territory on many occasions. Too often, though, the Wolves made critical errors that ended drives with no points. Two missed fourth-down conversions, including a fourth down and goal. A missed makeable field goal. And the biggest play of the game, a strip-sack of Wolves quarterback Ryan Worthley that was returned by Cameron Cauthen for a Kingsville touchdown, making the score 17-3 and putting the game out of reach. A 7-yard Omari Land touchdown run provided the final margin of victory for the Javelinas at 24-10.
Like Barton earlier in the day, Kingsville ran the ball for 214 yards and held Western Oregon to 67 rushing yards, preventing the Wolves from finishing drives and putting the ball in Ryan Worthley's hands a bit too much. Worthley completed 30 of 45 passes for 241 yards, but no touchdowns and an interception. In this day of pass-happy offenses, the Javelinas' two quarterbacks, Shane Johnson and Zadock Dinklemann combined for 56 passing yards on 8 of 15 passes. Run the ball and stop the run – that's what Kingsville did to beat Western Oregon.
Week 3 Preview
All games are on Saturday, September 18.
Barton (1-1) at Catawba (SAC, 2-0), 1:00 PM Eastern time
Series History: Catawba leads 2-0
Last Meeting: 1949 (Catawba won 39-0)
Can we get a winning streak? (Part 1)
Barton takes their power running game to Salisbury, NC to take on Catawba, who is playing the third of three home games to start the season. Catawba beat fellow Independent Erskine 37-27 in Week 1 and beat CIAA member Winston-Salem State 28-6 last week. Like Barton, Catawba is going to rely on the running game, which makes sense given Barton head coach Chip Hester spent 11 years as Catawba's head coach. Catawba has run for 511 yads versus 242 passing yards. Quarterback Ken Avent is also the team's leading rusher with 184 yards to add to his 242 passing yards. Jyrea Martin and Daniel Parker are also significant contributors to the running game. Kujuan Pryor is Catawba's leading receiver with 113 yards on 14 catches and two touchdowns. Linebacker Christian Bennett leads the team with 10 tackles (6 solo).
This is as close to a game between mirror-image teams as you can get. Catawba and Barton will both try to impose their will on the other with their running games. This will be a close game, but Catawba is deeper and should hold off the Bulldogs. Catawba by 7 to 10 points.
Bluefield State (1-1) at Johnson C. Smith (CIAA, 0-1), 6:00 PM Eastern time
Series History: Tied at 1-1-1
Last Meeting: 1942 (A 0-0 tie)
Can we get a winning streak? (Part 2)
Back in the 1940s, Bluefield State and Johnson C. Smith competed against each other in the CIAA. A grand total of 6 points was scored between both teams in three games played from 1940 to 1942. They split the 1940 and 1941 games, each winning 3-0, and the 1942 game was a 0-0 tie. So, 79 years later, how will this year's game end?
JCSU has played one game this season, a 20-19 win over SIAC member Allen. The Golden Bulls had a 19-14 lead in a back-and-forth game when Allen's Beau Harrington caught a 7-yard touchdown pass to score his third touchdown and win the game for Allen with 55 second left in the game. JSCU only managed 233 yards of offense, with 11 yards passing and 122 yards rushing. Players to watch on the Golden Bulls include quarterback Antonio Walace, who completed 11 of 22 passes for 111 yads and 2 touchdowns. Davion Nelson was the team's leading rusher, with 102 yards on 19 carries and a 42-yard run. Reggie Bryant (2 catches for 65 yards and 2 touchdowns) and Ivoree Atkins (4 catches for 27 yards) are JCSU's top receivers. Linebackers Marvin Strong and Brandon Moses are JSCU's leading tacklers.
The Big Blue and the Golden Bulls are closely matched, but the Golden Bulls seem to struggle on offense and will need their defense to get turnovers and take advantage of those turnovers (JCSU forced three turnovers, including a pick-six against Allen). The Big Blue has some momentum on offense coming from last week's win, and this week's matchup is similar to last week's against Elizabeth City State. I say the Big Blue gets their first winning streak since 1976, beating the Golden Bulls by 7 points.
Erskine (0-2) at Chowan (CIAA, 2-0), 1:00 PM Eastern time
Series History: First meeting
Erskine had an exercise in frustration last week in their loss against Barton. Their defense was pushed back by Barton's power running game, and both their offense and defense made too many critical errors, stopping drives and leading to Barton points. The experience from the first two games and the successes that they have had despite the two losses should help them in future games.
Chowan has won their first two games on the road against SAC opponents Mars Hill (30-24) and Tusculum (46-38), with both games going to overtime. Against Mars Hill, Chowan got out to a 24-7 lead and gave up 17 straight points to send the game to overtime, when running back Jaylon Boyd won it with a 1-yard touchdown run. Against Tusculum, it was Chowan coming back from a 21-7 deficit, taking a 31-24 lead in the fourth quarter before Tusculum forced overtime. Jaylon Boyd won that game in the second overtime with another 1-yard touchdown run. Chowan has roughly three times as many passing yards (556) to rushing yards (168). Players to look out for include Jaylon Boyd (88 rushing yards and 3 touchdowns), quarterback Bryce Witt (33 of 58 passes for 505 yards and 4 touchdowns), and wide receivers Laurence King (12 catches for 191 yards and 2 touchdowns) and Imeek Watkins (10 catches for 170 yards and 1 touchdown). Defensive backs Basilio Fernandez and Connor O'Brien lead the team in tackles, which isn't always the best sign for a defense, but Chowan does have that 2-0 record.
Chowan was picked to finish third in the CIAA this season, and their win over what is supposed to be a decent Tusculum team showed that they are a solid team. Erskine will need to do a lot to keep the game close, especially keep the mistakes to a minimum. Craig Pinder and Senika McKie will need to have big games as well. I expect Chowan to win going away, by 13 to 17 points.
Central Washington (1-1) at Simon Fraser (0-2), 6:00 PM Pacific time
Series History: Central Washington leads 38-10
Last Meeting: 2019 (Central Washington won 51-14)
The long-anticipated opening of SFU Stadium at Terry Fox Field is upon us as SFU comes home after two difficult losses at Idaho and Linfield to host Central Washington in the GNAC's first conference game of the 2021 season. We have to go back to 2015 when a Central Washington-Simon Fraser game was decided by less than 33 points (a 30-24 CWU win). Since then, the average score of this matchup has been 54-7 in the Wildcats' favor. We have to go even further back to 2013 for the last time SFU beat CWU (a 21-14 SFU win)
Simon Fraser is at home, opening a new stadium, and hopefully it's a great event. Terry Fox, the man for whom the stadium is named for, was a Canadian icon when he died of bone cancer in 1981 and was a national champion for cancer research, which he remains to this day. Today, schools all over Canada have Terry Fox runs to support the cause. But, the SFU football team needs a lot of work, and CWU needs wins. It is still to be seen if Justin Seiber's success passing against Linfield will carry over to a start against CWU, or if Seiber's success was at least somewhat due to Linfield taking its foot off the gas after getting ahead by several touchdowns. Also, after neither CWU quarterback put up big numbers in Week 2, there may possibly be a question about who starts for the Wildcats (but again, consider the opponent).
Given that both CWU and SFU lost by wide margins in Week 2, it will be a question of which team can get in rhythm the earliest. The Wildcats are more talented than SFU, they should be able to execute their game plan much more easily, and I expect a game close to what CWU had in Week 1. Central Washington by 30 to 36 points.
Western Oregon (0-2) at Portland State (Division 1 FCS-Big Sky, 0-2), 2:05 PM Pacific time
Series History: Tied at 11-11-1
Last Meeting: 2015 (Portland State won 31-0)
Let's go back to 1950. A group of six colleges in Oregon come together to form a conference called the Oregon Collegiate Conference. OCC football was dominated by Oregon College, who won the OCC title outright 8 times and tied for the title three other times before the conference was dissolved after the 1969 season. Portland State was another successful program, but their success paled in comparison to Oregon College, winning the OCC title outright just once and tying for the title one other time. Portland State had a 6-9 record against Oregon College when they were the first school to leave the OCC after the 1964 season. So, what's the big deal about Oregon College? Oregon College is now Western Oregon University, and this old rivalry has been re-booted a few times over the years, but it has recently been dominated by the now-Division 1 Vikings, who have won the last eight meetings since the last Western Oregon win in 1961. Malik Walker leads in rushing with 94 yards, and Beau Kelly leads in receptions with 16 receptions for 284 yards and 2 touchdowns. Darien Chase has 12 catches and Nate Bennett has 11 catches. Defensive tackle VJ Malo leads the Vikings on defense in tackles and sacks.
Portland State plays their last non-conference game this season after playing FBS opponents Hawaii (a 49-35 loss) and Washington State (a 44-24 loss). It is also their first home game in 22 months. The Vikings are 0-2 after two losses at FBS opponents Hawai'i (49-35) and Washington State (44-24). In both games, they fell behind big early but managed to put up yards and points in the second halves of those games. They have been heavily reliant on the passing game, having thrown for 718 yards in their first two games versus just 179 rushing yards. I am guessing much of that was due to falling behind early and passing to try to catch up. Quarterback Davis Alexander is their passing leader, completing 50 of 96 passes for 693 yards, 5 touchdowns, and three interceptions.
Like the Central/Eastern Washington game last week, I expect that the talent gap between the two teams will be too great for the Wolves to overcome. Portland State takes the overall lead in the series, winning by 24 points.
The game is on ESPN+ if you have a subscription.