NCAA Independents Week 4 Recap and Week 5 Preview
September 29th, 2021 4:00pm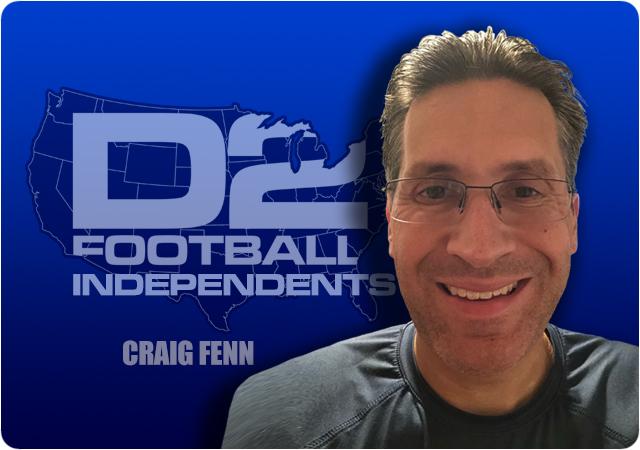 Week 4 saw the further emergence of Barton's Jordan Terrell as a national star, and two defenses played a game of "Can you top this?" out in the Pacific Northwest. Erskine literally got run over by North Greenville, and Western Oregon rode their defense and found their running attack in a win over Simon Fraser.
Looking at Week 5's games, every matchup is a first-time and non-conference meeting, and for a couple of this week's games, there's so little information about the opponents that it seems more like a blind date than a football game. We also have our first COVID-19 cancellation of the season as Texas-Permian Basin will not be traveling to Canada to face Simon Fraser.
Week 4 Recap
Barton wins at Limestone 45-7
Sometimes it can be easy to get caught up in today's sophisticated and complex offenses, with quarterbacks throwing for ridiculous yardage and touchdown totals and even professional coaches trying to adapt the newest spread offense concepts. Sometimes behind all those fancy X's and O's that football is a very simple game – make the block, beat your man, make the right throw, make the right cut, hold onto the ball…and your team will win more often than not.
Barton doesn't line up with four and five wide receivers and try to throw on every down. In fact, the quarterback lines up under center for most of their offensive plays. They have brought the focus back to the trenches and the ground game, and they are winning with it. It certainly doesn't hurt to have the best running back in the country either. Jordan Terrell, in what is becoming a weekly occurrence, took the ball, and took the ball, and took the ball again, running behind that Barton two tight end set and punishing defenses. Against Limestone, he carried 24 times for 256 yards and 2 touchdowns, averaging 10.7 yards per carry. And he did that in just three quarters as the Bulldogs were already up 45-0 over the favored Limestone squad who was without their starting quarterback Dustin Noller who was out with a concussion. Terrell now averages 192.5 yards rushing per game, making it easier for quarterback Jaquan Lynch to make the back-breaking deep throws that Barton's offense is also becoming known for. While it remains to be seen whether Barton's offense can manage a day if they are asked to pass more, Terrell is on pace to gain over 2,000 yards rushing this season and as long as Terrell can carry this load, the Bulldogs have a chance. And bad news for his future opponents – he has three more years of eligibility left.
Now, Barton wasn't just all Jordan Terrell and their 363 rushing yards. Jaquan Lynch didn't complete that many passes (8 of 10), but he threw for 141 yards and 2 touchdowns, including the game's first touchdown, a 43-yard pass to Kameron Johnson (3 catches for 69 yards). Defensive back Kendarius Jenkins added a 95-yard pick-six that ended a 31-point first half for the Bulldogs. Barton held the ball for 39 minutes and converted 8 of 13 third downs.
Barton improves to 2-2 and Limestone falls to 0-4.
Erskine loses at home against North Greenville 38-7
Erskine was already behind the proverbial 8-ball in this game. North Greenville had two solid wins against SAC members Limestone and Newberry, and The Flying Fleet were without starting quarterback Craig Pender and top receiver Senika McKie. NGU was also without their starting quarterback Kaelan Riley. Then, Erskine backup quarterback Bryce Jeffcoat (who was facing NGU quarterback Bryce Fields, after Erskine faced Bryce Witt last week…something about the name Bryce these days) threw a 67-yard touchdown pass to Javian Bellamy and the Flying Fleet had a 7-0 lead. Kind of like how the Chowan game started, doesn't it?
Now, NGU had a trick up their sleeve that Erskine had no answer for. NGU took a page out of the Barton playbook and they ran right at Erskine, having one of the top rushing days in school history with 55 carries for a total of 427 yards. Dre' Williams led the way for the Crusaders with 169 yards on 19 carries and 2 touchdowns. Cale Swift (7 carries for 91 yards) and EJ Humphrey (10 carries for 84 yards and one touchdown) also joined the fun for NGU. Backup quarterback Bryce Fields completed 16 of 26 passes for 136 yards and one touchdown. Fields also rushed for 32 yards and a touchdown. After the quick start, Erskine failed to score for the rest of the game and ended up losing 38-7. Jeffcoat wasn't bad in his first start of the season, completing 21 of 36 passes for 229 yards and the one touchdown. However, Erskine has still struggled to find balance in their offense (Jamaar Moore had 46 of the team's 46 rushing yards), and their defensive issues up front continue to plague them.
Erskine falls to 0-4 and North Greenville improves to 3-1.
Bluefield State had the week off
Did I mention my son likes Big Blue sodas?
Central Washington loses to Angelo State 14-9
One more stop.
Central Washington was struggling to gain anything at all against #23 Angelo State's defense, with rushing yards given up begrudgingly and few passes finding their intended targets. But here they were, winning the defensive battle against one of the nation's top defenses. Despite not managing a drive of more than 49 yards, three Patrick Hegarty field goals had CWU ahead 9-7, and time was short. On top of that, CWU's defense more than stood up to the Angelo State challenge. In the second half, CWU held the Rams to six 3-and-outs and a grand total of negative-2 yards.
But they needed one more stop.
After fielding a CWU punt with 3:41 left, Angelo State had the ball at their own 31-yard line. One more stop and this ugly game was all theirs, as pleasant to look at as any 50-point blowout. All the struggles on offense would be irrelevant, and all anyone would talk about was how CWU did just enough to win. But CWU didn't get one more stop, as ASU went on a 9-play, 69-yard drive keyed by a Kellen Pachot (3 catches for 35 yards) 31-yard reception from Hagen Garvin (9 of 25 passes for 130 yards), giving ASU first-and-goal at the CWU 2-yard line. Three plays later, Nathaniel Omayebu III (24 carries for 100 yards and 1 touchdown) found just enough space and scored from one yard out to give the Rams a 14-9 lead. It was the longest drive of the game by either team.
After the ensuing kickoff, CWU was left with 48 seconds and 75 yards to cover, a daunting task even on the best of days and a task made even more difficult given the circumstances. CWU could only advance 21 of those yards when Andrew Pitts intercepted a fourth-down desperation pass from JJ Lemming (9 of 33 passes for 114 yards and 2 interceptions), ending the Wildcats' hopes for a victory.
Neither team could establish much of anything on offense, with Angelo State outgaining CWU by just 253 to 202 total yards. CWU didn't get a first down until the second quarter. Rashaad Boddie fought for every one of his 104 yards, needing 32 carries. Kellen Gregory (52 yards) and Tai-John Mizutani (35 yards) both had 3 catches for CWU. Donte Hamilton led the defense with 9 tackles, two sacks (CWU had 5 total sacks), and two deflected passes, having one of his best games in the Wildcats' uniform. Hamilton now leads CWU with 4 sacks.
This was a game CWU could have won. The Wildcats' defense did all they were asked of them and far beyond. I honestly don't know how much more you could ask them to do without thinking that any significant drive could have put CWU over the top.
Central Washington falls to 2-2, and Angelo State improves to 3-1.
Western Oregon wins at Simon Fraser 24-7
It was Senior Night at SFU Stadium, and SFU celebrated the accomplishments of their 12 senior football players. However, the results were not to the liking of the SFU faithful, as they saw another GNAC opponent run for over 300 yards against their defense in a 24-7 Western Oregon win. The Wolves studies what Central Washington did last week in rushing for 370 yards against SFU and fed Omari Land. Land rushed for 209 yards and WOU ran for a total of 330 yards on 47 carries. WOU's rushing success allowed them to hold the ball for 35 minutes. Joining Land in the rushing attack was Andrew Valladares, who gained 74 yards on 13 carries. The Wolves' rushing success meant that Ryan Worthley (14 of 27 passes for 87 yards) didn't have to challenge an improving SFU secondary. Valladares also led in receiving yards with 22 and Thomas Wright led with 5 catches.
The Western Oregon defense stood tall throughout, getting 9 tackles for losses and holding SFU to just 184 yards of total offense. SFU continues to struggle on the ground, gaining only 25 yards rushing, with quarterback Justin Seiber leading the team with 18 yards. Seiber also threw for 202 yards on 9 of 33 passes and one 45-yard touchdown to Dallas Dixon (2 catches for 60 yards). Seiber was injured near the end of the game and did not return.
Since it's SFU's final home game of the year, I'm going to tip my cap to the NCAA's only Canadian university and try my hand at the ice hockey tradition of giving out the three stars of the game. First star goes to WOU's Omari Land, who anchored the Wolves' offense with 209 yards on 25 carries and 2 touchdowns. Second star goes to the Western Oregon defense, who held SFU to 184 total yards of offense. Third star goes to SFU senior linebacker Griffin Barrett, who led all defenders with 17 tackles.
Western Oregon wins their first game of the season and improves to 1-3. They also win their GNAC opener. SFU falls to 0-4.
Team Records
Independents
Bluefield State: 2-1
Barton: 2-2
Erskine: 0-4
GNAC (Best record out of 4 conference games wins the conference title)
Central Washington: 2-2, 1-0 GNAC
Western Oregon: 1-3, 1-0 GNAC
Simon Fraser: 0-4, 0-2 GNAC
Week 5 Preview
All games are on Saturday, October 2.
Barton (2-2) hosts Carson-Newman (SAC, 0-3), 2:00 PM Eastern time
Series history: First meeting
Barton comes back home after three weeks on the road looking to have a winning record for the first time in program history. OK, this "history" is only 7 seasons, but 5 of those seasons were from 1946-1950, so Barton has been waiting a LONG TIME for a winning record. Awaiting them are the Carson-Newman Eagles, who have struggled in their first full season after making the 2019 Division 2 playoffs, having been outscored in their three games by a total score of 103-17. It should be noted, that two of C-N's opponents, West Georgia and Wingate, are undefeated and ranked in the top 15 of the D2football.com top 25. The Eagles are known for the split-back veer offense that they have run for decades, and they can give defenses headaches if they haven't played against it before. This is certainly the case for Barton. But C-N's overall offensive numbers are a bit on the ugly side. They have only gained an average of 98.7 yards rushing per game and 87.7 yards passing per game. While they've shown a strong offense in spurts, they have had difficulty sustaining it over an entire game. They have used three quarterbacks (Trey Mitchell, Micah Young, and LaMarcus Brown) in games this season, with Mitchell leading in pass attempts and Brown leading in yards. Troy Dendy leads a host of rushers with 123 yards and Braxton Westfield leads in receiving yards with 116. Linebackers Alonzo Houston and Rondrow Peebles lead in tackles and defensive back Jalen Anderson leads in interceptions with 2. Caleb Goins and Justice Alexander lead in tackles for loss with four each.
Carson-Newman likely isn't as bad as their record indicates, but they are by no means a great football team. They have played a tough schedule and haven't shown consistency on either side of the ball. For Barton, it comes down to establishing Terrell and the running game. Everything else plays off that. If they can do that, I think they win. I think C-N will make some plays and keep the game close for at least three quarters, but Barton has one of the top running games in the country and C-N's defense gives up an average of 161 rushing yards per game. That is a recipe for a difficult day if you are an Eagle. I think the C-N defense will be worn out by Terrell and the relentless Bulldogs' running game. Barton gets that first-ever winning record, winning by 7 to 10 points.
Erskine (0-4) hosts Virginia University of Lynchburg (NCCAA-Independent, 0-4), 2:00 PM Eastern time
Series history: First meeting
Before Jerry Falwell and his family set up shop in Lynchburg, there was VUL. Formed in 1886 as the Lynchburg Baptist Seminary, the school exists mainly to educate and train those interested in establishing careers in religion. Unlike their much larger neighbors at Liberty, VUL has an enrollment of just around 500 students. I would think that their football team must make up a significant portion of their enrollment. However, trying to find information about the team has been a significant test of my "Google-fu". Going to the VUL athletics web site leads me to "Warning: Potential Security Risk Ahead" (uh oh, this can't be good). Ignoring said security warnings (Oh, the risks I take every week to write this column!), I find a web site that hasn't been updated in some time and doesn't have their current roster (the only mention of their 2021 schedule is a graphic), so it is going to be up to VUL's opponents to help me make sense of them.
VUL has fielded a football team since the 2011 season and has attempted to play at least 9 games a season since 2018. As a Historically Black University, their schedule is populated with many games against fellow HBCU's at the Division 1 and Division 2 levels, but from looking at their past schedules, they seem willing to schedule anyone who will agree to play them. They are true barnstormers – that's the Independent spirit! But the problem for them has been fielding competitive teams. They haven't won a game since they went 3-7 in 2018 (which was their most successful season), with their last win coming over then-NAIA and current SIAC member Allen. They have been outscored 209-56 in their four games this season, and they have yet to score in the first half of any of their games. On offense, they are led by quarterback Darrius Sample, whose best game was against Mars Hill in Week 2, which he threw for 204 yards (his only game over 100 yards passing) and two touchdowns, including a 76-yard touchdown pass to top receiver Cinsere Clark. Joshua Gray is also a top target for Sample. VUL runs the ball by committee, with Sample and running backs Kalib Jennings and David Freeman also getting significant carries. John Templar, Kevin Simmons, and Damien Partee lead the Dragons' defense.
Erskine is going to find things a bit easier this week. There isn't any Bryce Witt throwing over them and no Dre' Williams (and a bunch of other guys) running over them. However, it isn't known if Erskine will have quarterback Craig Pender and/or top wide receiver Senika McKie, who were both out against North Greenville. I'm going to go out on a limb and say that this game is competitive for a half, but I don't think VUL has the depth to stay with Erskine. The Flying Fleet get their first win of the season by 21 to 24 points.
Bluefield State (2-1) hosts UNC Greensboro (NCFA-South Atlantic, unknown record), 12:00 PM Eastern time
Series history: First meeting
UNC Greensboro is a Division 1 school that competes in the Southern Conference. However, that doesn't apply to football, as they don't field an NCAA football team. their football team is a club team in the National Club Football Association (NCFA) and for that reason, this game will not count as an official game for Bluefield State. Therefore, I won't be covering the game this week and will only briefly mention it unless something significant happens like a serious injury. My pick for this game is that I hope the Big Blues play well and no one gets hurt.
A note about next week's game – Bluefield State hosts the University of Fort Lauderdale for their Homecoming game. However, Fort Lauderdale has had three games cancelled so far this season and their September 25 game against West Florida was cancelled because they weren't able to field a team. I'll be keeping an eye on that one.
Central Washington (2-2) hosts D2football.com #11 Midwestern State (LSC, 4-0), 6:00 PM Pacific time
Series history: First meeting
Before previewing this game, I wanted to address an article that was posted on the GNAC forum from the Yakima Herald discussing playoff possibilities. Specifically, the article dealt with whether CWU could qualify for the Division 2 playoffs. All GNAC schools are in a bind since the NCAA does not recognize the GNAC for the Earned Access rule, meaning the GNAC champion doesn't have an advantage in making the playoffs if their regional ranking doesn't otherwise allow them to make the playoffs. So, all GNAC schools are treated like Independent schools, which is why I write about the GNAC in this column. We focus on CWU since they have the lead in the GNAC and they have the best chance of finishing the season with a record that could warrant playoff consideration. From my many years of watching my alma mater New Have compete as an Independent, two main requirements are necessary to make the playoffs: Win a lot of games and beat good teams. CWU is 2-2 right now and has the only win by a GNAC school over an LSC team (Week 1 over Eastern New Mexico). In my opinion, CWU needs to win out to be considered for the playoffs. They will then finish with an 8-1 record (I think – future opponent Lincoln University (CA) is a "countable opponent" but not an NCAA member…how do they count?) against Division 2 opponents. CWU would then also have a win against one nationally ranked opponent – Midwestern State, their opponent this week. Long story short, every game for CWU is a must-win game.
OK, on to the game. After a hard-fought, last-minute loss to Angelo State, CWU does it all again this week when another nationally ranked LSC team comes to Ellensburg. Midwestern State comes off a 31-24 overtime win over an Eastern New Mexico team that CWU beat 66-24 in week 1. MSU lost a 17-0 lead in second half when ENMU scored 21 straight points to take the lead. MSU briefly took the lead back only to see ENMU tie it to force overtime, when MSU finally won. The Mustangs have defeated then-#5 Texas A&M-Commerce, coming back from 30-10 down to win 31-30. They also defeated then-#14 (and CWU opponent) Angelo State 31-17 by outscoring the Rams 21-0 in the second half. They have the best record of any current LSC team since the year 2000 with a 161-65 record.
Looking at MSU, senior quarterback and Arizona State transfer Dillon Sterling-Cole leads the offense with 1,065 passing yards and 13 touchdowns against 3 interceptions. Kylan Harrison leads MSU receivers with 13 catches for 277 yards and 5 touchdowns. Ja'Juan Mason is also a significant contributor with 10 catches for 222 yards and 1 touchdown. Jalen March leads the ground game with 202 yards on 37 carries and 3 touchdowns. The Mustangs also present an opportunistic and talented defense that is among the national leaders in turnover margin, sacks per game, and lead the nation in tackles for loss with 45 (CWU has 31 tackles for loss). The defense is anchored by linebacker Justin Guillory, who leads the team in tackles for loss. Defensive ends Melik Owens and Jaylon Abdul-Karim are both quick and often find their way into the offensive backfield to make tackles. This is a team that looks every bit their national ranking.
MSU will be the best team CWU faces this season at the Division 2 level (unless CWU makes the playoffs) and is an overall better team than Angelo State. Their head-to-head win showed that. It will be a very difficult game for CWU to win, and CWU will certainly not win if they don't have significant contributions from both sides of the ball. If the CWU offense struggles like they did last week and if MSU's defense can push the CWU offense backwards, the game could get away from them as MSU has more offensive talent than Angelo State. Play strong defense and get more a more balanced game from their offense, especially at quarterback, and CWU has a chance to pull off the upset. CWU can win the game, but MSU is the better overall team and has more playmakers. I think this game will be close like last week, but I think the Mustangs win by 4 to 7 points.
Simon Fraser (0-4) hosts Texas-Permian Basin (LSC, 3-1), 6:00 PM Pacific time
Series history: First meeting
No no no, wait a minute…according to UTPB's athletics web site, this game is cancelled "due to travel related issues with the Canadian border brought on by the COVID pandemic." Take what you will regarding that statement, but I will not speculate on it. The bottom line is there's no game. It would have been SFU's third and final home game of the 2021 season. Even though SFU were likely to be significant underdogs, SFU could have used the experience and SFU's fans will miss out on seeing their team.
Providing there are no last-minute changes, SFU gets the week off to rest and pack before they go back on the road next week. Think I'll fire up my Playstation 2 (yep, I'm old) and see what I can do to simulate the game with my 20-year-old copy of NCAA Football, if it works.
Western Oregon (1-3) hosts West Texas A&M (LSC, 2-2), 1:05 PM Pacific time
Series history: First meeting
While the conversation about possible GNAC playoff spots is dominated by Central Washington, Western Oregon may possibly be in the conversation if they win the rest of their games and if Central Washington wins their game against Midwestern State this week for a boost in strength of schedule. There is precedent for a 3-loss GNAC team making the playoffs since Azusa Pacific had an 8-3 record in 2018, but the chances of the Wolves making the playoffs even if they win out are not high.
Wolves are known to travel long distances when they are on the hunt. Western Oregon will have been away from home for an entire month when they finally put on the home uniforms this week. West Texas A&M of the LSC comes to WOU to try and get back in the win column after a close home loss to Colorade School of Mines, who also beat WOU in Week 1. The Buffaloes held a 13-0 halftime lead but had a disastrous second half, losing a fumble, throwing an interception, and having two turnovers on downs while CSM scored 21 unanswered points to win. WTAM has also lost to UT-Permian Basin in their only road game so far this season and has wins against Western New Mexico (a future CWU opponent) and NAIA member Texas College. The Buffaloes have thrown for 957 yards and rushed for 787 yards. They have turned the ball over 5 times (3 interceptions and 2 fumbles) but have only forced 2 turnovers (2 interceptions). However, their defense has 12 sacks this season. Interestingly, their average time of possession is 6 minutes less than their opponents (32 minutes per game).
Khalil Harris leads the Buffaloes in rushing with 338 yards on 5.6 yards per carry and 4 touchdowns. Jarrod Compton and Marcus Lindsay will also carry the ball. Quarterback Nick Gerber (952 yards, 8 touchdowns, and 3 interceptions) has four receivers with over 100 yards receiving, led by Noah Bogardus (11 catches for 221 yards and 1 touchdown). Linebackers JT Cavender (35) and Cole Oster (25) lead the Buffaloes' 3-4 defense in tackles. The Buffaloes give up an average of just 19 points a game.
WOU turned the tables on offense last week with their dominant running game against SFU. CWU had a similar game against SFU two years ago but struggled last week against Angelo State. If WOU can continue to run the ball well, even if it isn't for over 300 yards again, it could keep the Buffaloes' defense honest and give Ryan Worthley time to throw. Combine that with the already-strong defense that WOU has shown over the past three weeks, and this game can be up for grabs late. However, WOU has typically had one arm of their offense (passing or running) working well, and the other hasn't worked as well. If the offense struggles, it could be a repeat of the Texas A&M-Kingsville game in terms of WOU frustration. I don't think WOU will be able to put enough offense together to pull the upset. West Texas A&M by 7 points.