NCAA Independents Week 5 Recap and Week 6 Preview
October 7th, 2021 12:00am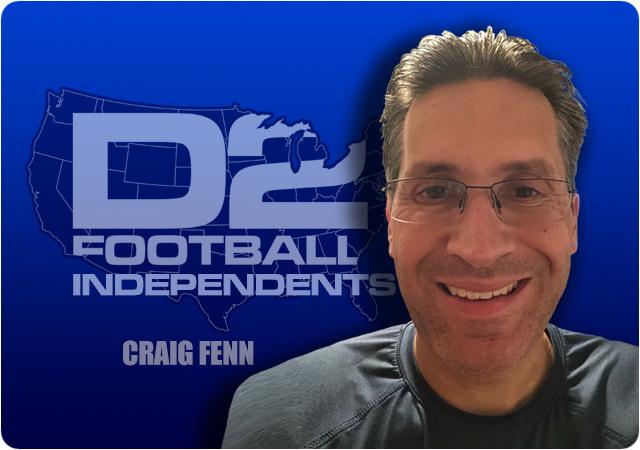 Celebrate! The Independents had their first undefeated week of the 2021 season, with all 4 teams who played winning their games. The main highlights of the week had to be the two huge wins by GNAC teams over LSC teams, with Western Oregon winning a back-and-forth shootout over West Texas A&M earlier in the day and Central Washington ending the day at around midnight (or 9 in the PNW) by beating #11 Midwestern State with a dominant fourth quarter. Also, Barton earned the program's first-ever winning record and winning streak, and Erskine did what they were supposed to do in beating Virginia-Lynchburg.
Playoffs?
Last week's column examined the chances of a couple of this column's teams (Central Washington and Western Oregon) to make the NCAA playoffs. Now that we are halfway through the season, we can begin examining those possibilities a bit more closely. This week, I will take each of the teams in this column and classify them based on how likely I think they are to make the playoffs. In future weeks, this section will examine each team (and reclassify them if necessary) based on their results.
Sure things:
None – To be fair, I probably wouldn't even put an undefeated team here at this point in the season unless they beat all their opponents by 40 points a game.
Have a chance:
Central Washington (3-2) – The Wildcats are coming off their most impressive win of the season over Midwestern State after nearly pulling off a victory the previous week against Angelo State. They are playing their best football of the season and may have solved their issues at quarterback. They will be favored in all remaining games and could finish with an overall 8-2 record with just 1 Division 2 loss. Win out and they will be in the Super Region 4 playoff conversation. The biggest strike against CWU coming down the stretch will be a significant drop in their strength of schedule after their two games with Western Oregon – their final three opponents (Lincoln University of California, Western New Mexico, and Simon Fraser) have a current combined record of 2-12. Lincoln is a first-year program no affiliated with the NCAA or NAIA and, while a "countable" opponent, I don't believe it officially counts as a Division 2 game. One loss and CWU goes to the "Need a bit of help" group with 3 total losses.
Need a bit of help:
Western Oregon (2-3) – The Wolves also come off their most impressive win of the season in beating West Texas A&M. However, their toughest opponent may have been in Week 1 when they lost at Colorado School of Mines and lost. However, there is precedent for taking a 3-loss GNAC team, as Azusa Pacific was 8-3 in 2018 and made the playoffs. WOU needs to sweep the home-and-home with Central Washington along with the rest of their games, but that may not be enough. They will also need some help in the region to be considered for a playoff berth since they will also take a strength of schedule hit down the stretch with games against Simon Fraser and Lincoln University of California coming after their two games with Central Washington. However, in between the SFU and LU games is a game at Chadron State (who seems better than their current record of 2-3) that may soften the blow to their strength of schedule. One loss and the Wolves go to the "Wait until next year" group with four losses.
Doubtful:
Barton (3-2) – The first-year Bulldogs have surprised many with Jordan Terrell and their power running game, going 2-2 against current SAC opponents. However, their most difficult opponents still await them, as three of their final five games are against teams in the top half of the SAC standings in Mars Hill, undefeated Wingate, and UVA-Wise. They also face national power (but having a down season so far) Lenoir-Rhyne. It will be exceptionally difficult to run this gauntlet and finish with a 9-2 or even an 8-3 record and make the playoffs in an absolutely loaded Super Region 2. I expect they will have a 5-6 or 6-5 record at the end of the season, which the young Bulldogs should be proud of when they enter the SAC next year.
(Then there's the question about whether Barton would even qualify for the playoffs as a first-year team…Not completely sure on that one yet.)
Wait until next year:
Bluefield State (2-1) – The Big Blue only plays 7 official games this season and cannot qualify for the playoffs.
Erskine (1-4) – The Flying Fleet have had a hard time in their first full season, with their only win coming last week against Virginia-Lynchburg. They have a solid receiver in Senika McKie and run a fast-paced offense that can rack up the passing yards, but they are very much a work in progress and will need more time and depth to work toward contender status when they enter the SAC next year.
Simon Fraser (0-4) – Canada's NCAA team has struggled this season under first-year head coach Mike Rigell, and they will likely not be favored in any of their remaining games this season. However, things have been looking up as they seem to have found a quarterback in Justin Seiber and their defensive secondary has been a strength. SFU was more competitive against Central Washington and Western Oregon than in their first two games of the season. Above all, SFU will need to get stronger in the trenches to compete against GNAC and LSC competition in future seasons.
Week 5 Recap
Barton wins at home against Carson-Newman 31-17
One of the important parts of becoming a competitive football team is limiting your own mistakes and taking advantage of your opponent's mistakes. Barton showed some of that in beating Carson-Newman. At the start of the fourth quarter with Barton holding a 17-10 lead, and their offense struggling a bit, the Bulldogs faced a third down and 21 from the C-N 42-yard line. JaQuan Lynch's pass intended for Jackson Perrell was flagged for pass interference on the Eagles, giving Barton 15 yards and a first down. A new life for a team that needed it. Five plays later, Jordan Terrell (39 carries for 166 yards and 1 touchdown) scored from 3 yards out to push Barton to a 24-10 lead. On the next C-N drive, LaMarcus Brown was intercepted by Kendarius Jenkins and returned to the C-N 31-yard line. Barton would take the short field and score again on a Lynch (4 of 10 passing for 147 yards and a touchdown; 11 carries for 85 yards and two touchdowns) 1-yard touchdown run to make it 31-10. Game over.
Barton showed that they can take advantage of other team's mistakes, an important step for a first-year team. They also showed that they can win even if Jordan Terrell doesn't put up enormous numbers every week. Even though Terrell did gain 166 of Barton's 237 rushing yards (a very good day for any running back, but below Terrell's season average), he needed 39 carries to do it. Lynch was effective with his legs and his arm, scoring the game's first touchdown with a 61-yard run and the game's second touchdown with an 80-yard touchdown pass to Kameron Johnson (3 catches for 117 yards and a touchdown).
Barton makes history by earning a winning record for the first time in school history, and they earn their first winning streak in school history. The Bulldogs are now 3-2 and their schedule begins to get tougher from here. Carson-Newman falls to 0-4.
Bluefield State's game against the UNC Greensboro club football team was cancelled
The game was cancelled on game day and technically goes into the books as a forfeit win for the Big Blue. As was mentioned in last week's column, this game was against a club football team and wouldn't have counted as an official NCAA game for Bluefield State anyway.
Erskine wins at home against Virginia University of Lynchburg 59-13
When you are a heavily favored team, as Erskine was against VUL, it can sometimes be more difficult to respond when things don't go as expected. Early in the game, a Bennett Caldwell 42-yard field goal had the Flying Fleet up 3-0 when VUL's Darrius Sample (18 of 29 for 182 yards and 1 touchdown) hit Joshua Gray for a 54-yard touchdown pass to give VUL a 7-3 lead. It was VUL's first lead this season and their first points in the first half all season. Upset in the making? Nope, not happening…Erskine would respond and score the game's next 42 points, and the Flying Fleet earn their first win of the season by a 59-13 score.
Erskine showed balance on offense for the first time this season with 170 rushing yards to add to their 306 passing yards. Bryce Jeffcoat was solid, completing 20 of 40 passes for 293 yards and 4 touchdowns. Senika McKie came back this week to make 9 catches for 88 yards and 1 touchdown and Javion Bellamy caught 5 balls for 64 yards and 2 touchdowns, leading five Fleet receivers who caught touchdown passes on the day. Kevon Catoe led Erskine rushers with 57 yards on 10 carries and a touchdown. However, all was not good for Erskine, as VUL did manage nearly 40 minutes of possession time. Low time of possession is something that has plagued the Fleet all season and may hurt them against better teams like Savannah State this coming week. Bottom line though is that Erskine did what they were supposed to do against an overmatched VUL team, even if it wasn't perfect.
Erskine improves to 1-4 and VUL falls to 0-5.
Central Washington wins at home against #11 Midwestern State 30-20
CWU head coach Chris Fisk said before this game that CWU's postseason starts now. Any chance the Wildcats have of making the playoffs required a big win, and that big win was right in front of them. All they needed to do was beat the LSC-leading, undefeated, and nationally-ranked #11 Midwestern State Mustangs. And they planned on doing it with a new quarterback. Quincy Glasper (11 of 22 for 245 yards and 2 touchdowns) took the snaps in place of JJ Lemming, and for this week, the change worked. Glasper's mobility gave the CWU offense a dimension they didn't have previously, and CWU had their most balanced offensive game of the season (245 passing yards and 132 rushing yards).
Glasper immediately gave CWU a spark when he hit Darius Morrison (1 catch for 65 yards and 1 touchdown) for a 65-yard touchdown to give the Wildcats their first lead at 7-3. The game would be back-and-forth for the rest of the first half, with the Mustangs taking a 17-14 lead into the locker room on a Trenton Kennedy (8 carries for 80 yards and 1 touchdown) 39-yard touchdown run. From then on it was CWU's defense that dictated the game, holding MSU to a field goal in the second half and creating opportunities for CWU to take the lead and put the game out of reach. Donte Hamilton was the cause of many Mustangs' nightmares, scoring a hat trick with three interceptions in the second half to add to his 10 tackles and one stiff-arm that would impress Derrick Henry. Hamilton made his first interception with the game tied at 20-20 and returned it to the MSU 26-yard line, where Glasper only needed one pass to JoJo Hillel to give CWU a 27-20 lead they would not give up. Hamilton's third interception off a deflected pass put CWU in position to drive for a Patrick Hegarty (3 field goals) 50-yard field goal for the game's final score. When a defensive play was needed, number 44 was there.
Central Washington improves to 3-2 and Midwestern State falls to 4-1.
Simon Fraser had their game against Texas-Permian Basin cancelled
SFU got the week off…and they get this coming week off.
Western Oregon wins at home against West Texas A&M 41-38
Whoever has the ball last wins.
This was your classic back-and forth shootout where literally the team who had the ball last was going to win. After a back-and-forth first quarter that saw West Texas A&M take a 10-7 lead, a Nick Gerber (16 of 30 passes for 232 yards, 1 touchdown, and 2 interceptions; 11 rushes for 82 yards and 3 touchdowns) 3-yard touchdown run put the Buffaloes up 17-7. That was the largest lead wither team would have in the game, and it would last all of 49 seconds because Ryan Worthley (28 of 35 for 379 yards and 2 touchdowns) would complete a 56-yard touchdown pass to Thomas Wright (6 catches for 98 yards and 1 touchdown) to pull the Wolves within 17-14, and the race was on. An Omari Land (21 carries for 98 yards and 3 touchdowns) 1-yard touchdown run gave the Wolves a 21-17 lead at halftime. From this point to the end of the game, each score would also come with a lead change – who would have the ball last? Khalil Harris (23 carries for 194 yards and 1 touchdown) gave the Buffaloes a 38-34 lead with a 75-yard touchdown run with 4:39 left on the clock.
Western Oregon would have the ball last.
12 plays and 89 yards later, Andrew Valladares (8 carries for 68 yards and a touchdown) scored from 8 yards out with 17 seconds left to put the Wolves ahead 41-38. A desperation pass from Gerber was intercepted by defensive back Joey Sinclair to stop the Buffaloes' hopes of a last-second win.
WOU picked a good week to have their best and most balanced offensive game of the season in terms of yards (553 total yards) and points (41). While their defense did give up 531 total yards, they made the stops they needed to get back into the game.
Western Oregon is on a 2-game winning streak and improves to 2-3. West Texas A&M falls to 2-3.
Team Records
Independents
Bluefield State: 2-1
Barton: 3-2
Erskine: 1-4

GNAC (Best record out of 4 conference games wins the conference title)
Central Washington: 3-2, 1-0 GNAC
Western Oregon: 2-3, 1-0 GNAC
Simon Fraser: 0-4, 0-2 GNAC
Week 6 Preview
All games are on Saturday, October 9
Barton (3-2) at Mars Hill (SAC, 3-2), 1:30 PM Eastern time
Series history: First meeting
This is where things get tough for the Bulldogs. This week they head to Mars Hill to take on the 3-2 Lions, and next week they come back home to host the SAC's top team, undefeated Wingate. The Lions defeated Barton's Week 1 opponent Newberry 28-22 in overtime last week. They average 277 yards a game passing and 143 yards rushing and average 32 points a game. Jimmy Urzua leads the offense at quarterback, with 1264 passing yards, 12 touchdowns, and just 2 interceptions. Christopher Roberts at 210 yards leads a quartet of runners with over 125 yards. Five receivers have gained at least 100 yards, led by CJ Thompson with 510 yards and 4 touchdowns. Tight end Ty Snelson leads all receivers with 5 touchdowns. On defense, their four linebackers lead in tackles, with Landon Honeycutt ahead with 50 tackles, 10 tackles for loss, and 3.5 sacks. Dexter Fitzpatrick is also dangerous with 36. Tackles, 9 tackles for loss, and 3.5 sacks.
Barton showed glimpses last week against Carson-Newman of a more diverse offensive attack, and that will need to be the case when they face teams that are more capable of controlling the Bulldogs' power running game. That could be the case with Mars Hill as the Lions only give up 47 yards a game on the ground. The Lions give up 262 yards in the air, but Barton's offense isn't built to pass. Barton has had a good run and has confidence in what they do, but I don't think they are quite ready to challenge the best teams in the SAC, especially if their running game is limited. Mars Hill by 10 to 13 points.
Erskine (1-4) at Savannah State (SIAC, 4-1), 6:00 PM Eastern time
Series history: First Meeting
Savannah State is atop the SIAC standings with 3-0 conference record, and their 4-1 overall record has them tied with Albany State for best in the SIAC. However, all the Tigers' wins have come against opponents with losing record, and their one loss (against GSC power and undefeated Valdosta State) was by a 53-7 score. Also, SSU averages 30 points a game while giving up 24. It is then possible that this Tigers team may not be as good as their record indicates.
On offense, SSU heavily relies on their running game, averaging 201 yards a game versus just 109 yards a game passing. They also have 12 touchdowns rushing versus only 6 passing. D'Angelo Durham (311 yards and 5 touchdowns) and D'Vonn Gibbons (295 yards and 3 touchdowns). Quarterback JT Hartage takes the snaps for the Tigers and has completed 31 of 59 passes for 645 yards and 4 touchdowns against just 1 interception. Another running back, Einaj Carter, leads all receivers with 7 catches for 193 yards and 3 touchdowns. Carter is also SSU's third-leading rusher with 127 yards. Despite only having a slight edge in time of possession (30 versus 29 minutes), The Tigers' running attack could give Erskine problems and prevent their quick-paced offense from taking the field. On defense, linebacker Brendan Jackson leads SSU in tackles with 21, linebacker Christon Johnson and defensive end Makenly Newbill are tied in the lead in tackles for loss with 3.5 each. Newbill is also tied with defensive lineman Bernard Brown in sacks with 2 each.
The Flying Fleet will need to build on the positives that they had in their win last week, showing and effective running game and passing game. If they play a clean game and limit mistakes, they might stay competitive into the second half. However, Erskine is closer to the teams that SSU has beaten versus the team they have not, and they should win this game going away. Savannah State by 14 to 17 points.
Bluefield State (2-1) hosts University of Fort Lauderdale (NCCAA-Independent, 0-3), 1:00 PM Eastern time
Series history: First meeting
The Big Blue put their 2-game winning streak on the line when they host the Fort Lauderdale Eagles for their 2021 Homecoming game. It is their first game that officially counts since beating Johnson C. Smith on September 18. The Eagles are a first-year varsity program in the NCCAA coached by former Miami Dolphin wide receiver Chris Chambers. They have moved up to the varsity level after having some recent success as a club football team. Of their previous six games this season, 3 of them have been cancelled, with their most recent cancellation against defending Division 2 national champion West Florida being because they were "unable to field a team". UFTL has scheduled ambitiously and has not been able to meet the challenges of that schedule, having been outscored by their three opponents 203-9 (that's an average score of 68-3!) and unable to find consistency on either side of the ball. UFTL's last game was a 72-6 loss to then-#24 Texas A&M-Commerce. Bluefield State may be the Eagles' "easiest" opponent this season, having played Division 1 FCS Presbyterian and GSC member Mississippi College in their other games.
On offense, Qmac Quiteh is UFTL's leading rusher with 85 yards on 24 carries. Craig Cooper will also see some carries. Kyle Kaplan and Franco DeLuca have seen significant action at quarterback, with Kaplan leading with 202 yards on 22 of 53 passes and 5 interceptions. Davon Burgelin leads in receptions with 11 and Zach Hall leads with 75 receiving yards on just three catches. Linebackers Marvensky Brunelus (19) and Ramone Daley (18) lead in tackles, but the defense only has 6 tackles for loss and one sack on the season.
On paper, this should be the Big Blue's least challenging game of the season. If Bluefield State plays the way they did in their wins, UFTL won't have the talent or the experience to keep up. Bluefield State's main issue will be whether they are rusty since they haven't played since September 18, or if they get caught looking past this game to next week's game at Erskine. Honestly, I'm not sure it will matter much in terms of the outcome, and that's a bit hard to say because I expect the UFTL players and coaches are doing their best to be competitive. The problem is that like Virginial-Lynchburg last week against Erskine, UFTL just isn't either of those things right now. The Big Blue wins by 30 to 35 points.
Central Washington (3-2, 1-0 GNAC) at Western Oregon (2-3, 1-0 GNAC), 1:05 PM Pacific time
Series history: Central Washington leads 40-20
Last meeting: 2019 (Central Washington won 42-41)
The fate of the GNAC championship and the conference's national playoff hopes are at stake.
This week's only game involving GNAC members is the first of a home-and-home series between Central Washington and Western Oregon. After this week's game in Monmouth, both teams have next week off and then they meet again in Ellensburg on October 23. If one team wins both games, they will be the 2021 GNAC football champions. If they split the two games like they did in 2019, then it can get complicated…3-way tie anyone?
Both CWU and WOU are coming off their best overall performances of the season. Both teams showed balance in on offense, and while WOU had arguably their worst defensive game of the season, they made the stops they needed to get back in the game. CWU showed a renewed offense under the control of Quincy Glasper, and the defense led by Donte Hamilton dominated the second half and gave the Wildcats opportunities to take the lead and win the game. WOU quarterback Ryan Worthley had his best game of the season against West Texas A&M, and the Wolves' offense will be confident and wanting to put points early on their Homecoming game.
While this is the part where I go into detail about the teams, it honestly isn't necessary for this game. CWU and WOU fans know who they're playing and what needs to be done to win. Whoever has the stronger game on both sides of the ball will come out on top. While I think this game will be close throughout, I think CWU is a hair better than WOU. Central Washington wins Round 1 of the home-and-home by 3 to 6 points.
Simon Fraser (0-4) has the week off
Unlike last week, this week off was in the schedule. Simon Fraser will travel to NAIA member Montana State University-Northern on October 16. Until then, enjoy the start of the NHL season.