Independents Week 7 Preview
October 13th, 2021 12:00pm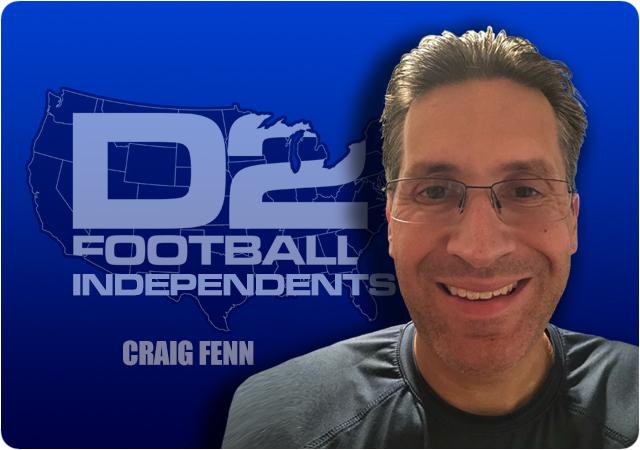 Week 6 saw a resounding win by Central Washington over rival Western Oregon as the Wildcats take control of the GNAC conference race and stay in the conversation for the Division 2 playoffs. Bluefield State also won their first game after a 2-week layoff, although they were underwhelming in defeating Fort Lauderdale. Barton hung in there most of the way with Mars Hill before losing, and Erskine was run over by Savannah State.
This coming week, two Independents play each other when Bluefield State goes to Erskine. Barton takes on the SAC's top team in Wingate. Simon Fraser returns to the field (and to the United States) after two weeks off. Central Washington and Western Oregon both get the week off to get ready for Round 2 of their home-and-home series.
Playoffs? Part 2
This week's playoffs update brings some clarity as Central Washington stands out as this column's playoff contender.
Sure things:
None
Have a chance:
Central Washington (4-2) – The Wildcats win at Western Oregon, while previous opponents Midwestern State and Eastern New Mexico both won their games, which should improve CWU's strength of schedule. But we won't know the truth about where CWU stands in Super Region 4 until Week 8, so it's now waiting time. As long as the Wildcats keep winning, they will stay in this section and in the playoff conversation. Bite your nails, cross your fingers, and hold on to your butts, Wildcats fans.
Wait until next year:
Western Oregon (2-4) – The loss to Central Washington drops the Wolves to four losses and effectively out of the playoff conversation.
Barton (3-3) – The Bulldogs fall to three losses after a back-and-forth 40-32 loss to Mars Hill and face undefeated Wingate this coming week. Barton is likely out, although I need to see if they are playoff-eligible anyway.
Bluefield State (3-1) – While the Big Blue improved to 3-1, they only play seven games this season and don't play the NCAA minimum to qualify for the playoffs. Also, their strength of schedule is among the lowest in the entire nation.
Erskine (1-5) – The Flying Fleet fall to five losses after losing to Savannah State and will be hard-pressed to win more than one or two games the rest of the season.
Simon Fraser (0-4) – SFU had the week off, but they still have four losses and will be significant underdogs to at least their last three opponents.
Week 6 Recap
Barton loses at Mars Hill 40-32
Barton did a lot of things right against Mars Hill. JaQuan Lynch had his best game as a quarterback, throwing for 316 yards on 22 of 38 passes and two touchdowns. Lynch showed he could pass effectively if asked to. Jordan Terrell had a solid game, gaining 135 yards on 27 carries and two touchdowns and now leads all of Division 2 with 1071 rushing yards, although much of his yardage came on an 82-yard touchdown run early in the game. Still, Barton did gain 142 yards against one of the nation's best rush defenses to help Lynch be effective against a Mars Hill pass defense that showed it could be thrown on. Kameron Johnson caught 8 balls for 96 yards and a touchdown, and Jackson Perrell (5 catches for 86 yards) and Jacquez Durham (2 catches for 75 yards and a touchdown) also had big games receiving. Barton committed zero turnovers and outgained Mars Hill 458 to 446 yards. Barton was up 10-0 in the first quarter, 19-6 in the second, and even 25-20 in the third.
But it was the Bulldogs' defense that couldn't keep pace. From the beginning of the second quarter until early in the fourth quarter, Mars Hill scored touchdowns on 6 of 7 drives (not counting the drive that ended at halftime) and pulled away for a 40-32 shootout win. Joraye Morrison (16 carries for 56 yards) didn't put up large yardage numbers for Mars Hill, but he scored three key touchdowns, including the Lions' first points of the game and the touchdown that put the Lions ahead for good when he scored from 2 yards out to make the score 27-25. Morrison, who also scored to put the Lions ahead 33-25 in the fourth quarter, led a Mars Hill rushing attack that gained 142 yards and scored four touchdowns. Jimmy Urzua led Mars Hill with 266 yards passing on 13 of 22 passes and two touchdowns, including the Lions' final score of the game, a 44-yard touchdown to CJ Thompson, who had 102 yards on 4 catches.
A telling statistic from this game was time of possession. Despite Barton's offensive success, its reliance on the passing game and (despite Terrell's solid overall game) difficulty running the ball, resulted in a time of possession of just 30:16. This kept their defense on the field much longer than desired, which Mars Hill took advantage of. Despite Lynch's best game as Barton quarterback, the Bulldogs' success still heavily depends on the running game.
Defensive standouts for the Bulldogs included defensive back Kendarius Jenkins, who had 11 tackles and returned a blocked extra point for 2 points to but Barton up 19-6. Linebacker Shane Perry had 8 tackles for the Bulldogs as well.
Barton' two-game winning streak end and they fall to 3-3. Mars Hill improves to 4-2.
Erskine loses at Savannah State 39-6
On paper, this game looked like a nightmare scenario for the Flying Fleet, who have not been effective against the run this season and were facing one of the nation's top rushing teams in Savannah State. Well, that nightmare became reality as the Tigers rushed for 369 yards and 4 of their five touchdowns in a 39-6 win. The Flying Fleet's offense never had a chance to get comfortable, as their first three drives went three-and-out and Savannah State ran out to a 20-0 halftime lead. When Erskine finally did score a touchdown to make it 27-6, the point after was returned the other way to give the Tigers two more points. Bryce Jeffcoat had his worst game as Erskine's starting quarterback, completing just 10 of 19 passes for 101 yards, 1 touchdown, and 1 interception. Senika McKie (7 catches for 87 yards) caught that touchdown pass. Kaavon Parker and Kevon Catoe combined for 84 of their 86 rushing yards. D'Von Gibbons led Savannah State with 137 yards on the ground and was one of four SSU runners with a touchdown. SSU's effectiveness running the ball allowed them to have a time of possession of 39:28, nearly twice as long as Erskine. This continues the Fleet's overall trend of giving the ball up quickly and allowing opponents to have long drives.
Defensive backs Jarvis McClurkin and Jamal Barron led Erskine with 9 tackles each.
Erskine falls to 1-5 and Savannah State improves to 5-1.
Bluefield State wins at home against the University of Fort Lauderdale 23-9
The Big Blue had two weeks off after winning at Johnson C. Smith, and it may have showed a bit against the first-year Fort Lauderdale Eagles, who managed to stay competitive into the fourth quarter after being blown out in their previous three games. In fact, the game was in doubt until 3:12 left in the fourth quarter, when Kishion Gradberry (20 carries for 78 yards and 2 touchdowns) scored from 8 yards out to make the score 23-9 after the Bluefield State defense turned UFTL on downs deep in their own territory. Definitely not what I thought would happen (30 to 35 point Big Blue win? Nope! That's why I don't advise betting with my picks!)
Even though UFTL was surprisingly competitive, the game did follow the same script from all of Bluefield State's wins this season – play solid defense and do just enough on offense to end up ahead. Defensive back Jamrarious McClellan led with 9 tackles and three Big Blue players also had 5 tackles. Bluefield State also had three sacks and an interception and held UFTL to just two drives over 50 yards on the day. While Bluefield State only gained 213 total yards on offense, they ran for 148 yards and held UFTL to 161 total yards. Gradberry and Markaden Bryant (17 carries for 70 yards) were both solid on the ground for the Big Blue so J'Rell Joseph (9 of 19 passing for 65 yards and a touchdown) didn't need to do too much. Berkarion Black (4 catches for 30 yards) and Nuccio Lisitano (2 catches for 16 yards and a touchdown) were the only Big Blue receivers with more than one catch. While the Big Blue did do just enough offensively, it is the first time this season they gained more yards on the ground than in the air.
Fort Lauderdale was led in the air by Kyle Kaplan (20 of 41 passes for 143 yards, 1 touchdown, and one interception), Qmac Quiteh (7 carries for 25 yards) on the ground, and Aubrey Ward Jr. (6 catches for 53 yards) receiving. Linebacker Ramone Daley Jr. was the day's defensive star. Daley Jr. was involved in 20 tackles (10 solo) on the day, including 4.5 tackles for loss.
Bluefield State improves to 3-1 and now has a three-game winning streak. Fort Lauderdale falls to 0-5.
Central Washington wins at Western Oregon 45-14
When Omari Land (16 carries for 66 yards and 1 touchdown) scored from 6 yards out to cap Western Oregon's first drive, the Wolves could not have known that would be their best drive of the day. Central Washington's defense made sure that was the case.
After tying the game on the next drive with a 29-yard touchdown pass from Quincy Glasper (14 of 21 passes for 147 yards, 3 touchdowns, and 2 interceptions) to Darius Morrison (3 catches for 63 yards), the Wildcats' defense took over. Over the next 10 Western Oregon drives, the Wolves were held to one turnover on downs, six punts, and two interceptions (with one interception returned for a CWU touchdown), and one halftime stoppage mixed in. "It starts with our defense and stopping the run and forcing some three and outs.", said CWU head coach Chris Fisk.
On the other side, CWU's offense did just about everything they could ask for while the Wolves were struggling, scoring 42 straight points after finding themselves down 7-0. Darius Morrison put CWU up for good with an 8-yard touchdown catch from Glasper. CWU would almost immediately add more points when an Andrew Gross punt was blocked after a WOU three-and out, setting up the Wildcats at the Wolves' 4-yard line. One play later, Glasper would hit Isaac Crichton (2 catches for 14 yards and 1 touchdown) for a 4-yard touchdown to put the Wildcats up 21-7. Joey Sinclair (8 tackles and 1 interception) prevented any more damage with a goal-line interception of a Glasper pass near halftime to give the Wolves some hope going into the locker room.
But whatever hopes the Wolves' had were crushed in the third quarter by CWU's defense and Tyler Flanagan. Flanagan (12 carries for 93 yards and 2 touchdowns) scored twice in the third to break the game open and a Dominic Wieburg (4 tackles and 1 interception) 29-yard pick-six late in the quarter concluded the Wildcats' scoring streak at 42. Andrew Valladares (4 carries for 61 yards and a touchdown) broke the WOU scoring drought with a 55-yard touchdown with 5:42 left in the game to make the score 42-14. A 33-yard field goal by Patrick Hegarty with just under two minutes left was the game's final score.
Neither quarterback put up huge yardage numbers, but Glasper moved the CWU offense much more effectively than Ryan Worthley (10 of 21 for 122 yards and 2 interceptions, including the Wieburg pick-six) could move the WOU offense. CWU's defense had a lot to do with that.
Defensively, CWU was led by safety Tanner Volk, linebacker Donte Hamilton, and defensive lineman Zak Stecklein, who each had six tackles. Hamilton also had an interception. Linebacker Jaylin Parnell led the Wolves with 10 tackles and Sinclair also stood out with 8 tackles and 1 interception.
Central Washington improves to 4-2 and has now won two straight. Western Oregon falls to 2-4.
Simon Fraser had the week off
I promise you, SFU plays next week…Really, they do!
Team Records
Independents
Bluefield State: 3-1
Barton: 3-3
Erskine: 1-5

GNAC (Best record out of 4 conference games wins the conference title)
Central Washington: 4-2, 2-0 GNAC
Western Oregon: 2-4, 1-1 GNAC
Simon Fraser: 0-4, 0-2 GNAC
Week 6 Preview
All games are on Saturday, October 16.
Barton (3-3) hosts D2football.com #8 Wingate (SAC, 5-0), 6:00 PM Eastern time
Series history: First meeting
Barton showed some positives in their loss to Mars Hill, especially the ability to pass if needed. However, Wingate will be the Bulldogs' toughest test of the season (by the way, Wingate are also called the Bulldogs, so I'm not going to say the word Bulldogs any more to prevent confusion and headaches!) Wingate is coming off a 35-17 win against Limestone, who Barton also defeated earlier in the season. Carson-Newman is another common opponent, with Wingate and Barton winning their matchups with the Eagles.
Wingate has outscored their opponents by an average of 35-17. They have averaged 161 yards rushing and 239 yards passing while they give up 89 yards rushing and 192 yards passing. They have dominated opponents in the first half, outscoring opponents 90-31 and 44-10 in the first quarter. Nijere Peoples leads all rushers with 365 yards on 72 carries and 3 touchdowns. Shaw Crocker has taken most of Wingate's snaps at quarterback, completing 74 of 112 passes for 918 yards, 2 interceptions and 8 touchdowns. Ryder Martin (12 catches for 202 yards) leads a quartet of receivers with at least 100 yards. On defense, linebacker Jaquan Edwards leads in tackles with 26. Defensive tackle Sirod Cook leads in tackles for loss with 5 and sacks with 2.5 and is second in tackles with 19.
Barton will need to establish their running game against a defense that doesn't give up many rushing yards so they can build time of possession and wear down the Wingate defense, something they were unable to do against Mars Hill. So, can Barton do what Central Washington did a couple weeks ago and knock off an undefeated league leader? I think that is asking too much of this young Barton team whose defense may not be quite ready for prime time. Barton will keep it close into the second half, but like last week against Mars Hill, Wingate will pull away late. Wingate wins by 10 points.
Erskine (1-5) hosts Bluefield State (3-1), 4:00 PM Eastern time
Series history: First Meeting
The Big Blue take their 3-1 to Due West, SC for their all-Independent matchup with Erskine. The Flying Fleet come in with a 1-5 record and have had a difficult time with some tough opponents, including Savannah State last week. The Big Blue come in at 3-1 and have a three-game winning streak, but their wins have come against lower-tier CIAA opponents Elizabeth City State and Johnson C. Smith, and a first-year, non-NCAA team in Fort Lauderdale.
In my opinion, this game is a toss-up. So let's figure out if there are any matchup advantages. For Erskine, the defense has been a significant concern while their offense has shown flashes despite being a bit pass-heavy. For Bluefield State, their defense is a bit ahead of their offense, which has struggled at times to find an identity. Quarterback J'Rell Joseph has shown flashes, but he is still a freshman and has had his ups and downs. Special teams are a wash.
I think that Bluefield State's defense is the best unit on either team, and how they handle Fleet quarterback Bryce Jeffcoat, the Erskine receivers led by star Senika McKie, and the pace of Erskine's passing game could be the difference in the game. However, I think that Erskine's offense is the best that the Big Blue have faced this season and will pose problems for the Bluefield State defense. If Jeffcoat gets into a rhythm and completes some passes early and the Fleet score some points, the game could get away from the Big Blue since their offense isn't strong enough to win when their defense isn't at their best.
The Big Blue have shown all season that they won't blow anyone out and they also won't be blown out, so I expect the game to be close. However, despite the performance of Bluefield State's defense this season, Erskine has moved the ball at times against better opposition. To that end, I think Erskine will ultimately make enough plays on offense, and I am not convinced the Big Blue's offense be able to keep up. Erskine by a touchdown.
Simon Fraser (0-4) at Montana State-Northern (NAIA-Frontier Conference, 0-6), 12:00 PM Pacific time
Series History: First Meeting
SFU is finally back on the field after one cancelled game and one scheduled week off. When we last saw SFU, they showed some improvement on both sides of the ball and were competitive for a portion of their games against Central Washington and Western Oregon. However, deficiencies along the SFU defensive front allowed both CWU and WOU to run for over 300 yards in their games to prevent SFU from pulling off upsets.
This week SFU travels back into the United States for the first game of their season-ending four-game road trip. They will be in Havre, Montana (home of the "World's Largest Farm Tractor" and just 46 minutes from Wild Horse, Alberta) to take on the Montana State University-Northern Northern Lights, a member of the NAIA Frontier Conference. Like SFU, they are winless on the season, but have shown flashes of competitiveness in recent weeks. Even though the Lights lost 34-0 last week to Carroll College, they had close losses the previous two weeks to Rocky Mountain College (31-28) and Montana Tech (23-13).
MSUN could be a potential matchup problem for SFU since they have been a somewhat effective running team this season. The Lights average 162 yards a game on the ground versus 138 in the air. They have four runners with at least 100 yards, led by Izayah Boss, who has 498 yards on 110 carries and 4 touchdowns. Kaymen Cureton leads in passing yards with 577, but Devonte Armstrong took the snaps for the Lights last week, throwing for 155 yards and 2 interceptions. Wide receivers Tyrese Rios (21 catches for 334 yards and 1 touchdown) and Jake Horner (20 catches for 238 yards and 1 touchdown) are MSUN's top receivers.
On defense, they have given up an average of 203 yards rushing and 228 yards passing. Linebacker Dylan Wampler leads in tackles with 62 and is second in tackles for loss with 5.5 and sacks with 2. Defensive end Joe Fehr (18 tackles) leads in tackles for loss with 6 and sacks with 4.5. The Lights have turned the ball over 15 times (with 8 of them being interceptions) versus creating 12 turnovers, however, they do have 9 interceptions on the season, with defensive back Isaiah Paul leading with 5 interceptions.
Now, SFU has some questions to answer – How will they respond after not playing for two weeks? Will they be rested or rusty? Is quarterback Justin Seiber recovered from the injury he suffered at the end of the Western Oregon game? Can SFU finish drives with points?
Both SFU and MSU-Northern have had significant difficulties this season, but one team will get their first win. SFU has played at a higher competition level and has shown some improvement in their previous two games. Also, SFU should be able to move the ball against the MSUN defense and the SFU defense should create turnovers. I expect the game will be tight throughout, but SFU will leave the field as winners. SFU by 3 to 6 points.
Central Washington and Western Oregon both have this week off
Round 2 of the Central Washington/Western Oregon home-and-home series is next week. Central Washington can claim the GNAC conference title outright with a win.
Until then, I submit for GNAC fans the following (much-too-long) list for your Pacific Northwest professional sports fix (you could watch the SFU game too, if it's available):
All times in this list are Pacific time.
The Seahawks go to Pittsburgh to play the Steelers on Sunday Night Football on 10/17 (5:00 PM).
The NHL season starts on 10/12 and the Seattle Kraken have six games:
10/12 at Vegas, 7:00 PM
10/14 at Nashville, 5:00 PM
10/16 at Columbus, 4:00 PM
10/18 at Philadelphia, 4:00 PM – Look out for flying sheet cakes (or anything flying, really) courtesy of Gritty
10/19 at New Jersey, 4:00 PM
10/23 versus Vancouver, 7:00 PM – The first regular-season home game for the Kraken
The NBA season starts on October 19, and the Portland Trail Blazers have two games:
10/20 at home against Sacramento, 7:00 PM
10/23 at home against Phoenix, 7:00 PM
Finally, the MLS season is ongoing and the Portland Timbers have three matches:
10/16 at home versus LA Galaxy, 7:30 PM
10/20 at Vancouver, 7:00 PM
10/23 at home versus Colorado, 7:00PM
Please note that while I will save my recaps for football games, I might just have to provide some analysis if something happens like Gritty hitting a Kraken player or fan with a sheet cake.