Independents Week 8 Preview
October 20th, 2021 7:00pm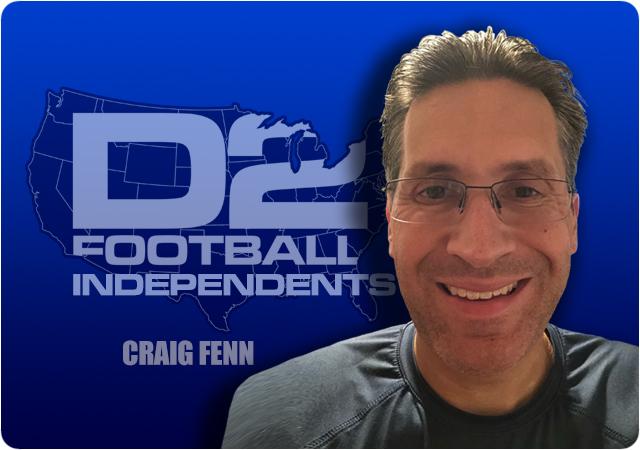 For the second time this season, a team from this column has knocked off a highly-ranked and undefeated league leader. Central Washington pulled off the feat in Week 5 by beating Midwestern State, and now Barton does it in Week 7 by beating #8 Wingate 26-20 in overtime.
In other action, Erskine went 97 yards with less than 2 minutes left to stun Bluefield State 24-19, and Simon Fraser gets their first win of the season in a turnover-filled 30-3 win at Montana State-Northern.
Week 8 is a bit busier, with 5 of this column's 6 teams in action. Only Bluefield State has the week off.
Playoffs? Part 3
The first official NCAA regional rankings will be released after the conclusion of this week's games, so anticipation is high for all who hope to keep playing after the end of the regular season. As was discussed last week, Central Washington is the lone team in this column with a realistic chance of making the playoffs, but those hopes could be dashed with a loss over their last four games.
Sure things:
None
Have a chance:
Central Washington (4-2) – Should the Wildcats win Round 3 of their home-and-home with Western Oregon this week, the Wildcats should likely be ranked in the top 7 of the Super Region 4 rankings. However, WOU is the best team remaining on CWU's schedule, and that could make it difficult for the Wildcats to make the playoffs.
Week 7 Recap
Barton wins at home against #8 Wingate in overtime 26-20
Readers of this column (especially Central Washington fans) know that an undefeated league leader has already been defeated by one of the teams in this column when the CWU Wildcats put on a defensive clinic to beat LSC leader Midwestern State in Week 5. Not that a Barton win should have been expected, but maybe there were some signs that the game could be closer than expected. This is particularly true given how Barton has been much more competitive than expected this season.
Turns out Wingate had plenty of reasons to worry.
In the battle of the Bulldogs, Wingate and Barton had a very defensive-minded first half that ended with Wingate up 7-6 on a Kalen Clark 4-yard touchdown run. But there were signs that Wingate would have difficulty putting the young Barton team away, as Wingate kicker McLean Robertson (3 of 4 field goals and 2 of 2 extra points) missed a 29-yard field goal and would lead Barton by just a 7-6 score at halftime.
Wingate would push ahead 14-7 when quarterback Shaw Crocker found Trevor Grant for a 4-yard touchdown pass, but that lead wouldn't last long. Less than ten seconds later, Jordan Terrell (31 carries for 174 yards and three touchdowns and now has 1245 yards on the season) would score on a 75-yard touchdown run to bring Barton within 14-3. Terrell would score again from 4 yards out to give Barton a 20-14 lead after three quarters. To quote Dan Patrick, "You can't stop him, you can only hope to contain him." Robertson would redeem himself by making two field goals in the fourth quarter, including a 54-yarder with 1:04 left to force overtime.
It then completely fell apart for Wingate.
Wingate took the ball first and faced a second down and 2 at the Barton 17-yard line after Crocker completed an 8-yard pass to Kamal Desor. On the next play running back Alexander Wilson, who had gained a Wingate first down with a 6-yard gain, was stripped of the ball by defensive end J.L. Ledbetter (8 tackles and a forced fumble) and defensive back Kendarius Jenkins (12 tackles and a fumble recovery) recovered the ball, ending Wingate's drive.
On Barton's first overtime drive, quarterback Jaquan Lynch (12 of 23 passes for 144 yards, 8 carries for 53 yards) lost 3 yards on his first carry, and then Wingate was caught offsides to make it second down and 8. From that point, Terrell took over. Terrell carried for 8 yards and a first down, then again for six more yards to give Barton a second down and 4 at the Wingate 9-yard line. After Lynch couldn't gain any yards on second down, Terrell erased all doubts with a 9-yard touchdown run, his third of the game. Barton beats Wingate 26-20 for the biggest win in program history. Not bad for a bunch of underclassmen in their first year of college football.
Barton outgained Wingate on the ground by 229 to 208 yards and in the air by 144 to 142 yards. They did not win the time of possession battle this week, only holding the ball for 24:53 and converting only 3 of 11 first downs. The game was relatively penalty-free, with Barton only penalized for 15 yards and Wingate just 35 yards. Mistakes were what cost Wingate dearly, with Barton only losing one fumble and Wingate turning the ball over four times, two fumbles and two interceptions. Both Wingate fumbles came at critical times-the first fumble was lost at the Barton 1-yard line and second fumble was Wilson's crucial lost fumble in overtime. Barton took full advantage of the Wingate turnovers, scoring 17 points off Wingate turnovers. Wingate would miss a field goal on their only opportunity after a Barton turnover.
With the Barton win, we need to think about where this win stands in history. The question was brought up by D2football columnist Chuck Bitner: "What was the highest ranked team ever defeated by a first-year program?" I certainly can't think of a first-year team beating someone ranked this high before. Time to test my "Google-fu".
Barton improves to 4-3 and Wingate falls to 5-1.
Bluefield State loses at Erskine 24-19
For 58 minutes and 19 seconds, Bluefield State had Erskine right where they wanted them. The Big Blue had outgained Erskine behind J'Rell Joseph (27 of 42 passes for 212 yards and 2 touchdowns), Kishion Grandberry (15 carries for 144 yards and a touchdown, along with a 91-yard run), and Kentavious Jefferson (10 catches for 53 yards and 2 touchdowns). The Big Blue was up 19-17, and even after failing on a fourth-and-goal from the Erskine 3, Erskine had to go the long field to even get into range for a possible field goal. The game was in the hands of the Bluefield State defense, who has already made many big stops this season to carry the Big Blue to a 3-1 record.
Erskine quarterback Lance Brownlee said "Not so fast my friend".
Dual-threat Brownlee, in the game for starting quarterback Bryce Jeffcoat, showed his running ability early in the drive, first getting 8 yards on a third-and-10 and then 15 yards on the make-or-break fourth-and-2. Bluefield State was also called for roughing the passer on the fourth-down play as Brownlee was hit while sliding. With the ball now on the Big Blue 49, Brownlee completed a 14-yard pass to Senika McKie, a 3-yard pass to Javian Bellamy, and then ran the rest of the way, concluding the drive with a 24-yard touchdown run with just 14 seconds left. The Fleet needed to make one stop, which they did when they sacked Bluefield State quarterback Jordan Slocm before he could throw a Hail Mary pass from midfield as time ran out on the Big Blue.
Turns out those mistakes ultimately doomed Bluefield State. Despite having the ball for over 38 minutes and outgaining Erskine by 387 to 322 yards, the Big Blue struggled to finish drives, with two drives ending near the Erskine goal line with zero points. The Big Blue's final drive before Erskine's game-winner ended at the 3-yard line. Another drive in the third quarter ended with a lost fumble by Joseph after the Big Blue lost 20 yards in sacks and penalties after Grandberry got them to the 1-yard line with his 91-yard run. Bluefield State also converted on just one of three extra points and committed 195 yards in penalties. This was a game that Bluefield State really should have won.
Erskine improves to 2-5 and Bluefield State falls to 3-2.
Central Washington and Western Oregon had the week off
Round 2 of the CWU/WOU home-and home is this week in Ellensburg.
In case anyone was wondering, I thought the Kraken might get a unique welcome to Philadelphia courtesy of Gritty…and I wasn't wrong. The Flyers weren't very welcoming either, beating the Kraken 6-1.
Simon Fraser wins at Montana State-Northern 30-3
When you're a winless team desperate for a win, you need a break or two to go your way. Maybe a kick return, a blocked punt, a pick-six-something to get some confidence and momentum on your side and maybe sway things your way. Well, after SFU was intercepted on their first drive leading to a Montana State-Northern field goal, it looked like the winless Lights, who found themselves up 3-0 at the time, were going to be the recipient of something going their way. And MSUN did receive quite a few breaks, as SFU turned the ball over 4 times (3 interceptions and 1 lost fumble), missed an extra point, and averaged 27 yards punting.
Doesn't sound too good for SFU, eh?
Well, MSUN decided that the best course of action was to "hold my beer". After Brendan Lowry (3 tackles and 1 interception) intercepted MSUN quarterback Devonte Armstrong (11 of 33 passes for 119 yards and 4 interceptions) for what was SFU's second interception of the first quarter, Justin Seiber (12 of 30 passes for 190 yards, two touchdowns, and 3 interceptions) found Riley Morrison (5 catches for 81 yards and 1 touchdown) for a 27-yard touchdown, and SFU was on top 6-3.
Things would only get better for SFU from there. On MSUN's next drive, SFU pushed the MSUN offense back 14 yards to their own 11, where they proceeded to BLOCK THEIR OWN PUNT. Isaac Muckian (1 tackle) recovered the blocked punt in the end zone for a touchdown and SFU was up 13-3. By halftime, SFU had picked off Armstrong four times, capped off with a Drew Nicholson (3 tackles and 1 interception) pick-six from 28 yards with 5 minutes left in the second quarter to give SFU a 23-3 halftime lead. Despite what was by no means a pretty game for SFU, they would hold MSUN to that lone field goal and SFU would leave the field with their first win of the season, 30-3 over the Lights.
A bit of history was made in the game as trailblazer Kristie Elliott (3 of 4 extra points and 1 field goal) became the first Canadian female to make a field goal in an NCAA football game when she made a 23-yard field goal with 5:47 remaining in the second quarter to put SFU up 16-3.
Other notable SFU performances included running back Somto Anyadike, who ran for 77 yards on 13 carries, and linebacker Griffin Barrett, who led the SFU defense with 13 tackles.
SFU improves to 1-4 and Montana State-Northern falls to 0-7.
Team Records
Independents
Barton: 4-3
Bluefield State: 3-2
Erskine: 2-5
GNAC (Best record out of 4 conference games wins the conference title)
Central Washington: 4-2, 2-0 GNAC
Western Oregon: 2-4, 1-1 GNAC
Simon Fraser: 1-4, 0-2 GNAC
Week 8 Preview
All games are on Saturday, October 23.
Barton (4-3) at Tusculum (SAC, 3-4), 2:30 PM Eastern time
Series history: First meeting
After defeating SAC leader Wingate last week, any chances of Barton sneaking up and surprising an opponent should be gone now. That is, if the presence of NCAA second-leading rusher Jordan Terrell wasn't already enough to do that. This week the Bulldogs will try to avoid a letdown and continue their surprising play on the road at Tusculum. The Pioneers broke a 3-game losing streak last week when they won 37-21 against UVA-Wise. All three losses came against teams even or ahead of them in the SAC (Newberry, Lenoir-Rhyne, and Wingate). Only two of Tusculum's games have been decided by more than one score (they have a 2-0 record in those games) and they only outscore their opponents by a 35-30 average score.
For Tusculum, they are strong on the ground and in the air, averaging 264 yards per game passing and 150 yards rushing. They aren't as strong defensively as Wingate, giving up 135 yards rushing and 184 yards passing, so it is possible that Barton may make some plays in the ground game. Ivan Corbin leads the offense with 1769 passing yards, 11 touchdowns, and 6 interceptions. Justice Parham is his favorite target with 35 catches for 591 yards and 6 touchdowns. Derrick Wright, Tyler Ajiero, and Maurice Gomillion also have more than 144 receiving yards each. Cortney Jackson leads a balanced rushing attack with 319 yards and 5 touchdowns, and Corbin (217 yards) will also make many plays with his legs. On defense, defensive lineman Nelson Louis leads in tackles for loss with 8 and sacks with 7. Defensive back Jermaine Witherspoon leads with 40 tackles and is one of six Pioneers with an interception. Defensive lineman Dajavon White is second in tackles for loss with 4.5 and second in sacks with 2.5.
Barton will need to use their power running game to keep the Tusculum defensive front honest and give quarterback Jaquan Lynch time to throw. The Pioneers have lost to some difficult opposition and seem better than their record. This should be a close game. Unless Tusculum can find a way to hold down Terrell and the Barton running game, they will not be able to pull away from the Bulldogs, who I expect to win late and spoil Tusculum's Homecoming game. Barton by 4 to 7 points.
Bluefield State (3-2) has the week off
The Big Blue go to Barton next week in their second straight game against a fellow Independent.
Erskine (2-5) hosts Allen University (SIAC, 3-3), 4:00 PM Eastern time
Series history: First meeting
Erskine tries to get their first winning streak since beating Newberry and East Tennessee State in 1950 (they started off 3-1 that year but ended the season with a 4-6 record). The Flying Fleet hosts Allen in their second game against an SIAC opponent this season. The first, in Week 6 against Savannah State, didn't go very well for the Erskine as SSU ran all over them in a 39-6 loss.
Allen rejoined the SIAC after the 1968 season, when they dropped football. After a brief reboot of the sport in the NAIA from 2001 to 2005, they dropped football again, only to do another reboot in 2018 and rejoining the SIAC in 2021 as a provisional member. The Yellow Jackets' three wins have come against opponents with a combined 2-18 record and their three losses have come against opponents with a combined 9-12 record. Despite averaging just 24 points a game, Allen passes for 280 yards and rushes for 122 yards per game and surprisingly outgains their opponents by 403 to 396 yards per game . Quarterback David Wright is a dual threat, with 196 rushing yards to add to his 1642 passing yards. He has accounted for 15 touchdowns, 13 passing and 2 rushing. Beau Harrington (93 carries for 352 yards and 2 touchdowns) leads the Allen ground game, and Jamal Jones (38 caches for 553 yards and 4 touchdowns) leads a deep group of receivers, with 6 receivers having more than 96 yards receiving. On defense, Allen is led in tackles by defensive back Diquan Brown, who has 38 tackles and an interception. Four Yellow Jackets have at least three tackles for loss, led by linebacker Gary Bourrage and defensive lineman Richard Hayes, who each have 3.5 tackles for loss. Defensive lineman Kerry Thomspon leads in sacks with 3, but the Allen defense only has 8 sacks this season.
Of note is the fact that Allen has yet to attempt a field goal or a kicked extra point this season and they have only tried 2-point conversion plays after scoring touchdowns this season. Allen does have a kicker listed on the roster, but he is either unable to play or they choose not to play him. They have also went for it on fourth down a whopping 27 times, converting 12 of them. They also commit 109 yards in penalties per game. They have lost the turnover battle by a total of 14 to 7, with 8 of their turnovers by lost fumbles.
Can Erskine score enough points to make up for any mistakes they might make? Allen should put up their share of yards, but the lack of a kicking game will mean the Fleet will need to bend but not break on defense since they will need to defend against several fourth-down plays. Erskine will also need to take advantage if any when Allen doesn't convert on fourth down as well as take advantage of any mistakes that Allen might make.
I think the Flying Fleet get that winning streak in 71 years, beating Allen by 10 points.
Central Washington (4-2, 2-0 GNAC) hosts Western Oregon (2-4, 1-1 GNAC), 6:00 PM Pacific time
Series history: Central Washington leads 41-20
Last meeting: October 6, 2021 (Central Washington won 45-14)
Round 2 of the Central Washington/Western Oregon home-and-home is upon us, and CWU has quite a bit at stake. Win and the Wildcats are outright GNAC champions, they extend their winning streak to 3, and they continue to keep pace in the playoff conversation. Lose and they risk losing all of that, but I guess they gain the possibility of a 3-way tie for the GNAC title if SFU gets hot (Guessing CWU fans will disagree with me on that assessment!)
Western Oregon wants to get rid of the bad taste of a 45-14 Homecoming loss and find a way to close the gap between them and CWU. The CWU defense dominated in the first meeting, shutting down the Wolves' offense after scoring a touchdown on their first drive of the first game. If the CWU defense continues to play at that same level, it will be very difficult for WOU to stay in the second game.
I think the week off helps to keep things closer than in Round 1, giving WOU the chance to make adjustments. I think the Wolves will make enough plays to stay in the game into the second half. If this game was played last week, I think the result would have been like the first game. That being said, I don't think the Wolves have enough to stay in the game the whole way unless the CWU defense doesn't play at the level they have been playing at recently. However, I don't see the CWU defense backing off with a playoff berth at stake. The Wildcats will celebrate the GNAC championship and wait in anticipation of the first official set of regional rankings, beating WOU by 10 to 13 points.
Simon Fraser (1-4) at Angelo State (LSC, 5-2), 4:00 PM Pacific time
Series history: First Meeting
Simon Fraser is on the clock. Can they have their first winning streak since 2013, when they started the season 2-0 with wins over Humboldt State and Central Washington? Let's just say it will be quite the feat if they can pull it off. SFU faces an Angelo State team that seems to have regained their offensive balance since starting quarterback Zach Bronkhorst (85 of 156 passes for 1049 yards, 7 touchdowns, and 3 interceptions in 5 games) returned to the lineup two weeks ago. The Rams have averaged 174 yards rushing and 225 yards passing since his return. ASU is coming off a 34-14 win over UT-Permian Basin and are hoping to win enough to be in consideration for a Super Region 4 playoff spot.
When we last saw Angelo State in this column, they managed to win at CWU by a 14-9 score despite having just one drive in the second half that wasn't a three-and-out. That drive just happened to be ASU's game-winning drive at the very end of the game.
The Rams still have a strong defense and running game from when they won at CWU, but they are no longer the one-dimensional team that CWU forced them to be in that game. I don't expect ASU will need to throw the ball that much against SFU since their physical advantage up front should allow the Rams to pick up many yards on the ground like CWU and WOU were able to do. SFU will also have significant difficulty moving the ball against the ASU defense. Despite winning last week, SFU made much too many mistakes against an inferior opponent who couldn't take advantage of those mistakes. ASU can take advantage of those mistakes. Angelo State halts SFU's hopes of a winning streak by 24 to 27 points.